It's not all heinously expensive puffer vests and Volvo XCs. Ok, well it kind of is, but there is an element of Kew that is way cool. Like, way.

When I swapped my residential habitat of inner-city grungy pubs to the greener pastures of outer-urban living recently, I was expecting a decent coffee as hard to come by as a clapped out commodore and a public school kid.

I was wrong.

As a writer, cafes become my office. I need a punch card for some of these places, I bang out so much copy from them. So one can imagine how buzzed (literally) I've been to find three brilliant cafes with cache amidst this postcode.

10kms out of the CBD and hankering for the hard stuff? Here are my top three cafes for the new Kew-ban.
BASE CAMP ESPRESSO

Locals Gianni Piccolo and James Laskie have created a super-cool cafe on the cusp of a car park that is on par with any of the inner city coffee ports. "We both grew up and went to school around the corner and always found it hard to find a place for a decent coffee," Gianni explains.

His parents once owned the CBD's iconic Hopetoun Tea Rooms where he cut his teeth on the coffee machine and James opened '30 Mill Espresso' in Malvern a few years ago. Kew seemed like the next postcode chomping at the bit for a decent brew from this young duo.

And boy, do they serve it up. Double-time.

"We are known for – and pride ourselves on – serving high-end espresso blends and single origins through our Slayer machine," says Gianni. And the side-serves of smashed avocado with salmon or roast beef sandwich aren't too shabby either.

Sitting at pole position at the window, the allure of a car park location becomes evident. "The appeal is simple," Gianni surmises. "Constantly changing view, great foot traffic and car parking for customers. We also like that we found a pretty quirky car park site where you can actually see the city through the trees."

The light-flooded, pared back interior and roller-door flanked exterior emits a heavy New York vibe, the out-of-the-way location off High Street and the refreshing playlist ('The Delicious Vinyl Years', 'What is Funky Soul Compilation' and 'Nightmares on Wax') make Base Camp Espresso an inspired space. And worth the drive.

Don't miss: the 'Slayer Shots' – big and rich with exemplary balance and acidity levels.

Base Camp Espresso | 7 Fenton Way in Kew | 03 9853 7726

Coffee cup art at Base Camp Espresso. Photographer: Liam Merrigan Turner.

CRU

What are you to do when awaiting a liquor licence on your new Glenferrie Road digs? Part-owners Peter and Annie Rose opened a cafe with two other long-time friends. Little did they all know that in the interim, its popularity would put it in prime position as one of the best cafes in Kew. With a wine-bar now open from Wednesday to Sunday, I am now left with very little reason to exit the building at all. (Truth be told, Cru seems to have leapfrogged the local church as an almost religious meeting place for locals.)

Stepping into Cru is like popping into a mate's place – no matter how old your mates may actually be. The staff is an exemplary example of Gen Y: an ingenious mix of the owners' kids and their mates – all with impeccable artisan coffee making and hospitality skills – and a dab hand at making the sunny space palpably fun, yet refined.

The artisan Five Sense blends and the cohesion is one of a well-oiled family – rather than machine. Front of house seats are always heaving with the heartbeat of the place, so for a more relaxed vibe, step out the back – and beyond – into its lungs.

"None of the four owners are from Melbourne," Annie explains, "We all come from sunnier, warmer climes and we are all used to the concept of outdoor drinking and dining, so it was important to us to develop the back with tables, plants and umbrellas as soon as we could." Keeping with the family theme, 'Hugo's Succulent Balls' are the plants of perfection that can be spotted around the digs, developed by the couple's youngest son. Wrapped in soil and moss they give a bespoke feel to the place, which extends to the front of house 'Book of the Week', changing regularly and challenging any mundane reading list, and the evolving art space above the premises. With two exhibitions so far - one an Archibald finalist – the owners have further plans for more exhibitions. "I want to encourage young artists, and students," Anne says.

A year in, Peter sums up the success of Cru succinctly. "It's a mixed blessing - we now struggle to redefine Cru as a wine bar given the popular perception of it as cafe!"

Don't miss: the wine. It's awesome. And on Sundays, the 90s-inspired playlist is an audible feast.

Cru | 916 Glenferrie Road in Kew | 03 9818 4366

Image Credit: Cru.

FAT PENGUIN

Check your attitude at the bright blue door, as Fat Penguin is a joy to behold inside. Named in honour of 'breaking the ice' between family and friends, this inspired space is blue only in colour. The vibe is up, with the family-run feel extending beyond the coffee machine to the floor.

Owners Frank and Jenny Facciolo owned and operated an eatery at Melbourne University up until 2005, so their rapport and repertoire is second to none. Their grown kids-cum-baristas, Marina and David, prove more than pretty faces, with David training at Brunetti's in Camberwell and Marina honinged her skills at Abbotsford's Convent Bakery.

Back in the blue abyss of High Street, there is a queue out the door hoping for a table or a take-away, with local businesses proving an appreciative audience. Take a seat at the communal or outdoor table, and you'll hear first names flung around on a regular basis. You definitely get the feeling that any newcomer is soon to become a regular – they just don't know it yet. The seating, cushions, cups and even coffee machine reinstates the visual delight of the cafe experience, so often lost in a time where 'less' often leaves you wanting way more.

Happy vibes spill over at Fat Penguin like the steamed milk on their signature double ristretto (aka 'Magic'), and in a day and age where service with a smile is becoming a dying theme, this place proves a lifeline.

Don't Miss: the salads, the sandwiches, the big serves and your chance to say Hi. Tell them I sent you.
Fat Penguin | 713 High Street in Kew East | 03 9859 3252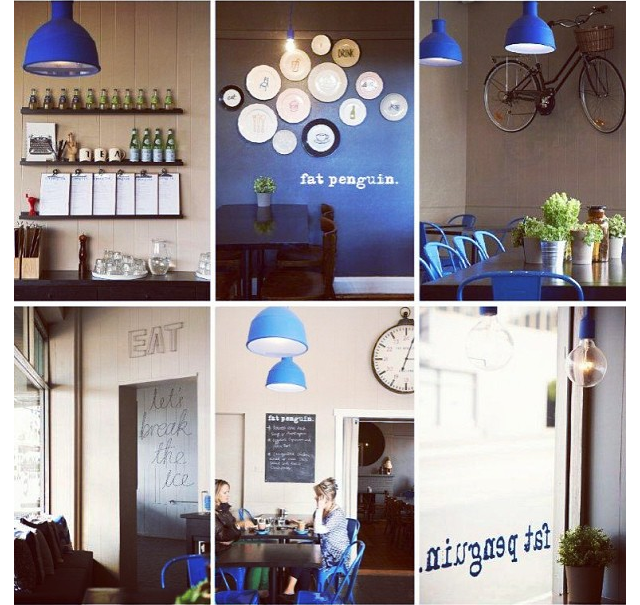 Calming shades of blue at Fat Penguin. Image Credit: Facebook.
Main Image Credit: Pinterest