Melbourne cafes are running out of ways to be subversive. I mean, when everyone is opening hidden, underground record-store-cum-sushi-bistros, it's actually more non-conformist to do something corporate and mainstream. Like a food court restaurant. Or in the case of Liminal, a new venue from the all-powerful Mulberry Group—a foyer café.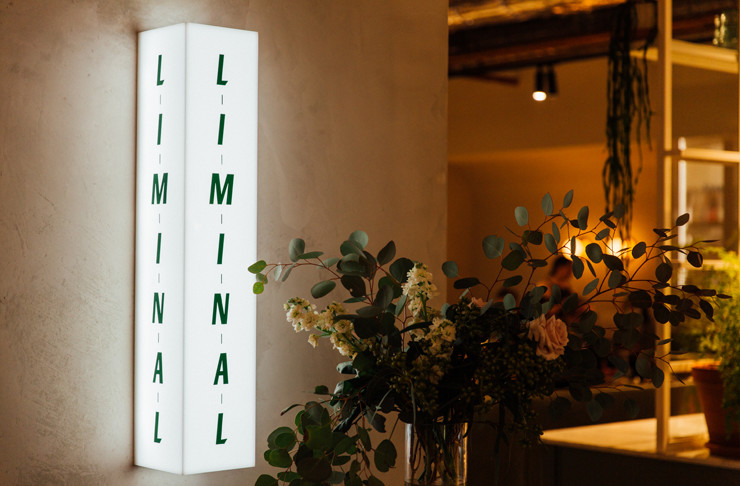 It's like being the black sheep in a family of actors and musicians: the only way to rebel is by becoming a chartered accountant. That's not to say that Liminal is boring or starchy. Quite the reverse. It's kind of impressive how Nathan Toleman and the team have turned the lobby of Melbourne's T&G building into somewhere you actually want to hang.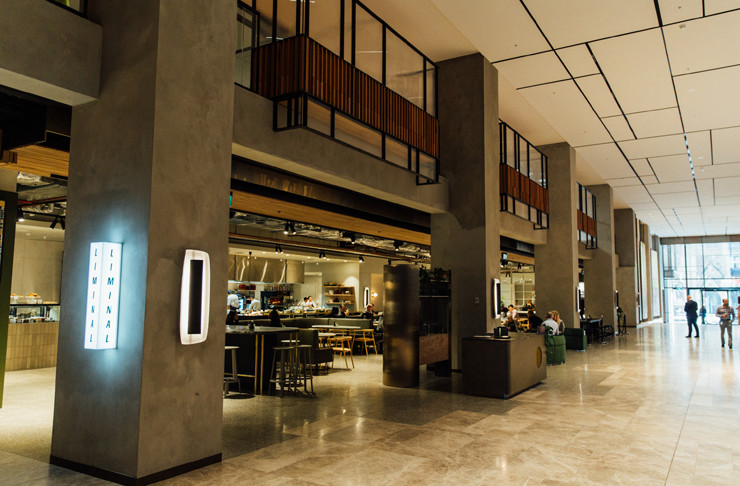 For starters, Liminal isn't just a foyer café. It's also a wine bar and bottle-o, cheese shop and takeaway sandwich deli, rotisserie, private dining room and corporate meeting parlour, all wrapped up in some very swish design from The Stella Collective. The Mulberry guys worked with Stella on one of their previous venues, The Kettle Black, which actually won awards for its impossibly high windows and mint-toothpaste colour scheme.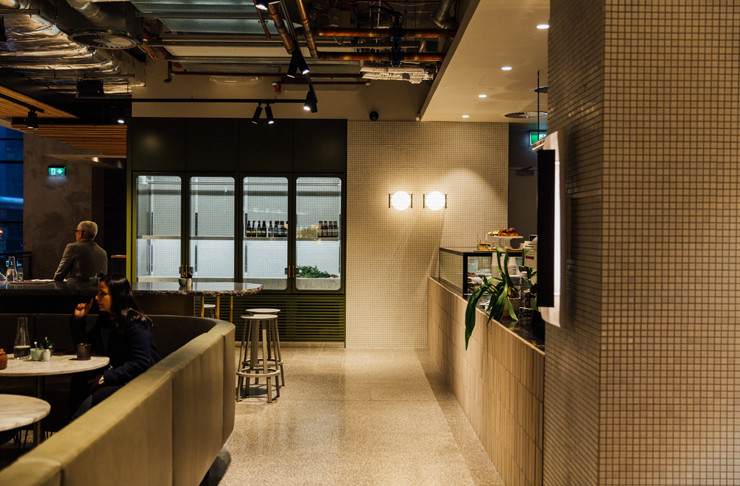 The green is back here. Liminal has ordered its look from p.7 of the 2019 Melbourne catalogue (lots of terrazzo, brushed concrete, marble tables and ashy Scandinavian furniture), but there's also some emerald suede couches that flow and curve around the space, adding a bit of visual oomph. Plus you've got the big open kitchen, which dominates one entire side of the venue. It's here you'll find Executive chef Martin Webster (ex-Montalto) and head chef Zac Nicholson (ex-Rockpool), leading a battalion of young hot-shots, all deboning rotisserie chickens and stacking gooey mozzarella toasties with sage and white anchovy.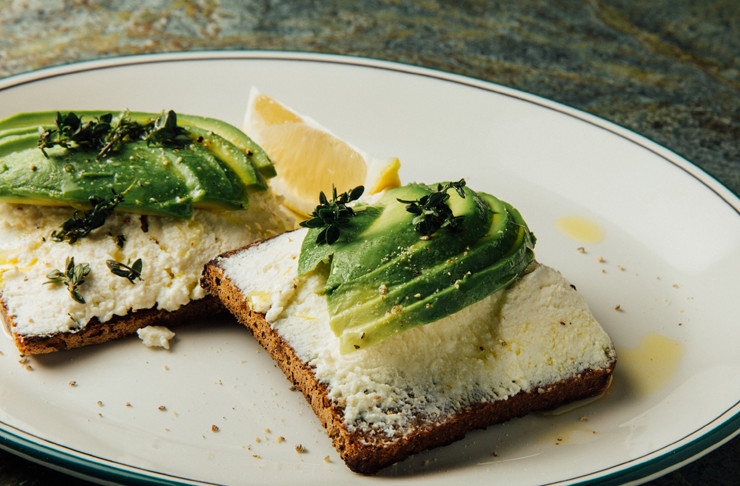 The crowd makes you think of the word 'cashmere'. Everyone here is wearing some combination of black, grey, or black and grey. The average age is 35. The average gross yearly income is north of $100k. But that's okay because Liminal knows its audience. Tourists won't even find this place (there's no real street signage outside). Liminal is for high-flying corporate Power Brunchers, on-the-pulse Melbourne foodies, and Collins St suits who appreciate good wine.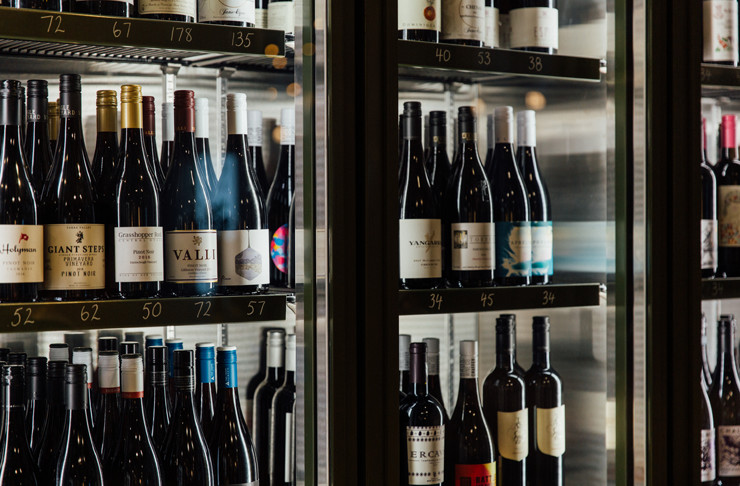 Personally, I'm here to try something more low-brow than the $59 bottle of Holm Oak Estate Chardonnay. I've heard good things about Liminal's signature lunch: the hot chicken roll with gravy ("of course", adds the menu). Liminal's lunch menu is mostly sandwich-based. There are nine on the there so far: a porchetta roll with apple and fennel slaw, fried eggplant with honey miso, and an outrageous mapo tofu and noodle bun, which spills over the roll and looks like it might explode at any moment (I'm definitely coming back for that one).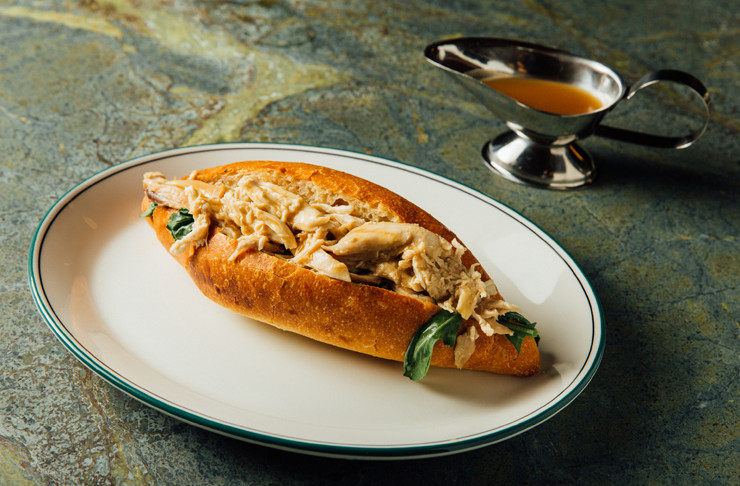 The only cardinal sin with roast chicken rolls is dryness, and Liminal sidesteps that one. Nicholson uses rotisserie leg meat with a little roast skin (huzzah), plus rocket and homemade chicken gravy. It's impossible juicy—the sort of roll that keeps CBD dry-cleaners in business. I keep having to mop drips off my jeans. You even get a gravy boat on the side, if you want to dip your fat-cut chips (a little steep at $6), or just skull meat-drippings when the waiter isn't looking. No judgement.
Liminal has given a lot of thought to the anatomy of the corporate day. Busy morning with the New York office? Drop in from 7am for brown rice pudding and banana jam or pumpkin brioche with whipped buffalo curd and honey. Eggs for $8 is actually surprisingly cheap, but they get you with the $8 house bacon or $6 curried mushrooms. Sneaky.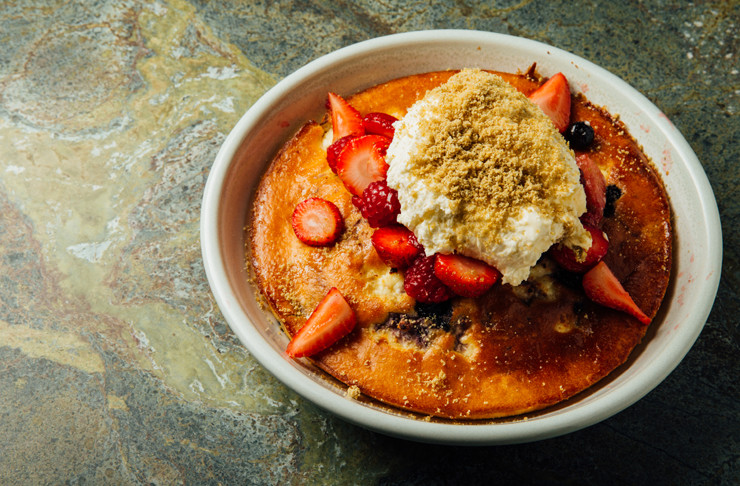 When it's time to Power Lunch, you can tackle a hot chicken roll (bring a bib), or load up 'The Plate' with protein and half serve of salad: maybe lamb skewers, porchetta or Fish Of The Day. Big marble tables and private dining nooks seem to be popular with group bookings.
And after a long day merging and acquiring (or whatever it is corporate fat cats actually do), you can head down to the foyer for cheese and vino. There's a dedicated wine cave to peruse, stocked with 200+ bottles (many in the hip-friendly $20-$40 bracket), and Liminal even has a funky little cheese store. The entire section looks like a cross between a Tuscan provedore, Dan Murphy's, and a billionaire's underground wine cellar. It's pretty cool.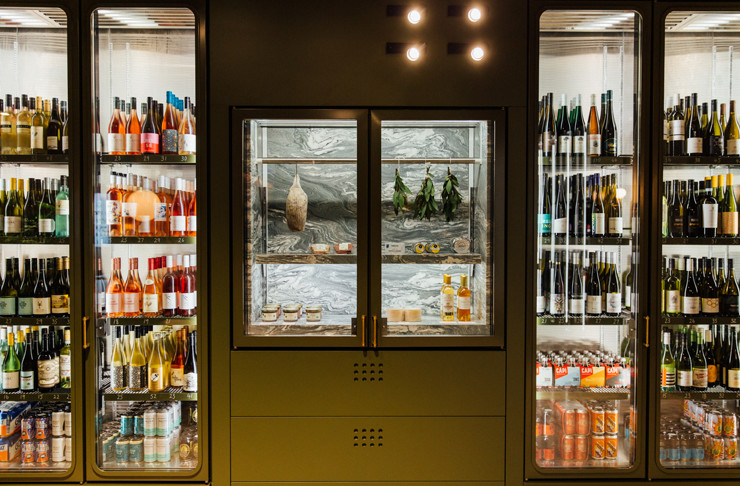 This sort of chameleon, day-to-night shift fits with the name. Liminal. I had to look it up, but it means a state of borders or transition. The bit between two things. In this case, the delicious bit between boring corporate foyer and piping hot chicken rolls.
You'll find Liminal at 161 Collins Street, Melbourne.
Image credit: Annika Kafcaloudis