Melbourne's vegetarian and vegan community was in mourning on Christmas Eve, thanks to the unexpected closure of Brunswick's Radical Grocery. For a long time Victoria's only vegan grocery, Radical Grocery had developed a fiercely loyal customer base that stretched far beyond its inner-city surrounds.
Unbeknown to many, one week beforehand, Beri Lord and Pearl Sadto had opened the doors to Mad Cowgirls Vegan Grocery with little fanfare. Set in Preston's prestigious Excelsior Building, Mad Cowgirls (the name is a reference to US animal activist Howard 'the mad cowboy' Lyman) is built on the same ethical foundation as Radical Grocery – everything sold in the store is cruelty free, organic and in many cases, gluten free.
Lord and Sadto are a mother and daughter team, and northern suburbs locals. Over the past few years, they've seen a sharp rise in the number of vegetarian and vegan-friendly businesses in Preston and surrounding suburbs like Northcote. Northcote is home to Veggie Kitchen, Loving Hut and Mama Roots; a few blocks down High Street in Preston you'll find meat-free bakery La Panella and a brand new branch of pay-as-you-like restaurant Lentil as Anything.
"We knew there were a lot of vegetarians and vegans in the area, but only since we've opened, we've realised just how many there are," says Sadto, who was raised vegetarian and turned vegan four years ago.
"People are starting to come back as well, and it's been really lovely watching the business grow," adds Lord.
Still in its formative stages, the store is set to expand its range over the next few weeks. Currently, it includes a fridge and freezer section stocking well-known brands like Redwood (a UK brand which makes meat and dairy-free deli slices and cheeses), VegiDeli and Tofutti as well as organic soft drinks and juices. Elsewhere, there's a selection of gluten free cereals, soy and almond milks (including popular brand Bonsoy), sauces, noodles and powders. Essentially, everything you need to create yourself a restaurant-quality vegan meal.
"We thought about the products we like to buy ourselves and that we can trust," says Lord.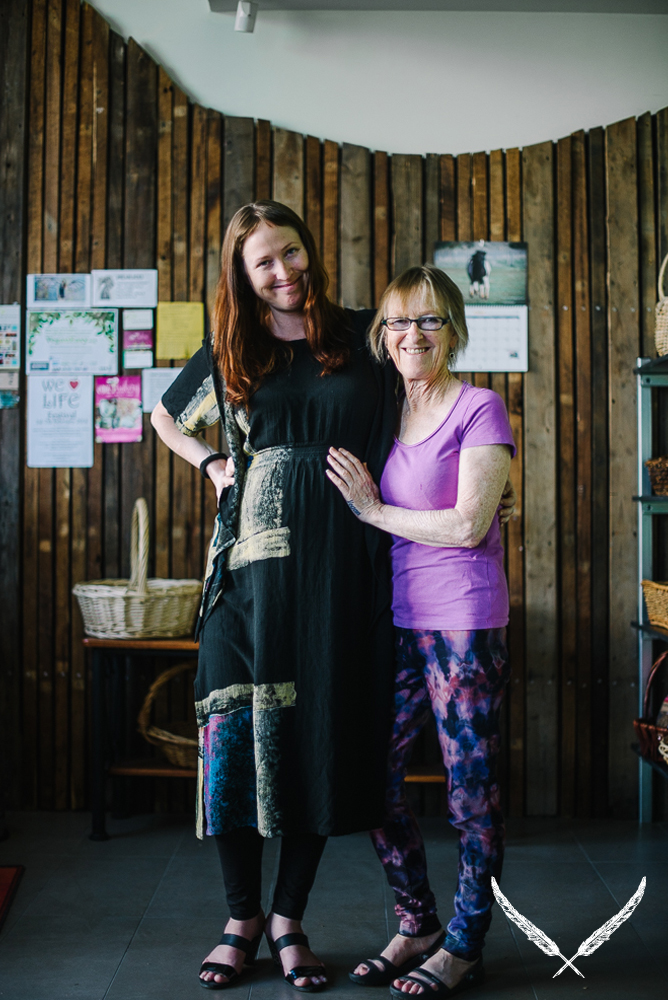 The focus isn't just on food though, with a corner devoted to personal care items (everything from Glyde vegan condoms and ethically made soaps, to hair products and Who Gives a Crap toilet paper, the parent company of which donates 50% of its profits to build toilets and improve sanitation in the developing world). Customers can also pick up tinned dog and cat food made by Victorian company Veganpet – "It's so much better for your pet than the processed pet food you get from the local supermarket," says Lord.
There's cruelty-free jewellery from local accessories company Hello Vegan, dairy-free chocolate, tote bags, t-shirts and vegan magazines and cookbooks – with a strong focus on sustainability, it's no surprise that even the solid timber front counter is made of wood reclaimed from Elsternwick's Rippon Lea Estate by Lord's son Jared.
Lord, a former nurse who has been vegetarian since 1972 and vegan for 14 years, is committed to growing the store even further. There are plans to expand the current, small fresh produce section, sell vegan cakes and cupcakes and maybe add a juice bar.
The pair has been buoyed by the store's success so far, and plan for it to be a fixture for years to come.
"You only have to look on the internet to see that people regard Melbourne as the vegetarian and vegan capital of Australia," she says.
"And all you have to do is go somewhere like [Brunswick Street's] Yong Green Food – it's pumping every night of the week. There's definitely more recognition of vegan lifestyles now than there ever has been."
Mad Cowgirls Vegan Grocery | Shop 2, 93 High Street in Preston
Image Credit: Ryan Noreiks (The Urban List)