When it comes to winter desserts, there's no place for raw cheezcakes, chia puddings or, god forbid, fruit platters. No siree! A Melbourne winter calls for rich, decadent winter desserts, soft-centred and self-saucing, pumped full of molten chocolate, swimming in a pool of cream and caramel….
Dear friends, we've put our waists on the line to bring you Melbourne's best winter desserts. Grab a spoon and get amongst it.
Bombe Alaska at Donovans | St Kilda
To call Donovans' Bombe Alaska colossal would be an understatement. Designed for two, this huge dessert wins points for size, aesthetics and yumminess. A thin layer of chocolate sponge topped with rich chocolate and hazelnut ice cream encased in a lightly flamed, soft meringue coating…drooool! If you thought that was sweet enough, it gets even sweeter with a generous pour of silky chocolate sauce. Ridiculous.
Image credit: Donovans Pinterest.
Bread & Butter Pudding at The Station Hotel | Footscray
Nothing says comfort food like a mighty mound of bread and butter pudding. The Station Hotel in Footscray makes a perfect winter pudding that is, dare we say, better than your Nan's. They take day-old baguettes, soak them in double cream and eggs, add a generous scattering of plump sultanas and smother the lot in an apricot glaze. A bite is like a warm blanket and a hug wrapped into one.
Crème Brûlée at France-Soir | South Yarra
'Crème brûlée, s'il vous plait!' you'll hear us cry as we clutch our sides at France-Soir. While we've most likely already gorged ourselves on their mousse-like béarnaise sauce, there's always room for their famed crème brûlée. Velvet-smooth custard? Perfectly crystallised crust? That joyful crack? Oui, oui, oui! Looking for the best crème brûlée in Melbourne, if not Melbourne's best dessert? France-Soire's where it's at.
Flan Dulce de Leche at San Telmo | Melbourne CBD
San Telmo's Flan Dulce de Leche almost too good to eat. Almost! Almost we said! If you haven't yet had the pleasure, the flan dulce de leche is a thick, wobbly set custard topped with a generous spoonful of dulce de leche and sprinkled with a salty-sweet peanut caramel praline. You've never tasted caramel until you've tried this bad boy.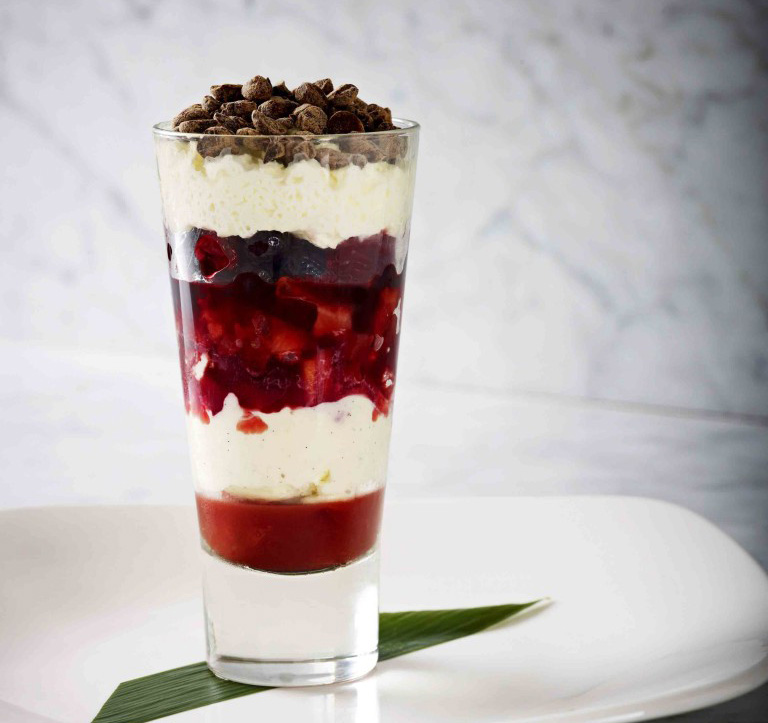 Image credit: The Smith.
Knickerbocker Glory at The Smith | Prahran
To quote a dessert-loving Urban Lister, The Smith's Knickerbocker Glory is like 'a trifle on crack'. Featuring layers of creamy ice cream and macerated fruit, topped with whipped cream and sprinkled with chocolate buttons, jelly squares and great hunk-a-chunks of honeycomb, this masterpiece sure as heck beats the ol' sponge 'n' custard combo.
Chocolate Pavé at GG Restaurant | East Melbourne
While we're known to harp on about GG Restaurant's rotisserie offerings (seriously, that chicken!) we always praise the lord for our second stomach when the dessert menu gets passed around. We may ooh and ahh over the delicious choices, but we always come back to the chocolate pavé.
What's pavé, you say? Only the most decadent, delicious cake ever! GG's comes with a burnt butter ice cream and is sprinkled with smoked salt. Rich, decadent and little bit unique, it's up there as one of Melbourne's best winter desserts. Oh heck, we'll eat it in any season!
Sticky Date Pudding at Cicciolina | St Kilda
Sticky date pudding has a rightful place on any best winter desserts list, and Cicciolina's is one of the best you'll find. Swimming in a creamy butterscotch sauce, topped with a sprinkling of slithered almonds, this incredibly moist sticky date pud is one of the best desserts in Melbourne. Oh sweet, delicious rivers of butter, sugar and cream, it's good.
Dessert Platter at Saké | Melbourne CBD
If, like us, you find it hard to pick just one dessert, look no further than a dessert platter! Saké Restaurant & Bar's is one of Melbourne's best, offering petite versions of all of their delicious Japanese desserts – a gooey chocolate fondant, white sesame ice cream, Japanese yuzu tart, green tea churros with a milk chocolate and red bean dip and a mousse-filled 'chocolate origami' structure…phew! Prepare to gorge yourself senseless.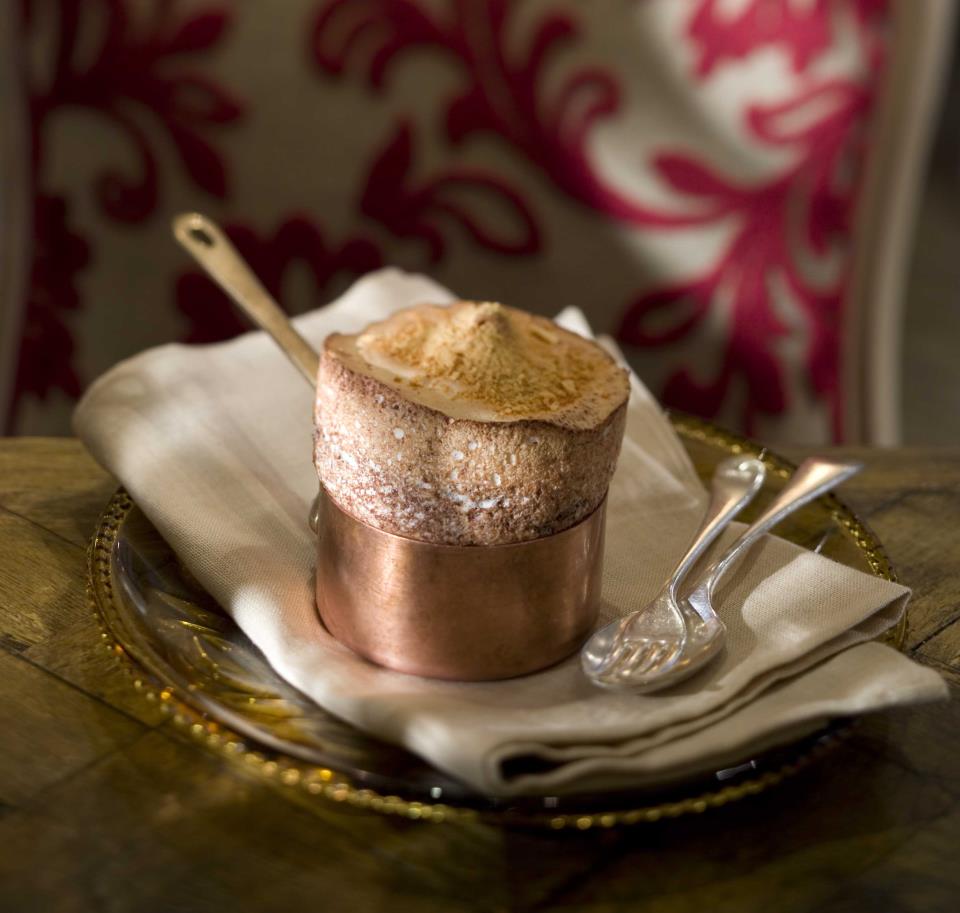 Image credit: Bistro Vue Facebook.
Soufflé au Chocolat at Bistro Vue | Melbourne CBD
While we're partial to strawberry or pistachio, come winter time there's nothing we want more than to burry our spoons into a big, pillowy chocolate soufflé. Bistro Vue makes one of our favourites – so incredibly light you'll feel as if you're eating a little cocoa cloud. Definitely a frontrunner for the title of Melbourne's best soufflé.
Milk Chocolate Dumplings at Charlie Dumpling | Prahran
While we've always maintained that nothing is better than dumplings, Charlie Dumpling has proved us wrong once again with their sweet offerings. Their most exceptional dessert is the milk chocolate dumplings – warm mounds of melted chocolate encased in a dumpling, sprinkled with chilli sugar and finished off with a scoop of raspberry sorbet. A sweet, spicy and slightly tarty treat.
Chocolate Fondant & Apple Crumble at City Wine Shop | Melbourne CBD
A soft-centred chocolate fondant is perhaps the ultimate winter dessert, and City Wine Shop has time and time again made all of our gooey, soft-centred dreams come true. Their chocolate fondant, served in a little pan with a side of decadent hazelnut ice cream, is one of the best winter-time desserts in Melbourne.
While you can savour the fondant all year round (we're known to order it rain, hail or shine), City Wine Shop's apple crumble is seasonal treat that pops on the blackboard now and then. And man, are be happy when it does! The perfect ratio of crumble to spiced apple, served with a side of vanilla bean ice cream and pouring custard, City Wine Shop has absolutely perfected the humble crumble.
Mr M's Espresso Martini at Mr Miyagi | Windsor
Never one to do things half-heartedly, Mr Miyagi elevates the humble espresso martini to a godly dessert-status, mixing up sochu (a Japanese spirit), chestnuts, sake, coffee and topping it all off with a delicious white chocolate foam. One Urban Lister, after sipping the dessert, ponders 'how can you describe something that tastes like heaven?' Try it and you'll ask yourself that, too.
Pizza Dolce at Baby | Richmond
While we're known to enjoy a Nutella number every now and again, Baby well and truly hit the sweet pizza prize outta the park with their Pizza Dolce. The base, smeared with a salted caramel sauce, is topped with poached pear, a moreish lemon thyme crumble and nougat gelato. Pizzas gone wild.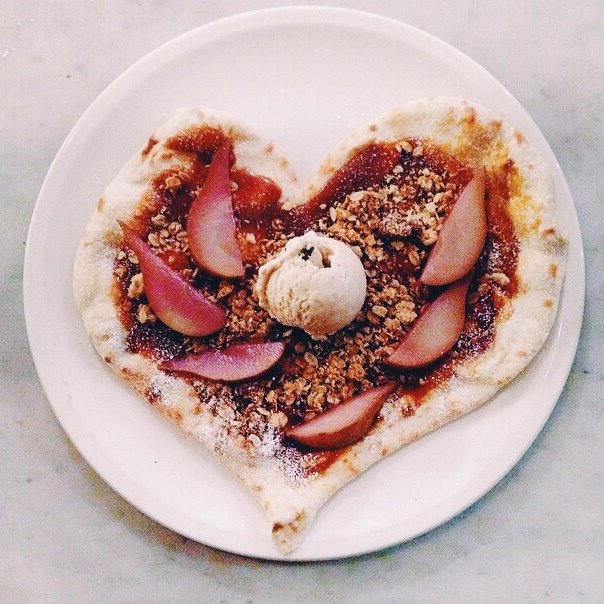 Image credit: Baby Facebook.
Are we missing your favourite winter dessert? Let us know! (Want more? Here's a list of Melbourne's best desserts that we prepared earlier).