If there's anything more Melbourne than trawling the streets for espresso martinis and experimental pop-up dog-opera-toastie-vans, it's secret dishes and off-menu treats. Ordering off menu makes you feel at least 12% more VIP, especially on Tinder dates.
And yep, you've guessed it, we've found Melbourne's best. The secret menus they don't want you to know about. Yeah...we're probably not the best people to trust with your secrets when it comes to these things.
Potato Salad Sandwich | CIBI
Collingwood
If you ever have a hankering for potato salad, the best place to get it is Collingwood's cult café and design space, CIBI. But even better than the side dish on its own is their potato salad sandwich. Once in a blue moon, the head chef will heap a generous portion of the salad into the pan, crisp the edges and toast it with cheese. Complete satisfaction—not only for your appetite, but in the knowledge you're one of a privileged few. Total bragging rights to follow.
Suckling Pig | Annam
Melbourne CBD
This secret dish requires a bit of early notice—three days worth, in fact. But boy is it worth it. Over at Annam, head chef Jerry Mai loves her charcoal grill, and she loves her suppliers for bringing her fantastic produce. Like a whole suckling pig, slow-roasted for customers in-the-know. You'll have to ring up and book this one in advance. And if beef is more your thing, you can get that too—in the form of a 2kg tomahawk steak. Bring your appetite.
Roasted Flounder | The Rochey
Fitzroy
Every now and then, chef Mischa Tropp cooks up a whole roasted flounder, with fermented lime butter, black pepper and curry leaves over at The Rochey. It won't be on the menu, but there's no harm in asking. We're planning to head in every day to hedge our bets. PS. if you haven't checked out the new-look Rochey yet, get on that sh*t.
Crab Nights | Lamaro's Hotel
South Melbourne
Every couple of months at this iconic South Melbourne pub, part-owner and executive Geoff Lindsay cooks something just a little different. That's when his famous Crab Nights take place, featuring an ingredient not on his regular menu at all. He's been doing it for 20 years now, so you know it's gonna be good. Ring ahead to find the next secret drop.
Rotisserie Rolls | Collin's Quarter
Melbourne CBD
You'll never spot it on the menu, but every Thursday and Friday over at Collin's Quarter can get rotisserie rolls for just twelve bucks. Some days it'll be pork, some chicken, some beef, and you'll never know till it shows up. Once they're sold they're gone, so we suggest getting there at 3pm on the dot. PS. These guys also do $2 oysters every Friday evening, strictly off-menu.
Pickle Backs | The General Assembly
South Wharf
Over at The General Assembly on South Wharf, their bartender has been working on spicing things up. Literally. If you ask, he'll prep you his variation on the classic Pickle Back shot: pickle juice has been swapped out in favour of jalapenos. You won't find this anywhere on the menu, so bring your mates and let them know this round is on you. Please send in reaction videos.
Supersonic Spicy Dog | Riverland
CBD
In honour of National Hot Dog month (we know...), Riverland are bringing out something that's not on the usual menu. Melbourne, meet the Supersonic Spicy Dog. We're talking 3 Ravens habanero acid (!!) hot sauce as a base, harissa, jalapeno, chipotle and smoke chilli sea salt. This is all piled on top of Stevens Creek Wagyu beef mince chilli con carne and a Peter Bouchier frankfurter. If you have any tastebuds left after this one, we will bow down to you. Get the milk ready.
XO Dumpling Noodles | David's
Prahran
When you're heading to David's (and you all should), skip the regular menu and try their secret special egg noodles instead. Ask for them to be stir-fried with XO sauce and mixed with their choice of dumplings and you're in for a treat. Alternatively, go for the steamy wonton noodle soup (also not on the menu). Either way, you can't lose.
Pork Bone Broth | Oriental Teahouse
Melbourne CBD
Again, this one relies on the mood of the chef, so don't hold your breath. Every now and then, the kitchen at Oriental Teahouse preps a special 6-hour, slow-cooked pork bone broth soup, available to customers who know to ask. We wish you luck. And if you get to try it, know that we're very jealous.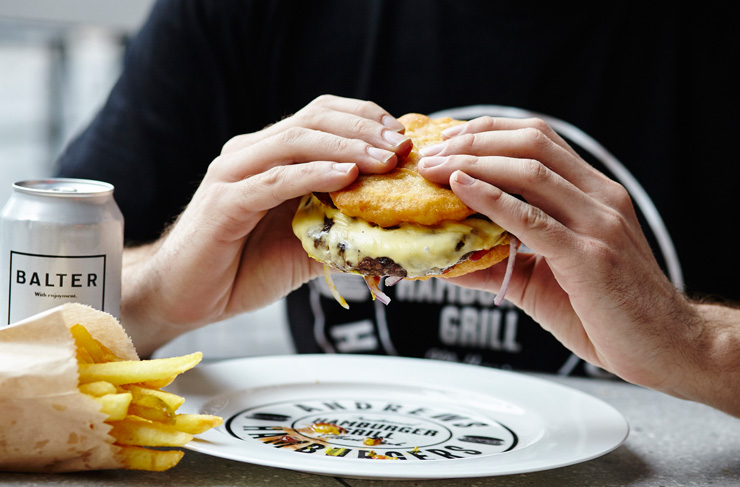 Potato Cake Burger | Andrew's Hamburgers
Melbourne CBD
Now, the burgers themselves are impressive at Andrew's Hamburgers but the highlight for us is the secret menu, best requested with a big wink. Next step is to locate The Hulk Burger. Basically, the ultimate combo of cheese, beef, bacon, onion and tomato sauce...sandwiched between two glorious potato cakes. Heaven meets diabetes.
Animal Style Burgers | California Burgers
Windsor
Strap yourselves in. California Burgers over in Windsor have perfected the art of the secret menu. Half the food in here is secret. First up is 'The California Animal', a modification available for any burger on the menu. Slide over two bucks and get your beef patties grilled and infused in American mustard, added grilled onion and extra pink mayo. Or you can go for 'The Carnivore' which is a burger made up of one of everything on the menu. Yep, one beef patty, one fried chicken breast, two slices of American cheese, bacon, chicken and lamb gyro meat, pineapple, jalapenos, lettuce, tomato, onion, pickles and pink mayo. So just a light snack then...
Jaw Breaker Slices | Old School Pizza
Coburg
For those who can handle it (I'm okay with saying I can't), ask for your slice to come 'Jaw Breaker style' over at Old School Pizza in Coburg. Basically, what you're ordering is an entire pizza, but only in one slice—which means there's no guilt, right? This thing is 15-inches long from base to tip (that came out wrong...) Follow it up with a doughnut snack pack, and expect to recover from the food coma at some stage, probably.
Breakfast Benny Burger| El Mirage
Brunswick East
Struggling to choose between the Eggs Beggs or the brekky burger? Not at El Mirage you're not. This Brunswick café has combined two of our great loves to create The Breakfast Benny Burger (strictly off-menu). Slow cooked beef cheek, mac'n'cheese croquette, a poached egg and topped off with hollandaise sauce. Ask your waiter with a knowing nod. They'll handle the rest.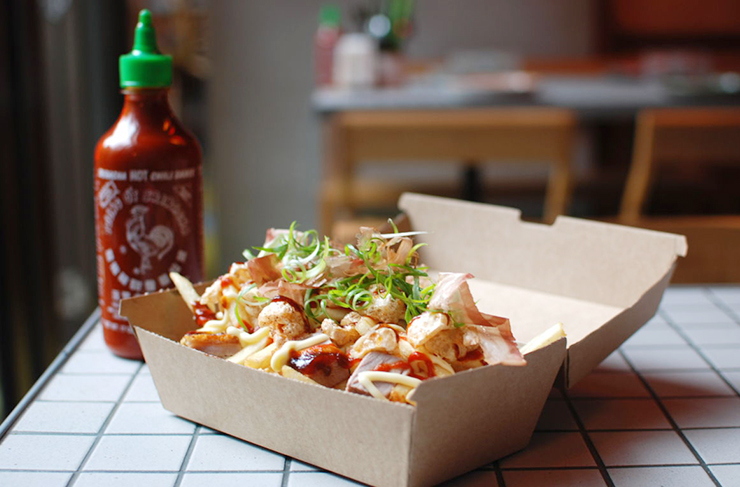 Pork Crack Snack Pack | Uncle
St Kilda
Now, serious foodies may be familiar with this one: over at Uncle in St Kilda, the dish you've got to ask for is the Pork Crack Pack. It's basically a Vietnamese take on the HSP, a combo we didn't realize how much we needed. Crispy fries and roast pork belly are covered in hoisin, kewpie mayo and Sriracha, before being finished off with a touch of bonito flakes. You may not find it on the menu, but trust us, the wait staff are expecting your order.
BBFC Burger | Found 401
Sunshine
Take the OG burger from Found 401 over in Sunshine and add a coupl'a extras to take this dish to a whole new level—known as the 'BBFC' burger for those with the secret knowledge. The name is the clue—you've got beef, bacon, and fried chicken all in one. Oozy, succulent all-round delicious. Yeah, maybe don't skip the gym this weekend.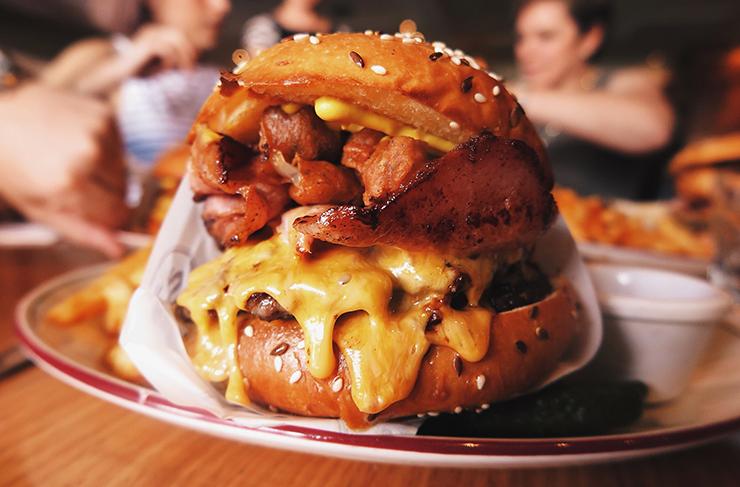 The Worst Kept Secret In Melbourne | Dandenong Pavilion
Dandenong
We couldn't leave these guys off the list. They basically invented secret menus. And we'd tell you what to expect when you ask for a 'secret menu burger' at Dandenong Pavilion, but we honestly can't. The menu is constantly evolving, depending on how the chef is feeling. But you can bet that whatever you get is gonna be ridiculous. A burger consisting of two beef patties, bacon, American cheese, potato gems, mac'n'cheese, mustard and ketchup is not out of the question. Seriously.
Secret menus for you? How about you try some SPAM instead? Nope, not even kidding.
Image credit: Michelle Jarni