When it comes to picking up the perfect on-the-go breakfast, it's hard to beat a bowlful of epic granola. It keeps you feeling full until lunchtime, so you don't end up maxing out on the snacks before midday, and includes heaps of delicious ingredients that give you that vitamin and mineral boost you need to start your day.
But we're not the only ones loving a granola hit. Melbourne cafes Il Fornaio and St Ali are celebrating this glorious breakfast as part of The Breakfast Club, which sees a fantastic pop-up Carman's Café Granola dish being added to their menus until Sunday 29th November. That's only two more weeks to get your epic granola fix!
The Breakfast Club | The Details
Where: Il Fornaio, St Kilda, and St Ali, South Melbourne
When: Daily until Sunday 29th November
What to order: Carman's Mix and Matcha at Il Fornaio, and Carman's Chameleon at St Ali
Earlier this month, we sat down with Melbourne café St Ali's owner, Salvatore Malatesta, to talk breakfast, café vibes and his latest creation that includes Carman's Café Granola.
So, Salvatore, what is it about the café breakfast experience that's so special?
I often get asked why breakfast is such a desirable dining experience. The answer is three-pronged: Serotonin levels are at their best in the morning (especially if assisted with coffee), it's an affordable experience, and it provides the perfect opportunity to catch up with friends. I spend a lot of time on tweaking the vibe here at St Ali, which is intangible but critical. We have oodles of vibe!
Oddles of vibe, sounds about right! Why have you decided to partner with Carman's to create a bespoke breakfast recipe?
There's no denying it: Carman's is a great product. We eat it at home every day. My kids love it. I love it. The chefs love it. They have added their magic and the result is bang on, especially with the Carman's Café Granola, which is all about quality, nutritional considerations and, of course, flavour!
Tell us about your Carman's Café granola recipe…
Tell you? Come in and try it! Let's just say that the hero is Carman's Café Granola, and our signature St Ali tweaking was just a little bit of magic dust.
The St Ali team have been kind enough to let us into their Carman's Chameleon secrets, so you can recreate their delicious breakfast at home. Check out this awesome, easy-to-make recipe for a coconut, apple, plum and summer fruits granola dish.
How To Make Carman's Chameleon
Serves 3-4
Ingredients
115g/4oz (1/2 cup) sago
1lt/17fl.oz 4 cups water
Pinch of salt
30gr.1.1oz (1/4cup) sugar
Pinch of vanilla powder
250gr COYO yoghurt
100ml /2fl.oz (1/2cup) coconut water
Method
1. Place the sago, sugar, vanilla powder, a pinch of salt, and 4 cups of water in a pot over high heat. Bring the mixture to a boil. Reduce heat to medium-low and simmer 10-15 minutes. Stir occasionally, adding a little more water (if necessary) to prevent the sago from bubbling and 'spitting'.
2. When the sago turns soft and a little gooey, switch off the heat and place a lid on the pot. Make sure it's tight so that no moisture escapes. Let the sago sit for at least 10 minutes—the residual heat inside the sago mixture will finish turning all of the 'seeds' soft and translucent.
3. Let the sago cool on the stovetop, then cover with lid and refrigerate until cold. At this point it will thicken and gel together. Perfect!
4. Now to serve! Scoop out about 1/4 cup or more per person of the cold sago and place in a bowl. Pour coconut water and COYO yoghurt over each portion and stir to mix— remember that this pudding should be on the runny side, and you will have to stir quite well to distribute the sago.
5. Add Carman's Macadamia Red Apple & Plum Café Granola (at least 1 cup, depending on your serving size), mango puree, sliced fresh mango and pineapple on top and finish with a sprinkle of black sesame seeds.
Keen to recreate this recipe? Find out more about Carman's delicious Café Granola via the Carman's website, or pick up some in supermarkets now.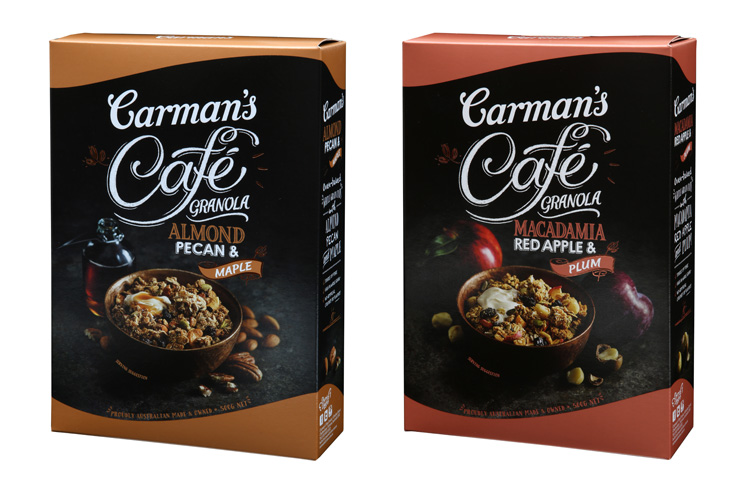 Editor's Note: This article is proudly sponsored by Carman's and endorsed by The Urban List. Thank you for supporting the sponsors who make The Urban List possible. Click here for more information on our editorial policy.
Image credit: Carman's