Opening a restaurant right now is a ballsy move. If your bricks aren't exposed and your temperamental chef doesn't have at least three neck tatts...you may as well pack up and go home right now.
Having said that, 2017 was a hell of a year for Melbourne restaurants. We welcomed a bunch of newbies into the fold, and frothed over everything from dolce de leche soft serve to 24-hour karaage. So here we go, guys. The best restaurant openings od 2017.
Osteria Ilaria
CBD
Start with the big guns, right? Pasta legends Tipo 00 decided to expand their glutinous empire this year—they bought the old Du Nord and turned it into Osteria Ilaria, a cutting-edge Italian wine bar. Osteria's grilled octopus with spicy nduja and anchovies went on to become one of the dishes of the year, although personally we dug the porcini mushroom croquettes. Om nom nom...
Kisume
CBD
Was there a bigger opening of 2017? Now the line for Chin Chin practically touches the line for Kisume, the city's newest three-level Japanese hot-spot. You wouldn't expect anything less from The Lucas Group, but even they must have been surprised by the level of froth this place generated. Start downstairs with some hot sake and the steamed crab gyoza. Delish.
South Of The Wall
Cremorne
Hands down our favourite new beer garden of the year. Light, sunny, lots of bright colours...and a giant (and very disgruntled) Donald Trump, peering over the wall. South Of The Wall is a new Mexican tequila bar on Cremorne St, and when we say 'tequila bar' we MEAN it. Ten different house margaritas should keep you buzzing all Sunday.
Sash Japanese
Windsor
Speaking of Japanese, we couldn't leave out Sash, the Chapel St bar that introduced us to Japanese squid-ink pizza. The fusion cuisine was always going to be risky, but ex-Ichi Ni chef Ken Tut more than pulled it off. Beginners should start with the spicy tuna tacos (outrageously good) and the hoisin duck with orange ginger. Don't forget the cocktails too.
Neptune
Windsor
Seafood and cocktails from the guys behind Hanoi Hannah, Saigon Sally and Tokyo Tina? Neptune was always going to be a no-brainer. The aglio e olio anchovy spaghetti is a dead set winner, but sitting up at the bar with an Aperol Spritz and some fritti misto is a pretty good start to a Friday night, too. Bring on the sage anchovy fritters...
Shukah
Windsor
It's Saturday night and someone asks you what you want to eat. It's probably a safe bet you WON'T say "I could really go some Armenian." But if we're any judge, Shukah will have won a few converts this year. It's a new casual eatery from the guys behind Sezar in the CBD—mezze style shared plates, lots of grilled meat, herb fritters with tahini and sumac, plus a killer Baba Ganoush. What can we say? We're hooked.
Hana
CBD
It's one of our favourite memories from 2017: sitting down at Hana for the first time, ordering a cocktail, and watching a giant ceramic shark's head weave its way towards our table. This place has a neon-lit jungle atmosphere to die for, and the seafood menu is all class. Pro tip: don't miss the delicate tuna poke on tapioca crisps...or the seafood croquettes...or the epic 'Tom-a-pork'. You know what, just order it all.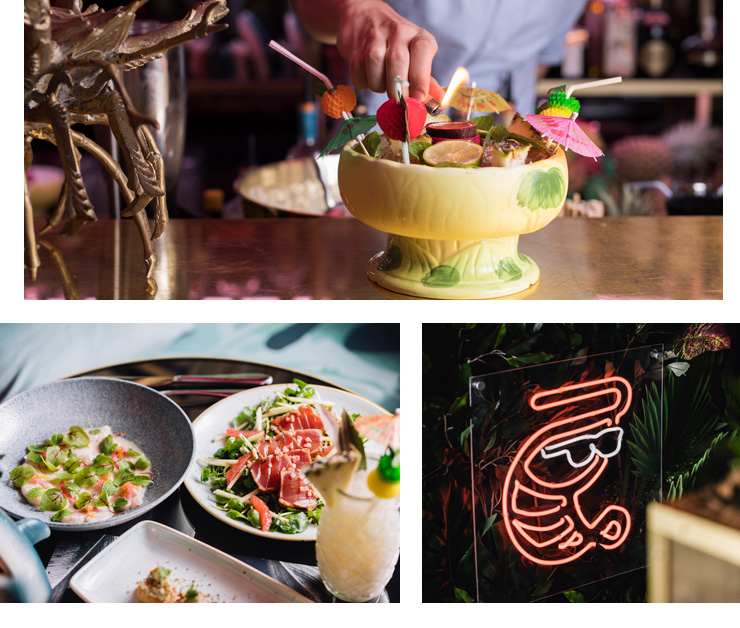 Palermo
CBD
Palermo only opened last week, but already it's one of our favourite openings of 2017. How can we say no to flame-grilled Argentinian from the guys behind San Telmo and Pastuso? The old Apartment bar may be gone (may she rest in peace), but the new fit-out takes you all the way to Buenos Aires. Order the Western Plains Pork suckling pig or smoky asado lamb and tuck the hell in.
Iki-jime
CBD
Shannon Bennett got busy in 2017. Not only did he open a new burger chain, he remodelled the old Bistro Vue into the city's premier seafood and cocktail restaurant, Iki-jime. Named after a sustainable line-caught fishing technique, this place is ethical, moody and delicious, in that order. Come for the Moreton Bay Bug Tart, stay for the outrageous desserts.
Rice Paper Sister
CBD
One of a few new places turning Hardware Lane into something more than a honey-filled tourist trap (Miznon is another). Rice Paper Sister is the newest venture from the guys behind Rice Paper Sister, and it's already giving its older siblings a run for their money. Our pick? Go the tempura 'Q.L.D.' lobster roll with chrysanthemum leaves, nori mayo and mustard pickles. So, so good.
Annam
CBD
We're calling it: best deep fried ice-cream you'll have...EVER. Period, full stop and the rest. Annam popped up on Little Bourke St a few months ago, and it's already doing a heaving trade. Partly this is down to chef Jerry Mai's outrageous Vietnamese flair (trust us, try the Hot Pot Glass Noodles), but partly it's down to giant balls of deep-fried ice-cream drizzled with salted caramel.
Bucher's Diner
CBD
Butcher's Diner is the latest venture from Con Christopoulos (Siglo, Supper Club, City Wine Shop), so you know it comes with some pedigree. It's a 24/7 eatery, dishing up all sorts of deliciousness into the wee hours. Craving karaage at 3am? Done. Cape Grim cheeseburgers and $6 cheese toasties? No problem. Craft tinnies and local wines round out a sweet new addition to the CBD late-night scene.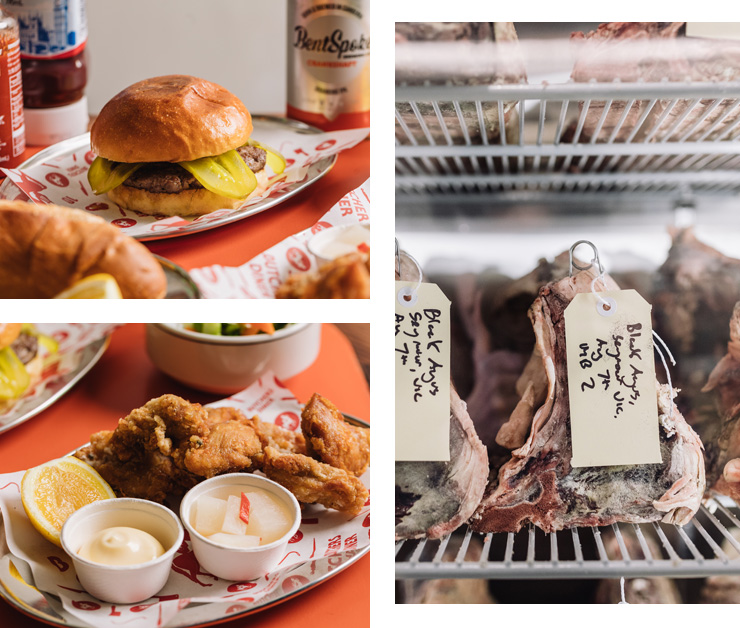 Lello Pasta Bar
CBD
Lello is the new kid on the spaghetti block, but we're already big fans. Leo Gelsomino is dishing up some of the best pasta in the city, handmade on his very own imported Italian pasta extruder. The Culurgiones with potato, mint, broad bean pesto and pecorino is delicious, but personally we're coming back for seconds of the Tagliolini, topped with slow-braised rabbit ragu, pancetta and thyme.
CHE
Fitzroy
Peruvian-style fried chicken, rockstar empanadas, triple-cooked chips and dulce de leche soft serve—there was a reason CHE was hyped for so long. Chef Alejandro (the genius behind Pastuso) designed the menu as a casual alternative for the Brunswick St crowd, and despite the road works out front, it seems to have worked. We'll be back to steal some of that house-made chicken salt...
Ryne
Fitzroy
Donovan Cooke STILL gets props for his restaurant Est Est Est, and that place closed like 15 years ago. So we were pretty psyched to try his new up-market French restaurant, Ryne. Let's just say, it lived up to the hype. The Sher Wagyu selection, smoked duck and lamb saddle, roast cauliflower and potato...they're all future classics. But it's the pork belly that steals the show. That thing needs its own TV show.
Atta
Albert Park
For gourmet Indian in 2017, it has to be Atta, which popped up mid-year in Albert Park. It doesn't look like much from the outside, but the fit-out is gorgeous. And the food? Edible art is probably the best description. Go the Seekh Kebab for entrée (lamb mince rolls with mint and beetroot chutney, garlic, and coriander butter), but make sure you save room for the kulfi dessert. Insta-porn stuff right there.
Hungry for more? Check out the best new cafe openings of 2017.
Image credit: Jenna Fahey-White