Rice, the backbone of many cuisines, is a grain worth celebrating. After all, what's a Chinese meal without fried rice, a trip to Grandma's without rice pudding, or a diet without a rice cake? And can you imagine a Japanese dinner without sake – that clean, delicious liquor made from fermented rice? There's no better way to toast the humble rice grain than at a dedicated bar, so rice to the occasion at some of Melbourne's best sake bars.
Robot | Melbourne CBD
Retro robot-themed décor sets the tone for a fun night out at this cute, cosy bar, but there's nothing automated about Robot's bar staff – the smiles are genuine, the banter's interesting and damn, they know their sake. All of which makes this a great spot to pop your sake cherry, so to speak. Staff can talk you through the various kinds of sake available, or recommend one based on your taste and temperature preferences (sake can be served cold, warm or at room temperature). Current staff fave, Umenoyado Junmai Ginjou sake from Nara, is a fruity drop that strikes just the right balance between dry, sweet and savoury. Warning, Will Robinson, it's hard to stop at just one flask.
Nihonshu Sake and Shochu Bar | Melbourne CBD
With a relaxed, welcoming vibe, a bottle collection to rival Dan Murphy's and big serves of Japanese comfort food delivered from Izakaya Chuji next door, Nihonshu is the kind of bar we could live in. There's even something to read – the novel-length drinks menu, with tasting notes for each of the dozens of kinds of sake, shochu (a spirit made from barley or sweet potato), umeshu (plum wine) and Japanese whisky served here, not to mention the sake- and umeshu-based cocktail list. Sake aficionados will be in heaven, but newbies might feel overwhelmed. Don't be – go for the sake flight (three 50ml serves for $19) or ask for a recommendation, then choose your ceramic sake cup and settle in for a night out you'll wish you could remember.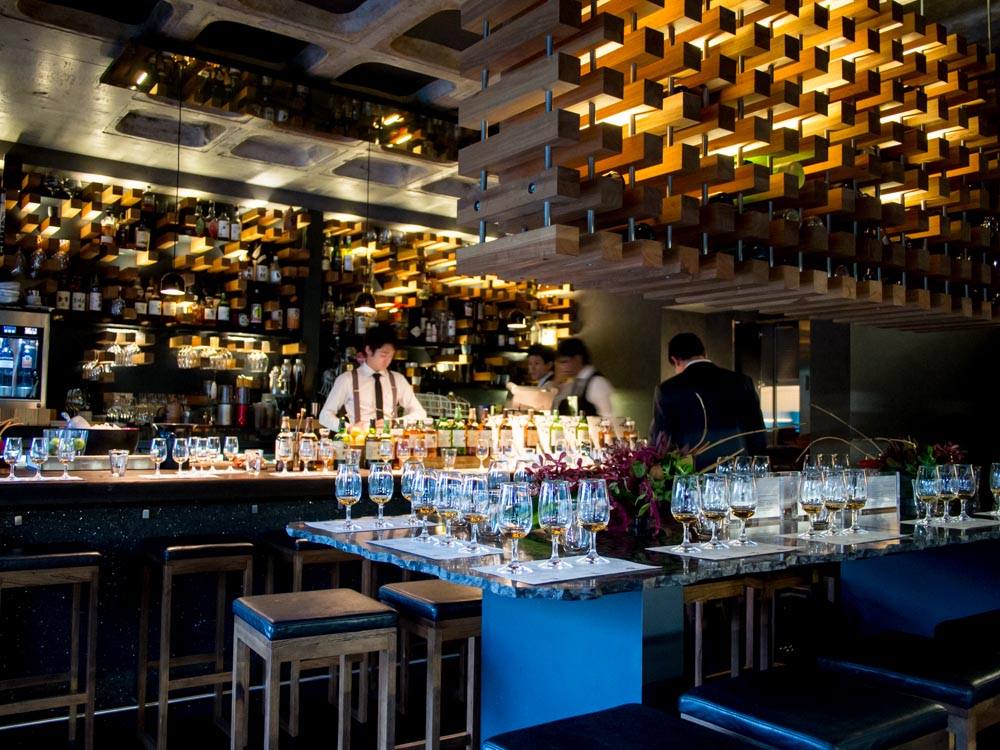 Hihou. Image credit: Izakaya Den Facebook.
Hihou | Melbourne CBD
If it's not unsigned, down an alley or hidden behind a dumpster, it's not a bar in Melbourne, as they say in the classics. Which makes Japanese bar Hihou quintessentially Melbourne – you even have to ring a doorbell to gain admission. Inside, it's a sophisticated mix of top-notch table service (hot towel on arrival? Yes please!) and architectural wow factor. Sit at the marble-topped communal table facing the bar, and the bar's shelving – wooden planks placed perpendicular to the wall – appears to be coming right at you, manga-fight style. Or is that just because you've had too many sakes? A carefully chosen range of high-quality sake (with prices to match) is available by the glass or the flask, including the dry, slightly citrusy Tetsujin Nigori, or try an umeshu (Japanese plum wine) that's as smooth and seductive as the whole Hihou experience. If you're after an elegant, intimate night out, this is the sake bar for you. Just don't let it turn into a dancing-on-the-table affair, no matter how tempting that marble is, or Hihou's hidden door may never open for you again.
Shimbashi Soba & Sake Bar
Another of the best bars for sake in Melbourne is Shimbashi in the CBD. Warning: don't try to stay sober at this soba bar, where buckwheat noodles are handmade daily and are best slurped down with an accompanying sake, just as they would be in Japan. Cup sake – those cute foil-lidded, single serve glasses of sake – is a good quaffing choice, or go for something more refined from the extensive drinks menu. Want to see just how well food goes with sake? The proof is in Shimbashi's sake pudding. Yep, you read right. Yum.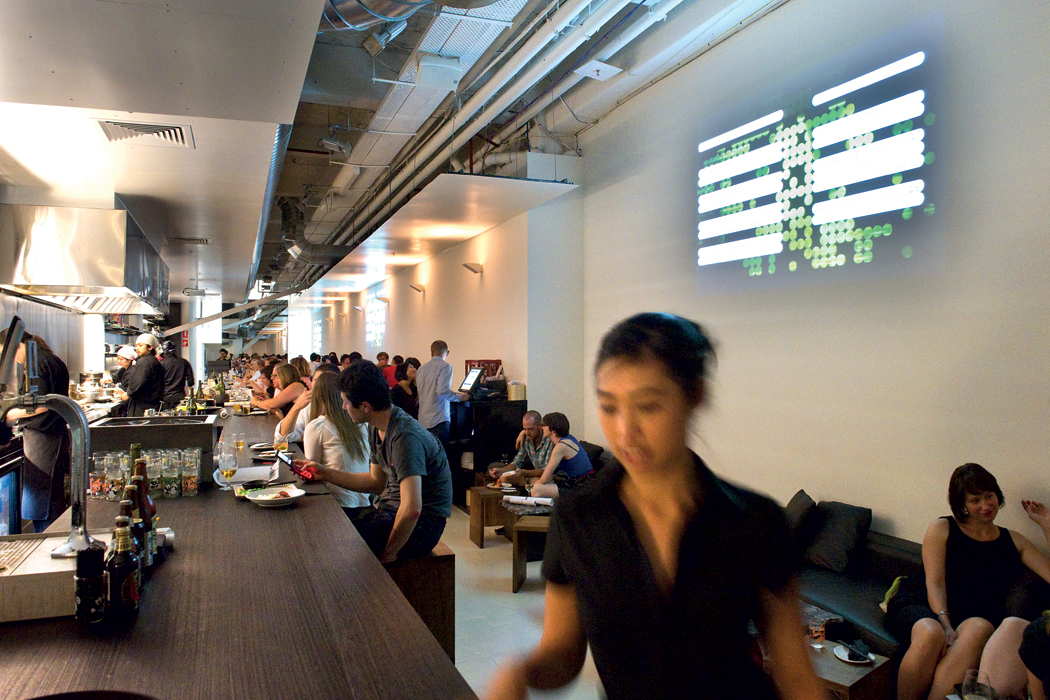 Izakaya Den. Image credit: Arteveneta.
Izakaya Den | Melbourne CBD
The CBD is home to many of Melbourne's best sake bars, and Izakaya Den is another strong contender for the crown. Slink down into this basement den of iniquity, sidle up to the bar, let the super talented staff order for you and you're in for an amazing evening. It might not come cheap, but it'll be worth it if you've got a yen for jaw-droppingly good bar snacks paired with smooth sake in a buzzing atmosphere. Part of the fun of sitting at the 30-metre-long bar is being able to watch staff expertly mix drinks, plate food and chat to customers – sometimes all at once. And of course you can ogle the excellent display of bottles while you munch on crispy sweet corn kaki-age or pig out on succulent grilled pork belly. Deciding whether to have another junmai sake (traditional sake made with rice only) or a koshu (aged) sake won't be the hardest thing you'll do all night; leaving will be.
Kumo Izakaya and Sake Bar | Brunswick East
Kumo's staggering range of sweet and dry sake is matched only by two things; its clever industrial-meets-retro fitout, and its carefully executed menu of Japanese bar snacks. The building's design is a feast for the eyes, but while you're here you'd best indulge your other senses as well. Most dishes are designed to share with friends – over plenty of sake, of course – though you may want to keep all the sher wagyu beef tataki to yourself. The smoky, succulent slices of beef go well with Senchu Hassaku, a dry sake, or mix and match your succession of dishes with a sake flight. There are three types available, priced from $20 for three 60ml glasses. Each flight features three different sakes; try each flight and you really will be flying.
Main image credit: Ben Torode at Fivehundredpx.