For some reason, there's a misconception out there that us vegetarians exclusively chow down on raw and organic food around the clock. Wrong! While there are plenty healthy vegetarian restaurants in Melbourne, just because we choose not to eat meat doesn't mean we don't love to indulge in hangover-busting, artery-clogging fast food from time to time.
From pizzas, burgers, hot dogs and parmas to Mexican and milkshakes, here's our pick of where to enjoy Melbourne's best vegetarian fast food.
HUXTABURGER | VARIOUS LOCATIONS
You'd be hard pressed to find a burger lover that doesn't consider Huxtaburger to be among Melbourne's best. But vegetarians weren't catered for when the crew behind Smith Street's Huxtable opened their original offshoot burger joint back in 2011 (the Huxtaburger empire has since expanded to include stores in Prahran and the CBD), with the tagline "hot beef, cold beer." Thankfully, hangovers are now answered with the Sondra burger. It's a thick slab of fried tofu served with lettuce, tomato and delicious sesame soy mayonnaise on Huxtaburger's signature glazed brioche bun. Hits the spot every time.
MR NATURAL VEGETARIAN PIZZA | FITZROY & ST KILDA
Vegetarians know the feeling all too well: ordering pizza with a group of friends and knowing the only choice to be made is between a margarita and a stock standard vegetarian. That's why we love Mr Natural Vegetarian Pizza, where we can select anything from the menu. From Mr Natural's unique twist on the classic Hawaiian (sultanas, corn, pineapple, capsicum, cheese and shredded coconut) to the Razorback (mushroom, beans, corn, capsicum, onion and tofu), it's all vegetarian (or vegan on request!). Wholemeal flour is used in all pizza bases, making them more guilt-free than what you're used to.
TRIPPY TACO | FITZROY
Gertrude Street's 'Fresh Mex' cantina Trippy Taco, touted as one of Melbourne's best vegetarian restaurants, has been pumping out the good stuff for a few years now. The eatery outgrew its original Smith Street digs a while ago, and now operates from a comfortable and licensed space. The menu is packed with highlights, from the original Trippy tacos (cheese, black beans, salsa, salad, avocado and lime) to four types of quesadilla. We can't go past Trippy's Original Burrito, comprising of black beans, cheese, salad and salsa tightly packed into a flour tortilla wrap. It's a bit messy to eat, but we will put up with stains on our shirt for it.



Trippy Tacos. Image credit: @ichdenke Instagram.
MISTY'S DINER | PRAHRAN & RESERVOIR
Misty's Diner is one of the best places in town to tuck into authentic American burgers, fries and hot dogs. It's no surprise that meat dominates the menu, but when you're looking for a night away from that diet, there's a few vegetarian dishes to tempt. Highlights include an American grilled cheese sandwich (with no less than five varieties of cheese) to the Con Queso fries (Mexican cheese, salsa, black olives and onion) and mozzarella cheese poppers with dipping sauce. If deep fried doesn't do it for you, try Misty's vego alternative to the classic BLT - think three cheeses, lettuce, carrot, tomato, cucumber, avocado and mayo.
WALKER'S DOUGHNUTS | MELBOURNE CBD
You wouldn't pick it when you walk past, but Flinders Street institution Walker's Doughnuts just happens to be home to one of Melbourne's best vegetarian hot dogs. The tiny shopfront prides itself on its US-style dogs, described on its website as "hard-riding, hard-drinking, man-sized chunks of goodness." Meat-free snags can be substituted into any hot dog on the menu, or you can create your own by adding a combination of onion, tomato sauce, mustard, chili sauce and whatever else takes your fancy. As the name suggests, doughnuts are the main focus here and, between you and us, they're worth taking a day off the diet for.
LORD OF THE FRIES | VARIOUS LOCATIONS
There are still meat eaters that don't know Lord of the Fries – with its ever-expanding menu of burgers, hot dogs, fries and onion rings – offers some of the best vegetarian fast food in Melbourne. After all, the sign proclaiming everything on site to be "100% vegetarian" is somewhat hidden behind the counter. Everything from the Chicago Dog (peppers, onion, tomato, pickles, celery, mustard) to the classic Mini Burger (the Lord's signature meat-free patty, cheese, pickles, onion, lettuce, mayo, mustard and ketchup) is legendary in vegetarian circles. Tasty soy bacon can be added to any hot dog or burger.
CORNISH ARMS HOTEL | BRUNSWICK
Melbourne vegetarians and vegans wept when the East Brunswick Club – and its menu of mock meat approved by pop star Pink – shut its doors in 2012. Thankfully, the chefs behind the ever-popular kitchen moved across the suburb and now call Sydney Road's Cornish Arms Hotel home. As well as classic pub grub like burgers and steaks, there's a comprehensive menu of vegan burgers and mains. The vegan Double Down (vegan cheese, soy bacon and tomato sandwiched between Southern fried mock chicken fillets) is a favourite, as is the 'fish and chips' of bean curd pieces cooked in Coopers Pale Ale batter and served with vegan tartare.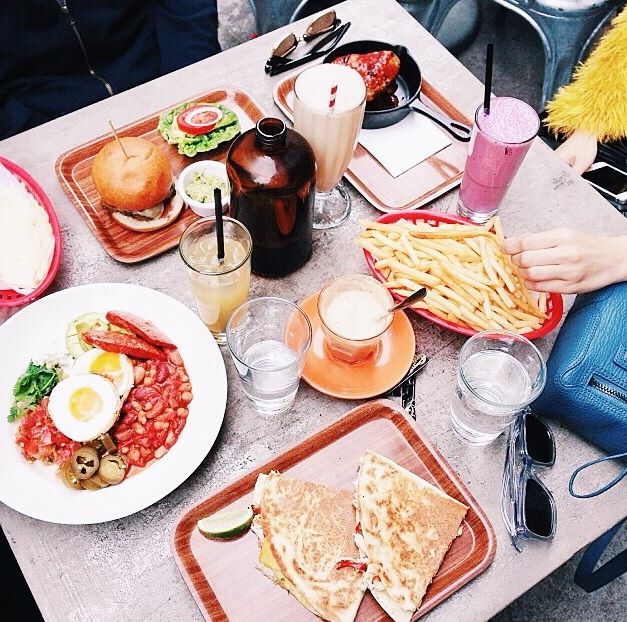 Trunk Diner. Image credit: @michelletanady via Trunk Facebook.
TRUNK DINER | MELBOURNE CBD
If you're talking milkshakes, you're talking Trunk Diner. Exhibition Street's American-style diner specializes in decadent milkshakes that are as much dessert as they are thirst quenching. All your favourites – chocolate, vanilla, caramel, banana and strawberry – are on the menu, but we recommend going one step further and indulging in a Golden Gaytime shake, which captures the goodness of the ice cream blended with dairy. As for the food, there are two delicious vegetarian quesadillas including one filled with cauliflower, onion, olive tapenade, oregano and gruyere. A go-to when you're in need of some super cheesy vegetarian fast food.
MRS PARMAS | MELBOURNE CBD
Parma lovers, rejoice! Little Bourke Street's appropriately named Mrs Parmas claims its chefs are trained in the art of Parmology ("an often neglected discipline") to ensure it pumps out the best parmas in town. We don't know about the boast, but we can back up the thumbs up. There are more than 10 varieties of parma on the menu including the Mexican (tomato salsa, sour cream, guacamole and jalapenos) and the Floater (served on mushy peas with mashed potato and gravy). Eggplant parmas are available with any combination you choose – and, as an added bonus, your meal will be cheaper than your chicken and veal-eating buddies.
PIE IN THE SKY | OLINDA
Mount Dandenong may be a bit of a trek for those that live on Melbourne's metropolitan train system, but it's worth the trip. Olinda's Pie in the Sky bakery is best known for its beef burgundy and beef Guinness pies, but vegetarians can't go wrong with the spinach and feta pie. Think spinach, crumbled feta, cheddar cheese, rice and assorted herbs and spices encased in perfectly golden pastry. The store's credibility can't be questioned: since opening in 1993, it's won a whopping 11 Gold Medals in the national Great Aussie Meat Pie competition. The spinach and feta variety was a winner in 2001 and almost 15 years later, it's still just as good. Definitely one of Melbourne's best vegetarian pies, hands down.
Editor's note: Looking for some amazing vegetarian eateries that aren't fast food focused? Here's a link to our round-up of Melbourne's 11 best restaurants for vegetarians (many of which do vegan options too!).
Main image credit: Pinterest.