We push through the studded timber door and there's the pickled smell of mead, the sound of quaffing and at least three guys with Nordic-looking tatts. Yep, we've come to the right place.
"Welcome to Valhalla," our Maître D says. "Will you be wanting a horn of beer tonight?"
Err, yes we bloody well will. You don't come to Melbourne's new Viking restaurant and bar to drink out of cup. What are we, Romans?
Mjolner, in case you've been living under a rock, is the city's new 'themed eatery'. But that's really underselling it a bit. While some other bars cling to a theme desperately (in the same way that people with no personality cultivate bizarre facial hair) Mjolner is very comfortable in its Viking skin. "We tried to think where Vikings would drink in modern-day Melbourne," our waiter says. "And this is the result."
Mission accomplished, lads. If this place was any more legit you could attach some oars and row it to England.
Let's start downstairs, because you should too. If you have a dinner booking in the restaurant, try to arrive 30mins early to take advantage of the grungy underground bar. This is meant to be Hel (the Viking version of the underworld), which means it's deliberately dark, utilitarian, lots of chunky carved timber tables. The sort of place you can quaff a horn of ale after a hard day's pillaging (or analysing derivatives on Collins St—whatever floats your longboat).
The drinks list is divided into Skål (palate-cleansing shots), malty beers (if you want something fresher, try The Damned Pilsner), hearty red wines and salty sea cocktails like the Ice Drifter: Beefeater Gin, elderflower, dry vermouth, cider vinegar, all topped with a salted cucumber foam. It tastes the way a cold shower feels.
If you're dining in the bar, you've got to go the iconic Mjolner Trencher: a "big whollop" of juicy meat, served in a hollowed out bowl of gnarly sourdough bread. Proper Viking food. Ask your waiters for what kind of 'whollop' is being served de jour.
Once you've experienced Hel, it's time to ascend to Valhalla. In Nordic mythology this place was a longhouse where Vikings could eat, drink and party for eternity (you kind of hope the Gods stocked up on Berocca and antacids). At Mjolner, Valhalla looks like a contemporary Scandinavian restaurant...stuffed with Viking paraphernalia. Seriously, helmets, horns, tomahawks, axes, even a giant runic hammer up at the bar (which pours whisky out the handle).
Theatre is a big part of the whole thing, which is why, before your meal arrives, your waiter asks you to "Choose your weapon". These are 7 or 8 f*ck off big knives, held in a leather sheath. Some have handles of rope, others of bone or dark stained wood. The kind of knives that look like they could skin a crocodile. These will be your cutlery for this evening.
And then there's the horns. It turns out drinking out of a giant, ethically-sourced horn is not as easy as it looks. There's the risk you'll up-tip too much, at which point gravity works against you, causing frothy liquid to slosh out all over your face, chest and $700 suit. "Drink out of the side," was the advice given to us, and it seemed to work. One of our diners had been unsure about the whole 'horn gimmick', but one swig and he was ready to pillage some dinner.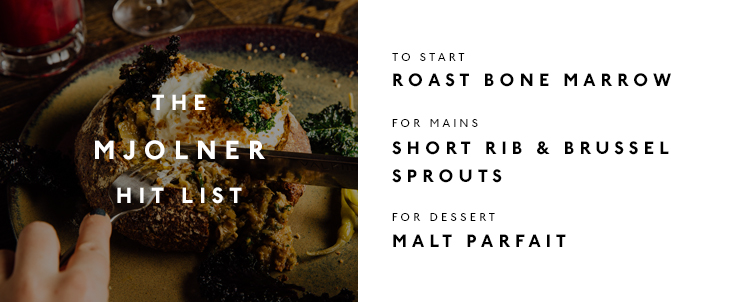 Speaking of dinner—damn. The food here is fantastic. Very meaty (vegan Vikings weren't really a thing) but delicious. The best way to go is the bone marrow for starters, served with Vegemite and crispy mustard leaves. You scoop this out onto some dark, yeasty bread, then do a whisky shot through the bone itself (if you're game).
After that, it's on the carvery. We tried the 600g Lamp 'Chump', which was massive and totally worth it. In fact the size worried our waiter.
"Are you sure?" she said, raising a pierced and sceptical eyebrow. "It's really more for three people."
Our mate nodded with grim determination. "You underestimate me."
The 'Beast' carvery was crazy good too. Pull-apart beef ribs, slathered in pan drippings, served with blackened Brussel sprouts that looks like they'd hopscotched through hell. Don't forget to order a few sides (the potatoes and cucumber are both great). You'll need them to soak up the juices.
We leave Mjolner the way we came, through the big iron-studded front door. Very happy, much heavier, and determined to grow a massive beard. Skaal to that.
Want to learn more about Mjolner? Check out our Directory page.
Image credit: Annika Kafcaloudis