Getting out of town for the ultimate foodie escape doesn't have to mean hours and hours in your car. It can be the perfect day vacay to make you feel like you've made the most of your weekend or simply treated yourself.
It can be heard to know where to go—obviously, you want great food AND wine, but you don't want it to be the same same as all the other wineries that keep popping up on your news feed each weekend.
Being the foodie adventurers we are, we did our research on this one and have concluded that there's one spot that ticks all the boxes.
Here's why Montalto should be your next foodie getaway.

Chef's Hatted Dishes With A Difference
Step one of the ultimate foodie getaway is obviously to enjoy a meal of a lifetime. There's no doubt that there are plenty of top-notch dining destinations out of Melbourne, but we haven't found anything quite like Montalto. You see, the experience is about more than just food (though more on that in a tick). At Montalto, they've struck a winning formula of experience plus food. The experience side of things is all-encompassing—it's the breath-taking views, the ever-changing sculptural art display, the heart and soul that is oozing for the venue.
It's rare to find a space that feels like home, and serves chef's hatted meals, but that exactly what is happening at The Montalto Restaurant.
The Montalto restaurant is headed up by Gerard Phelan and you can expect to be treated to traditional, white tablecloth dining in a rustic-chic setting.
With an un-interrupted outlook, you can soak up the view while tucking into dishes such as dry aged duck with radicchio, carrot, fermented nectarine, and purslane, or market fish served with tomato, cape gooseberry, guanciale, and bitter leaves. Or pick for dessert is, without a doubt the peach with saffron sponge, honey, and goats curd ice cream, so make sure you leave a little room!

Fresh Produce Galore
Part of what gives Montalto it's heart and soul and sets it apart from your average winery experience (there's nothing average about this getaway) are the little elements that come together to make it special. If you take a wander through the Montalto garden, you'll no doubt spot the impressive vegetable garden.
Tended by Montalto's owner, Wendy, the fruits of Wendy's labour all go directly to the Montalto kitchen so that you and I can enjoy season produce—it doesn't get much fresher than that.

Relaxed Dining At The Piazza Café
While Montalto provides the ultimate luxury dining experience, at heart it's a relaxed foodie haven, and they get that sometimes you just want to kick back in the garden and share all the food with a group of pals. The perfect answer to this can be found in the Piazza Café. Sitting adjacent to the Montalto Restaurant, the Piazza Café embraces the garden space (and the produce in it!) to offer up an impressive menu of share plates.
We recommend you really lash out on this one and order plenty—the lamb shoulder with harissa, herb salad, the grilled whole fish wit sauce vierge, the confit beans, feta, almond, dill and the heirloom tomatoes with freekeh, pickled onion, basil and pedro ximenez are just some of our top picks.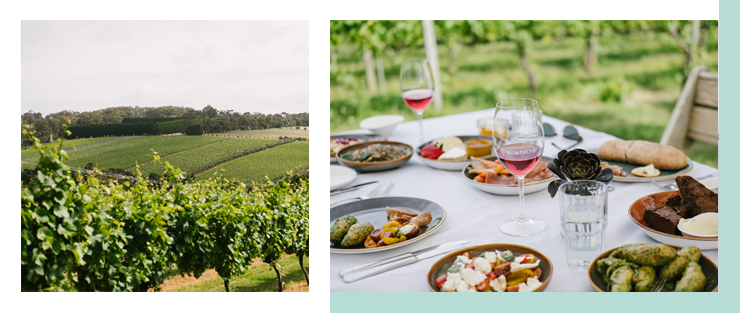 Luxe Picnic Spots All To Yourself
Don't classify yourself as a romantic at heart? Don't worry, neither do we. But that doesn't stop us spotting a good and romantic thing when we see it. Montalto offers picnics that redefine the word 'picnic'. Here's how it works: You get to choose a few dishes and wines, and then you can set off on foot to your designated picnic spot. When you arrive at one of the thirteen secluded sites, you'll find a table clothed setting, your selected dishes prepared and waiting in a cool box and your table set for dining—no plastic cutlery here!
When you're done, stroll back through the vines and marvel at the experience that you just had. TRUST us on this one—even if you're not into icky sticky romance, this is the stuff of memories.

Top-Notch Wines
It'd be remiss of us to not tell you all about the wines on this ultimate foodie getaway, for two reasons. 1. A foodie getaway wouldn't be a foodie getaway without it, and 2. Montalto is a winery, sooooo.
There are plenty of different ways that you can enjoy Montalto's incredible wines. Our top pick would be to have them paired with a meal at The Montalto Restaurant because it offers the full experience and the pairings will be totally tailored. However, that's not to say that we don't recommend simply grabbing a bottle (or six!) at the cellar door, or sharing a bottle with your other share dishes at the Piazza Café.
If you're after a personalised wine tasting experience (perfect for Hens days or corporate outings) you're in luck, as Montalto has just completed the build of a purpose-built space for exactly this. Sitting high above the garden and offering spectacular rooms, the modern space is perfectly equipped for you and your posse to enjoy a taste of a range of Montalto wines, while also learning a bit more about their background and what makes them great. You'll need to pre-book this.
This article is sponsored by Montalto, thank you for supporting the sponsors who make The Urban List possible. For more information on our editorial policy please click here.
Video credit: Andrew Englisch