I'm sitting in a sunny courtyard with restaurant owner Moshe Ittah, pouring Turkish coffee from a tiny copper cezve. Overhead there's a canopy of swaying palm fronds and blood red carnations. Oh yeah, and I'm in Collingwood, not Tel Aviv.
Moshe is the head honcho at Melbourne's new Middle Eastern and Israeli eatery, New Jaffa, which you'll spot across the road from Proud Mary. Seems like everybody else has. When I pushed open the front door, the place was already buzzing: two big communal tables packed with locals scoffing down hummus and chickpeas, baked shakshuka and roast cauliflower with runny boiled eggs.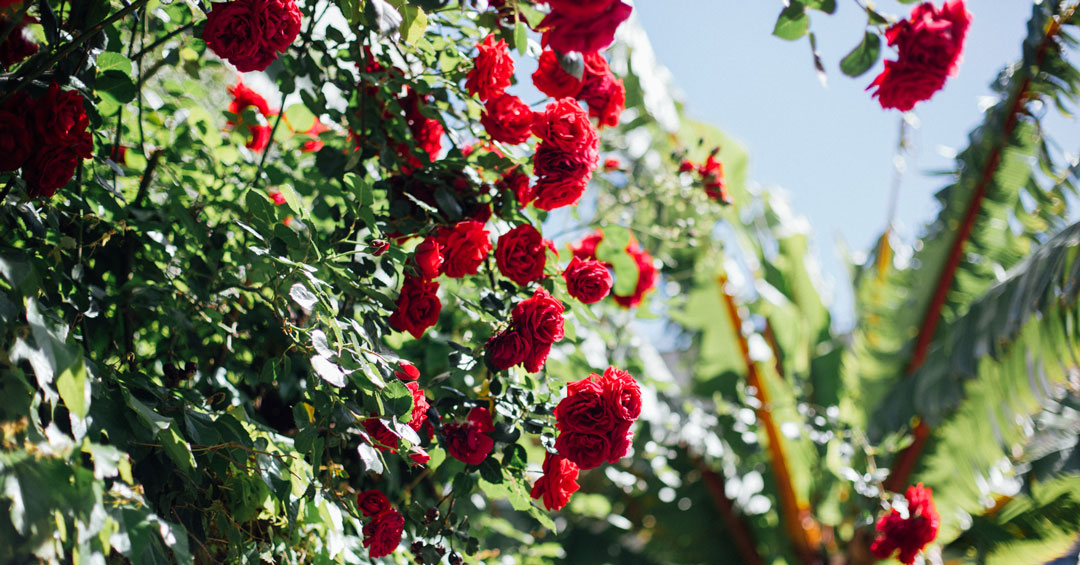 Flowers overhanging the New Jaffa courtyard.
Moshe found me in the press and led me out back, where there's a cute little north-facing courtyard.
"I did those tiles myself," he says, nodding to a mosaic on the back wall. "Building this place, I did a lot of things I never thought I'd do. Thank god for YouTube."
Moshe arrived in Melbourne 14 years ago with dreams of white tablecloths and Israeli fine dining, but somewhere along the way, the plan changed. "I always wanted to do fine dining," he says, "but my friends were like 'nah nah, just give them falafel and hummus.' So I went back to basic Israeli street food."
Smart choice. There's nothing wrong with haute cuisine, but if you want bums on seats (particularly in Collingwood) you need something affordable and unpretentious. Slathering it in hummus can't hurt either.
And hot damn, this menu is really exciting. There are a few great Middle Eastern joints in Melbourne (Miznon, Tavlin and Shukah are probably the closest to what you'll find here), but Moshe is casting a wider flavour net. He's snared a little Egyptian in there, some Lebanese, flavours from Turkey, Israel, Syria and northwest Africa. In fact, our favourite thing at New Jaffa comes from a country most Aussies couldn't place on an Atlas: the Tunisian fricassee sandwich.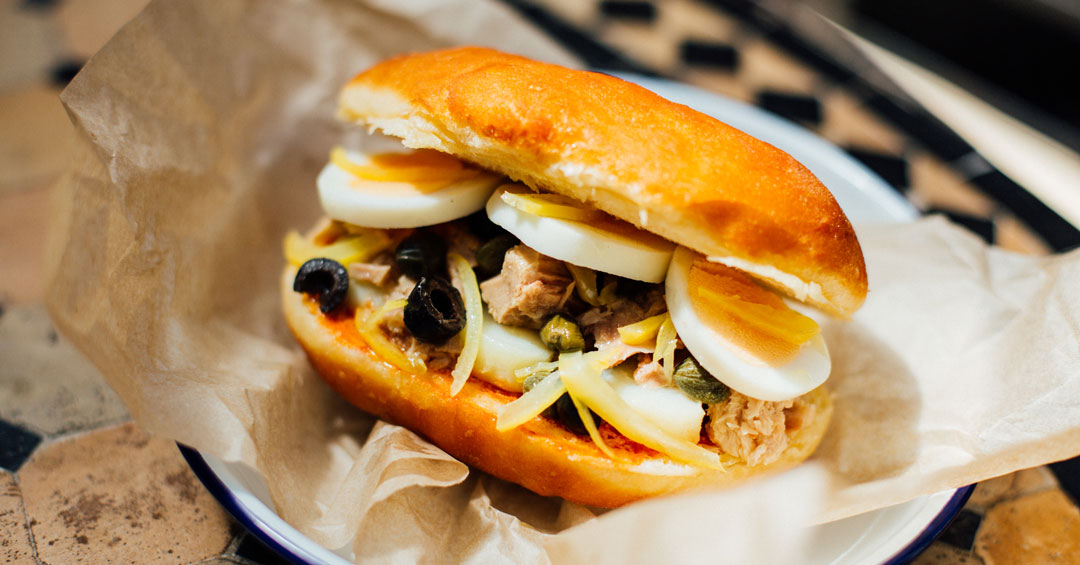 New Jaffa's famed Fricassee Sandwich
Picture this—a fried savoury doughnut bun, stuffed with flaked tuna, harissa paste, salty black olives, little popping capers, big wodges of boiled potato and egg, and bitter preserved lemon. Melbourne needs more of this stuff. In a city that leans on jalapenos and Sriracha mayo for sandwich oomph, the fricassee is a breath of salty, seaside air. You can practically hear the seagulls.
"The fricassee sandwich is something I've wanted to do for a long time," Moshe says. "I grew up with these flavours, so no-one can say I'm not doing these right. Talk to my mum if you think that."
Remind us to thank Moshe's mum at some point, this food is delicious. Big bowls of homemade hummus, slathered in olive oil and silky wild mushrooms. Filigreed glass plates topped with roast onion, garlic cloves, yoghurt, tomato and green chilli. Lamb and beef kebabs, so juicy you need to mop up the plate with pita towels, served alongside tomato salad and tahini dressing.

New Jaffa's amazing hummus
"The people that succeed in this business are the ones that keep things simple," says Moshe. "You just need a small menu. Make it easy to order. Lots of variety for vegan and vegetarians. That way I can put all my focus on the flavours."
The rear courtyard is cute, but if you want the proper New Jaffa experience, sit yourself next to strangers on the two big high tables out front, elbow to elbow. That's the Middle Eastern way.
I go to take a sip of my unfiltered Turkish coffee and a man leans over the table, "Not yet," he says in broken English. "Let sit." We watch as the sediment sinks to the bottom. Soon the coffee starts to clarify, looking less like a clogged drain and more like strong tea. "Is ready. You drink now."

Turkish Coffee is an experience for those who haven't tried it before
If you haven't tried Turkish coffee before, poured into a delicate glass kahve finjanı, it smells like a Sultan's pyjamas. All wafting sweet spices. Cloves? Cardamom? Ambergris? Who knows. Just dissolve the little sugar cube and sip slowly. Let it roll over your tongue. Turkish coffee is to espresso what the Botanic Gardens are to your car's air freshener.
Masterchef has made me suspicious of anyone who uses the phrase 'food dream' sincerely, but that's what New Jaffa feels like. Moshe's childhood dream. A place you can hang, swap stories, spoon hummus and drink strong coffee beneath red carnations. Collingwood, eat your heart out.
All this talk of the Middle East making you hungry for travel? Check out our Travel section for more inspiration.
Image credit: Annika Kafcaloudis