The explosion of chef-inspired reality television has encouraged mere mortals to get creative in both their own kitchens, and the dining experiences they seek. It's encouraged consumers like myself to try unique and remarkable flavour and texture combinations that are only achieved through years of culinary discipline. Chef Adam Liston and his team at Northern Light Bar & Eatery – the recently opened Japanese and Chinese inspired bar and eatery on Collingwood's Smith Street – have achieved the ultimate combo of these hard-to-find factors. Refreshingly, Liston's latest culinary project is as approachable as it is educating, and altogether impossible to recreate at home.

In mid-January, Northern Light subtly slid into the site previously occupied by Gigibaba and, with minimal marketing to kickstart their venture, the highly qualified team are letting their food do all the talking. The menu, presented on a humble A4 sheet of brown paper represents their down-to-earth attitude to delectable dining. The 21 dishes maintain ingredients difficult to pronounce but delightful to consume, and requires diners to completely surrender themselves to these culinary superstars.

Honing his inarguably innovative skills in Shanghai, Liston successfully tested the consumers of Xintandi institution, T8, for two years before returning home. Upon return, Liston and his wife, Genevieve, along with chef Joel Anderson spearheaded Borrowed Space, with a simple mission to 'bring everything we enjoy about food, drink and music to a table…free from genre, rules and formality.' Proving their enthusiastic series of conceptual pop ups were a perfectly executed hit, Liston and his team have since been invited to participate in events including the upcoming Lola's Pergola at Adelaide Festival.

Back at Northern Light, Liston's chaotic application to cooking has paid off in our favour! On our first visit, we chose shishito peppers with togarashi to begin, followed with edamame, eel ungai and bresaola options. Every single dish was presented with sophisticated colour tones and plated with perfect composition, making us feel guilt to destroy and devour!




Completely faultless, the market sashimi converted our palates into a textural wonderland, with an explosion of incredible flavours.

If you're seeking more substantial options, we can highly recommend the scampi. Grilled over a traditional Japanese charcoal (known as binchotan) before being served with fairy floss and house-made mayo, it's definitely the show-stopper on the menu. Our chilli crab, presented with XO onions, celery and coriander was an adventure to eat, but one you definitely want to embark on.

Salted duck and shredded chicken offer as alternative substantials, while spiced eggplant congee and wagyu fillet with nori and panko round out the unofficial mains.

For dessert we couldn't deny our ice cream obsession and went with the broken ice cream sandwich, complemented by seasonal fruits with apricot essence. Yuzu curd with white chocolate completed the dessert choices, with each dish maintaining their respective Asian twist.

Naturally, our meal was washed down with a pint of Sapporo as we sat and admired the appealing multi-light installations weaving across the entirety of the restaurant. With plenty of bar space, and a tight but delicious assortment of beverages available, your Friday evening is all but sorted.

While surrounding conversations unfold in the background, diners and drinkers are enfolded in mahogany and exposed brick aesthetics. A must-visit if you're in the Collingwood area, Northern Light feels like a Michelin experience at a zen price!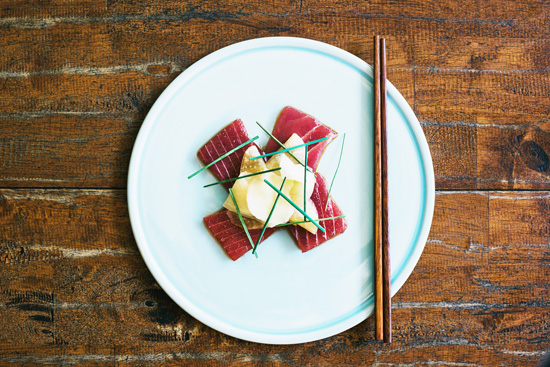 Northern Light Bar & Eatery
102 Smith Street in Collingwood
03 9416 0698