Update:
The series 1 finale of Mean Cuisine will take place on Tuesday 8 September at 6pm.
Don't miss the last episode of what has been an excellent first season of Raph and his mates cooking up classic meals that deserve to be reintroduced to Australian menus.
Tune in tonight to catch Raph, Pat Nourse, and Nick Boserio cooking up a classic roast lamb.
Catch Mean Cuisine on IGTV, and YouTube.
It's hard to imagine a time when Australia's food scene wasn't the highly polished, free-range, ethically sourced, naturally fermented creature it is today.
But wind the clock back 40-odd years, and we were eating some seriously questionable stuff. Curried sausages, prawn cocktails, apricot chicken in sticky, radioactive sauce—the kind of kitschy, freakshow meals you find in vintage Women's Weekly cookbooks, driven by waves of post-war immigration and the discovery of the avocado.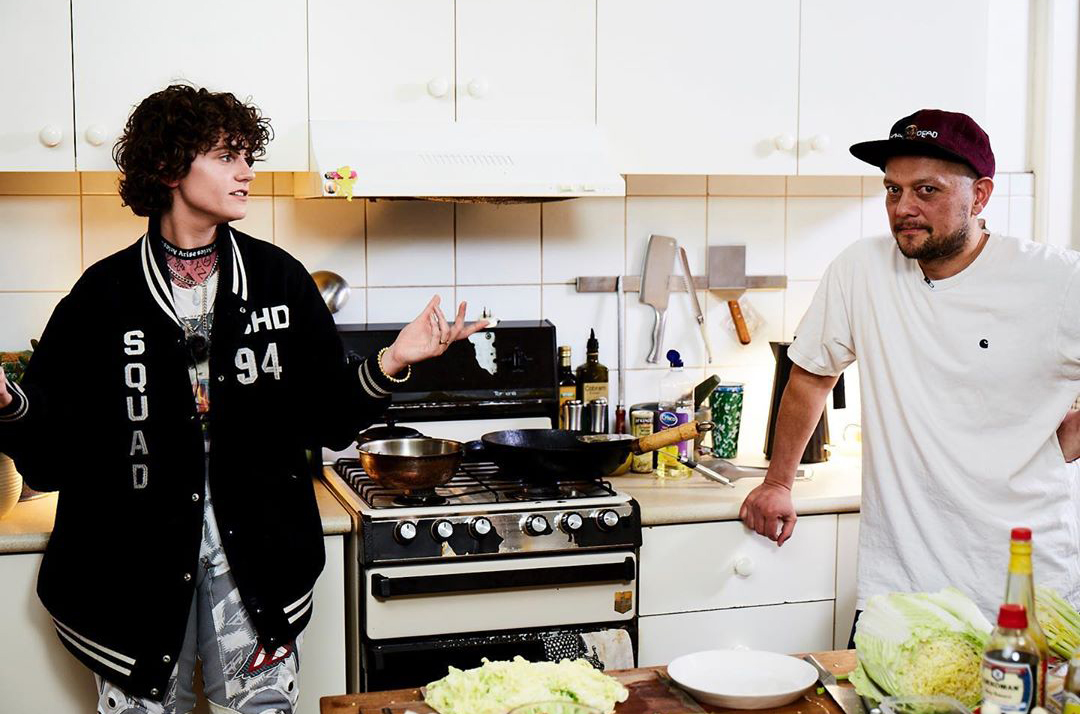 Well, Beatbox Kitchen's Raph Rashid is bringing kitsch back to IGTV. He's just launched a new weekly video series, Mean Cuisine, which looks at daggy recipes from the '70s, '80s and '90s…and tries to make them vaguely edible.
"There are so many dishes from my childhood, those Women's Weekly kind of cookbooks, and they just get trashed today," Raph says. "I mention curried sausages to people and they're like, 'That's disgusting.' So, Mean Cuisine is about going back and exploring those dishes with my mates."
Mean Cuisine streams on IGTV every Tuesday (just search #RAPHSMEANCUISINE), and Raph is also loading the episodes onto YouTube. Each week, he attacks a new 'Mean' dish with a deliberately un-chef-y friend. The first was apricot chicken with Matt Skinner—Jamie Oliver's wine buyer. Then there was curried sausages with Joey Kellock and Chow Mein with artist Esther Olsen. Episodes with prominent florists and skateboarders are on the horizon.
"I was researching Chow Mein last week," says Raph, "and people were sending me recipes that were literally called 'Nana's Cabbage'. And I was like, man, this food is fucking rugged. That's what I love about these dishes, they're like the weird melting pot of early Australian culture."
Mean Cuisine sits somewhere between nostalgic cooking show and two mates shooting the breeze. Raph says he's trying to pay homage to these tacky, classically Australian recipes, but also update them for the 21st century—a world where people have evolved past melon cubes on toothpicks. It's not about following trends. It's about cooking from the heart, trying weird shit, and doing stuff you like.
"I don't like elitism. I don't like people using food to socially out-do other people," he says. "When you invite people over for dinner, you don't necessarily have to pull out all the stops. Mate, invite me over for some Chow Mein and I'll be happy."
You can catch Mean Cuisine every Tuesday at 6pm on IGTV. Just hit up the hashtag #RAPHSMEANCUISINE. You can also find previous episodes on Raph's YouTube channel.
Pasta more your style? Check out Pasta Hotline, streaming pasta cooking lessons every Thursday night.
Image credit: Raph Rashid's Instagram