Are you looking to get super kawaii in Melbourne? Look no further, The Urban List has your go-to guide for turning-Japanese-I-really-think-so.
Eating Out

Teriyaki Anarchy Sake

If you like your Japanese experience to be a little more cool, a little less traditional, Teriyaki, Anarchy and Sake will have you praying for 5pm to roll 'round sooner. Blending Americana and Osaka in one mental, rockabilly octopussy infusion, these guys have got the best in Japanese beers, whiskeys and obviously, sakes, teamed with their famous Furikake fries, yummy yakitori and fresh salads. Treat yourself to a date night with a sake flask, whilst you and your mates banter over the beats from Led Zeppelin.

Teriyaki Anarchy Sake | 346 Smith Street in Collingwood
Website | Facebook

Izakaya Den

Gyoza is iconically Japanese, and Izakaya Den does the best little bags of steamed goodness in town. The restaurant is not only aesthetically pleasing, what with its chic wooden bar, perve-worthy open grill and concrete floors, but it's offers a treat for your tastebuds, with an incredible range of traditional fodder – grilled octopus, agedashi tofu and salty edamame. We suggest booking to assure your shochu cocktail, as it's a hot favourite amongst the Melbournites who enjoy sophisticated Japanese.

Izakaya Den | 114 Russell Street in Melbourne

What to choose? Image Credit: Izakaya Den Facebook

Purple Peanuts

I beg the question, what is Japan without sushi? Though the Oriental sandwich cops some flack with the rough rolls you can get in the city, Purple Peanuts is a lunchtime experience that will certainly sate you. Get a load of their famous brown rice inari, handrolls or onigiri if you're in for a quick bite. However, if you're planning on making a date out of it, try a tofu or prawn burger alongside a katsu curry and fawn over the kitsch bits and bobs (waving cats, Japanese chocolate bar walls and a giant ninja octopus) placed artfully around the store.

Purple Peanuts | 620 Collins Street in Melbourne
Website | Facebook

Teppanyaki Inn

The oldest and most revered teppanyaki place in Melbourne, Teppanyaki Inn, has been the one-stop-shop for getting an egg thrown 'artfully' at your patiently waiting face bowl since 1975. As the first teppanyaki restaurant to ever open in Australia, they've mastered the art of the open grill and you can expect the freshest, most mouth-pleasing nosh this side of the hemisphere. If you're in the mood for Moreton Bay Bugs and broken fried rice, bookings at Teppanyaki Inn are essential on the weekend as their reputation spreads far and wide across the country.

Teppanyaki Inn | 182 Collins Street in Melbourne
Website | Facebook

Taking Away

Dessert Box

Though Lygon street is famous for its pasta, the end closest to the city reveals a slew of Asian restaurants, including the very Japanese dessert bar, Dessert Box. Though there's everything every good dessert joint has – cakes, ice cream and hot chocolates – we suggest you try your hand at the two pages of parfaits (including the Green Tea Parfait), Matcha Pancakes, or the giant fondue. They also do high teas – BRB blissing out.

Dessert Box | 147 Lygon Street in Carlton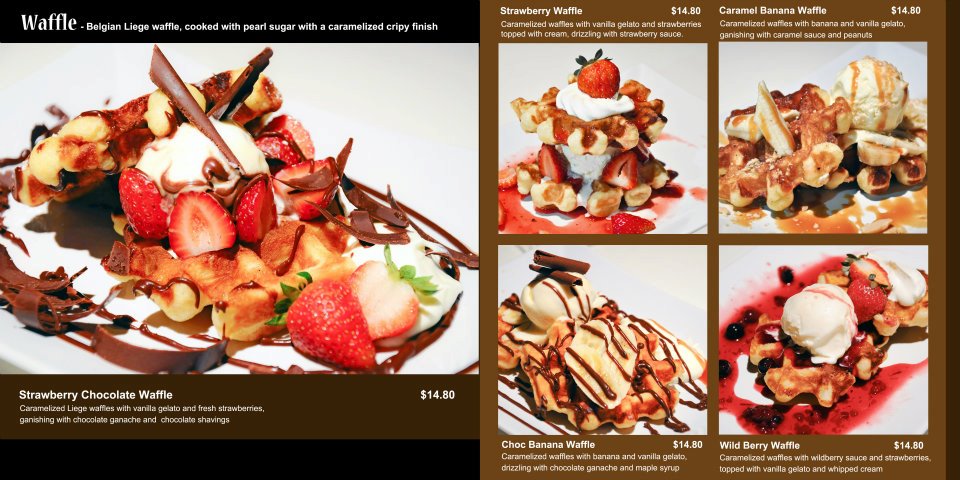 Sweet Japanese treats: Image Credit: Dessert Box Facebook

Harajuku Crepes

It's pretty hard to ignore that carb-licious smell of Harajuku crepe batter wafting down that wind tunnel entrance to Melbourne Central. The pocket sized shop full of pastel colours and plastic crepes is only missing a giggly Doraemon out the front for ultimate Japanese eye candy. Get a savoury crepe or a sweet crepe – there's over 40 to choose from, or you can make your own up! We recommend the ham, cheese and mushroom (with a smidge of Japanese mayo!) or the hot nutella and custard for happy tastebuds.

Harajuku Crepes | 148 Knox Place in Melbourne | 03 9654 9775

J Cafe / Sushi Burger

J Cafe has ingeniously taken the humble sushi roll and converted it into the sushi burger – sticky rice with a nori coating for the bun, your choice of filling, and lettuce to accompany it. Due to popular demand, they now make takeaway sushi burger bento boxes, so there's no excuse not to go.

J Cafe / Sushi Burger | 167 Exhibition Street in Melbourne

Don Don

Don Don will have your chicken katsu curry in your hand faster than you can order it. A favourite of RMIT students and busy corporates alike, get underneath Don Don's black shutters and hectic kitchen for a bento box, and proceed to park yourself on the State Library Lawn for maxed out pleasure levels.

Don Don | 198 Little Lonsdale Street in Melbourne | 03 9670 7113

Drink Up!

The Ueda Soko Ryu Master Classes

Ditch the Lipton and get yourself to a traditional tea ceremony with the grandmaster of steeping himself, Adam Wojcinski. Japanese tea ceremonies are said to be the physical embodiment of the tranquil mind state and values involved in Zen practice. In Adam's classes, powdered green tea or matcha is prepared in front of guests according to a highly structured procedure that was first coined by a 17th-century Samurai warlord/tea master. The class also involves learning about Japanese flowers, poetry, incense, and the art of Zen living. You can attend as many or as few times as you like, paving your way as a tea master yourself. Check the web for the dates and places of the ceremonies in Melbourne.

The Ueda Soko Ryu Master Classes | Various Locations around Melbourne
Website | Facebook

The art of tea. Image Credit: Ueda S?ko Ry? Japanese Tea Ceremony Australia Facebook

Feeling Harajuku?

Daiso

If you've ever been to Japan, you'll be familiar with the literal billions of stores that sell everything from bonsai trees to skin lightening cream (yah, I know) for a couple of dollars. But gone are the days when we jumped on a plane to top up our stash of octopus-flavoured Pringles, because we now have Daiso, the epic 100 Yen store! You can get literally everything here, with over 90,000 different products (cosmetics, food, homewares etc), all uniquely kitsch in their own Japanese way. All you need is $5 in your pocket and you'll leave with an armful of goodies. Oishii!

Daiso | 246 Bourke Street, Midtown Plaza in Melbourne
Website | Facebook

URA

Japanese fashion is not just straight out of a Gwen Stefani music video, it's also the pioneering force in abstractism, with beautifully constructed clothes that reflect art, nature and architecture. URA is no exception to that rule with their nifty boutique on Johnston Street. With clean cut shirts, patterned hoodies and their crafty two toes shoes, mill around for your Sunday lunch outfit, and maybe be tempted to buy a robot or a Godzilla figurine. They also do a pop-up Okonomiyaki store every now and then, so get on their Facebook to keep updated.

URA | 28 Johnston Street in Fitzroy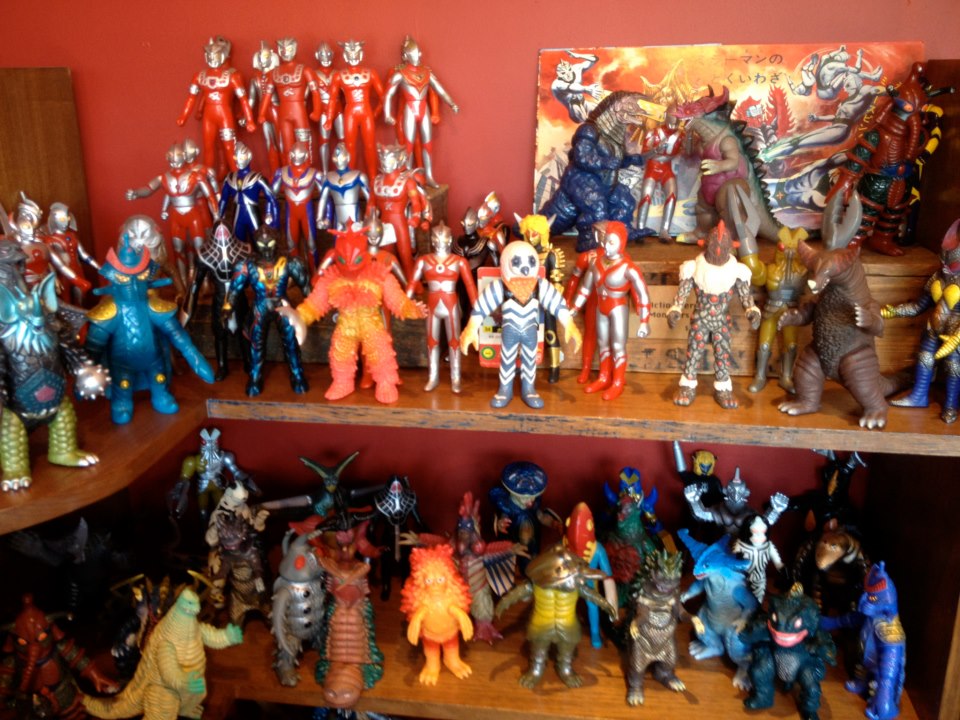 Japanese retro monsters, anyone? Image credit: URA Facebook

Made In Japan

Everyone knows that Japan is envied for its incredible pottery and ceramic works; you weren't the first to fall in love with a cherry blossom tea pot. Made In Japan specialises in Japanese handmade items that are crafted to make your dining experience artful as well as delicious. There's a huge array of glazes and shapes, as well as smatterings of Japanese furniture available for purchase, on display throughout the store.

Made In Japan | 276 Coventry Street in South Melbourne
Website | Facebook

Get Wrinkly and Get Fabulous

Japanese Mountain Retreat

Slide the doors, shoes off and relax those shoulders – you've arrived at the Japanese Mountain Retreat. Choose from the Sakura, Kyoto or Nagomi escape experiences and enter a world of mineral hot springs, massages and Japanese dumpling banquets. There are swimming lagoons, tea ceremonies, luxury suites (complete with your own spa and sauna) and friendly staff ready to soothe you at your whim. Surrounded by the lakes and mountain ranges of the Yarra Valley, the Japanese Mountain Retreat redefines escapism for the ultimate romantic getaway, or personal detox.

Japanese Mountain Retreat | 14 Mountain Crescent, Montrose in Victoria
Website | Facebook

Sakura Lounge

If leaving the CBD is not on your agenda, Sakura Lounge have brought the onsen to your corporate lunchbreak. Specialising in the art of Japanese healing, Sakura Lounge is the perfect destination to get holistic for a traditional kinesiology session or some reiki, or to keep it simple with a perfumed oil shiatsu massage. If you're feeling particularly decadent, book a pink frangipani wrap session and leave smelling like Nirvana's garden and feeling totally zen.

Sakura Lounge | 8-10 Warbuton Lane in Melbourne
Website | Facebook

Embrace Your Inner J-Pop Star

Shoya

Traditional Japanese barbecue and rainbow highball cocktails teamed with private karaoke rooms? I think that spells winner in any Singstar's heart. Unleash your inner Delta at Shoya, where no one in Chinatown will judge you, not one bit. Perfect for a big group of tipsy friends.

Shoya | 25 Market Lane in Melbourne

Rainbow Karaoke

Rainbow Karaoke is straight-up stark raving bonkers. With 44 individually themed rooms, you can sing Bohemian Rhapsody in a spaceship, belt out Kylie in a pirate cave, or get heavy metal in a Barbie dollhouse. If your vocal chords wear thin, there's a sports bar with pool tables and a restaurant that dishes out yum cha. With a bookings only policy, make sure you secure that personalised room of yours so you're not disappointed when you miss out on the CHANEL THEMED ROOM.

Rainbow Karaoke | 206 Bourke Street Mall in Melbourne
Website | Facebook

Image credit: Rainbow Plaze Facebook

Need more Japanese goodness?

Mister Miyagi is opening next week and looks to be a cracker, whereas Onsen Ma offers a traditional Japanese Bathhouse experience in the CBD. Tana Cafe in Hawthorn serves the cutest mashed potato sangas and other delicacies, and is the perfect spot to take tea. Toyama brings fresh Japanese fare to the leafy suburb of Eltham, while Hawthorn residents can enjoy modern Japanese at Ocha, or noodle boxes from Ocha 2 Go. For five star, modern Japanese cuisine and saké, you can't go past Saké Restaurant & Bar.
Main Image Credit: Cure