Every year Australians throw out around eight billion dollars worth of food. That works out to be the equivalent of one in every five bags of groceries bought. Five million pieces of plastic enter our oceans each day, killing one million birds and marine life annually. As a country, we discard enough packaging to fill up the MCG: Nine. Times. Over. The ridiculous part? Around two million Australians live day to day with not enough to eat.
Something clearly needs to change, and the brilliant team at Sustainable Table are trying to do just that. They're asking Aussies to 'Give a Fork!' about waste during the month of October, by hosting their own waste-free dinner party and inviting friends. Cooking or hosting not your thing? Then head down to one of the generous restaurants participating in the 'Give a Fork!' campaign. Start spreading the word and changing your habits Urban Listers, and get on board with Sustainable Table's 'Give a Fork!' campaign.
Sustainable Table is a not-for-profit organisation aimed at empowering people to minimise their footprint by buying, cooking and eating sustainably. Funds from the 'Give a Fork!' campaign will go towards encouraging more sustainable and ethical practices by those in the food industry. 'Sustainable Table are geared at the consumer and making it easier for them to make a difference,' says campaign ambassador and waste-free advocate, Sarah Wilson. 'It's consumers who are the biggest wasters of food.'
Sustainable Table's 'Give a Fork!' campaign supplies people with information and an education regarding key environmental issues, and the best part is that it's in a fun, relaxed setting with friends. Did we mention food is a big part of it? We're pretty sure that this is the way to the hearts and brains of Australians, so props to the team at Sustainable Table! Campaign ambassador and environmentalist Tim Silverwood (Take3) agrees saying, 'I'm excited that this year, Sustainable Table are bringing the issue of waste to dining tables around Australia.' We're excited too Tim. What a great excuse to host a dinner party!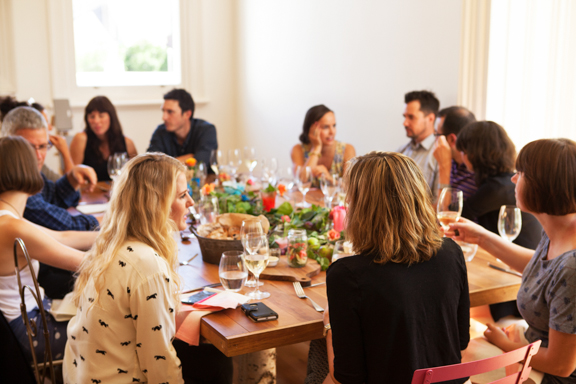 So, are you thinking what I'm thinking B1? If that's 'yes! I want to host! Where do I sign up? What do I cook? How does it all WORK?', then calm down, no need to get your knickers in a twist! Sustainable Table have made it super easy to get on board and give a… fork. All you have to do is sign up for free using their online form. When you register, you can decide the price of your event tickets (in other words, how much you are going to wring out of your mates). A portion of your choosing will go to Sustainable Table to support their Awareness and Education Program for a fair food future that's good for the environment, fair on Aussie farmers, ethical AND healthy.
Once you've signed up, you'll be sent a free Lose Waste eBook, chockers full of information and ideas for your waste-free dinner party. Think shopping and cooking tips, recipe ideas, even a short documentary, Waste Deep! As a host, you'll get an invitation template and unique URL so your guests can pop online and buy tickets to your amazing shindig. It's super easy; just visit their website and follow the three simple steps to get your meal with mates rolling.
So that's all well and good—you're thinking—but what if stepping in the kitchen is the equivalent to calling the fire brigade in your house? Eating out more your thing? No sweat! Some of the best restaurants in Melbourne have proven they definitely 'Give a Fork!'. Featuring campaign specials throughout the month of October, favourites such as MoVida Aqui, Cecconi's, Union Dining and The Botanical (just to name a few), will be donating a portion of the profits to Sustainable Table from every special they sell.
So Listers, you have two easy and fun options to join the campaign, and prove that you too, 'Give a Fork!'. To find a full list of the restaurants participating, or to sign up to host a waste-free dinner party, head to Give a Fork!
Image credit: Matt Burke Photography for Sustainable Table.