This one started, as so many things do, with a friend telling us "Oh my god I just had the best vegan roast of MY LIFE last night. You have to check out this place in Carlton North."
To be honest, the concept of a vegan roast sounded more confusing than delicious. Do they just bake half a cauliflower? And what about a gravy? You have to have gravy, right? "Relax," our friend said, "They do their own animal-free gravy, and there's even roast beef if you hate tofu."
It sounded too good to be true: A Melbourne restaurant where leaf eaters and carnivores could co-exist in total harmony, like some sort of Zen Jurassic Park. Where one person could order the crumbed tofu, and another the chicken parma, and (here's the important thing) both would leave happy.
The city has plenty of vegan and vegetarian restaurants that do amazing plant-based food: Fox In The Box, Girls & Boys and Serotonin Eatery to name a few. And there's certainly no shortage of places where you can get animals deep fried and covered in cheese. But a restaurant that could smash out both to a high standard? That's rare.
Enter A Fan's Notes, our new favourite eatery on Nicholson St in Carlton North.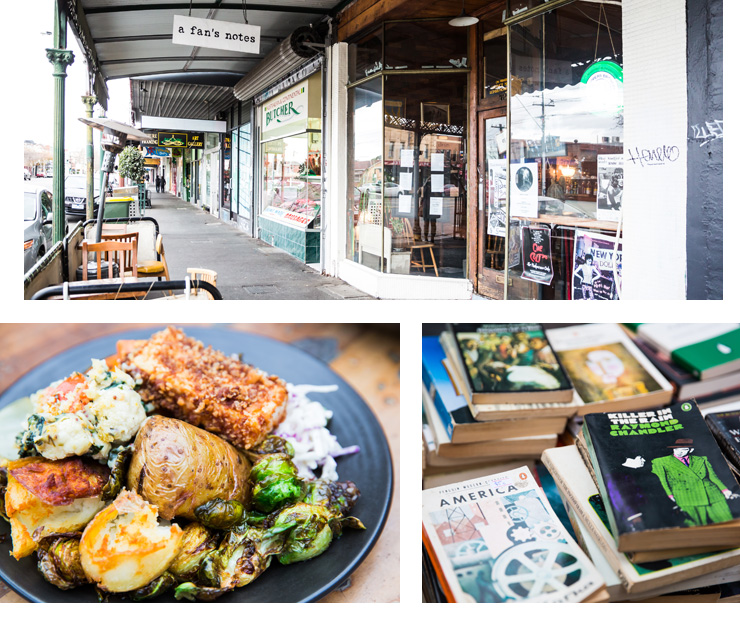 There's a wonderful scruffy, op-shop sort of feel to this place. Exposed brick with a vaguely 70s hue. Dog-eared paperbacks, all Raymond Chandler and Kafka, rummaged from a Collingwood bargain bin. Mis-matched band posters, dribbling wax candles and hodge podge furniture. New and pre-loved vinyl crates. Gig flyers plastered all over the big glass windows. Out back there's a ramshackle beer garden where they do $8 Coopers pints beneath the branches of a huge, spindly fig tree. Basically, your classic northside weekend haunt. You could settle in here for a Sunday sesh at 11am and quite happily push on till close.
Fan's Notes runs a 'Brunchy Things' menu until about 4pm, and it's here you get a feel for the all-comers style of cuisine. Veggos will naturally gravitate to dishes like the excellent white bean and artichoke hummus, served on crusty toast with fried halloumi and pickled golden beets. Meat-heads are gonna make a bee line for either the fried chorizo, black bean and egg quesadilla (served with a wicked smoked tomato relish) or the pork and fennel sausages with sauerkraut. We can confirm, both are delicious.
At night you can expect hearty, no-nonsense fare like Scotch fillet sandwiches, chicken parmas and fried tofu wraps, stuffed with pumpkin seed hummus, chilli, peas, av' and pickled turnip. But it's on Thursday nights that the real fun begins. That's Roast Night at A Fan's Notes.
Here's how it works: $15 gets you a plate stacked with roast spuds, pumpkin, sprouts, cauliflower, coleslaw and anything else that tickles the kitchen's fancy. On top you can elect for either blushing rare roast beef, or crumbed tofu. Drizzle on some plant-based vegan gravy, order up a pint of Abbotsford Invalid Stout, and you're in roast veggie heaven.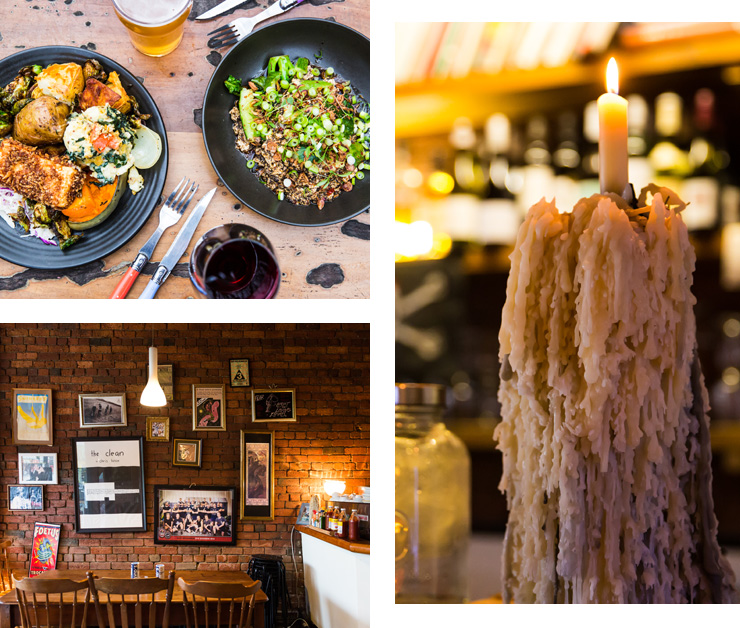 The restaurant runs regular vegan degustation nights (a well kept Carlton North secret) and you can check their Facebook page for info on upcoming events. Coopers is the tap beer of choice, and there's half a dozen craft bottles to keep things interesting (we recommend the Kettle Green black pilsner). Vino fans, they haven't forgotten you either. Seven reds, four whites and a Prosecco round out the curated little menu; it's not encyclopaedic by any means, but chances are good you'll find something that tickles your fancy. Personally? The Devlin shiraz is a steal at $9 a glass.
If you're a long time northside sceptic (some people have a thing about beards and flannel), we guarantee A Fan's Notes will convert you. You'll be trading in those lululemon leggings for a fixie within the week. Northsiders, if you haven't checked this place out yet, do yourself a massive favour. Half vegan, half meat, all awesome. It's one of the city's best.
Want to learn more about A Fan's Notes? We've got you covered.
Image credit: Jenna Fahey-White