You've got to admire the ambition behind HWKR. Basically what happened is this: ICD Property had just developed a new residential CBD tower (because, heaven knows, CBD housing is in short supply) and they wanted to install something useful on the ground floor.
The space is massive, stretching back for almost 60m. They could have given the license to a CBD super-restaurant, but instead they've created something kind of new for Melbourne: a rotating hawker-style Asian food centre. A place where some of the country's best restaurants will pop-up, serve delicious sh*t, then swap out every few months.
When we visited HWKR at lunchtime on a random sunny Tuesday, the place was buzzing. CBD office workers popping their heads in to check out the new local. Groups of friends gathered round the large communal tables. People knocking back cocktails or snacking on pork belly. The whole place smelt amazing—which is what happens when you have five venues (and two Masterchef contestants) cooking independently.
Let's go through these one by one...
Up front on your right you'll see Manymore, HWKR's only permanent resident. It's a swish little cafe with a social enterprise bent (it's run by the developer's charitable wing, the MAI Foundation). It'll be donating 90% of profits to charities like YGap and the YMCA. Which means 90% of every bubble tea cocktail you slurp is going to a good cause. Moving right along...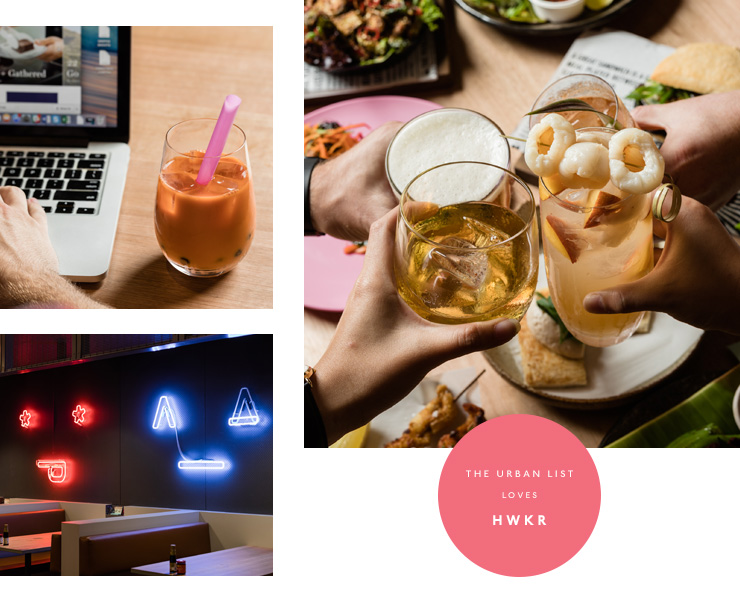 Next we've got Khao by CBD stalwarts Rice, Paper Sister. Khao actually means 'rice' in several Thai dialects (a little joke, since Rice Paper Sister doesn't actually serve much rice at all). The menu's got a slight Philippines skew this time. Think roasted lamb ribs with burnt coconut sauce, or a wicked BBQ pork belly salad, sitting on green papaya and doused in tamarind dressing (this one is particularly good).
Still hungry? We hope so—coz next up is Chanteen by Masterchef winner Diana Chan. This one's all about the Malaysian and Singaporean street food, inspired in-part by Chan's own family recipes. The lobster brioche drizzled in chilli crab sauce is pretty out of control, but if you're after something more authentic, we recommend the satay skewers (made from her dad's secret recipe and featuring 20+ different ingredients). Chan serves them up with rough-cut cucumber and a wicked dipping sauce.
Brush off those satay sweats—the next restaurant is a two-parter from another Masterchef legend: dessert whiz Reynold Poernomo. Reynold has brought his legendary KOI Dessert Bar down from Sydney. You'll spot it free-standing in the middle of the food centre, dishing up Butter Brown Mandy (roasted ganache with brown butter gelato and mandarins) or the famous Moss (pistachio monte with lime nitro, apple sorbet and dulce). Don't ask us how he makes the lime nitro—just eat it and enjoy.
Last (but certainly not least) is our personal pick up the bunch: iconic Hong Kong sandwich shop Bread & Beast. These guys are taking Asian sandwiches to the next level, and with a name like Bread & Beast you can bet they're not about the subtlety. Take a bit out of the Ngau Lam Wich: an 18-hour slow-cooked beef brisket, doused in Chu Hao mayo, spring onion and pickled daikon. Or maybe the Kentucky San: crispy fried chicken breast, topped with nori flakes, pickled ginger, slaw and curry Kewpie mayo.
The beauty of HWKR is the variety. There's literally something for everybody here, providing you're a human being who enjoys things like flavour, food, people and happiness. It'll be a smash hit with the CBD lunch crowd, who are notoriously fickle with their favours. The rotating line-up and endless options should keep them coming back for more.
But this place isn't just an office grab-and-go. It's open till 1am from Thursday to Saturday, which is where the big neon signs come into play. The lights dim, the cocktails come out, tunes get turned up, and HWKR morphs into a late-night Asian bar.
Next time you're stuck for ideas 'round A'Beckett St, you'll know where to go.
Want to learn more about HWKR? Check out our Directory page over here.
Image credit: Griffin Simm