Ned Stark wasn't lying when he said, "winter is coming". And if you thought Melbourne was cold this time of year, you're in for a shock.
Cold weather complaints conversation has taken over normal dialogue, Euro summer pics have become the Insta plague and puffer jackets are the city's uniform.
If you don't have the funds in your bank account to pick up a plane ticket to who-knows-where, you can be safe in the knowledge that Victoria's ski fields are as good as any overseas destination. So grab your nearest friend or significant other and do as the Scandi's do—rug up and suck it up!
From stunning scenery to parmas the size of your head, we teamed up with Visit Victoria to put together a list of out-of-town activities that'll distract you from the electricity price hike in no time.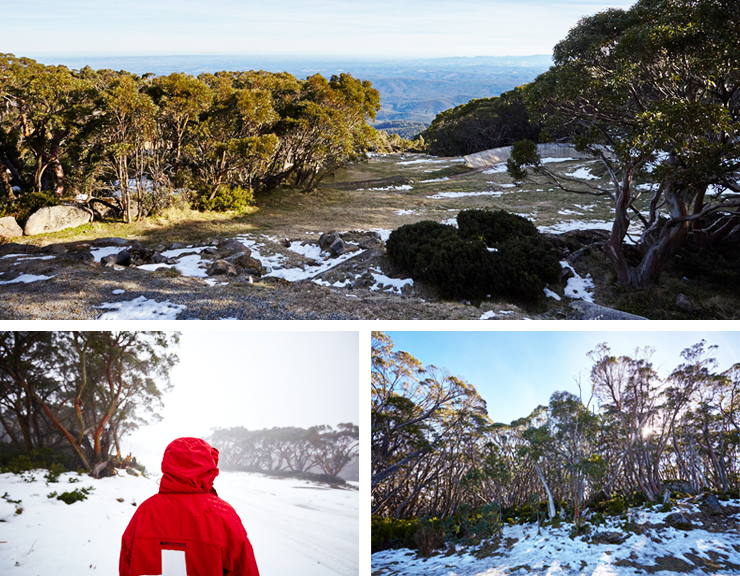 #1 Hike The Noojee Trestle Bridge Rail Trail
Just 100km east of Melbourne in the town of Noojee lies a hidden Insta-worthy treasure. Standing over 20m high and surrounded by tall trees is the timber trestle bridge, left behind from the Noojee railway line, that was constructed in 1919. Better than any coffee-gram, get there early to ensure optimum mist and capture the ultimate and completely un-staged looking-into-the-distance-emerging-from-fog photo. Likes aside, it's a damn beautiful bridge and #nofilter required. For those wanting a little more exertion, you can follow the 1.5km rail trail into town.
#2 Taste Some Top Shelf Trout
The big chill may mean frozen fingers, but it doesn't have to mean frozen food. Enter: The Toolshed (aptly named and decorated)—a scenic bar & bistro in the tiny township of Noojee which serves up smokin' winter fare and boasts a fireplace to match. Grab a seat next to the open fire, order yourself a drink (or five) from the corrugated iron bar and tuck into some of the tasty local trout. With the La Trobe River aka trout playground in their back garden, it's bound to be a good catch! And if you're not feeling fishy, they've got you covered with a board of parmas, pot roasts or the timeless classic Billy Burger.
#3 Hang With Snow Dogs, Because Dogs
"Ain't nothing going to break my stride" en route to doggo. Straight out of an episode of Game of Thrones, Howling Husky Sled Dogs is every dog lover's dream. Jump in a sled with a pack of dire wolves (huskies and malamutes) harnessed to the front and strap yourself in for the ride of your life. Book in for a sunset tour and see the scenery change colour as you explore the Mt Baw Baw back country. Rides include pats and cuddles, so allow plenty of time for belly rubs.
#4 Wine And Dine At Altitude
Sitting at an altitude of 1460m, Mt Baw Baw Village Restaurant defines "dinner with a view". Thaw out by the open fire before sitting down to enjoy a mouth-watering menu and panoramic views over the La Trobe Valley. With Gippsland's finest produce and renowned local wines on offer, think deliciously moreish lamb croquettes, tender wagyu eye fillet and heavenly rich dark chocolate mousse.
#5 Lounge In A Luxury Lodge
Take a snow day or three and check yourself into the idyllic Tanjil Creek Lodge. Wake up in a toasty bed with a view of the alpine countryside, sip a wine in front of the fire, watch the snow fall from the spa or… all of the above! A little luxe and a lot of leisure, Tanjil Creek Lodge is located in the alpine village at Mt Baw Baw and is the perfect place to shut yourself away for a winter weekend or recuperate from a day in the snow.
#6 Get Cultured
Whether you're an art lover or simply looking for a place to warm those toots, the newly renovated Latrobe Regional Gallery is the ultimate culture fix away from the city's crowds. With seven gallery spaces and a sculpture courtyard, it's well worth the short 90min drive from Melbourne to the town of Morwell to wander through the unique collection of local, national and international works. The gallery is about to host the world-class René Magritte exhibition of photographs and films, never before seen in Australia. It opens August 19th, so be sure to drop in before the hordes do. The Gallery reopens this July and the Rene Magreitte exhibition will run from 19 August to 19 November.
#7 Warm Yo'self With A Masterpiece Hot Chocolate
Step into the old converted bank at Morwell and have your own MasterChef moment (minus George Calombaris and perfectly timed tear-jerking music). The Vault has been reborn from the old ES&A Bank into an upbeat and modern dining space with a focus on local and seasonal produce. With an extensive breakfast, lunch and dinner menu there is something for everyone. For us? It's hard to go past their specialty Campfire Hot Chocolate. Be sure to time your Insta story for the perfect #foodporn moment.
#8 Tackle Parmageddon At The Pub
For the heartiest of winter feeds, you can't go past the affectionately named Wally Pub. With a crackling fire, a soundtrack of classic bangers and parmas (which will satisfy your foodie eyes, for once), this gem in the historic township of Walhalla will have you feeling fuzzy in no time. Nab a chair by the fire and tuck into their award-winning local pork sausages or if you're feeling brave, have a go at finishing their lip-smacking parma topped with all the good stuff i.e. bacon and oodles of oozing cheese. One of everything, please!
The Walhalla Vinter Ljusfest will run from 1 August until 27 August, with a light display and special events throughout the month.
Image credit: Michelle Jarni
Editor's note: This article is sponsored by Visit Victoria. Thank you for supporting the sponsors who make The Urban List possible. For more information on our editorial policy, please click here.