It's easy enough to cast off the working week with a 48 hour Netflix marathon, plenty of UberEATS, and an all-round lazy demeanor. However, our backyard here in Melbourne is prime for exploring, and the weekend is the perfect time to do just that. So, cast off those trackies, and reacquaint yourself with our fair city—go on, go beyond your regular haunts.
The perfect way to do it is with the Honda HR-V—more than just being a pretty face, the HR-V enables you to get your carpe diem on and squeeze the most out of your weekend without compromising on style, and all while oozing sophistication. So, it only made sense to team up with our mates at Honda to bring you the definitive guide to everything new and exciting to do in our city, making sure this weekend is absolutely epic, and your comfort zone is left in the dust. So get out there, and try something new this weekend—like going to a cafe where the barista doesn't know your name. We dare you!
---



Every weekend starts with a deliciously 'grammable breakfast—or brunch if you're down for that sleep-in, no judgement—and ends with a delightfully indulgent dinner, so make a beeline for these luxe venues to fuel your perfect weekend.
Bibelot
South Melbourne
Sunday was made for copious cake consumption. One of our absolute faves across from South Melbourne market, Bibelot (that's 'bib-loh'), is the sweetest artisanal patisserie around. The sleek, concrete and marble venue features a high tea area at the back of the store. On lush emerald couches, peruse a menu of Petits Gâteaux, macarons, bon bons, gelato and drinks. If you're the type of foodie that eats with your eyes, you'll feel them glaze over at Bibelot's rainbow display cabinet of treats.

Coe & Coe
Cremorne
Occasionally, and especially on busy mornings, it's hard to find good service in Melbourne. Coe & Coe are nailing it, tucked away on Stephenson Street in Cremorne. Look out for a café sandwiched between a graffiti of Kimmy K, Donald Trump and Kayne West. The hide-y hole venue keeps it simple with coffees, a range of fresh juices, cheesy paninis and a handful of daily baked treats.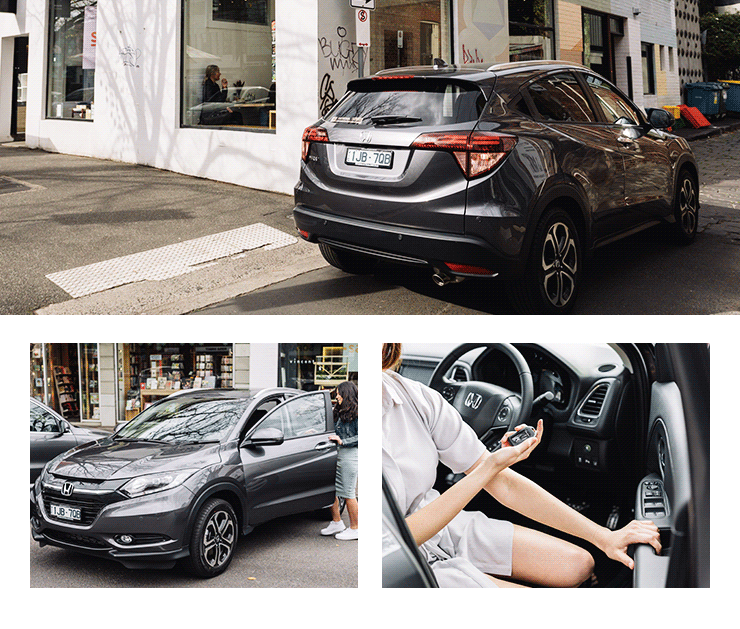 ---



Did you really even do your weekend right if you didn't spend at least half of it window shopping? Nope. These are our picks for a seriously eclectic shopping trip, bet you haven't browsed these boutiques before.
Vincent 2
South Melbourne
There's nothing to dislike about Vincent 2—homewares? Tick. Fashion? Tick. Access to caffeine via the hole-in-the-wall café next door? Tick, tick, bye-bye credit card. The homewares company is a family affair (all the more reason to spend), and is heavily inspired by clean, minimalistic Scandi-design. Baggu bags proudly hang across the span of a wall, while pieces from Design House Stockholm work as interior design statements.

Mondopiero
Fitzroy
If you were ever going to judge a shop by it's cover, Mondopiero is the place to do it. Architecturally stunning with softly curved shelves that run along the floor and brush the ceilings, Mondopiero is a shop that you'll easily get lost in. Renowned designer and owner Piero Gesualdi presents a curated selection of homewares, furniture, art, accessories, fashion and beauty products.

---



Cactus Country
Strathmerton
Part of Sun Country on the Murray, ten acres are filled with cacti at Cactus Country (and no, this is not a joke). Explore the huge, towering range of prickly, colourful beasts and afterwards you can head along to the Mexican-style café and cacti store (yes, it's on-site too). Margaritas are on tap and super nachos and burritos are on the menu, but the real hereos are the cactus cakes and cactus ice-cream (seriously, we're actually not joking).

Lunar Drive-in
Dandenong
Lunar Drive-in is bare-bones, but let's be honest, you're there for the $30 carload price not for the frills and glitter. Smuggling your own ice-cream, snacks, doonas and pillows has never been easier. Adults are a mere $13 per person, and if you're willing to camp out for most of the night (in your car, in a car park, if that wasn't clear already), you can watch a second film for just $10.

---

Image credit: Griffin Simm for The Urban List
Editor's note: This article is proudly sponsored by Honda and endorsed by The Urban List. Thank you for supporting the sponsors who make The Urban List possible. Click here for more information on our editorial policy.