Next time you're walking through the CBD, look around. Pay attention. You might notice some strange stuff: three tiny paramedics rescuing a guy from underneath a cigarette, construction workers jackhammering an eggshell, or a miniature Picasso patiently drawing dick graffiti. These are all the work of mysterious Melbourne artist Tinky (she goes by Liz, to her mates).
Liz Sonntag has spent the last few years hiding teeny tiny dioramas inside Melbourne's laneways. You can spot them everywhere, often tucked inside a hole in the wall or next to a skip that smells like bananas. Most of them are about 2cm high.
"Often I'm down some dirty alley, hovering over a drain or a hole in the wall," Liz says. "People don't come up to me because they think, ' There's a crazy lady doing something weird'. I have had a few strange looks from people."
We sat down with Liz and asked her a) where do you get all this stuff? And b) what makes someone want to stage very small public dioramas?
First of all, where do you get all these miniatures from?
I don't usually tell people where I get them from. There's a type of hobby shop around that I find them in. **cryptic silence** The other things are weird. Sometimes I just find them in op-shops or antique shops. I go to Camberwell Market a lot (I'm part of a group called the Dawn Raiders who all rock up at 7 am), so I'll find little props in different places.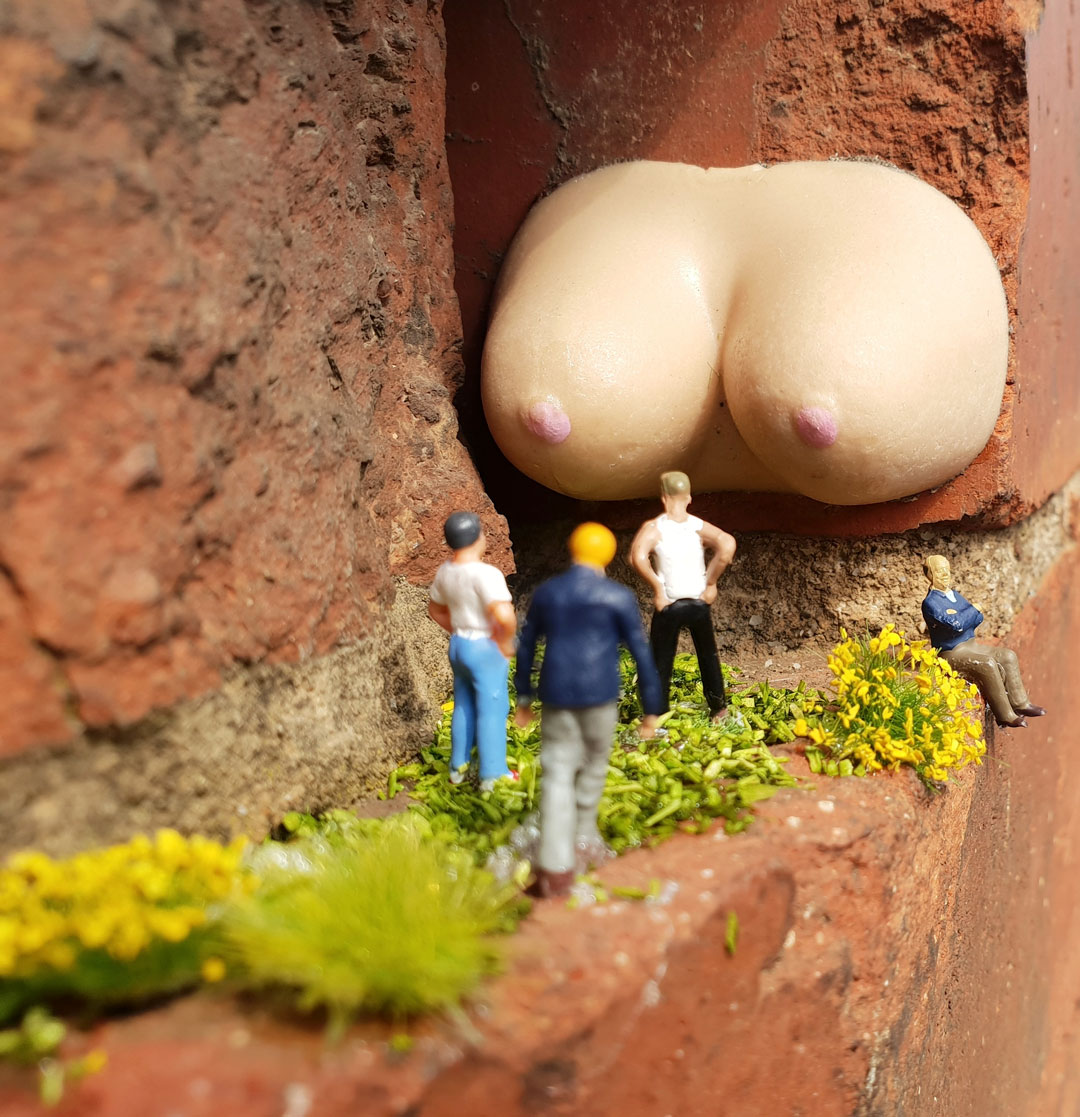 Why are you doing this?
I think it's just the last thing people expect to stumble on in the city. And I like that they're hard to find. I strangely enjoy watching people walk straight past these little scenes and not realising there's something there. It's like I have a secret. We're so busy in our day-to-day lives, there's so few of us that stop to take in our immediate environment.
It's not a criticism of people, I think it's just the world we live in now. We have to focus on slowing down, walking slower, noticing little details. Since I started doing that myself, I've had more gratitude in my life. I notice that a lot now. I pay more attention.
Do you have any favourite hiding spots in the city?
I do love a dirty alleyway. There's something about them. One of my favourite places to work is Presgrave Place, just off Little Collins Street; there's an end to it, so it's not just a thoroughfare. You actually have to go there to see things. It's also filled with street art and graffiti, like an outdoor gallery.
AC/DC Lane and Duckboard Place are also good. Loveland Lane is another one—it's not actually marked on any maps, but it's up near Queen Vic Market and there's a whole underground art scene that's bee flourishing there for years. I have one installation in there, like a funeral scene, that still hasn't been discovered. It's been there for years.
Do people often find your work?
I try to find a balance between being easy to find and hard to find. People will usually find the hidden ones, but they'll tend to leave them. They won't destroy them. The ones that are a bit more visible, they're there for a short while, they get photographed, and then some people will steal them or break them. It doesn't bother me too much; I'd just like it to stay there for people to enjoy. It's not an ego thing.
I usually just put something on the street and walk away from it, it's not mine anymore, it belongs out there now.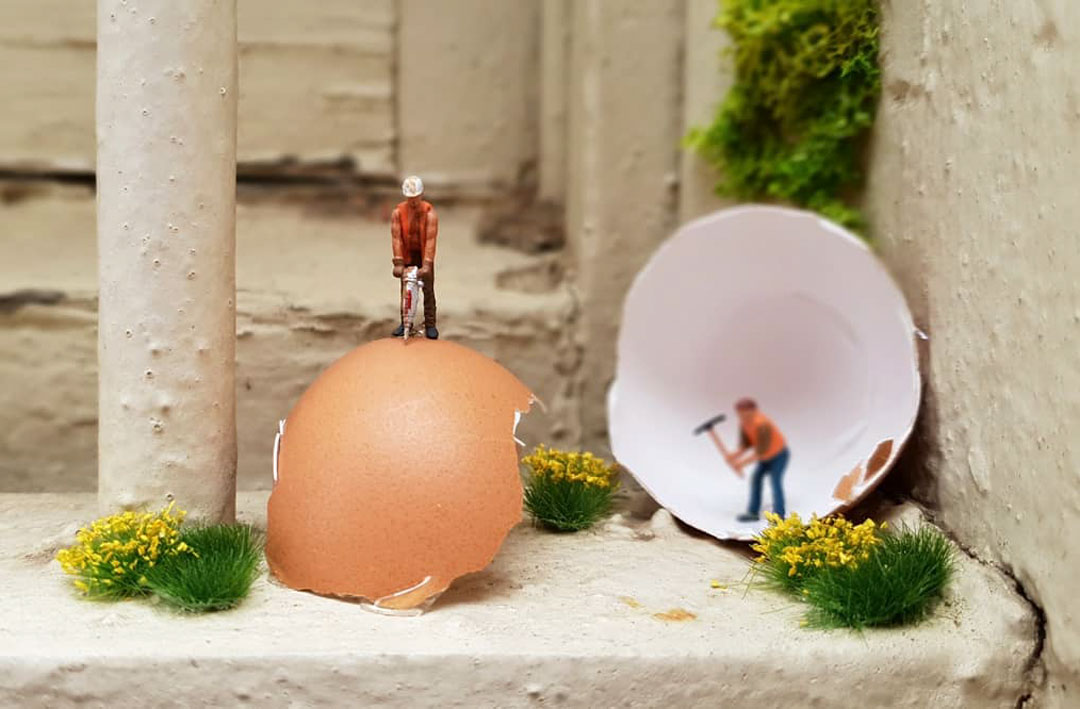 How did you start making miniature art?
It was a weird, life-changing moment. About four years ago I woke up on a Sunday morning and just felt this urge to find some vintage toy soldiers. My husband and I went to the trash and treasure market in Frankston and yep, there was this lady right at the front selling two big jars of toy soldiers. I grabbed them both. I also found a small plastic Big Bird.
I thought it would be funny to something with them together, so I drove to Collingwood and glued them in a little alley, the soldiers holding up Big Bird. I took a photo and I left it there. That's how it started.
Can anyone start doing this?
Yeah definitely. I never even looked into getting council permits or anything. I encourage everyone to have a go. I think that any type of creativity is good. If it's poetry or spray painting or whatever, it's a wonderful way to express ourselves.
Some people will get it, others won't and that's okay. I think it's my purpose in life to make people laugh – if I'm doing that I'm perfectly happy with my life.
Good spots to look for Tinky
Liz says she hides miniatures all over Melbourne, but if you want to go searching, here are some of her favourite spots.
AC/DC Lane (CBD)
Presgrave Place (CBD)
Duckboard Place
Loveland Lane
Liz Sonntag is a member of Blender Studios in Melbourne. If you'd like more info (and updates on new installations), check out her Instagram.
Check out all the latest gigs happening in Melbourne this month on our gig guide.
Image credit: supplied