As the creator of everyone's favourite design blog, The Design Files, Lucy Feagins barely needs any introduction. Brightening up our inboxes since 2008 and providing hours of inspiration for the homewares, art, architecture, food, fashion, and interiors enthusiasts among us, The Design Files' daily missives stand out from all the e-noise for their exquisite photography and engaging interviews.
Lucy's vision and critical eye as the doyenne of design, paired with her team of extraordinary creatives, has resulted in The Design File's cult-like following.
In the lead-up to Melbourne's third Design Files Open House, and the very first for lucky Sydney-siders, we sat down with this dynamo to learn about the emerging creatives inspiring her right now, the organisation that goes into TDF Open House, and how she plans to unwind after the madness.
TUL: What were you doing in your pre-TDF life?
Before starting TDF, I was working in the film industry as a set dresser (kind of like a stylist but for film and TV shows). I did that for about seven years before TDF became a full time thing.
TUL: What would you be doing in your alternate life?
It's cheesy to say this, but I really feel like I've hit the jackpot with this job. It is definitely my dream job; I can't imagine doing anything else.
TUL: Did you ever imagine it would be so successful?
No! When I first started The Design Files in 2008, blogs were pretty much a niche thing. Not many people had blogs back then and a lot of people I talked to didn't even know what a blog was. How things have changed! I never imagined TDF would grow so big, or that it would be even possible to make a career out of having a blog.
TUL: What do your credit for your success?
There are so many factors that contribute to the success of a blog or any publication, really, but in our case I would say it's mainly the regularity of our content (i.e. posting daily without fail!). Also, the consistent quality of the stories we produce, and ensuring all our content is original and where possible hasn't been seen before. There's so much recycled content on the web, I reckon if you want to stand out, you have to be generating totally new stories and imagery.
TUL: What does your typical day involve?
It really varies… at present we're in the lead up to Open House, so it's a bit mad, balancing preparations for our event with content for TDF. In a usual week I spend two days a week out shooting homes or interviews with our photographers, then two days in the office writing content, liaising with sponsors and advertisers, putting the feelers out for future content, brainstorming ideas with Lisa Marie (our editorial coordinator), and keeping tuned in to social media every day. Then Fridays I am supposed to do book keeping / invoicing! It doesn't always happen like that, but that's the ideal!
TUL: Local creatives whose work you're loving at the moment?
SO MANY. New on my radar right now is the handcrafted leatherwork of MadeMeasure, artwork by Skye Jefferys, new stationery brand The Souvenir Society… the list goes on!
TUL: How much time goes into planning the Open House? How far in advance do you start working on the project?
Oh god, I couldn't count the hours! We start looking for a home about nine months before the event. Then there is so much back and forth for many months leading up to the event – securing sponsors, working with our publicists to generate great coverage of the event, doing photoshoots, working with over 70 artists and designers to ensure we have a good mix of product and artwork in the house, working with our designers to generate our event newspaper, a new website etc… updating the website with product by our designers, etc etc.

Oh, then there are legals and insurance and catering… don't remind me! Essentially, Lisa and I work on it pretty much daily for most of the year.
TUL: You're launching the Open House in Sydney this year, too. Are you a sucker for punishment? Do you plan to take it national in the future?
Yeah I know, my Mum thinks I'm crazy! It's really just about doing more each year than we did the year before. I can't keep doing the same thing every year… I think to stay inspired we need to keep pushing into new areas, doing new things, going bigger and better in everything we do. I don't feel I really CHOSE to take the event to Sydney, we just had so many requests to take the event beyond Melbourne, it kind of just felt inevitable!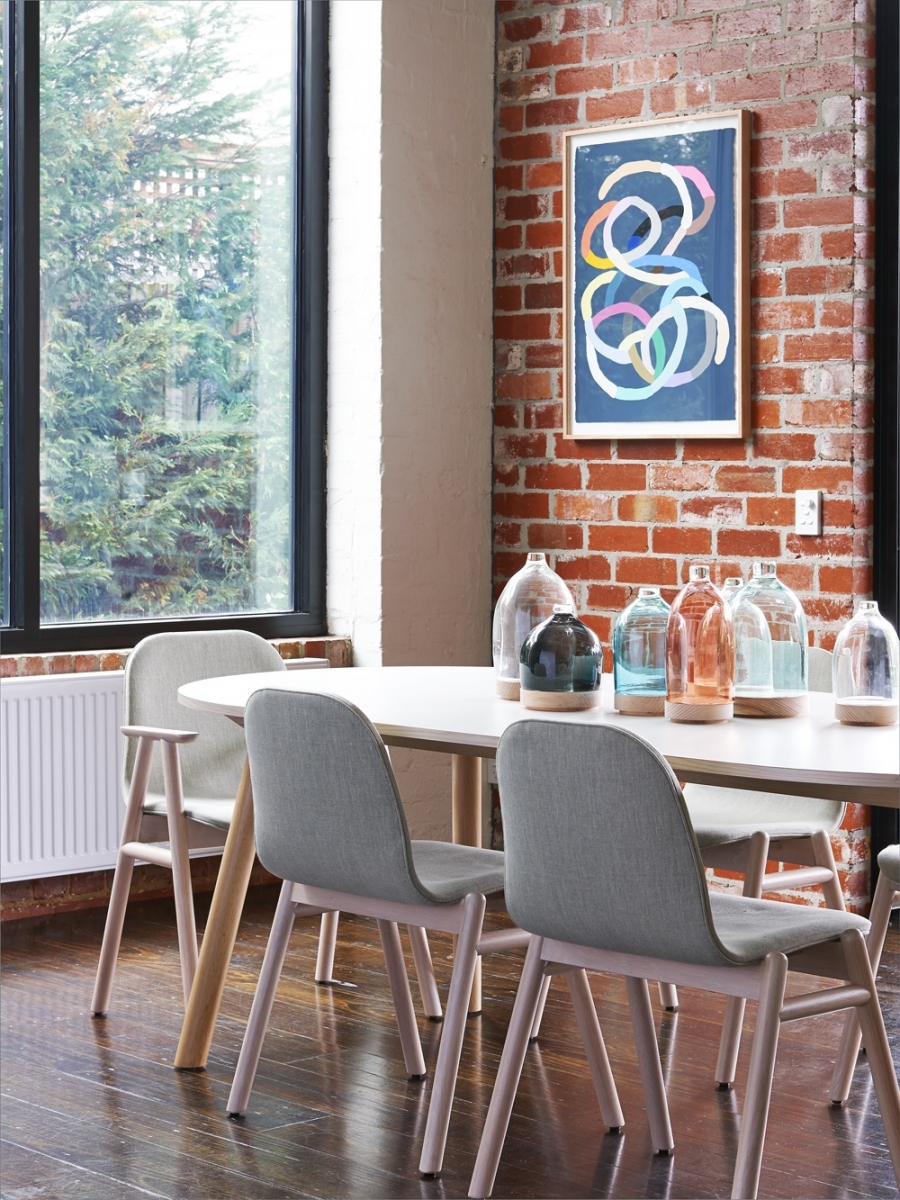 The Design Files Open House 2013, photo by Eve Wilson.
TUL: So, can you give us a few hints on what's in store for the Melbourne Open House?
Ohhh the usual madness! Lots of colour and beautiful locally designed product for the home, a café in the garden hosted by Market Lane, a complimentary wine tasting in the afternoons care of our wine sponsor, Petaluma, Beci Orpin is doing a book signing on the Sunday morning (11:00am!), and the Dulux Dog will be greeting visitors on the weekend between 10:00am and 2:00pm each day! Oh, and don't forget to check out our amazing customised Kirra Jamison-inspired MINI Paceman out the front, too!
TUL: Tell us about the 'Spot The MINI' teaser?
MINI have been part of TDF Open House since our first event in 2011, and in the three years that have passed since then, we've built a fantastic relationship with the MINI team. MINI backed us from day one, which was so encouraging, especially in those early days before we had really proven ourselves! So, since 2011 there's always a stylish new model MINI in the garage at every Open House…. but this year we've been working on something extra special!
We're huge fans of Melbourne artist Kirra Jamison and so for Open House this year, in collaboration with MINI, we have taken Kirra's colourful work beyond the canvas. The result is a customised MINI Paceman, featuring one of Kirra's distinctive 'loops' paintings, in a beautiful palette of sea foam green, dusty pinks, deep blues and spicy ochre tones. It looks AMAZING!
TUL: So, with your busy schedule, we bet you love coffee! Where do you go for your daily brew?
Market Lane!
TUL: What's your favourite brunch spot in Melbourne?
Seven Seeds in Carlton – love the atmosphere, the great coffee and the menu, which is a little more imaginative than your usual breakfast fare.
TUL: And spot for an alcoholic beverage?
Mister Wilkinson in Brunswick – full disclosure – my boyfriend owns this bar with two other friends. I am there often!
TUL: Your latest Melbourne discovery?
Hawthorn! In the lead up to our Open House event we've been hanging out in Hawthorn and I have found some gorgeous places to eat and shop in this leafy pocket of Melbourne. Tana Japanese café is amazing, and we also love Maiike for children's gifts and The Woodsfolk.
TUL: Best way to spend $50 in Melbourne?
A cheap, cheerful and delicious Shop Ramen lunch in Collingwood, with friends! Actually that would probably be $25.
TUL: And $500?
Dinner at Cumulus Inc. with friends. It's one of my absolute fave restaurants in Melbourne.
TUL: How/where do you plan to go to de-stress/pamper yourself after the Open House madness is over for another year?
I really think I might be in need of some kind of day spa situation. I'm thinking maybe Aurora Spa Retreat at The Prince in St Kilda…!? Other recommendations welcome!



The Design Files Open House 2013, photo by Sean Fennessy.
The Design Files Open House | 21st – 24th November
Hawthorn, Melbourne (stay tuned for the address)
Open daily 10:00am – 5:00pm
For more information, click here