Want to skip the queues and snag a private dining room at Sydney's Chin Chin? How about a year's free yoga in Brisbane? Maybe a private session at Bass & Flinders mixing you own signature gin? Well, they're all up for grabs.
Yep, we're about to run the ultimate, money-can't-buy charity auction.
It's all to raise money for Unleashed Women. Haven't heard of them? Unleashed Woman is an initiative from the team at The Hunger Project, aimed at empowering women in rural and remote regions of Africa, India and Bangladesh to start businesses, grow their ideas and support their families. Ultimately, the goal is to end poverty, which is something we can all get behind.
Pretty good cause, right? And all you have to do is bid on some sweet, sweet, cherry-picked, gotta-have-them experiences.
So, what's it all about?
We've reached out to our well-connected mates all over the country and put together a list of stuff money can't really buy. Every dollar raised is going straight to Unleashed Women, which means you can live like a queen and help a good cause, all at the same time. All you need to do is bid on the items when our eBay auction goes live — so sign up for your account pronto if you don't have one already.
When's it running?
We'll be auctioning these experiences on eBay from 12pm 4 October to 12pm 9 October AEDST. You can check out the general info here, or scan below for some of the juciest items.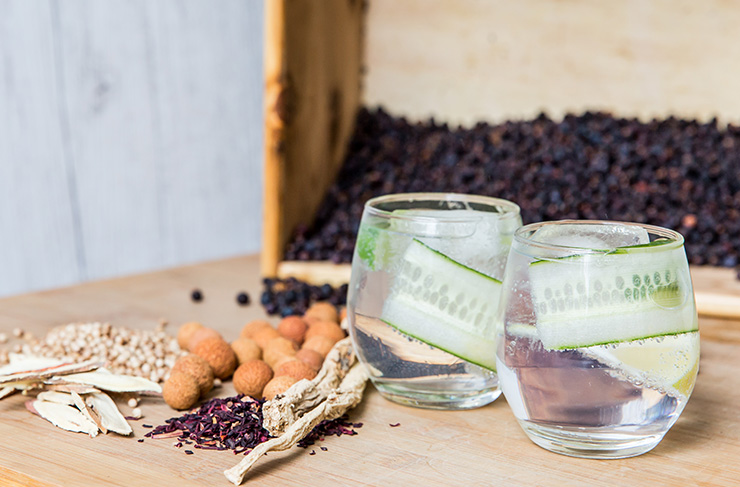 Win a private gin-making class at Bass & Flinders in Victoria.
What kind of stuff can I get?
Here's just a little taste of what we've got to bid on. You can check the online auction hub for the full list (remember, each item has a few Ts&Cs you should check out). The auction hub will be coming online on 4 October and running till 9 October.
How do I get involved?
From 3 October you can jump on any of the auction links (we'll let you know when they're live) and start watching and bidding. Every dollar you chuck in will go straight to Unleashed Women — nothing goes to us, to eBay, or to the awesome companies who have supplied auction items.
If you want the universe to send you some serious Karma Points, share this news with everyone you know, talk your work into bidding on one for the office Christmas party, or treat someone to a luxe weekend while spending the cash doing good. Hell, stand on street corners and ring a big copper bell. Send your personal fleet of homing ravens to every corner of the Kingdom.
For more info on Unleashed Women and The Hunger Project, click here. Our online auction will run from 4 October to 9 October 2018. Click here for more info.
Image credit: Pexels