Something quite miraculous happened last October. After receiving the devastating news that my go-to hairdresser was moving on from his salon, a sleek and chic new spot with a memorable name and excellent credentials popped up at the end of my street. That's right, UVA Salon – the new home of award-winning colourist and hairstylist Marie Uva appeared right at my time of need.
I had long heard of Marie Uva's skills (she has spent over a decade working in the industry and has a swag of awards under her belt) and was beside myself at the thought of someone so good being within walking distance. Just imagine then, how excited I was when I was invited to come and have my very own UVA Salon experience! Yup, it was kinda like this.
So, to the all-important appointment…
UVA Salon is tucked behind a small shopfront on Greville Street – what appears to be a simple brick building with heritage windows actually turns out to be a long space that fits up to 13 clients at a time! It's discreet yet boutique, a feeling that Marie and her business partners Joey Scandizzo, John Scandizzo and Joseph Seeman (the team behind Joey Scandizzo Salon) have worked hard to achieve. The same boutique feeling is carried inside, with the interiors featuring a combination of high ceilings and mirrors, dark floors and white walls, and striking light fittings. If I could model my dream apartment on a salon, this would be it!
'But what of the service?', I hear you cry. Quite simply, from the moment I stepped into UVA Salon, to the moment I stepped out, I was made to feel completely at home. That, and completely pampered! Within minutes of arriving, I was offered a tea, coffee or tipple (Wednesday night wine? Yes, please!), before being treated to one of the best head massages ever, hands down. You know, head massages are not as easy as you think, so massive props go to Holly, who was responsible for me almost falling asleep. I am reeeeally hoping you didn't catch my mini-snore!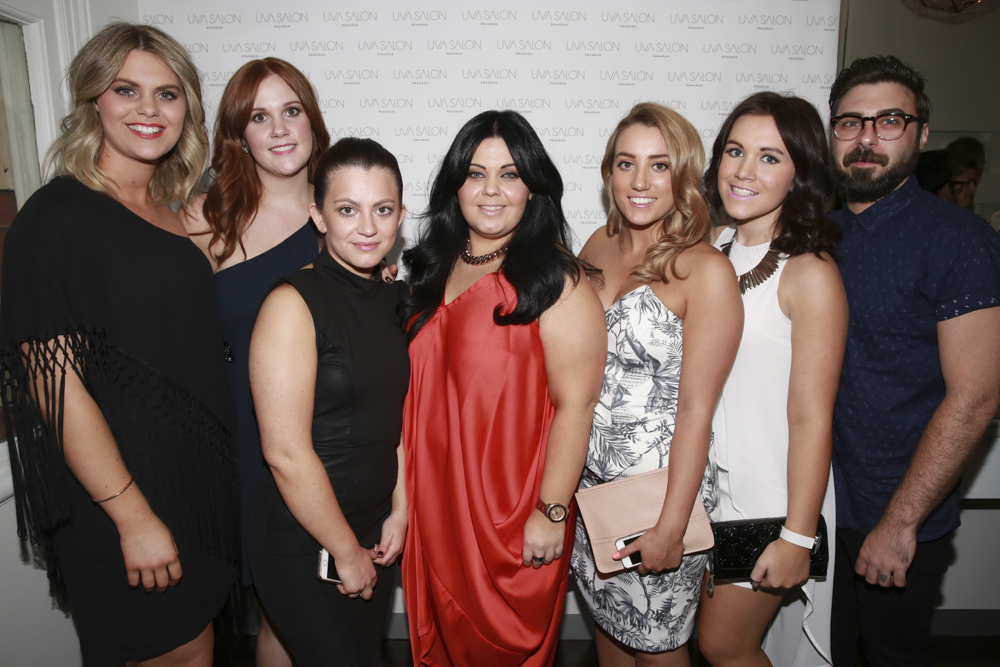 Marie Uva (centre) with her super talented team.
I then sat with Marie to discuss what I wanted and how she was going to fix my mop of hair. You see, I'm one of those hopeless fools who knows what she likes but has zero clue about how to achieve it. I've stared at photos of Victoria's Secret models with their amazing locks and thought suuuurely, it can't be that hard to blow-wave my hair like that?! After studying every last move Marie made with her brush and blowdryer, I am slowly (key word: slowly) but surely on my way to perfecting the 'sexy hair' that Marie prides herself on.
To be honest, that has to be one of the best parts about UVA Salon – the fact that you can go in there not only confident that you'll receive a stellar cut and/or colour, but also confident that you can recreate the look at home. Marie and her team make the process so easy, from taking you through what they're thinking and planning, to what products they're going to use, why it's needed, and then how to keep the babelicious look going when you're back at your casa.
Speaking of other UVA Salon staff members, they're all equally as excellent as Marie. It's no surprise, considering Marie has a passion for fostering young talent and developing them into star hairstylists in their own right.
The night I visited, the salon was full, with client upon client walking out with fabulous hair. I had to know more…who was responsible for this handiwork? What if Marie is fully booked the next time I plan to visit and I have to book in with someone else?! Well, I'll have you know Kirby is known for her style cutting and phenomenal blowdry (one of Melbourne's best in fact), while Tielle excels at blonde colouring and specialised blowdries including styling hair up, hair extensions and event styling. Daniel is also known for his style cutting, going from one extreme with his short hair skills, to the other with his fabulous blowdry. Then there's Renee who's your go-to girl for fashion colour and for transforming your strands into mermaid hair, thanks to the tongs she wields so masterfully.
All in all, a visit to UVA Salon totally has my vote – Marie has crafted an excellent salon; one that has a great energy but is so relaxing, and filled with expert staff and products to take home. Really, the proof is in the pudding – I walked in with my same-old hairstyle (surprise, surprise, I straightened it for the 348623 week in a row) and walked out with soft, bouncy waves – proving the point that fabulous hair doesn't just make you look good, it also makes you feel GREAT.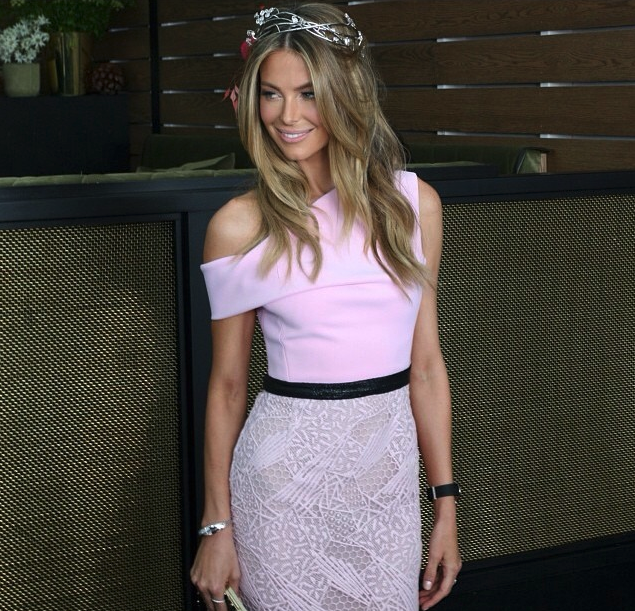 Jennifer Hawkins' incredible hair is courtesy of UVA Salon.
UVA Salon | 175 Greville Street in Prahran
Website | Facebook | Instagram
Image Credit: UVA Salon and Facebook