Everyone—or at least every slightly-biased Australian—knows that the best wines in the world are made right here. And Victoria's Yarra Valley has tasty wines in spades. The best wines from the Yarra Valley, some say, come from the terroir around the little town of Coldstream, with its Bordeaux-like climate and ridiculously green, rolling hills.
That's where you'll find one of our favourite family-run vineyards, Warramunda Estate.
Now, this place probably isn't as instantly familiar as some of the Yarra Valley's bigger wineries. You know the ones, with their 200-seat restaurants and helicopter landing pads and industrial, airport-hanger-with-Riesling kind of vibes, but Warramunda is a charming family business, run by Robert and Irene Magdziarz and their daughter, Olivia.
"We purchased the property in 2007 with the goal of embracing this area's unique geology," says Irene. "There were a few established vines already, but we started planting more, including Chardonnay, Viognier, Marsanne, Pinot Noir and Syrah. Warramunda Estate produced its first vintage in 2013, and we started welcoming guests into the family home in 2014, through the cellar door."
That's kind of the ambience Warramunda is shooting for. They're not really concerned with being the biggest vineyard in town. The cellar door is a cosy hole-in-the-wall. The sort of place you can relax on a lazy Sunday afternoon, chatting Malbecs and Merlots with Olivia, looking out over the valley, and hanging out with Warramunda's four-legged friends, Layla, Ralph and Dita Von Pussycat.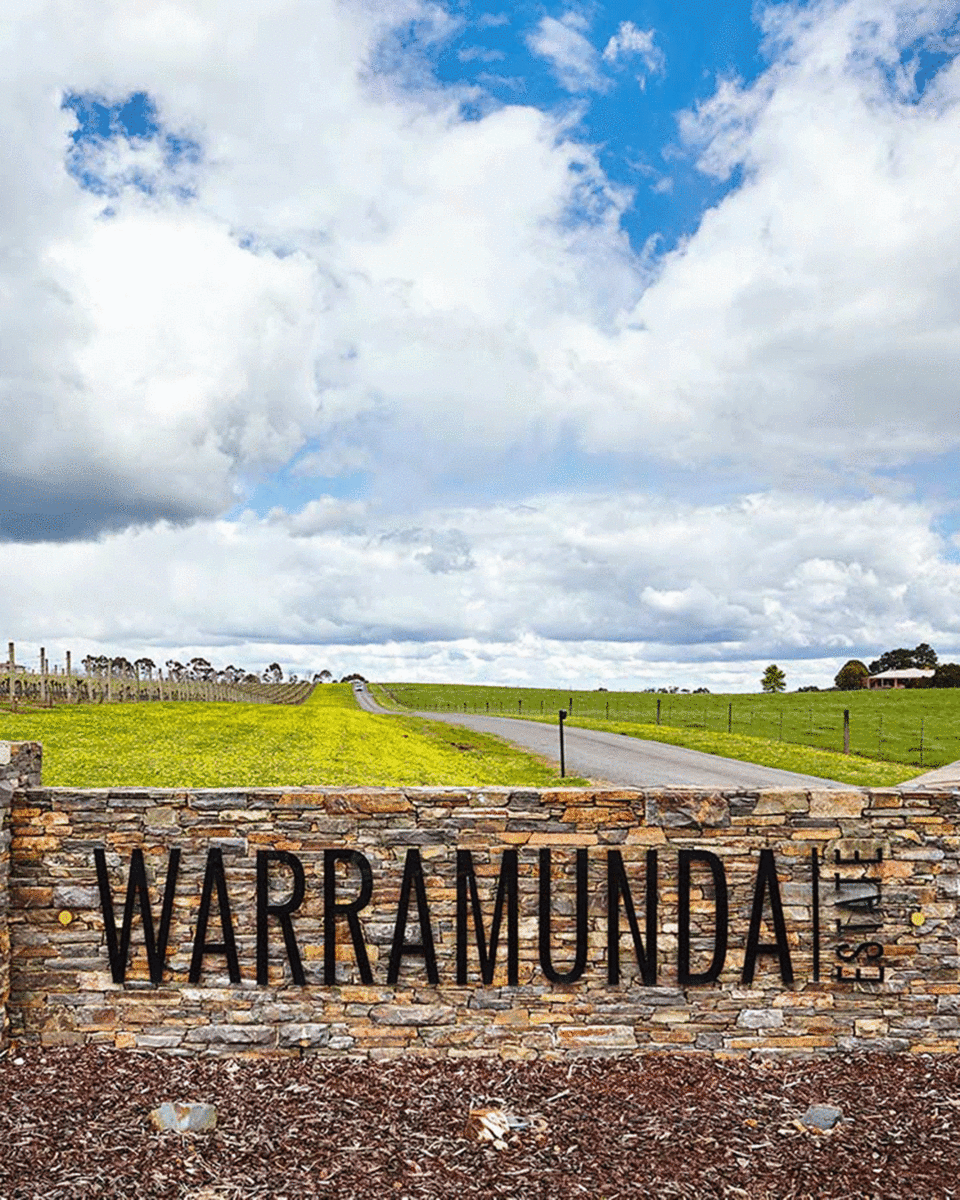 The Magdziarz's chose this spot for its history, and its climate. Coldstream sits on the Maroondah Highway, deep in the Yarra Valley. It was first settled way back in 1837 by the Ryrie Brothers, who drove cattle all the way south from NSW and set up a 17,000-hectare farm at Yering Station (to put that in perspective, today Warramunda sits on just 65 acres… real estate was easier to come by in those days).
In the early 1900s, Dame Nellie Melba bought Coombe Cottage and moved to Coldstream, and the area became known more for cattle grazing than Chardonnay. Then, in the 1960s, vintners realised they were sitting on a geological goldmine. Coldstream has some of the most coveted, unique, grape-perfect terroir in the world. The whole valley is built on layers of sandy loam, sedimentary rock and sandstone, with a bustling microflora that enriches the soil (Robert and Irene feed this microflora with crops of nitrogen-rich clover and rye, which create a kind of viticulture perfect storm).
"We really try to make wines that reflect the natural expression of Coldstream," says Robert. "They're all about the love of the land. That's what really makes a sustainable, productive vineyard."
And it's not just Robert and Irene getting in on the action. Their daughter Olivia has created her own spin-off label here, Liv Zak, which focusses on more lively, bouncy, left-of-centre varietals.
Between Warramunda's classic range and Liv Zak's more experimental bottles, you can find pretty much everything here: organic Chardonnay, biodynamic Pinot Noir, hand-grown Syrah, Cabernet Franc, Malbec, Merlot and Petit Verdot—the list goes on. It turns every cellar tasting session into some wild, wine-fuelled adventure tour. You never know exactly what's going to turn up in the glass (only that it's going to be delicious). It goes without saying that the locally-sourced Yarra Valley cheese boards are also mind-blowingly good.
Robert says the COVID pandemic has hit the winery industry pretty hard, but they're getting through okay, thanks to online sales.
"It's certainly come with its challenges, and the second wave lockdowns have made everything more difficult. But I think we're learning as we go. We've got the new website set-up now, and we've launched our wine club, The Warramunda Family. Even with COVID and doing everything remotely, we're still trying to bring that Warramunda experience to our loyal fans."
You'll find Warramunda Estate on the Maroondah Highway in Coldstream, right in the heart of the Yarra Valley. You can also pick up a few bottles online, or follow their winemaking exploits on Instagram.