Potts Point is one of my fave 'burbs. From the food-filled Saturday markets and trendy restaurants, to the antiques stores and art deco architecture, it's pretty much the only area in Sydney where I will happily stay and explore for an entire day (I'm talking breakfast, lunch and tea). So imagine my excitement, when I found out that the super luxe Spicers Retreats was opening an inner city sanctuary on the oh-so leafy Victoria Street.
Taking over three heritage listed terraces, Spicers has landed themselves one of the best spots in town. Completely refurbished into a boutique contemporary hotel, this twenty-room retreat is the perfect place to escape reality and treat your fine self to a taste of luxury.
When I first arrived at Spicers Potts Point, I was greeted with cocktails and canapés (they had won me over immediately, obvs) and shown to my room, one of three Victorian Terrace Suites. If you're going all out—and I strongly suggest you do—you neeeeeed to book yourself in to one of these. Complete with an old-school balcony, a leafy outlook and city views, it shows off a completely secret side to the city.
After taking a relaxing bath with every Leif product I could have ever dreamed of, I popped on a plush white robe, along with white slippers, and attacked the mini bar. There's no better way to unwind from a hectic working week than with a bottle of vino and chilled beats (from a super slick record player) while watching the world go by, LBH.
The best part? You don't even have to leave your room for food. You can order room service from Cho Cho San or Apollo and stuff yourself silly with some of the best bites in the city. If you're more social than I am (not hard), there's plenty to choose from, with Chester White, The Butler and Bistro Rex only a short walk away.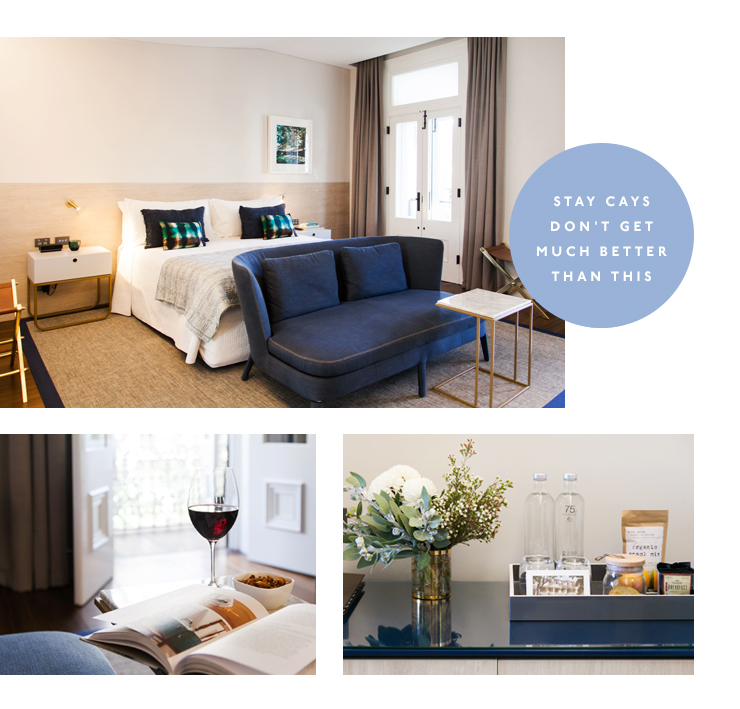 As soon as you get into bed (or crawl if you're in a food coma like me), I'm warning you now, you'll never want to leave. Easily one of the comfiest beds I have ever slept in, this is exactly what your inner child wants a cloud to be.
If you're all about #fitspo you can enjoy complimentary use of PE Department and Yoga Department classes, but if you're more into sleeping, you can wake up in your giant bed then stuff yourself all over again with an a la carte breakfast (just make sure you order the hotcakes!) and endless amounts of coffee.
Whether you're after a romantic escape, city weekend with your besties or need somewhere to stay for work, it's safe to say that staycays don't get much better than this.
Editor's note: This article is proudly sponsored by Spicers Potts Point and endorsed by The Urban List. Thank you for supporting the sponsors who make The Urban List possible. Click here for more information on our editorial policy.
Image credit: Federica Portentoso | Design credit: Sahra Martin