When you enter Claremont Showgrounds, ghosts from your teenage past might whisper "fairy floss, Ferris wheel and fireworks", but there's a new adrenaline rush on-site.
Since 2017, Bodies By Ryan has been transforming bodies, and we wanted to find out why, how, what and when…ASAP. Because keeping up body beautiful while eating our way around Perth is a delicate balance that often needs outside assistance.
To train with head coach Ryan Devereux and his team, you need to kick off with a 30-Day Challenge to whip you into shape. That involves goal setting, food plans and unlimited sessions in the results-based HIIT gym.
I walked in on Day 1 and found muscles, motivation and bloody good music…all good distractions from the pain cave I'd entered. The classes are based on functional and strength-building circuits, carefully prescribed by Ryan, who walks the walk and regularly posts videos of himself crushing his own workout, lifting obscene weights #allthemuscles.
Between the four trainers, there's nowhere to hide. Every time you think you've found an easy station, a face appears, your form is adjusted and the pain resumes while the trainer beams at you as if they've truly assisted you.
Smile back if you can and try not to cry, because this is where results are achieved, people. Breakthrough the pain barrier and slowly but surely those dormant winter muscles come back to life.
In the first week, perhaps the most terrifying challenge is taking your 'before pics' (which are only used for your own comparison at the end of the challenge, unless you are brave enough to show them on BBR social media). I was not, but hats off to you if you and your fancy abs want a bit of limelight.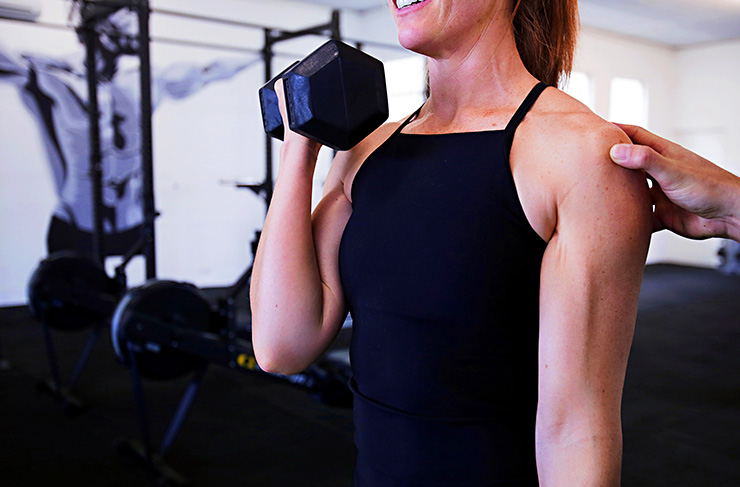 By Day 2 of the challenge, my leg muscles wept every time I summoned them to get off a chair, bed, the loo…apparently, it was working. When you're stuck in one of these locations, you can log into the gym's dynamic private Facebook page where members post inspiration, laughs, food prep and meal snaps to inspire each other.
By the second week, I started to crave the endorphin rush that ripped through me after every session. By week three my energy levels were better than had been in years, I literally walked with a pep in my step. By week the end of the 30 days, I saw a glimpse of my abs, I lost the three pesky kilograms that'd been lurking far too long, I gained a whole lot of strength, and some fit and positive new friends.
If you need to pull yourself out of a fitness rut and have zero clue, these guys know exactly how to get results. Bodies By Ryan took the guesswork out for me, and as Coach Ryan says "No one ever accidentally got into the best shape of their life". Amen to that.
Want to learn more about BBR? Check out their website.
Image credit: Elle Borgward