It's pretty hard to imagine Japan without conjuring up thoughts of a thriving foodie scene that puts even Australia's wackiest food trends to shame. The land of fish so fresh it'll melt in your mouth, instant ramen that makes your uni days look like child's play, and an endless supply of different flavours of Kit Kat, Japan doesn't mess around when it comes to their food.
But did you know that Japan has also got this whole dessert thing down pat? The kings of taking boring old recipes and turning them into glorious new beacons of sweet-toothed joy, Japan knows how to do dessert right. Which is exactly why we thought we'd do you all a solid and compile a helpful list of the 8 desserts Japan does better than anyone else, to give you the inside scoop on all the Japanese desserts worth trying on your next trip.
Your waistline might not thank you, but your tastebuds definitely will. Just remember to pack those extra stretchy pants. Behold your Japanese dessert bucket list.
Strawberry Shortcake
Guys, did you know that Japan actually has whole department store levels entirely devoted to dessert. And the star of the show in these actual heavens on earth is usual the quintessentially Japanese strawberry shortcake. Derived from your traditional American shortcake, the Japanese take this classic recipe one step further by transforming the cake into a fluffy, melt-in-your-mouth texture that hits all the right notes. Japanese strawberry shortcake consists of two to three layers of light sponge cake filled with whipped cream and strawberries before being topped with whipped cream frosting. Oh mama.
Where to try it: if you happen to be in Tokyo, make sure you head to French Pound House to sample two very unique varieties of Japanese strawberry shortcake, one of which is infused with strawberry liqueur. Don't mind if we do.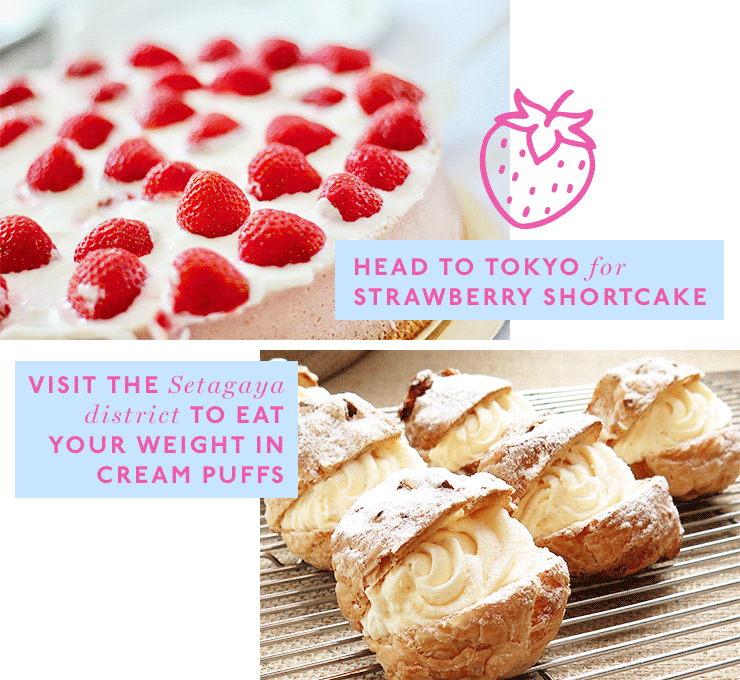 Cream Puffs
Japanese cream puffs, known as shu cream, are about as iconic as Japanese desserts get. Based on French choux pastry, cream puffs consists of a light and crispy outer shell which is then filled with a sweet, creamy custard filling. Then, the whole shebang is dusted with sweet powdered sugar. Your standard cream puffs usually contain a vanilla custard filling but other varieties like chocolate custard, matcha custard and even peanut butter custard are also popular across Japan. And that's all before we go to that special kind of cream puff that is covered with a thick layer of dark chocolate. The composition of a Japanese cream puff is limited only by the imagination of the chef in charge of these little bundles of heaven.
Where to try it: Studio Ghibli fans can combine the best of both worlds at Shiro-Hige's Cream Puff Factory. Located in the residential Setagaya district in Tokyo, Shiro Hige's cream puffs not only offer a killer selection of flavours but they also just so happen to all look like Totoro from My Neighbour Totoro. Totally Instagram worthy? We think so.
Daifuku
Daifuku are a popular traditional Japanese sweet that consists of a small round mochi stuffed with sweet anko, or red bean paste. There are many different styles of mochi, which is the name for pounded Japanese rice paste which can be moulded into any shape you desire, but daifuku mochi has to be the most common kind, found in convenience stores and traditional sweet shops in Japan year round. A particular favourite in Japan is the ichigo daifuku, or strawberry daifuku, which is basically a whole, fresh strawberry surrounded by red bean paste and wrapped in a gooey, chewy outer mochi shell. Inside tip: The best time to try these sweet-and-tart desserts is in spring, when strawberries are in season in Japan, and they provide the perfect accompaniment to a cherry-blossom viewing session. Add some onigiri and you're all set.
Where to try it: Kyoto is famous for its diverse selection of daifuku varieties (as well as its cherry blossom viewing opportunities). Go where the locals go and join the queue for Demachi Futaba to sink your teeth into the best daifuku in town. Don't worry, you can thank us later.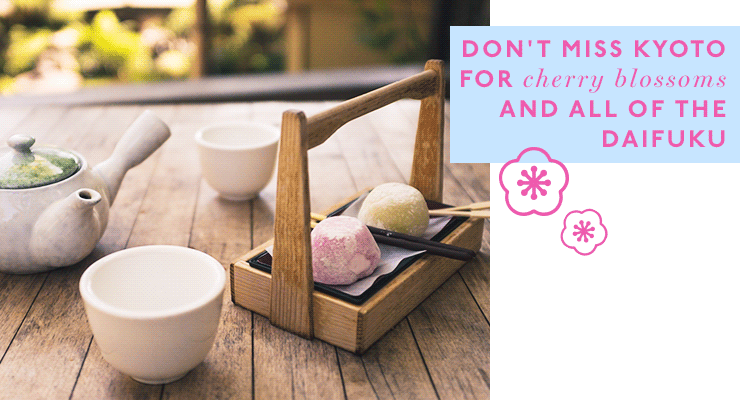 Parfait
You might have sensed a theme throughout this article: Japan really likes taking French desserts and pushing them one step further. The humble parfait has definitely not escaped this treatment. While the original French parfait is more of a custard, Japanese parfaits are a mishmash of ingredients stacked on top of each other with whipped cream and ice cream sandwiched between layers. Usually, you'll find a combination of chewy, crunchy and soft textures within the parfait with typical ingredients including things like corn flakes, sponge cake, mochi balls, seasonal fruit marinated in syrup and even cookies. Popular flavour combinations include matcha, chocolate banana and strawberry. Parfaits in Japan are a big deal and can be found everywhere from family restaurants to specialty sweet shops to maid cafes.
Where to try it: Sembikiya serves not only as the haute-couture option in Japan's culture of giving expensive fruit as gifts, but also happens to whip up a mean parfait. Located in Tokyo, Sembikiya Fruit Parlor allows you the joy of being able to sample the exorbitantly priced fruits that Japan is famous for ($200 melons, anyone?) without breaking the bank. Plus, it'll all be covered in a generous amount of whipped cream. Now that sounds like a win-win to us. Find Sembikiya in the Nihonbashi Mitsui Tower.
Unique Kit Kats
Ah, Japanese Kit Kats. We've all seen the weird and wacky varieties of this chocolate-based treat coming out of Japan plastered across the internet. With flavours ranging everywhere from baked potato to French salt (not kidding on this one) to apple, choosing from the Kit Kat aisle at a Japanese supermarket feels a little bit more like Russian roulette than an exercise in dessert selection. But, indulging in a bag (or twelve) of Kit Kats while you're in Japan is something you have to experience at least once in your life. If you're not too keen on venturing into the weird side of Japan's Kit Kat obsession, make sure you try out more tame choices like matcha, mango and cherry blossom. With a literally endless parade of new flavours being released, we're convinced you'll find a Kit Kat flavour worth filling your suitcase up with. They also happen to make great gifts, if you can bear to part with them once you're back in Oz. Don't worry, we won't judge you.
Where to try it: the nearest convenience store to your hotel! Seriously, Kit Kats are so popular in Japan that you can find a pretty decent selection at even the tiniest supermarket or convenience store. Treat it like Pokémon GO and try out different convenience stores around your city to experience the full range.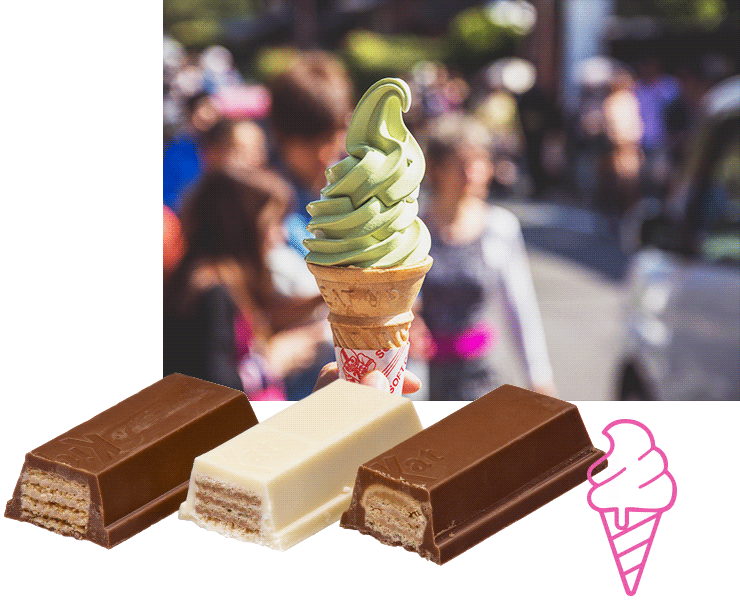 Soft Serve Ice Cream
Similar to their passion for Kit Kats, Japan also has a pretty good handle on soft serve ice cream when it comes to diversity of flavour. Japan is big on seasonal, regional flavours, so wherever you roam in your Japanese travels you'll likely encounter an ice cream shop, roadside stall or brewery offering up a specialty ice cream flavour you won't get anywhere else. But Japanese soft serve isn't your typical Maccas variety, no siree, these perfectly-swirled frozen dairy treats come in all sorts of sizes, shapes and cone situations. Japanese soft serve includes such beauties as purple sweet potato flavour in Okinawa, sake flavour at Shishi no Sato in Yamanaka Onsen and volcanic ash vanilla flavour in Kanagawa. See what we mean? Japan isn't messing around.
Where to try it: if you don't have to time to visit every region of Japan in pursuit of an epic ice cream challenge (the struggle is real), make sure you at least stop in at Daily Chiko, located in Nakano Broadway in Tokyo. Five words: eight layer ice cream cone. Run, don't walk.
Taiyaki
Street food in Japan is a whole genre worth exploring in and of itself, but the uber-traditional taiyaki has to take the crown as the one dessert you absolutely have to try in Japan. The ingredients for taiyaki are simple: a waffle-esque batter is fried into the shape of a fish and then filled with sweet red bean paste. The texture of taiyaki is somewhere between a pancake and a waffle and you'll usually be able to pick up one of these bad boys directly from a street vendor when they're still piping hot. Like a lot of the food in Japan, each restaurant and vendor will have their own twist on this local favourite and filling options now include the likes of custard cream, cheese, Nutella and sweet potato. So, basically, you 100% have to try as much taiyaki as you can, just so you can say you've experienced the whole spectrum of fried, doughy goodness. Now that sounds like a challenge we can all get behind.
Where to try it: taiyaki is best sampled at the local vendor at your closest festival, but Tokyo also happens to be home to some of the most renowned taiyaki stalls in Japan. For a taiyaki experience the locals still line up for, head to Taiyaki Wakaba, located only a short walk from Yotsuya Station. Waikaba was established in 1895 and has been serving up taiyaki from their traditional storefront to eager customers for over 120 years. Oh and one piece of taiyaki will only cost you a measly 150 Yen, or about $2 dollarydoos. Uh, yes please!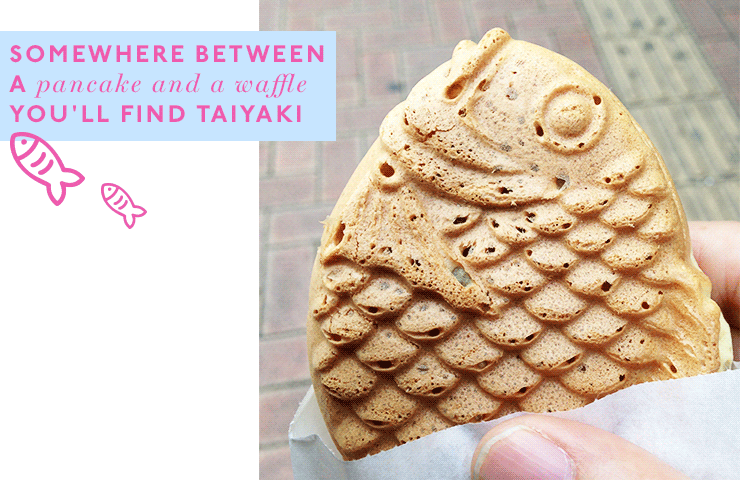 Kakigori
Want to know the best way to survive summer in Japan? It's by burying your face in as much kakigori, or Japanese shaved ice, as you can find. Similar to Korea's much loved patbingsu, kakigori is made up of pillowy soft shaved ice that almost has the same consistency as ice cream, topped with a variety of syrups in different flavours. Kakigori is a staple food at many a summer festival in Japan and you'll likely to find stalls selling this dessert wherever there's an abundance of people wondering whether you can actually die from humidity. The flavours on offer won't be a surprise, with matcha and strawberry headlining most menus, but local specialities always make for an interesting twist. Plus, it's basically water so you're, like, being totally healthy. Take that, cream puffs.
Where to try it: Kakigori shop Noan, located in Kanagawa, is the perfect pit-stop after a day spent frolicking in the ocean. Located next to Kugenuma Seaside Park, Noan is famous for its generous heapings of snowball-shaped shaved ice and creative flavour combinations. Opt for the sakura (cherry blossom) milk flavour to have your shaved ice topped with tiny cherry blossoms cut out of jelly. Japan, you spoil us.
Psst, have you heard? The Swan Valley is the perfect wine-lover's holiday.
Design Credit: Sarah Law