"For months, we've eaten nothing but steak at home and abroad," says James Bradley, co-owner if Sydney's newest underground bar, Bistecca.
This epic, international meat mission was all in the name of research, James says, to find the perfect cut for a Sydney CBD bar that'd be centred on pretty much just T-bones—AKA our new fave Bistecca.
"We've tried at least 40 different T- bones to settle on the one we are going with at the restaurant," he adds.
Yup, the superstar at Bistecca is bistecca alla Fiorentina—a really schmancy, Tuscan-style T-bone that is extra large and dates back to 16th century Florence. But, for James (who also brought us Grandma's, Wild Rover and Wilhelmina's), it's the extra details that really do count, and every aspect of this new Italian-inspired steakhouse has been carefully thought out.
Like all good underground bars, Bistecca is a little tricky to find. You'll uncover its covert entrance on Dalley Street (which is currently veiled by a wall of construction on George Street, just FYI). Those unassuming stairs will feel like anything but the descent into a really cool basement bar, but trust us, you're in the right spot.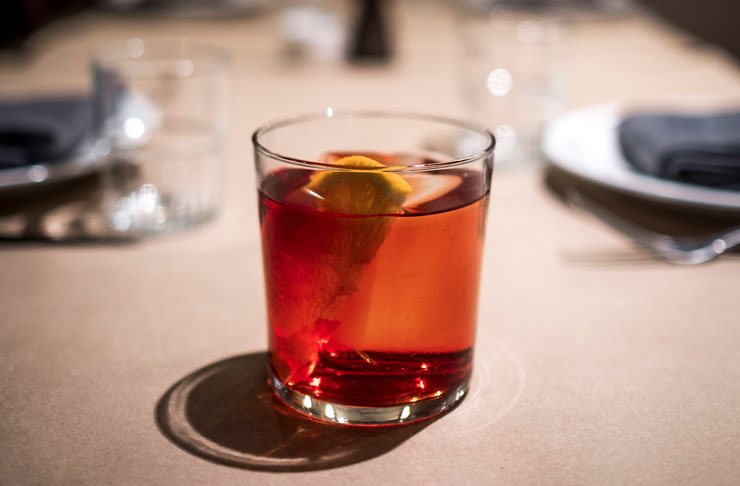 A doorway opens out into Bistecca's bar—chequerboard floors, mood lighting, marble, and lashings of rich, cherry coloured wood care of Tom Mark Henry interior design. If you're a fan of the vibe at newbie Doss House, or classics like The Baxter Inn and Hubert, be ready to swoon.
Order a classic negroni on tap, indulge in some cicchetti (Italian bar snacks), and put your name down on a sheet of butcher's paper to save yourself a seat for dinner in the hidden 50-seat restaurant.
Before you shift into the dining room, James and the Bistecca crew will politely ask you to hand over your phone. Being the digital savvy (read: dependent) individual that I am, I reluctantly handed over my phone (read: life source), and it was locked away in an antique cabinet.
"Of course, you can access your phone at any time, we won't keep it hostage!" James reassures me. "We want our guests to totally switch off from the world to enjoy good company, good food, booze and good times."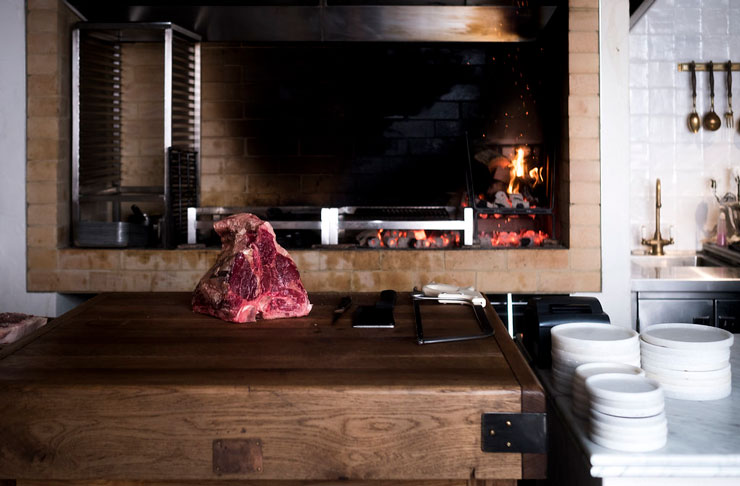 As for the star attraction, the steak on show is Black Angus from the Riverine region of NSW. Order yours by weight —it'll then be cut in front of the blazing hearth and presented to you at your table to approve. Chef Pip Pratt then cooks it over charcoals, wood, and olive branches for serious smokiness.
Starters and sides you #need to try include pecorino with truffle honey and ricotta dumplings. There's also a magical edible candle (yes, edible!), which is made of beef dripping and duck fat, and served with housemade GF focaccia. For our veggo friends, there will be a rotating no-meat main (but then, this may be a time when being vegetarian is a mis-steak).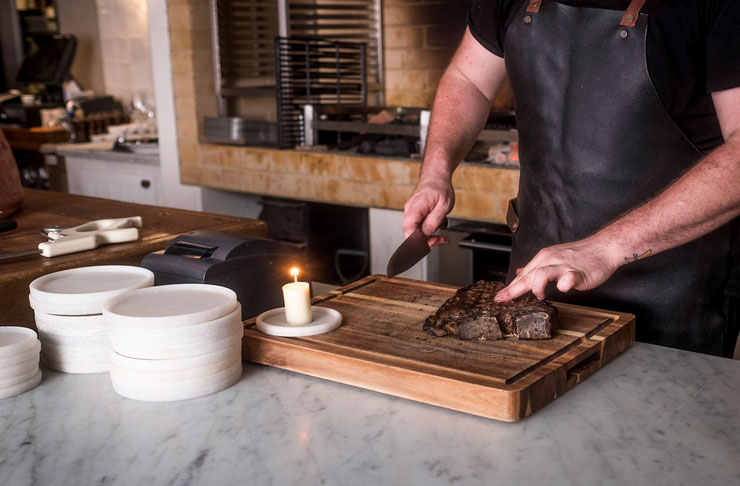 Last but not least, the wine menu is a masterpiece of about 300 drops, created by wine queen Alice Massaria (formerly at Saint Peter). There's a big focus on Italian heroes like Nebbiolo and Sangiovese, and—very cool—Italian female winemakers like Elena Pantaleoni from La Stoppa, Arianna Occhipinti from Occhipinti, and Susanna Crociani from Crocian. Oh, and you'll be able to shop all of the wine (maybe even that edible candle for your next dinner party too), via an adjoining wine shop slated to open very soon.
Looking for a little date night inspo? Check out these super fun ideas for under $50.
Image credit: Bob Barrett.