Few things excite us more than a new gadget—we're millennials, what can we say? So when Foreo released the UFO, a device that uses cutting-edge beauty tech to deliver sheet masks on steroids, we were more than a little interested. To give you a teaser, this hand-held beauty combines thermotherapy with cryotherapy (yes, really) and Korean-formulated sheet masks to give you hydrated, glowy and younger-looking skin.
Sound too good to be true? We thought so too.
The UFO, Explained
First up, if you don't know who or what Foreo is, listen in, because you happen to be speaking with a girl who's a die hard fan and would never dream of going on a weekend away without her little Luna 2 in hand. But I digress. Foreo is one of the leaders in facial tech and their range includes everything from face brushes to toothbrushes and pimple zapping lasers (yes, really). And now, the UFO Smart Mask.
The UFO is their newest baby, a cute device that's gently delivering Smart Mask treatments by combining hyper-infusion technology with Korean formulas—which translates to you getting a seriously great facial in just 90 seconds. Yep, this bad boy claims to ditch the 10—20-minute wait times associated with regular sheet masks so you'll be getting even more magic in basically no time at all.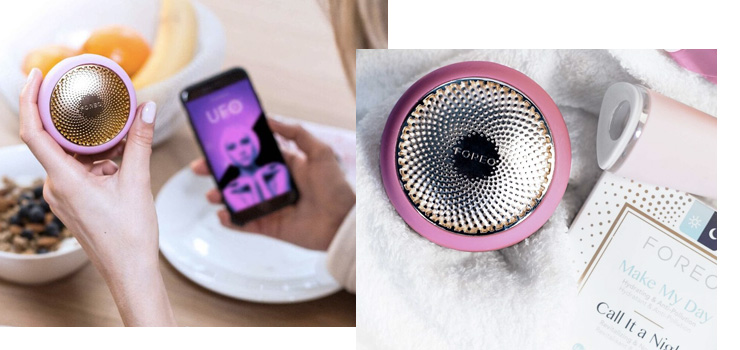 This Is What's Under The Hood
We know you're interested in the tech, so here it is. Just like all their face brushes, the T-sonic pulsations are here to give your face a gentle massage, boost absorption and promote micro-blood circulation to give you more radiant skin. Sounds good, right? That's because it is.
As for the new tech hiding under the hood of this bad boy, they've also added in a Thermo-Therapy mode, so the device will heat up and gently warm your face to help infuse the mask's active ingredients into the deepest layers of the skin. Meanwhile, the UFO also uses Cryo-Therapy (AKA, a cold mode) to lift and firm skin, reduce the appearance of pores and get rid of any puffiness. And the cherry on top of this mega-tech bomb is the full-spectrum LED light therapy—with three targeted photofacials, each light will target a different skin concern and before you ask, there is absolutely no UV involved.
Note: While there are only two masks available at the moment, Foreo will be releasing more in July and that's where the cryo-magic will really happen.
How Does It Work?
To paint you a little picture, your treatment will go a little something like this. After downloading the app, registering and scanning the little barcode on the back of your sheet mask sachet, you're pretty much good to go (it sounds like a lot, but it's actually very quick and simple). Next, strap on your mask, hit start on your phone and start slowly massaging your entire face with the UFO.
The device will light up (with either red, blue or green, depending on the mask), heat up (gently) and use T-sonic pulsations to deliver all the goodness we mentioned above. Meanwhile, your phone will tell you exactly what the UFO is doing to your face. That's it—like we said, it's pretty damn simple.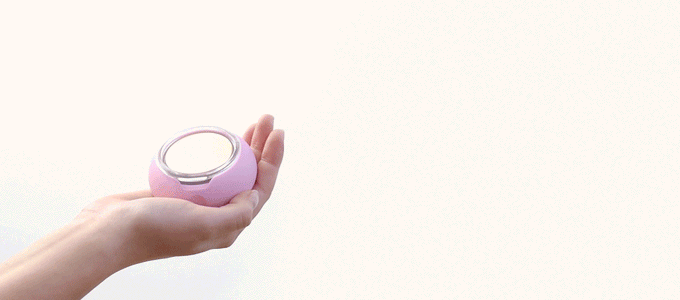 The Masks
At the moment, there are only two masks designed specifically for the UFO. I'm a serious fan of the 'Call It A Night' which combines olive oil and ginseng to give you a super glowy, hydrated face. As for the 'Make My Day' morning mask, the UFO makes it quick enough to use as a pre-work pick me up and it didn't affect the application of my makeup, nor did it affect its usual staying power throughout the day. That's a win in my book.
But what I'm really hanging out for is the range of advanced masks (due in July) that will tackle skin issues like acne and anti-ageing because that's when the cryo function and full spectrum of LED light therapy will really become useful.
Our Verdict
If you're a beauty-obsessed sheet mask-loving person (you're in good company) then I'm confident in recommending this as, perhaps not a must-have, but a definite nice to have. There's something about the warmth of the UFO as it's delivering the mask's goodness deep into your skin that feels a lot like next level self-care.
The UFO does cost a pretty little penny, at $395 Australian, but when you factor in the cost of the masks (around $15 for a pack of five) versus the regular $9 (or more) spent on a classic sheet mask, you'll make your money back pretty quickly.
Want to ease your way in with an OG sheet mask? Here are our favourites.
Image credit: Foreo