Easter is officially here and that means hot cross bun season is upon us. From the doughy to the sticky, the spicy and the sweet, venues around Sydney are churning out the chewy stuff for your long weekend.
To make things a little easier for you this time around, we've rounded up the absolute best hot cross bun deliveries across Sydney so you can stay safe and still melt into that glorious hot cross bun-induced euphoria.
Here all the best cafes in Sydney delivering hot cross buns this Easter.
Brickfields Bakery
Chippendale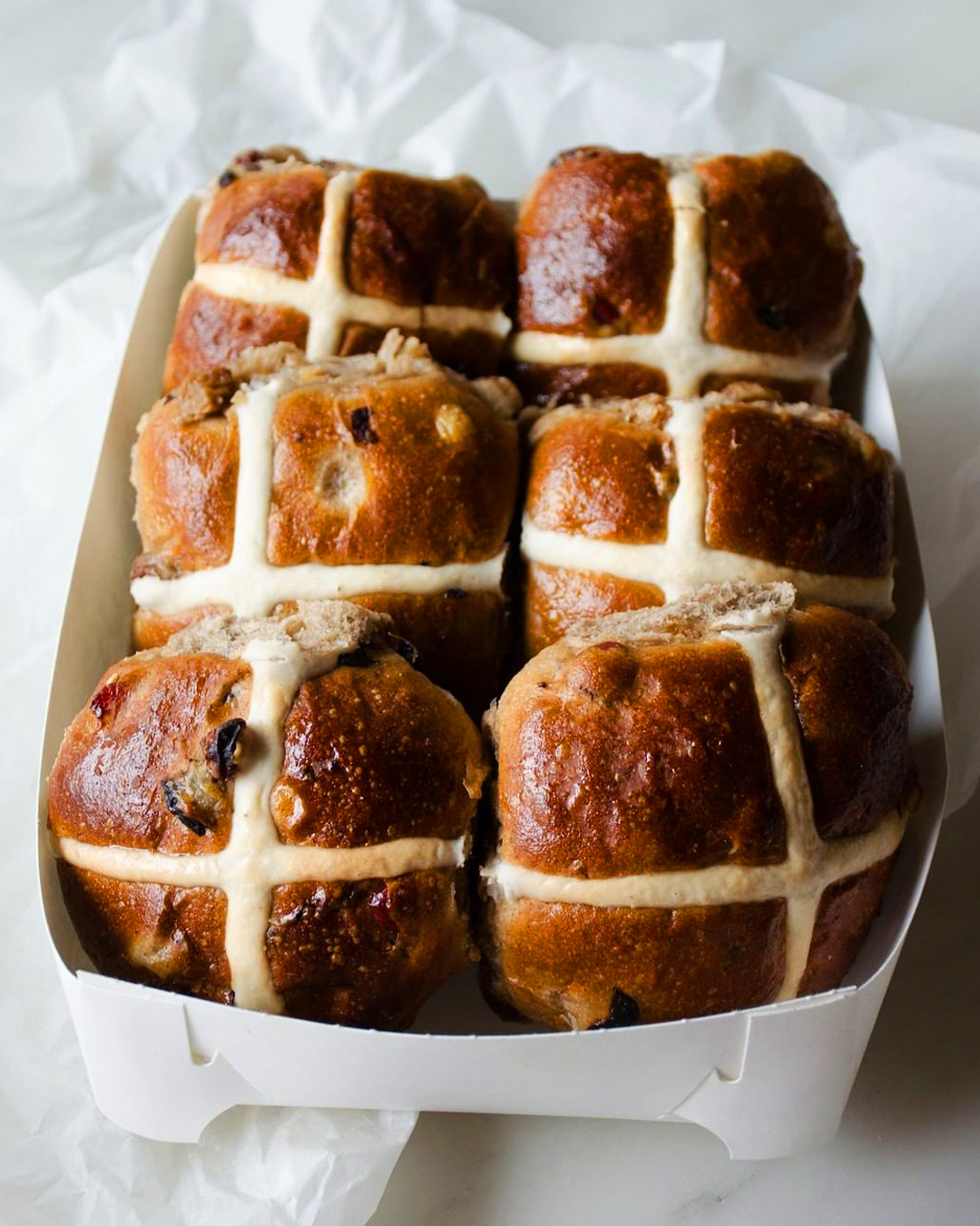 Home of all the epic baked goods and epic sourdough, Brickfields Bakery is doing your souls a damn good favour this Easter—home delivery of their famous hot cross buns. Brickfields' spiced buns are lighter than air and smell incredible. They're packed with cranberries, sultanas, currants, candied peel and topped off with a sticky, sweet cinnamon glaze. You can order a regular batch of these little guys or go for gold and hit the toasted and buttered beauties (you know you want to).
Zest Patisserie
Kellyville, Baulkham Hills
The greatest thing about Zest Patisserie is that this gem delivers pretty much all over Sydney, which means you can have these sweet delicacies at your door no matter where you live. The crew here makes big batches fresh every day so you'll get to choose your poison with anywhere between a half-dozen order up to a five-dozen delivery.
Flour And Stone
Woolloomoolloo
Flour and Stone create all their food delights with a careful touch to ensure perfection and their hot cross buns are no exception. They're made traditionally, with generous amounts of dried fruit sealed with a rich, sugary glaze. They're best hot out of the oven, so if you order these treats from about 9am, you'll have the absolute freshest buns around.
Shepherd's Artisan Bakehouse
Castle Towers, Eastgardens
This year, Shephard's hot cross buns are better than ever so you best believe you're going to order up a stupid amount of these sweet buns. You'll find a brand new cherry ripe flavour and the team here has also tweaked the absolute OG for a bigger, fruitier and tastier hot cross bun taste with a hint of spice and juicy jumbo raisins.
Sonoma
Various Locations
Sonoma marks its "not cross buns" with an S and strives to keep the magic alive by giving them a super limited release. Made with the sweetness of sultanas and dried cranberries, these bad boys also bear a sweetly spiced dough (with cultured butter) and are glazed in an orange-scented syrup. You'll also find a super decadent and chocolate take on the original hot cross bun. Home delivery is an option here if you live within a 4km radius from a Sonoma Bakery for all orders over $20.
Madame & Yves
CLOVELLY
Alongside the staple hot cross bun, Madame & Yves is also gifting you a giant hot cross bun-inspired eclair—something they've dubbed the "hot cross bun eclairzilla". This mega treat features all the flavours of the iconic hot cross bun—but comes in the form of a 40cm eclair made from choux pastry and burnt butter-cream that's then dressed in raisins, apricots, cranberries and candied oranges. The whole eclair gets dipped in a syrup made of cinnamon, cardamom, orange and vanilla, before it's topped with a spiced mascarpone whipped cream and loaded with more sultanas and candied oranges.
To wash these down, you could get a keg of espresso martini delivered to your door. Nope, not kidding.
Image credit: Sally Houben, Brickfields, Flour And Stone, Sonoma, Madame & Yves