Sydney has enjoyed its fair share of boutique brews and spirits crafted close to home. However, it's been a damn long while since locally-distilled rum has been on the menu—at least until now. So welcome, Brix Distillers.
Brix is the new bar and distillery introducing patrons to a different side of the spirit through its very own brand, made on site in Surry Hills.
The venture is the passion project of three long-time friends and business partners, Damien Barrow, James Christopher and Siddharth Soin, who also helm The Public in Cammeray. After over five years of distilling rum as a hobby, the founders wanted to encourage a greater appreciation for the pirate's prized liquor.
"Rum has such a rich history, but in Australia, we don't even scratch the surface," Brix co-owner Damien explains.
"It's very limited compared to around the world where they've got these 15 [to] 20-year aged rums from the Caribbean which are sweet, with complex flavours, and we just don't have that here."
The education starts with the name itself. While some industry professionals will be familiar with the term, Brix is best understood as the term of measurement used to describe the amount of a sugar in a liquid—like rum!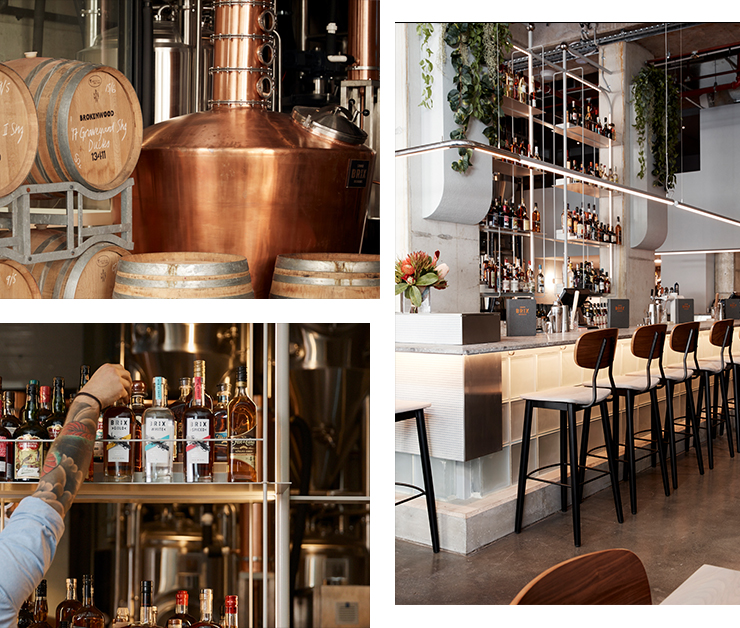 Located on Bourke Street, Brix has a sleek industrial interior, which is a nod to its urban setting as well as to the whole rum distilling process.
"Downstairs in the distillery and bar it's all raw material, like exposed concrete, which is meant to mimic the raw ingredients [of rum]—the yeast, the molasses and the water," Damien explains.
"As you move up the stairs to the mezzanine, that signifies the fermentation process, and there are these really rich, dark, red, rum-type colours. You walk into the barrel room and you sort of feel like you're sitting in a glass of rum."
The 70-seat bar naturally comes with a rum-centric cocktail list featuring both classics and originals, plus rum tasting flights. All of the cocktails contain either Brix White or Brix Gold rum, which is aged on the premises in ex-wine barrels from NSW wine regions, like the Hunter Valley and Southern Highlands.
However, Damien insists patrons can create any drink they want out of the more than 100 rums and other spirits stocked at the bar. Not into the hard stuff? They also do beer and wine.
When it comes to the food, Brix offers South and Central American-inspired plates to share.
"We're a distillery and bar that serves food—not a restaurant," Damien says, explaining the culinary fare has one main purpose: to complement the rum. "We've categorised the food as 'rum food'. So, think rum culture with Central American, South American, Caribbean influences."
The dishes, designed by former Porteno chef, Ivan Sanchez, range from refined bites to street food. You can enjoy jerk pork belly and rum-glazed lamb ribs or tuna tiradito (a Peruvian raw fish dish) and arepas (corn flatbreads stuffed with your choice of filling).
Overall, the goal of Brix is two-pronged: to educate people on the beauty of rum – particularly through their on-site distillery—and to create a fun, comfortable space for everyone.
"We want to be very community orientated," Damien says. "We're very inclusive and accessible, we're very welcoming, and anyone can come in and have a beer or a wine. We're not telling people how to enjoy their rum, we just love it and we hope people get as excited about it as we have."
Well, what are you waiting for? Rum, Forrest, Rum.
See what else is new in Surry Hills, here.
Image credit: Supplied.