Solo: A Star Wars Story is one of the most eagerly awaited flicks of 2018, and Sydney, we know the best way to celebrate its cinematic release on 24 May. We've whipped up a go-to-guide for experiencing Australia's sauciest city based on your favourite Star Wars character.
Unsure which new character is your doppelganger? Take our quiz here first!
Now, put your Ford [Millennium] Falcon in park and get ready to make this galaxy adventure your own.

Scout Out The Best Tex Mex In The Galaxy
You're about to find your second Corellia in SoCal. This relaxed Cali' eatery has the best tex mex in the galaxy, as well as a boutique bar and chic interiors. A few outback regulars you might run into are guacamole, tacos, ceviche, tequila, craft beers and cocktails.
Bar: Shady Pines Saloon
You won't find any Bantha Milk on tap at Shady Pines Saloon, but you will find plenty of cocktails—and in our opinion, that's way more appetising. With a strict western theme and the best happy hour this side of Hoth, there's nowhere else you'd rather be than at this dimly-lit, hidden drinking den.
Make A New Beastly Bestie
It's time to ditch the Tauntaun and mount a more grounded beast at Centennial Park. This brave adventure will take you the entire way around Sydney's best parklands (LBH) and make you the envy of every runner, cyclist and walker out. You can be assured that it'll be a nice break from saving the universe.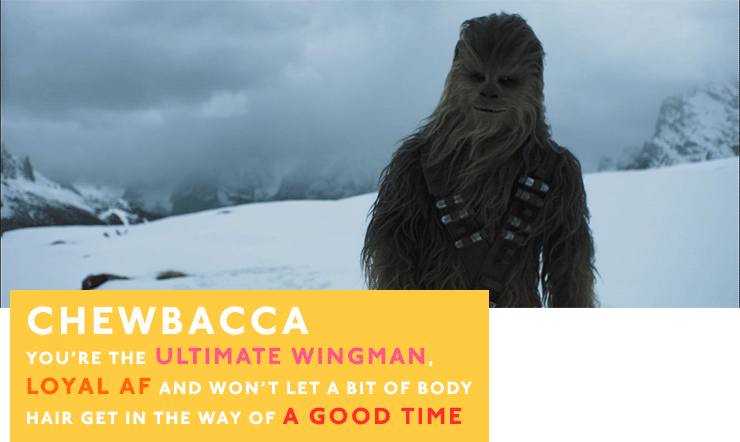 Clock Some Creature Cuddles With Coffee
Run a comb through all of that hair and hot-foot it to the Catmosphere Cafe in Surry Hills. This popular hotspot is a combo of everyone's two favourite things: cats and coffee, and it's more popular than a Wookiee warrior in an inter-galaxy war. Sorry, no bowcasters allowed, but you can enjoy a cappuccino and some cat cuddles too.
Get Loose And Do The Hairy Hula
Unleash your inner animal with a trip to Jacoby's in Enmore. This Tiki rum bar is basically a fancy hut that serves up tropical cocktails, a plethora of different rums and a tasty collection of beers. It's a great place to put your hairy feet up and relax after a long day of saving the universe.
Help Some Cuddly Creatures Fall Asleep
Just in case saving the universe isn't enough for you, you can help the animals sleep at Taronga Zoo thanks to Roar N Snore. Overlooking the harbour and its many landmarks, glamp safari style and keep those cute creatures company.

Ritz Things Up At Restaurant Hubert
Hop on the group chat and rouse the rest of your Corellian gang because we've found you the perfect ritzy meal out. We're talking about Restaurant Hubert and their famous menu filled with escargot, duck parfait and malakoff. Treat yourself to an extensive list of cocktails and wine, private dining booths and allllll of the fancy feels.
Save Face At Blu Bar
If there's ever been an excuse to escape a deeply entrenched galaxy crime ring, it's for a trip to Blu Bar 36 at Shangri La. The most Insta-worthy place in Sydney for cocktails with a view (it's legit out of this world), nab a front row seat and never leave.
Find Your Signature Lip At The Lip Lab
No high-class criminal is complete without her signature lip. Find yours at The Lip Lab where you can custom blend your own lipstick shade, flavour and finish and within just 15 minutes, they whip it up for you right there and then. Just make sure everything you leave with is paid for...

Kick Your Feet Up At The Continental Deli
It's time to leave the sanctuary of Cloud City for a hot second and try your luck at Continental Deli. This upmarket deli is best known for its tinned negronis and Mar-tinnys, but we strongly suggest you opt for the Can-hattan. Perch yourself at the downstairs bar and make your way through the best tinned fish, charcuterie and cheese in Sydney.
Delve Into A World Of Dark Spirits
Fly into Newtown for an epic selection of delicious dark spirits at Earl's Juke Joint. Home to hipsters of the Inner West, this not-so-secret speakeasy is the perfect place for a mid-flight pit stop, no matter your poison. FYI you can find it behind the old butcher shop.
Learn How To Be A Pickle At Cornersmith
If Lando lived in Sydney, he'd totally be obsessed with pickles. We know it. You know. It's basically a fact. He would love pickles so much that he would go to Cornersmith's intensive pickling workshop every single month. Looks like that's what you'll be doing too.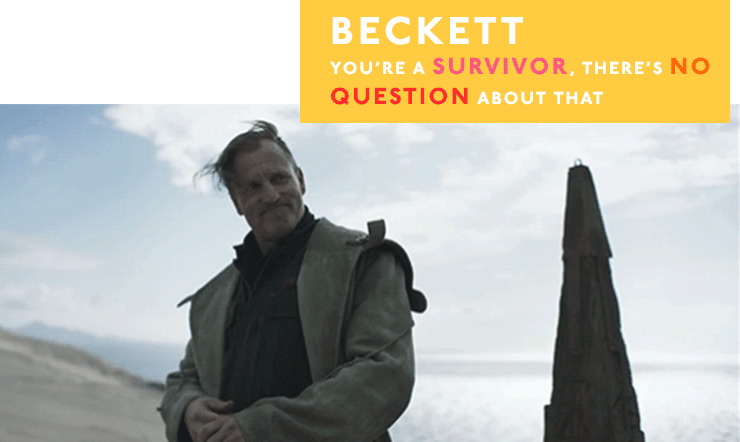 Celebrate Like You Just Blew Up The Death Star
Grab your Ewok buds and celebrate like you just blew up the Death Star at the good ol' Courty. This popular pitstop serves up ice cold frothies for when you're feeling the thirst, plus all your fave calorific pub eats. After tirelessly training a young Han Solo, you'll need to get your hands on the vegetarian nachos with all of the cheese.
Join Some Other Scoundrels For A Late Night Tipple
If there's ever been a time to raise your blaster glass, it's at Ramblin' Rascal. Hidden down some steep stairs in the CBD, it's a little rough around the edges but in all the right ways. Don't go home without ordering a whiskey on the rocks with a Mary's burger.
Take On Sydney's Underground
Your galaxy travels take you everywhere but the underground so head over to St James Station to see what all the fuss is about. Tours only pop up once or twice a year but you'll find a whole new world that'll make waiting worth it.
Solo: A Star Wars Story in cinemas 24 May. Get tickets now!
Editor's note: This article is proudly sponsored by Lucasfilm and endorsed by The Urban List. Thank you for supporting the sponsors who make The Urban List possible. Click here for more information on our editorial policy.
Images: © 2018 & ™ Lucasfilm Ltd. All Rights Reserved and Caitlin Hicks