It goes without saying that Newtown is a big, fat hub of all things food, drink and general all-round good times. But we also know that a suburb with as much choice as Newtown can get, well, a little overwhelming (in the best possible way) so we decided to do you all a solid and round up the ultimate guide to the best restaurants, bars, pubs and cafes on (and around) King Street.
Anyone that's ever suffered from a severe case of the hangries knows there's a fine line between walking into a killer Thai restaurant and a downright awful one, and you just don't need that kind of heartache in your life.
Here is everywhere you need to eat and most importantly drink, in the inner-west suburb of Newtown.
Bars & Pubs
Coopers Hotel
Coopers Hotel is a pleasant little surprise. What looks like a regular old bar on the ground floor is actually home to a pretty sweet rooftop bar. Oh, and they also do two-for-one pub specials on Wednesdays.
Earl's Juke Joint
This guy is basically just a seriously cool cocktail bar with a butcher shop exterior. Named after Earl Palmer, American rock-and-roll and rhythm-and-blues drummer, Earl's has great beer, great wine and great bants.
Marlborough Hotel
One of Newtown's favourite locals, the Marly is a hub of live music, drinks and food on King Street. Head here for a chilled night of pub faves (their chicken schnitty is on point) and a couple of schooners in the beer garden. Just get in early because this place often has a line on the weekends.
Bloodwood Restaurant & Bar
Bloodwood Restaurant & Bar is all about the super industrial vibes, decked out with recycled furniture, with a heavy dose of Newtown charm. They have a food menu for everyone—think share plates, banquets, and even a dedicated vego menu.
The Courthouse Hotel
The Courty is one of Newtown's favourite local watering holes. They're all about the chilled out (and huge) courtyard out the back, but also frothies on tap and classic pub meals. Oh, and many vegan meal options too, because Newtown.
Hartsyard 2.0
Hartsyard may have ditched their signature fried chicken, but with the new face lift also came some pretty sweet share plates like cheddar puffs (with pastrami spice) and BBQ calamari with tomato, bug ok, sesame, basil. Also, cocktails. Alllll of the cocktails.

Gurdy's
This little beauty came onto the scene last winter and to be honest, it's still one of our faves. Whether you're after a cocktail, wine (on tap, no less) or a beer, they got you, but we also recommend you order the cheeseburger or the vegan hotdog, if you're so inclined. You'll be damn glad you did.
Young Henrys Brewery
You've probably already guessed that this place is serving up Young Henry's beer and FYI, this is where they brew the damn stuff. It's tucked just off Enmore Road and is a must for those chilled arvo bevs you so deserve RN.
The Bank Hotel
It might not look like much from the outside, but trust us, there's more to this not-so-little local than a classic pub exterior. Down in the depths (seriously, you'll be walking down a couple of staircases), you'll find a terrace that's got some serious outdoor/rooftop/beachside beer garden vibes.
Leadbelly
You'll want to head here for the live entertainment and stay for the food (really). We recommend you grab a round of drinks at the bar, then move your attention to the menu. Specifically, the braised lamb and smoked cheddar spring rolls and then chai tea panna cotta.
Corridor
We won't blame you for heading in here and settling as you watch the many colourful people wander down King Street, but we're here to tell you that you can do better than that. Head up the rickety stairs (with a cocktail on one hand and a cheese board in the other) and settle into the sunny back deck. Did we mention they do $5 pints too?
Holey Moley
Mini golf and lolly-filled cocktails happen here and that's all you need to know.
Restaurants
Continental Deli
Sit along the counter at this one and grab some choose from the infamous sandwiches (we're talking the Cogollos – spanner crab, avocado and baby cos), cheese, charcuterie and a huge list of tinned fish. They also make a mean martinnie and yes, that is a martini in a can.
Sherpa Kitchen
Bringing the flavours of Thailand and south-east Asia to King Street, Sherpa uses traditional cooking methods and authentic recipes to make fan faves like butter chicken, lamb curry and mild palak paneer (and it's alllll good).
Chinese Dumpling Master
From the people behind the Haymarket institution, Chinese Noodle House, comes this guy—Chinese Dumpling Master. The menu here is simpler, with classics like pan-fried and steamed pork dumplings, eggplant dumplings and next lev noodle soups.
Gigi's
When a kick arse pizzeria decides to go vegan, we listen up. Gigi's is the vegan pizza place you need to take your meat-eating mates. With specials like eggplant parmigiana (with dairy free cheese that's genuinely good), they've also got regular menu items like arancini and cheese covered pizza. Seriously, we dare you to take your mates here, they'll be much confused.
Miyama Japanese Kitchen
Sitting aaalllllll the way at the top end of King Street, Miyama is serving up favourites like lobster salad rolls, beef curry, ramen and obviously all the sushi you can fit in. Hint: it's all crazy good.
Belly Bao
Shock horror, Belly Bao serves up a mean bao (please try the tofu bao) plus hand cut noodles that taste like Mi Goreng but better, baogers (like burgers, but on a bao bun), and dessert baos (you need the pandan doughnuts in your life). Plus, they're BYO. Honestly, everything's good and we just want you to order one of everything.
Lentil As Anything
Lentil as Anything is a not-for-profit vegetarian restaurant founded by former Sri Lankan refugee. This is a pay as you feel scenario so you'll be feasting (big time) on all manner of hearty eats. We urge you to not be a huge stinge but also, this is a great opportunity to eat dinner out, within your financial means.
Thai Pothong
Consistently voted as one of Sydney's best Thai restaurants, Thai Pothong is a freaking mammoth 350 seater. All of your faves are here but we think you should order the betel leaf prawns with spicy green papaya salad and peanuts.
Italian Bowl
This place has a line out the door every single night and there's a good reason for that—it's a cheap, cheerful and damn delicious foodie spot. You can build your own pasta exactly how you like it, but if you really just want a little bit of everything, order one of their combos. Then you'll be chowing down on half parma, half pasta. Heaven.
Bovine & Swine
If meat and, well, meat is your favourite thing in the world—then this place might be about to jump to the top of your to-do list. They wood-smoke their meat for up to 12 hours in a custom build smoker then give it the Texan-style BBQ treatment. It's delicious.
Stinking Bishops
Three words: boutique cheese bars. From the fridge of dreams behind the bar to the timely and witty AF puns on the chalkboard out the front, Stinking Bishops is a winner, plain and simple.
Calaveras
Cue marinated chicken strips drizzled with salsa verde and chorizo chunks cooked in tomato chipotle jam. And FYI, one does not simply head to Calaveras for a light snack. This is a go hard or go home type gem and that goes for the ridiculously good sangria too.
Rising Sun Workshop
This place describes themselves as Sydney's first communal motorcycle workshop and cafe, serving single origin coffee, baked goods, and ramen. Plus, they serve breakfast ramen. 'Nuff said.
Bach Eatery
Owned by a bunch of Kiwis, Bach Eatery is influenced by their memories growing up in NZ. The menu is designed to share, with many of the dishes made from fresh produce, much of which is sourced directly from NZ. Exhibit A is the New Zealand marinated ora king salmon wtih verjuice dressing. Sounds delicious, no?
Mary's
Mary's is basically the home of a little dirty burger in Sydney and we definitely mean that in a good way. So if you're after one of the best burgers in the Inner West, hit up Mary's STAT!
Tre Viet
For Vietnamese food that is simply a solid choice every day of the week, assemble the crew and head here. That's all, just go.
Hikaru
For epic Japanese eats, you'll want to head here reasonably early to avoid the queues. It's all very traditional here and that's just the way we like it, from tempura to soups and a huge menu dedicated to all things sushi, this spot is always a good idea.
Persian Broil
For a rough and ready feast for the ages, Persian Broil needs to be your next mid-week dinner spot. Start with their kashk bademjan (grilled eggplant topped with fried onion, dry mint, crushed walnuts and sour cream), then move onto the Persian shirazi salad (a crunchy salad of cucumber, tomato and red onion drizzled with garlic, olive oil and fresh lemon) before the main event. The skewers. Allllllll of the skewers.
Salmon & Bear
Just as you'd expect, Salmon & Bear is all about the ethically caught fish and yes, their chips are damn good too. They serve up seriously food fish and chips but the menu also has things like poké bowls and seasonal fish specials to boot. Basically, if you like seafood, head here.
Cafes
212 Blu
Tucked away in Australia Street, 212 Blu serves up a freaking good coffee (any way you like) and their garlic mushrooms on sourdough are next lev. Trust us. Plus, they serve it all up with a smile and no joke, people just hang out outside this one because they love it so much. We aren't even kidding.
Flour Drum
All you really need to know about Flour Drum is that the baked goods are epic, the setting rustic and everything is delicious. Oh, and they do all day breakfast.
Campos Coffee
A bean that needs absolutely no introduction, Campos Coffee is just off King Street (on Missenden Road) and it's the only place to head when you've had a rough day and just can't cope with risking it on a new café. You're safe here.
Brewtown
Brewtown is a bloody institution in Newtown and regardless of whether you're in the market for a hearty breakfast or a super sweet brewnut (their take on a cronut), they've got you. Oh, and the coffee is just plain fabulous.
Drury Lane
Once you're done stuffing yourself silly at Brewtown, head upstairs to their bakery, Drury Lane. You can watch all of the magic happen here as the treats take shape, or just grab a big ol' box of goodies to go.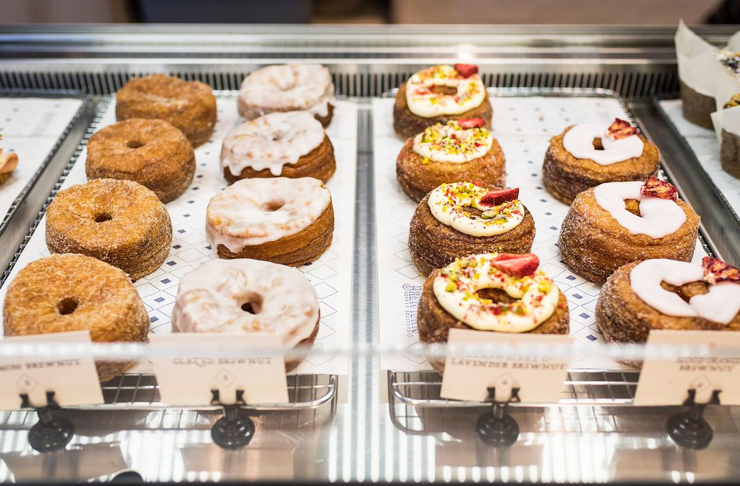 Either Or
Sitting on the south end of King Street, this place is heaving all weekend long. This café/concept store is serving everything from a simple cold brew with a slice of dehydrated citrus to mountainous salads and even espresso martinis. Well, we're sold.
GVB
GVB stands for Greek Vegan Bakery, and just as you're imagining right now, this is the only place to head when it's been three years between slices of spanakopita and you can't think of anything else you need in your gob RN.
Pastizzi Cafe
We'll be honest, we never really knew that we needed an entire cafe dedicated to pastizzi, but guys, we were so damn wrong. This spot has 14 different fillings for their orig pastizzi plus a gourmet range and a small but concise menu of pasta (that are just as god damn good).
Three Queens On King
Serving breakfast, brunch and lunch, Three Queens on King just became your go-to at the top end of King Street and that isn't just because their Instagram bio promises 'food with much sass'. But honestly, that's good enough for us.
Handcraft Specialty Coffee
Making the most of local beans by Reuben Hills, they're serving it up in every way imaginable—cold brew, espresso, pour over and more.
Feel ready to tackle Darlinghurst next? Read this.
Image credit: Belly Bao, Hartsyard, Calaveras & Brewtown | Caitlin Hicks