Fashion faux pas abound at Christmas Party time. Hideous red and green pairings, obnoxious printed shirts featuring St Nick and friends, and an assortment of novelty earrings, hats and necklaces (oh, the horror) make the festive sartorial game a risky one indeed.
We believe it's important to remember the three C's of Christmas dressing:
Cool. Because white Christmas this ain't, folks.
Classy. If the merriment gets a little too, um, merry, you don't want to be stressing about your dignity the whole time. Stay elegant, even if you are doing brandy laybacks.
Comfortable. The prawns, turkey, ham and salads have to go somewhere. You don't want to be constrained by a pesky waistline.
The answer lies in a nice festive dress. But which one? We've combed some of Brisbane's best boutiques to find a pretty little list to get you started.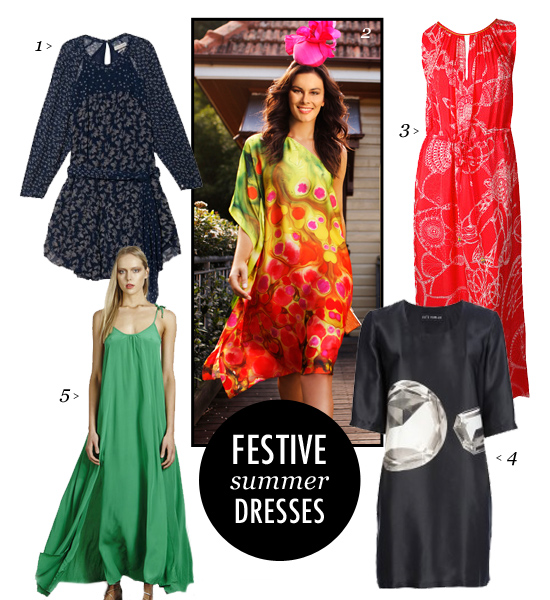 Isabel Marant Prewitt Bilitis Dress in Midnight Blue. Be the hip girl at every Christmas party in this floaty, slightly punk Isabel Marant number, available from James Street funksters Calexico.
Tyler One Shoulder Kaftan by Sacha Drake. Bright multi-colour splashes, a classic one shoulder design, and flattering kaftan cut make this the party dress of the season.
Labyrinth Silk Dress by Megan Park (find Megan Park at TUL fave, Samantha Ogilvie). No David Bowie in sight, but this dress is an eye-catching red, and perfect for a Queensland Christmas. Made from light silk crepe, cinched gracefully at the waist, this gorgeous number will keep you cool and demure, all day long.
Lutz Rex Jewel Print Dress at camargue. Rocking monochrome is so hot right now, and this deconstructed number even includes a little bit of sparkle—even if it is just in the form of a graphic (also very in right now) of a diamond.
Alexis Dawn Green Maxi Dress. The return of the maxi dress was a wonderful chapter in the fash' chronicles. They just have a way of making a girl feel tres glam. Pair with a sleek set of summer sandals, and you're good to go!
Image credit: Megan Park