With the scorching temperatures that have rocked the southeast over the past week, word on the social scene is that people are on the hunt for a thirst quenching summer beverage. So to potentially save you precious google-ing time, here are our 9 picks when it comes to finding quality cocktails this summer:
Alfred & Constance
Situated down a side street, away from the hustle and bustle of the Brunswick street nightlife, you'll find Alfred & Constance, or A&C as it is affectionately known. Here you'll find a swag of cocktail options; from your standard espresso martini (delish), to their selection of summer cocktails (the passion fruit vanilla mojito is amazing!), and you can't go past an A&C Iced Tea Cocktail Jug (yes, I did say jug). The vibe from this place is electric! While it tends to be quite busy on a Friday/Saturday night, get in early and find yourself a nice little spot in the White Lightning Tiki bar, for tropical summer cocktails and a party that never stops.
Byblos
Situated in Portside Wharf, Hamilton, this place would almost go completely unnoticed if you were unfamiliar with the area. Hidden around the corner from Portside's restaurant strip, you'll find Byblos. The bar area is decked out in a harem fashion with lots of cushions to recline upon and individual areas sectioned off by billowing curtains. It honestly makes you feel like you are inside a Sultan's tent – absolutely luxurious. The cocktails at Byblos are in a complete league of their own, with a wide variety of Mediterranean themed beverages to choose from, as well as your standard beer, wine & spirits (the Violet Martini and the Incha Punch are divine – try both! Catch a cab home!). And with the stunning view of the water as the sun goes down, Byblos makes for the perfect end to the working week. So do yourself a favour, get your friends together for a night at Byblos. You won't be disappointed.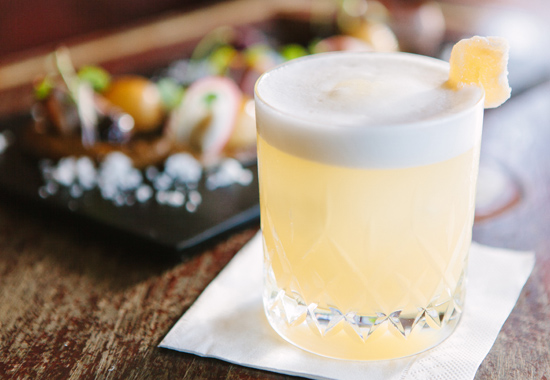 Lychee Lounge
Splendidly located in the prominent social scene of West End, you'll find the Lychee Lounge. With its Asian inspired décor, it's the kind of bar you could happily spend hours chatting with friends over a few drinks. The cocktails at Lychee Lounge are superb (and I mean su-perb!), with the classic Lychee Lounge Martini and the Pegu Club cocktail high on the must-try list. This high end bar, with its friendly staff and its ever growing popularity, will see the place get pretty packed on a Friday and Saturday night. So get in early and snag yourself a table, and settle in for a night at The Lychee Lounge.
Laruche
A recent addition to the Fortitude Valley's ever evolving bar scene comes in the form of Laruche, pronounced La-rouge (it took me a while to figure it out too, don't worry). Yet another masterpiece created by the same team at The Lychee Lounge, Laruche boasts a bold, creative space with stunning glass chandeliers, intricate wallpaper and statement art pieces on the walls. From the outside, you wouldn't think much of this cute little bar, but once you step through the doors you'll know what I'm talking about (trust me). Laruche cocktails come in a variety of forms; from Punches that will transport you back to the 1690's (try the Signature Laruche punch), to old-fashioned cocktails from the 1800's (Cherry Coca Cola is amazing), you'll be sure to find something to satisfy your taste buds.
Sling Lounge
Sling lounge sits smack bang in the middle of Brisbane's West End. A smart, contemporary and sophisticated bar, where the cocktails are king (I'm not joking) Sling is the ultimate hang out this summer. With its unassuming entrance, you could easily walk straight past this little treasure, and subsequently miss out on a drinks list of over 200 cocktails (The Bird of the Sea and The House Cocktail are must-trys). The ingredients are all a little unusual, and some are just down right odd, but the taste (and the bartenders) are world class. Sling's décor is simple yet sophisticated, with long wooden tables, low lighting and a Dj booth. It's impossible to pop into Sling just for "one drink", so grab yourself a spot and get comfortable, you could be there a while.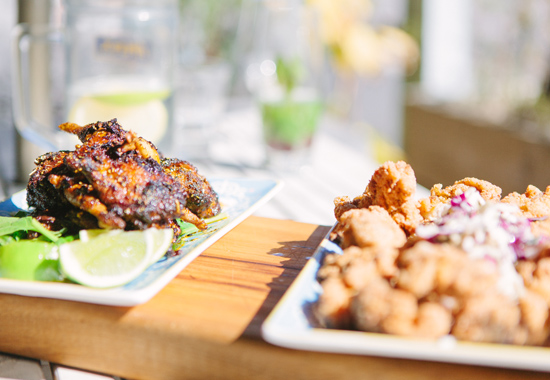 Canvas
Previously named the best small bar in Brisbane (and now under the ownership of best friends Dan and Bodie), Canvas is an attractive and sophisticated space situated in Woolloongaba; with stunning artwork from local up and coming artists, and a seriously stylish onyx bar where the superb bartenders create some of the best cocktails in Brisbane. They even carve the ice straight off a block: Seriously cool. Also seriously cool is their new 'Blank Canvas' offering, where a Canvas bartender will create an individual cocktail just for you based on your preferences.
The bar also stocks an extensive range of quality craft beer (now on tap!), wine and spirits. But on this occasion, forget all of that and just stick to the cocktails, they are amazing! Canvas Bar's mood is quite intimate, and although not excessively packed with people, it's the ideal meeting place for those long over due catch-ups. Canvas also sports a great new courtyard (perfect for functions), and the new kitchen team is pumping out some great new chow in the form of tapas (as well as a new lunch menu). Check it out!
Bacchus
The stylish rooftop bar, Bacchus, has rapidly established itself as a strong favourite among Brisbane's glamorous social crowd. Hidden away high above the Grey Street nightlife, oozing elegance and class, and buzzing with the chatter of Brisbane's finest, Bacchus is the sure place to be. By the late evening, the chic pool terrace is beautifully illuminated, the views are postcard worthy; and the drinks, well they are in a whole league of their own. Aside from their huge list of wine and beers, their signature punchbowl cocktails are a crowd favourite. Designed to serve up to six, these things mean serious business! The atmosphere at Bacchus is nothing short of glamorous, and it makes for the perfect place for a cute but chic first date, or to celebrate that special occasion.
Where | Grey & Glenelg Streets, South Bank.
Bitter Suite
Bitter Suite, according to the regulars, is more than a bar; it's an experience. Home of the Bocktail (beer cocktail), the drinks list here is extensive and the staff update their on-tap specials nightly to keep things interesting. The menu ranges from the bitterest of bitters to the most divine beer I have ever tasted; white strawberry beer! It may have been my first beer experience, but either way it was so delish! Located down the New Farm end of the James Street social precinct, Bitter Suite has plenty of outdoor seating with a cosy ski-lodge inspired interior. Pay these guys a visit, pronto!
Papa Jacks
Step in and soak up the big easy atmosphere at Papa Jacks. Tucked away down a secluded laneway on the edge of the Valley's nightlife, you'll find this New Orleans-inspired bar and restaurant. Papa Jacks is bringing an infectious energy to the Valley, with Brisbane's social scene spreading the word about this new hidden gem. The drinks list at Papa Jacks boasts a wide variety of local beers as well as some traditional American favourites and carefully selected wines. Take the time to have a peep behind the bar; here you'll come across slushie machines (yes, you heard correctly) housing frozen bourbon milk punch, as well as the traditional Sazerac on tap, which I have to say is pretty good! Or if you're leaning more towards a non-alcoholic but still refreshing beverage, then a chilled cup of iced tea is the ideal remedy to shrug off the heat.
Image Credits: Daniel Maddock