Brisbane may not be as much of a burgeoning metropolis our southern counterparts, but me-oh-my is there a lot to eat, see and do in this gorgeous town.
While Brisbane is a little slice of heaven, it can be quite the mission trying to navigate your way around town—enter broken train air-conditioning, and perpetually late buses—so let's just say we've heard your qualms, and we raise you an e-bike with the ultimate pedal assist system.
Bosch eBikes—AKA, man's second-best friend, the BMW of the bike lane. These two-wheeled electric stallions (complete with rechargable battery and onboard display) are the transport solution you want, the street cred you need, and the extra boost up Brisbane's Queenslander lined-streets you crave. It's the best of both worlds, you get to pedal (so you can earn that sweet reward) but with pedal-assist the permanent tailwind helps you up and over those hills, and makes you feel like the fittest person on earth.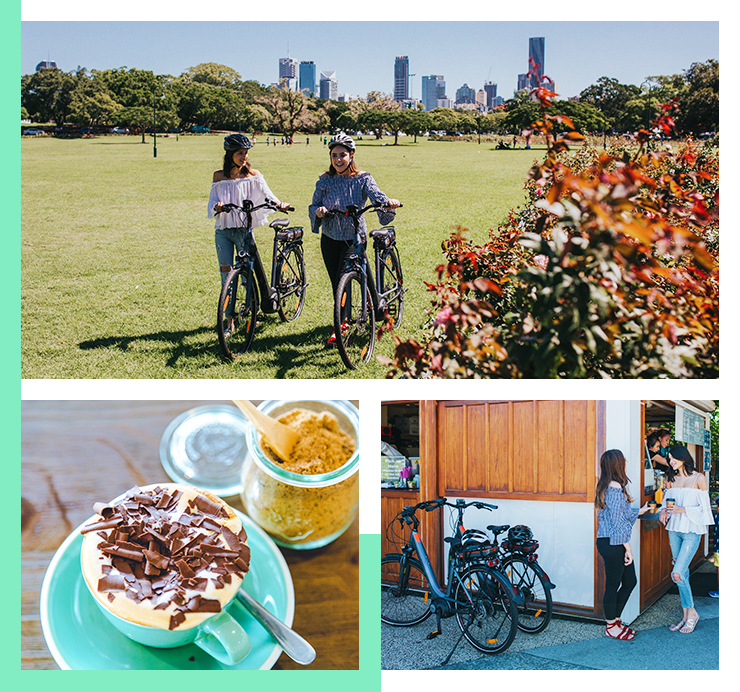 STOP 1.
Just because our nifty/streamline/state-of-the-art/super-sleek eBikes are conserving our sweet time and energy doesn't mean we don't still need to flood our veins with the lord's sweet nectar: cawfee. There are plenty of caffeine options in the delightfully green New Farm, but—quelle surprise—we swung past uber adorable Coffee Hut in New Farm Park. Grab a seat though, because no one likes a sipping cyclist.
STOP 2.
Next up was a culture hit at the QAGOMA. It was a zippy 15-minute cycle from our caffeine stop—thank you, River Walk!—, which meant damage to the blow-wave was minimal and there were plenty of places to park and lock up our eBikes. There are literally floors of things to see and do (and apparently not touch or something) at QAGOMA, but the multi-level slides and gigantic furry wall definitely captured our hearts. Childish? Us? Never.
STOP 3.
It'd be rude to not make the most of how cycle-friendly South Bank has become, so you're best to swing through the bougainvillea-covered laneways, letting pedal-assist take the burn out of the ride, before you cut across to the riverside vistas and a plethora of picnic spots.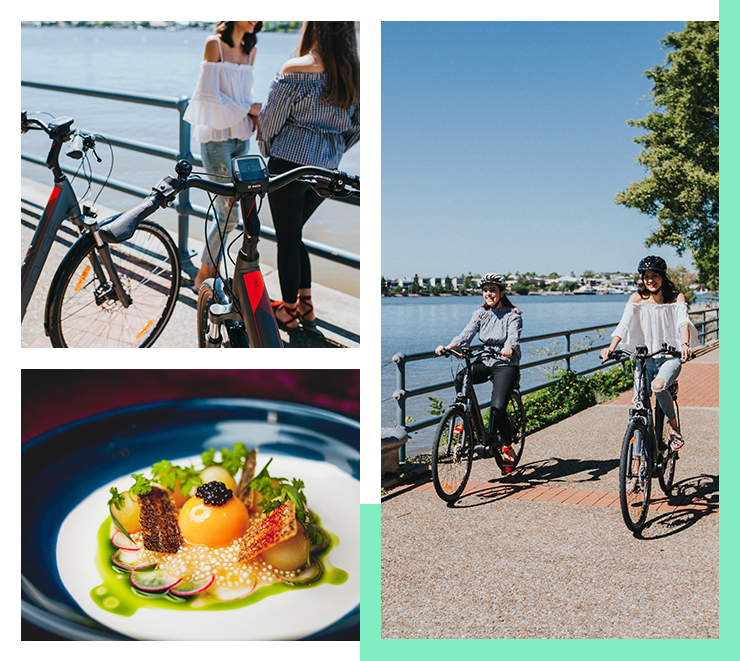 STOP 4.
The Goodwill Bridge is the perfect, er, bridge between South Bank and the CBD, so put that pedal-assist to good use as you make it across the river in a jiffy. Stop by the bridges coffee cart if you're on the hunt for another hit of caffeine (if you need it). Don't forget to soak in the epic views, here, either. Did someone say Insta moment?
STOP 5.
Brisbane's CBD is bursting at the seams with things to do (that are surprisingly bike-friendly!). Get your laneway on down Gresham Lane (for deliciously decadent toasties from Melt Brothers), Burnett Lane (street art on street art), or Albert Lane if delightful dumplings are calling your name. Obviously, there's plenty of spots to lock up your bike in each location.
STOP 6.
Next, cruise on in style and let the help from the drive unit have you arrive looking flawless (sans sweat, blow dry intact, and makeup still in place) to your next stop; Fortitude Valley—Brisbane's heart of culture and really good yiros. There's plenty to see and do in this treasure trove of a suburb. Head along James Street and stop in at any local design shops that take your fancy (i.e. all of them) before hitting Brunswick Street for your next gastronomic pit stop (Bird's Nest yakitori is next level). If you're exploring on a weekend, you'll be tickled pink to find a market with vintage budget finds galore that you'll be able to afford now that you're not spending $6,000 on public transport every week.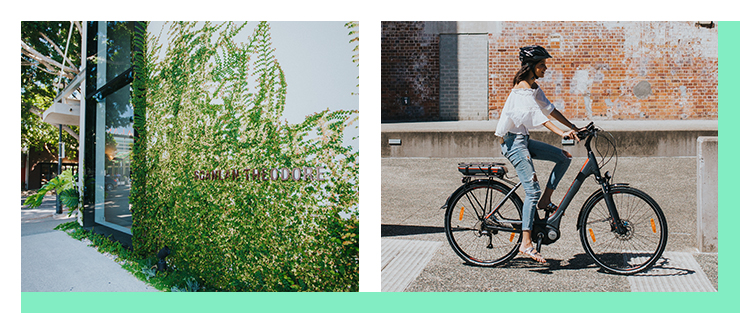 STOP 7.
Head down to New Farm Park and onto the New Farm River Walk—which loops you back along the Story Bridge. This leg of your cycle-a-thon is perfect for soaking in those heart-warming-Queenslander-pride views of the River, and, takes you conveniently closer to your next stop, Woolloongabba. With the god-send of pedal-assist, the ride will only take around 15 minutes. While you're here, stop by the Powerhouse for yet another hit of culture.
STOP 8.
Not so much a stop, but more a drive-by—head along Ipswich Road and then via Logan Road where you'll find all the best antique stores in Brisbane. It can't hurt to window shop, right?! If you want to just go slowly and walk, Bosch's eBikes have a very handy little 'walk assist' mode…. Making window-shopping easier. Seriously a game changer.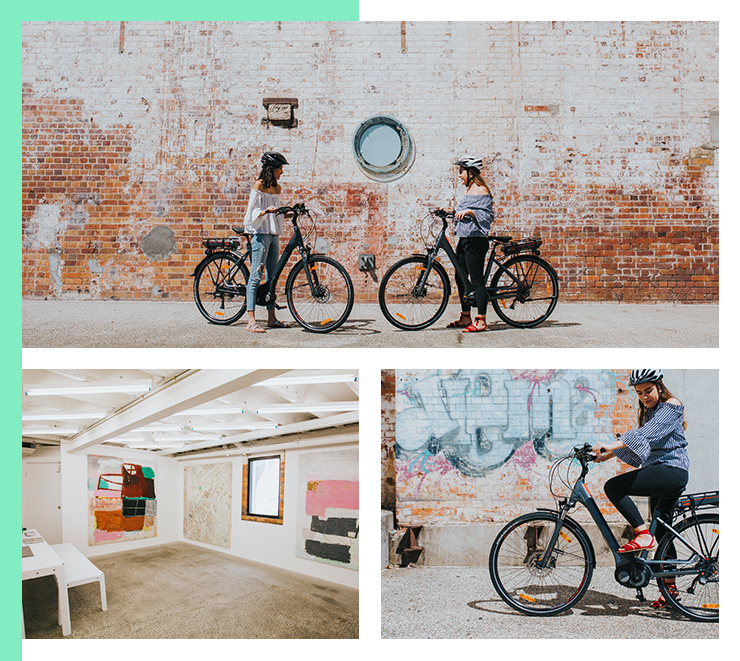 STOP 9.
Continue on down Logan Road and then back onto Ipswich Road, and go alllllll the way to the end, where you'll find yourself at Kangaroo Point. Yes, you're in Kangaroo Point. You went from one side of the city to the other without setting foot on a crowded bus. This is the magic of Bosch and its pedal-assist eBikes. Feel it. BREATHE it in. And then switch to 'tour mode' so you can take your time soaking up the views the Kangaroo Point Cliffs have to offer and soak up those second-hand endorphins from all those fit souls pounding pavement up and down the Kangaroo Point Stairs.
When you get to Kangaroo Point, cycle back along the bridge until you reach New Farm's Spicers Balfour. Order all the entire menu; sit on the frangipani-lined deck, and then destroy any calorie deficit you may have just achieved. Because you're worth it.
Image credit: Hayley Williamson
Editor's note: This article is proudly sponsored by Bosch eBikes and endorsed by The Urban List. Thank you for supporting the sponsors who make The Urban List possible. Click here for more information on our editorial policy.