Branching out on her own was a big move for young Brisbane interior designer Claire Stevens, but in two short years she's not only managed to build a substantial business, Claire Stevens Interior Design, impress the Brisbane design scene with a swag of loyal customers and substantial projects already under her belt, but also find time to renovate her New Farm penthouse apartment. We met Claire, and her beloved spoodle George, in her gorgeous apartment to talk working from home, interiors trends, and how best to lose polyester carpet.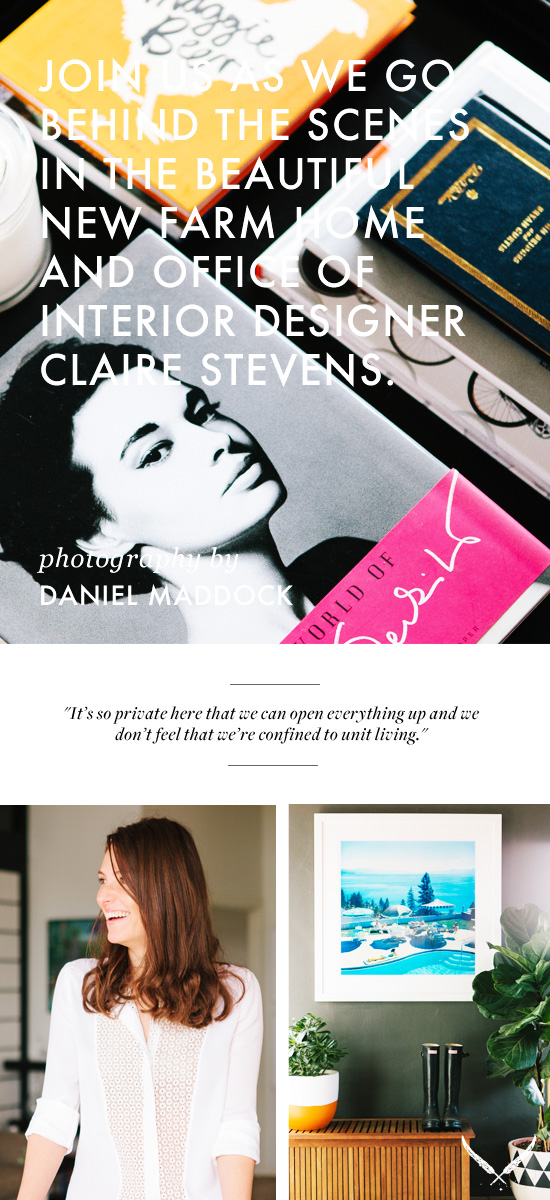 TUL: How did you get started in interior design? Tell us a bit about your background.
CS: I always thought when I left school that I wanted to do architecture. I didn't get in with the OP to get in, so I ended up studying Construction Management, which was a course with a whole lot of guys, and about five females. It was very outnumbered, which was a lot of fun when you're just out of school, but it was definitely a bit too 'full picture' for what I was interested in.
I decided that architecture probably wasn't my thing, so I decided to do interior design and I just loved it. Through uni I worked with a really large architectural firm, Buchan Group, and that was a great experience, but, again, I discovered that was probably not what I wanted to do — I was working on those large-scale projects, commercial offices, shopping centres. But I love the details and the finer things, and I decided if I could find a job doing residential interior design that's what I'd really like to do.
I ended up getting a job at Coop Creative, down in Newstead, which is a really boutique interior design firm under Rowena Cornwell. It was great — I worked there and loved it for four years, and after that I decided it was time to try something new. At the time I'd just started dating [my husband] Hamish, and we thought, why don't I start my own business and just see where it goes? I've got nothing to lose and the skill set to do it. So here we are today, and I haven't lost anything, and gained a whole lot of experience. I really enjoy it.
TUL: How long ago did you start Claire Stevens Interior Design?
CS: Just over two years ago now. It's taken a year to a year-and-a-half to start getting constant clients and work on the board. And it took a while to get a website running and get all my projects photographed — getting a base behind me set up, so potential clients can see that, yes, we are a proper business, that it's not just a hobby, that they're hiring someone who knows what they're doing.
One of the most important things I learnt at Coop is always to get your projects photographed professionally, so you've got a portfolio to show the variety of your work. You want your work to be shown professionally, so it's not just a home photo or something.
TUL: Do you mainly work in residential design now?
CS: I do mainly do residential. I do a little bit of commercial work, but most of the things that come through my door are residential. I've had more experience with residential, and it's also about keeping the projects manageable enough for one person to run, because it is just me. It's a bit of a juggling act between all of the projects that are on the go!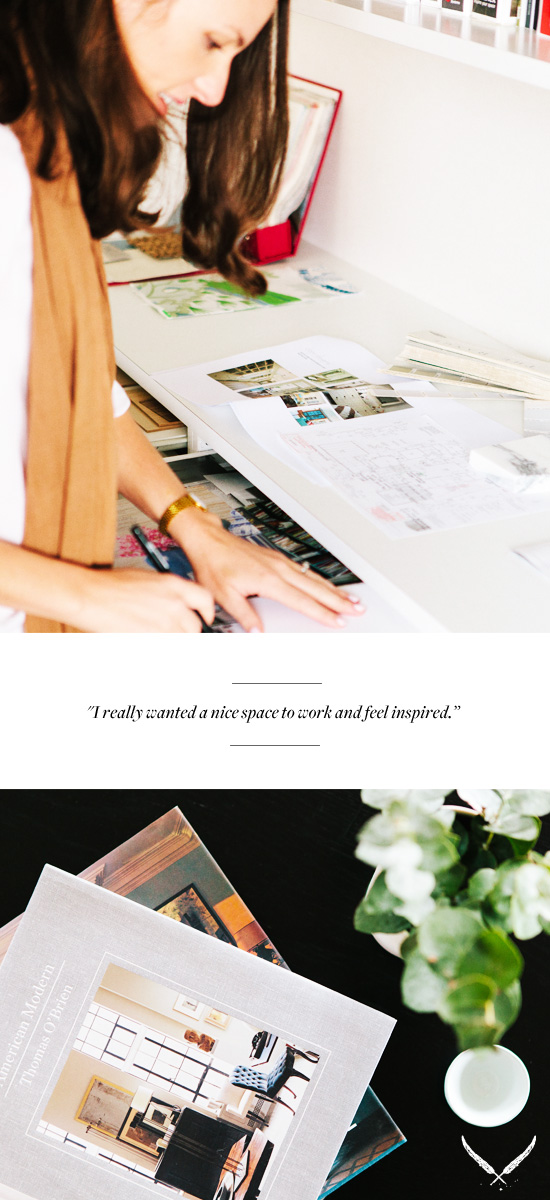 TUL: What's your favourite part of the design process?
CS: I love seeing it all come together. You put in months of work into one project, and meet really interesting clients — and I haven't had a bad experience with someone yet, fingers crossed! It's developing that relationship and then seeing the end product, and seeing the client's reaction, after all the discussion and all the details that we've worked through together, and them being really happy at the end of a job.
TUL: What do you do if a client comes to you with an idea that you don't agree with?
CS: My diplomacy skills have really improved over the years. I think it kind of goes along the lines of 'that's really interesting…however, have you thought about these implications?'. It depends, I can generally get around it or tweak it so it's still their idea, but so that idea's going to look good.
At the end of the day everyone has existing furniture and things they need to work with. No project is a perfect clean slate — it's always about working with bits and pieces that a client wants to keep. And at the end of the day the project is about what the client wants, not what I want. Well, it is what I want, too! It's a balance between helping a client create their style and their personality in their home, with my expertise and my vision behind it.
TUL: Do you think there is a distinct Queensland style, or are interiors becoming globalised?
CS: There is a Queensland style, but it is becoming a little bit more globalised. I guess in Queensland you don't tend to see dark rooms and dark houses, because the architecture here is just so much more open and connected to outdoor living. So everything does tend to be lighter and probably little bit more casual. There are a lot of beautiful old houses, but more so than not a lot of them are being renovated and opened up. And the formal areas are becoming less formal.
Architects like Owen and Vokes and Shaun Lockyer are developing a real name for themselves as Queensland architects, and you see their houses everywhere, in magazines and online. They know how to showcase the quirkiness of a Queenslander, and I think those projects are so much more individual than the projects you seeing coming from Sydney and Melbourne.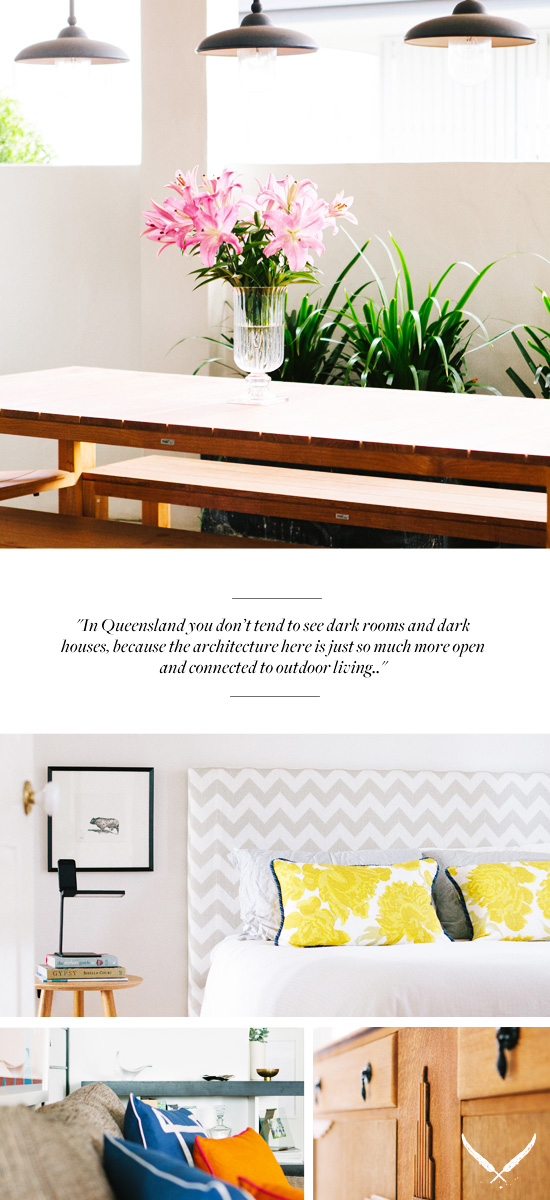 Claire's Picks
Best Breakfast? Double Shot Espresso
Coffee? New Farm Deli and Cafe
Something Sweet? Choquette
Homewares? A.P. Design House
TUL: Are there any trends you are loving/hating at the moment?
Trends are a hard thing to follow without projects becoming dated. I guess you are always going to be driven a little bit by trends, because that's the product that's available at the time, but at the moment everything is so simple and clean lines and nothing is too fussy, which I think is a nice way to go.
TUL: Any homewares or design stores in Brisbane that you love?
CS: Yes! Alex Ponting's AP Design House is just gorgeous. She's always got beautiful things in there.
TUL: Anywhere online?
CS: Online is always a good one for sourcing bits and pieces. Mr Kitly from Sydney has some beautiful hardware and bits and pieces that you can add to a home.
TUL: Magazines?
CS: I love Vogue Living and Belle, but I also think that the simpler magazines like House & Garden are great, because not everyone has a Vogue Living budget! It's good to get ideas and inspiration from House & Garden. And I love how they always have the family involved in their shoots. I find those simpler magazines are easier to relate back to clients and how they live. I also find they have more affordable pieces.
TUL : Do you have any architects you love or designers work who you really admire?
CS: Definitely Sydney designer, Meacham Nockles McQualter. He's doing a fantastic job. One of their projects was featured on The Design Files last year, and it has to be one of the most unique places that I've ever seen. It's just beautiful, simple, modern, but with decorative tiles and touches that made it really interesting. I think they've really done a great job.
I love all the American designers. Steven Gambrel is fantastic. His projects are usually Hampton's projects with a budget of a million dollars plus. But what I love taking away from those projects is the use of colour. I think the Americans are really, really good at mixing colours, so they are always great to look at for something different.
Somewhere else that is always great for inspiration is Est Magazine. They showcase some really beautiful projects, homes, and restaurants, so that's always a good one to watch.
TUL: What does a typical day look like for you? What's it like running your own business from home?
CS: I wake up most days and walk the dog [George, the Spoodle], come home for a shower and breakfast, and then get ready for work. Which may be some days at 7am, and some days at 9am. It's great to have that flexibility, working around life and appointments and everything else.
One of the most important things I've found from working from home is that you do have to get up and get dressed and make yourself actually feel like you are going to work, because walking through a spare bedroom to an office — it's not exactly like I'm going to see anyone! So the way I get around that is by going out and getting the post and having a coffee in the morning, it gets me out of the house. Because there is nothing wore than not leaving the house all day!
That's been one of the difficulties of working from home — it is just me. That's one of the reason's we got George, to have someone at home with me to keep me entertained — well, he's probably pretty bored! — but he's there to talk to. And we do have the odd conversation! I ask him what he thinks. But it's fantastic working from home.
So I get into the office and work, come out for lunch and then go back into my little cave and work some more. I've never really had a problem with focusing and sitting down and working here — I grew up seeing my Dad working at home so I guess it's what I know. I've always seen someone else do it.
I have also found early on that it's important to shut off when you finish work for the day — whether that's at 5 o'clock or 7 o'clock — you have to put everything away and go do something else. And it's the same on the weekends. It's great that, when you are really busy, you can go and work on a Saturday, but when you're not working it's really about shutting off. And I think I do that pretty well! (laughs)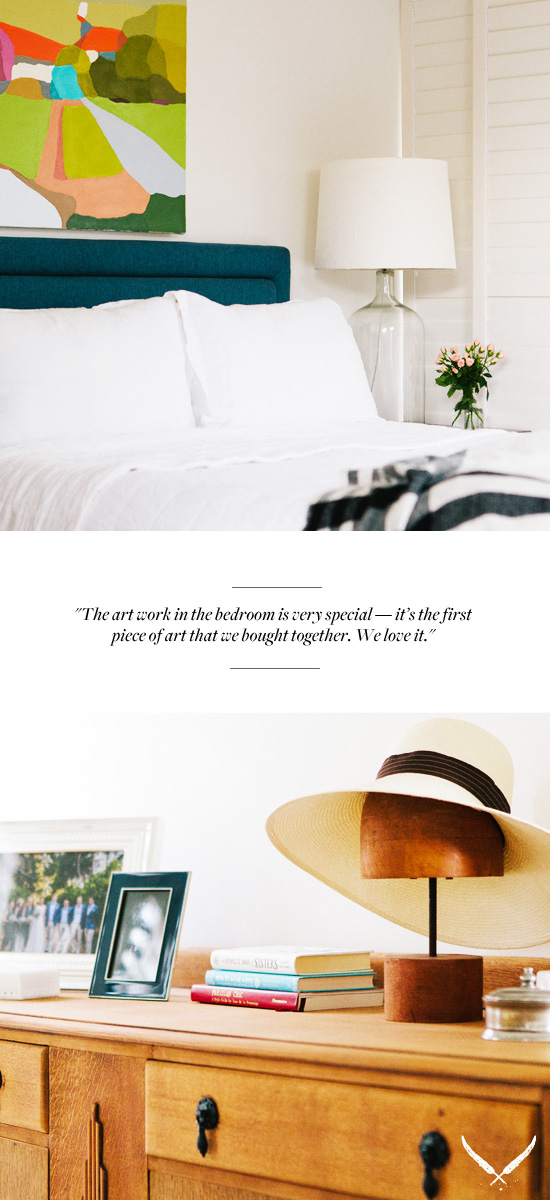 TUL: What do you love about living in New Farm?
Everything! It's fantastic. We don't walk a lot, but we can if we want to. You can go for a walk in the morning, get some breakfast and walk home, and everything's right here; You don't need to leave the suburb. There are great restaurants — it's just a great neighbourhood. Through George we've met some really fantastic people on the block that have dogs, and everyone says 'hi' and is really friendly.
It'll be a hard place to leave, because we will eventually grow out of this unit. It's so private here that we can open everything up and we don't feel that we're confined to unit living.
TUL: What about favourite restaurants for dinner, or breakfast?
CS: Breakfast, definitely Double Shot. It's amazing. They do the best breakfast. I think can always judge a place on how good just their poached eggs are, and theirs are good!
I often just go down and get a coffee from New Farm Deli — they always do a good coffee and the staff are friendly. And Choquette's just around the corner, for those days when you just need a pastry for breakfast, it's perfect!
Restaurants, we love Bucci down on James Street and Harveys, and the Conti just around the corner to walk down for a simple meal.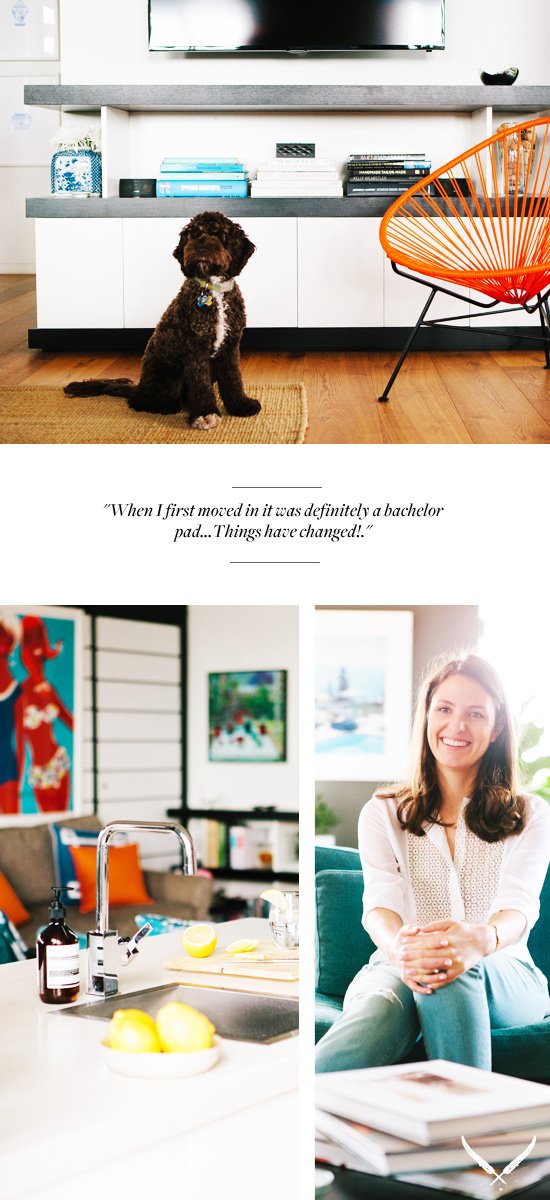 TUL: Which is your favourite room in your home?
CS: I can now say the office! Before I was working with just Ikea furniture and storage, and that was fine, but then I went through the whole decision process of wondering, should I go and find an office for a bigger space, because the space just wasn't working for me. Then we said, no we'll spend the money and put something in rather than renting somewhere, and it will save us money at the end of the day.
Now it's fantastic. There's a spot for everything and great filing systems —so that will keep me organised! Before we did the office renovation I really just wanted a nice space to work in and feel inspired. But at the moment it's only a week old so it still feels really fresh. It's still a novelty.
TUL: Which are your favourite pieces?
CS: The artwork in the bedroom is very special — it's the first piece of art that we bought together. We love it, it's a Michael Muir. It's just a beautiful painting.
I love the leather and timber chairs. They were a find in an antique centre that were meant for a client, and we bought them because I was worried we'd miss out. Now they're sitting here and they look perfect in the space, so we'll see what happens with them!
Other pieces we love are the outdoor lights. It just creates a bit of interest for that area and makes the dining room outside feel a lot more intimate and more like a space. And because we did want to create a sense of space inside, we decided to move the dining table outside. It's great all year round to sit out there. It gives the area atmosphere.
TUL: Do you and your partner have areas of the apartment that are just yours?
CS: No, it's all mine. (Laughs)
We have storage boxes downstairs for sporting equipment and man stuff.
But when I first moved in it was definitely a bachelor pad. There was brown carpet and there was a leather recliner, a TV and a sofa. Things have changed!
Once I accidentally dropped an iron on the polyester carpet — and it was an accident! — but it did spark the, 'I think we should change the flooring' conversation!
TUL: What's coming up for you?
CS: I've got some great houses I'm working on. The projects are getting more and more substantial for me — they're projects I can really sink my teeth into, and they're keeping me busy.