In a reaction to the tart-ification of race wear, this Spring Racing Carnival you'll see a return to classic styling and traditional race-day attire. Lady-like lengths, demure hats, and, dare we say it, gloves, are all on the cards this year (and if there's a partner's boutonnière involved you can bet it's going to match your shoes). Here's our guide to dressing like a proper little lady this racing carnival.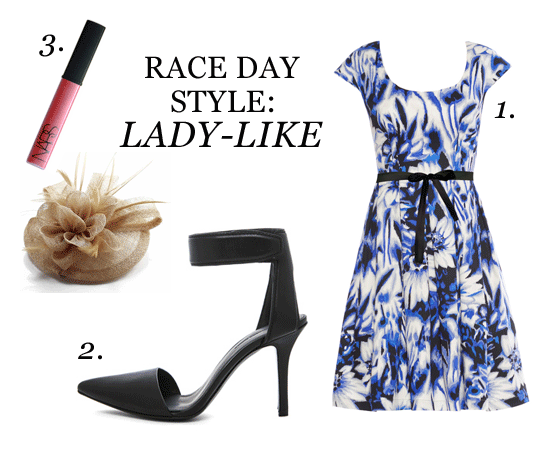 1. The Dress
Springtime racing is an opportunity to have fun with feminine silhouettes and embrace lady-like accessories. With a retro feel and popping print, the waist-enhancing Millicent Dress by Sacha Drake lends a girlish charm to your race day ensemble. For $275.00
2. The Shoes
Nothing says good-girl like a pair of Mary Janes, but we love that these ankle-strapped Alexander Wangs are a little bit sexy. The Liya Leather Pump in Black is $495.
3. The Face
Keep it light and flirty with rosy apples and a popping pink lipgloss. Our pick for a sweet-as-sugar kisser is the Nars Ophelia Lipgloss from Mecca Cosmetica.
4. The Hat
Let your dress do the talking with a minimalist fascinator. The House of Windsor on James Street can tailor make a race-day hat that won't fight with your ensemble.