Whether you're raising funds for the kids or detoxing in the lead up to the festive season (it's also bikini season already—just sayin'), Ocsober is the month to go booze free. But that doesn't mean you have to go without.
We've poured over all the top cocktail menus in town to find the best virgin beverages. And if you can't face leaving the house, here's a few ideas for making your own teetotal taster.
The Classic Virgin
If you want to remain in denial, you can always order one of your favourite cocktails without the booze. Margaritas are refreshingly tasty with or without tequila, and Virgin Bloody Marys are perfect on the night or the next morning with brunch.
To ease you in, try The Emporium Hotel's Virgin Mojito made from fresh lime juice, apple juice, mint, sugar syrup, topped with soda.
Mixing it Up
If you're willing to embrace your sobriety why not try something new?
Are you going to go water based (soda, tonic, mineral water?), soft drink (lemonade, cola, ginger ale) or fruit juice? All will depend on how sweet your tooth is, and how experimental you want to get.
Fruity is going to automatically make your teeth ache if you're not careful, but adding lemon or lime juice may balance it out. Sling Lounge achieve just that with their Sunset — mandarin, lychee juice, lime juice, and a mandarin wedge as garnish.
Fizzy mocktails will be a bit more refreshing and easy to drink. Greystone's Dust Bowl (fresh lime, bitters, lemon squash, and ginger ale) is a perfect remedy for a hot summer's day.
Flavour Enhancers
Triple Sec, Kirsch and Angostura Bitters are used in many cocktails, but are not necessarily the main alcoholic ingredient. They add an extra layer of tartness, sourness or sweetness. So how do you replicate that with mocktails?
Sugar syrups and gommes (gum syrups) are a great way to add colour and sugar, whereas fresh mint, chilli, ginger, or lemongrass can add depth and zing.
If you're in the mood for something weird and wonderful, try Lychee Lounge's Chillimelon Cooler, made with watermelon, basil, chilli, apple juice, lemon juice, and rhubarb gomme, and garnished with watermelon jerky.
Presentation Skills
Let's face it, half the appeal of cocktails is purely aesthetic.
And many of the tricks are easy to replicate at home. Dip the rim of your glass in lemon juice and then sugar for frosting Margarita-style, skewer cherries or olives onto cocktails sticks and drop in your glass, or even throw in a cocktail umbrella. Festive? You know it.
If you disguise it well enough, you might even trick yourself into thinking it's the real deal.
Our mocktail of choice is the classic daiquiri, which can be created with any fresh fruit of your choice.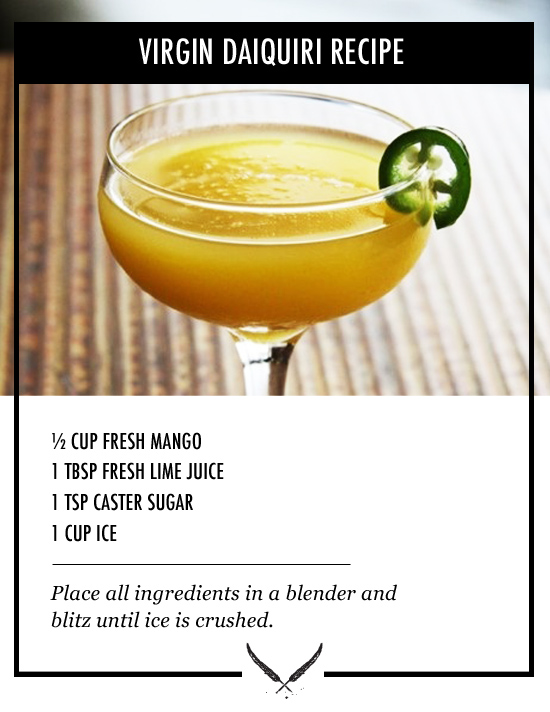 Image Credit: The Fit Dish, Noir Prince
TUL Note: Penny is a freelance food writer and obsessive cook, who has returned to Brisbane after ten years living in the UK and Melbourne. She is currently taking her passion for sweets treats one step further and learning the skills to become a pastry chef from her culinary idols, documenting her experiences through her blog Project Pastry.