Gold Coast's appreciation for cocktails is at an all-time high.
And we can thank some seriously talented bartenders for upping the bar, 'cause when you're forking out upwards of 20 bucks for one drink, you want your cocktail to be pretty spesh!
A handful of these gifted mixologists hold residence at three of our all-time fave Gold Coast restaurants. And luck has it that all three have dropped brand spankin' new cocktail menus within a week of each other. So, we thought you'd wanna know about it.
Here's a small taste of some of the best new cocktails on the Gold Coast. So, get your wallet and drinking shoes ready, and don't forget to tag #metropolistgc with all those enviable cocktail sippin' photos you're about to splash across Insta.
Seaside Signature Sips At Rick Shores
We swung into Rick Shores to sample their new signature cocktail menu, all in the name of work, of course, and let's just say, it is downright dazzling! Bar manager Mark Mostert moved from Sydney to Brisbane a few years back to help the team open the bar at LongTIME. When the plan was hatched to open Rick Shores early 2016, Mark was first to put his hand up and make the move to the Gold Coast. And who could blame him? It's here, at the GC's coolest waterfront restaurant, that Mark and his partner in crime Jordy, were given free reign of the cocktail bar to get seriously crafty with flavours and ingredient combinations.
And it's all on display on the new signature cocktail menu. Take the Smoke On The Water share cocktail, for instance. Designed for interaction and appreciation together with your lunch date, like the notion of sharing a pot of tea, this concoction comes complete with smoke—all adding to the theatrics. This weekend-only special is an intriguing blend of Beefeater gin, Absolut vodka, ruby red grapefruit, dried African rooibos leaves, and citrus with the undeniable spices of clove and cardamom. It's cocktail bucket-list material. Or, the Off The Rocks concept shot—a smokey whisky jelly "oyster" served in a half oyster shell, then washed down with a refreshing shot of gin and juiced cucumber, celery, ginger, and coriander. Perfect for between courses.
While it's already an old-age trick for the savvy bartender, we were interested to learn about the "scraps shrub". Where organic bar offcuts (limes, strawberries, grapefruit, etc.) are collected and preserved with salt, and sugared to create a syrup. This is added to enhance drinks and fits nicely with their waste-reducing sustainability mantra. It's a small element of the palette-cleansing Runaway cocktail—one for the ladies—that's a dessert-like blend of Absolut Elyx, coconut, strawberry, and passionfruit. Basically, if you're in desperate need of a spoil-yourself-silly long lunch and #allofthecocktails, you need to make a date with Rick Shores, stat.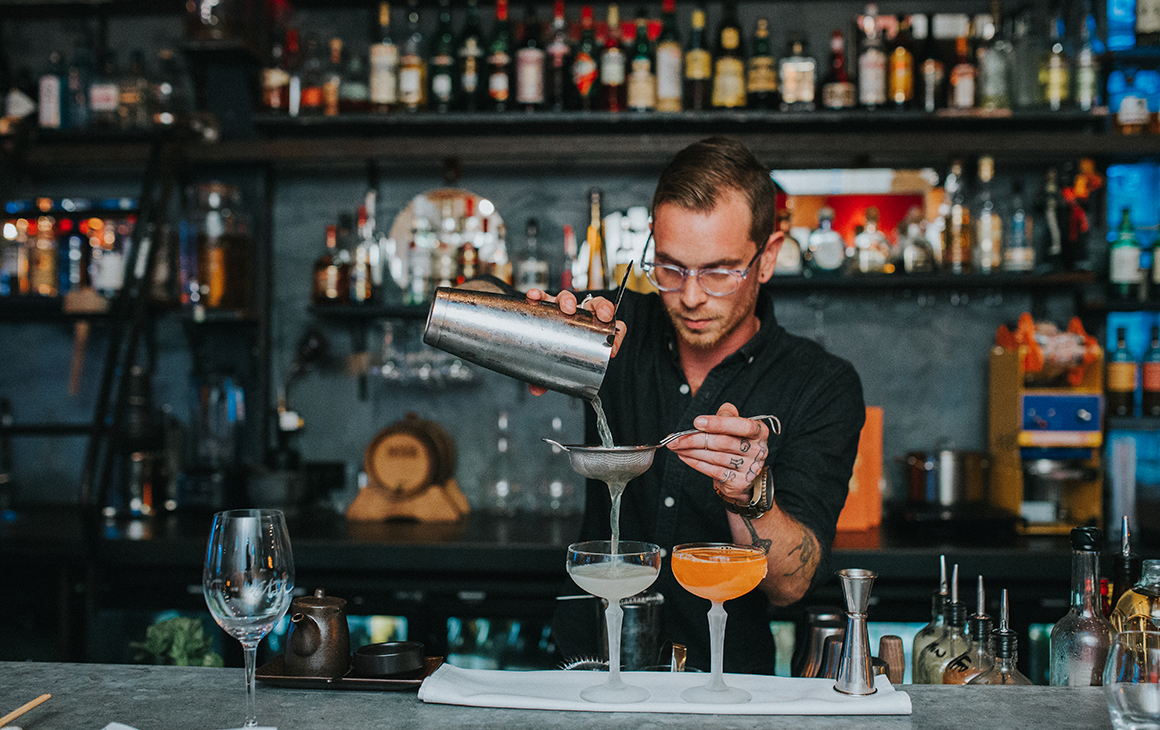 Japanese-inspired Tipples At Estu Izakaya
So talented is Adam Bastow, that he could snag a top job in any capital city, so we're freakin' blessed the Gold Coast stole his heart and this Englishman calls Etsu Izakaya his home away from home. Fresh off the back of securing a posi to represent Queensland at The Perfect Blend's national best bartender comp, Adam has just unleashed a quirky new cocktail menu for all of Etsu's adoring fans.
Always thinking outside of the box and trying to mess with your taste buds (in the best possible way), Adam's new cocktail creations are full of surprises. Like the Calpis Colada—made with coconut oil-washed Bacardi, fresh pineapple juice, and a fermented probiotic, Calpis water—it has the texture of a Pina Colada in your mouth, with flavours that'll keep you guessing. We're making plans to visit just to try the Mermaid Beach Athletics Club, made with mandarin liquor, Japanese whisky, homemade spiced honey syrup, applejack, and peach bitters. Oh my.
So much thought has gone into every offering, right down to the garnishes and glassware. Adam has even sourced classic facetted tumblers that were inspired by his time in Japan sinking whiskies at Tokyo's Bar High Five. Taste, but can't quite put your finger on, a savoury earthiness in your SheSellsSeaShells cocktail? That's his genius recreation of the characteristically Japanese flavour umami, using ingredients such as tomato skins and celery to make a surprisingly sippable creation, that somehow just works. Hats off to you Adam and team, you've done it again!
Simple Pleasures At Sparrow Eating House
Terry O'Donnell, Sparrow Eating House's bar manager extraordinaire, is a triple threat. He's got dashing good looks, mixes some of the best cocktails on the Gold Coast, AND he's Irish. Honestly though, does anything beat an Irish accent? We don't think so. Otherwise fondly known as Irish Shakes (you can book Terry for private events!), this guy lives and breathes liquors, and we struggle to grasp how he stays sober.
Terry is justifiably proud of his latest cocktail list, which perfectly complements Sparrow's delectable new autumn share plate menu. An early crowd favourite is The Birds Nest; a classic recipe borrowed from NYC's world famous Dead Rabbit cocktail bar, this drink is a blend of Connemara Peated single malt Irish whisky, pomegranate liqueur, homemade pomegranate syrup, absinth, and ango bitters—and is said to have more layers than a cake. Continuing on with the bird theming, The Bluebird Sour is a girlie smash of raspberries, blackberries, and Amaretto. Or, our idea of dessert in a cocktail glass, Shake Your Tail Feather is a layering of coconut, cherries, and chocolate. Seriously, stop it! So, what are you waiting for? Pull up a stool at the bar and holler, "Terry, make me one of everything!"
Photo Credit: Hayley Williamson for Metropolist