These days, the Gold Coast is bursting with loads of awesome creatives and entrepreneurs. So, it only makes sense that there are some pretty epic spots popping up to work from.
From repurposed warehouses, office buildings and even shipping containers, there's a space in your local hood ready to cater to all of your creative wants and needs.
Whether you're building an empire or just want to be surrounded by a crew of like-minded biz builders, here are the best Gold Coast coworking spaces you need to know about.
New Wave
Mermaid Beach
If you like your co-working space with a side of beach strolls, then New Wave is for you. The Mermaid co-space is located 50 metres from the ocean and is just down the road from Bam Bam Bakehouse so your lunch break can now consist of karaage chicken croissants and salted caramel eclairs topped off with a dip in the sea. New Wave, which boasts a cool, coastal vibe, has options for everyone. Rent a desk for $35 per day or $125 per week (includes 24/7 access in a secure building plus complimentary two hours of meeting room hire) or book one of the swanky private rooms. You can even rent a virtual office, where for just $44 a week you can use their services without even having to leave your own home. There's also a kitchen, private phone booth rooms and a ping pong table to blow off steam.
Karma Collab Hub
Miami
We've all dreaded a Monday morning or ten, but somehow, those post-weekend blues dissolve as soon as you step into Karma Collab Hub in Miami. A short stroll from much-loved Paddock Bakery, this Gold Coast co-work space has flexi desks available for hire on a casual to monthly basis, a boardroom for those important meetings, private phone booths, and all the gadgets you need to create the podcast of your dreams. Not to mention other little perks like free pizza Fridays, free printing, on site showers (to use after that lunchtime ocean dip) and furry friends welcomed.
The Communal House
Currumbin Waters
Sometimes you just want to hang out in a spot that doesn't make you quiver with fear if you accidentally drop a pen. Sure, working in absolute silence can be good for productivity, but you can do that at your own place. The Communal House always has the tunes cranking and comes pre-packaged with people to bounce ideas off across their 12 desks. Friday arvo beers are also a given, because networking in Gold Coast coworking spaces is a whole lot easier after a pint or two. Suited specifically to the creative freelancer, The Communal House in Currumbin Waters offers a bright office space upstairs, a moodier room for video editing downstairs and a generous studio is available for hire to boot. Full time desks give you 24-hour access, unlimited internet use, a virtual mailing address, free printing and a bunch of other perks starting from $95 per week, or book a hot desk for $25 per day.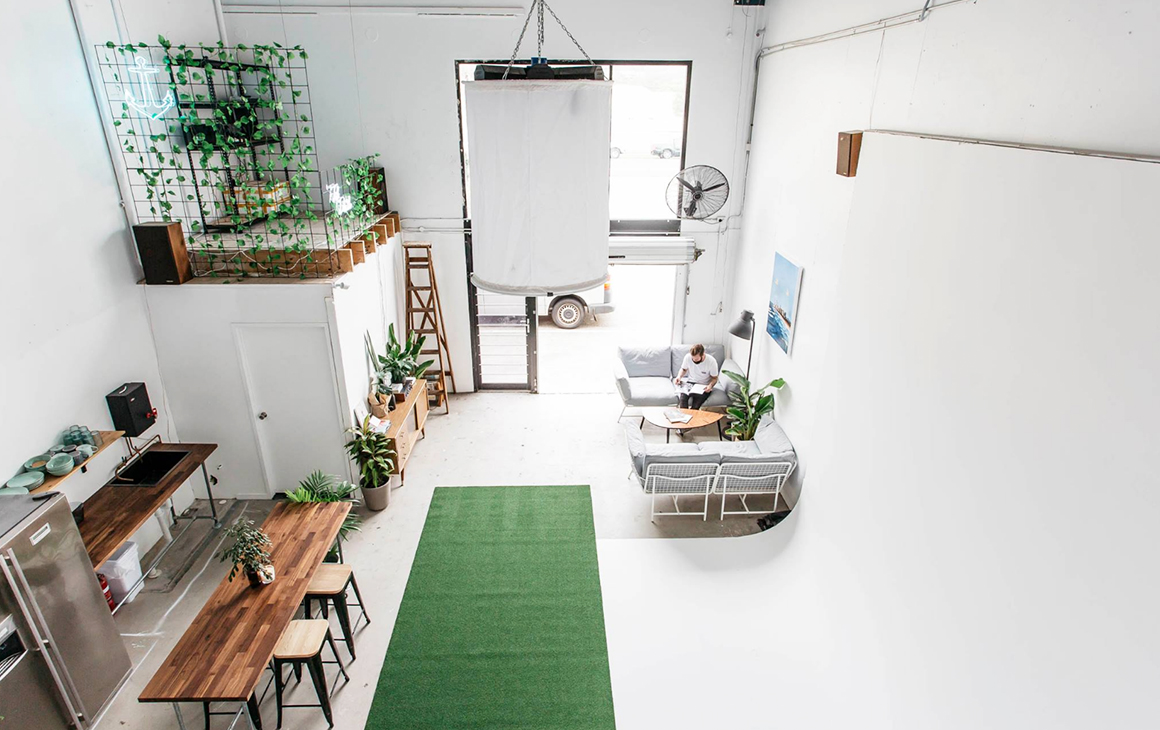 CoSPACES
Southport
We all feel a little bit special when we walk into the historic ex-Southport ambulance station turned cafe and coworking hotspot CoSPACES. This little community has been growing since 2012 and now includes neighbouring building The Station, offers a huge space including over 100 co-working desks, five meeting rooms, larger rooms for private functions, event spaces and a photography studio. With Percy's Corner cafe adjoining and Mr P.P.'s Rooftop Deli and Bar next door, what more do you need? Add in monthly whisky tastings, photography workshops, startup and mentoring workshops, trivia nights and networking events, and you may just pack your bags and move in full time.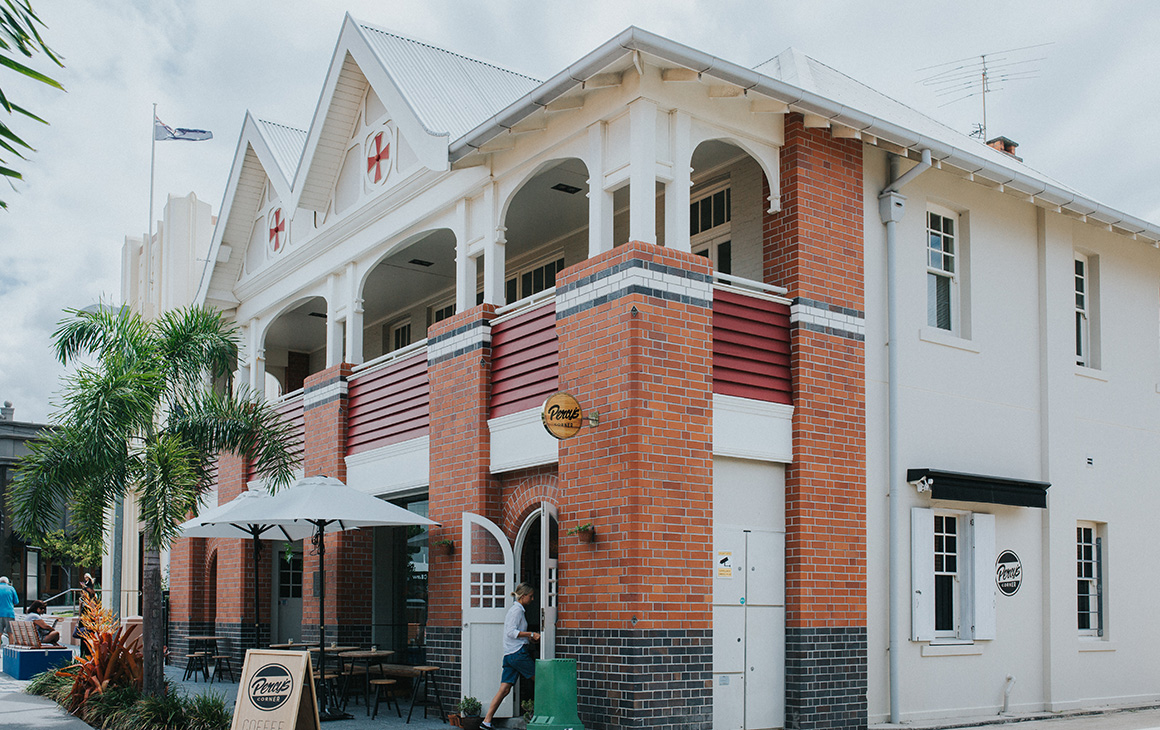 Hotel Miami
Miami
When Nicka (part of the Cambus Wallace crew) and his business partner started looking for a creative space to work from on the southern end of the Gold Coast back in 2017, they quickly realised there really wasn't one. Behold, the inception of Hotel Miami. Looking to attract like-minded designers, artists, photographers, videographers and more, retro-style Hotel Miami also offers a fully operational photography and video studio equipped with a bunch of lighting and microphone setups. Collaboration is at the heart of what Hotel Miami are doing and they're not going anywhere anytime soon. Rent your hot desk for $29 per day or weekly for $119. This is one of the most accommodating coworking spaces on the Gold Coast that's suited to workshops, events and even hosting a regular shindig, 'First Fridays', showcasing a selected local artist—for free!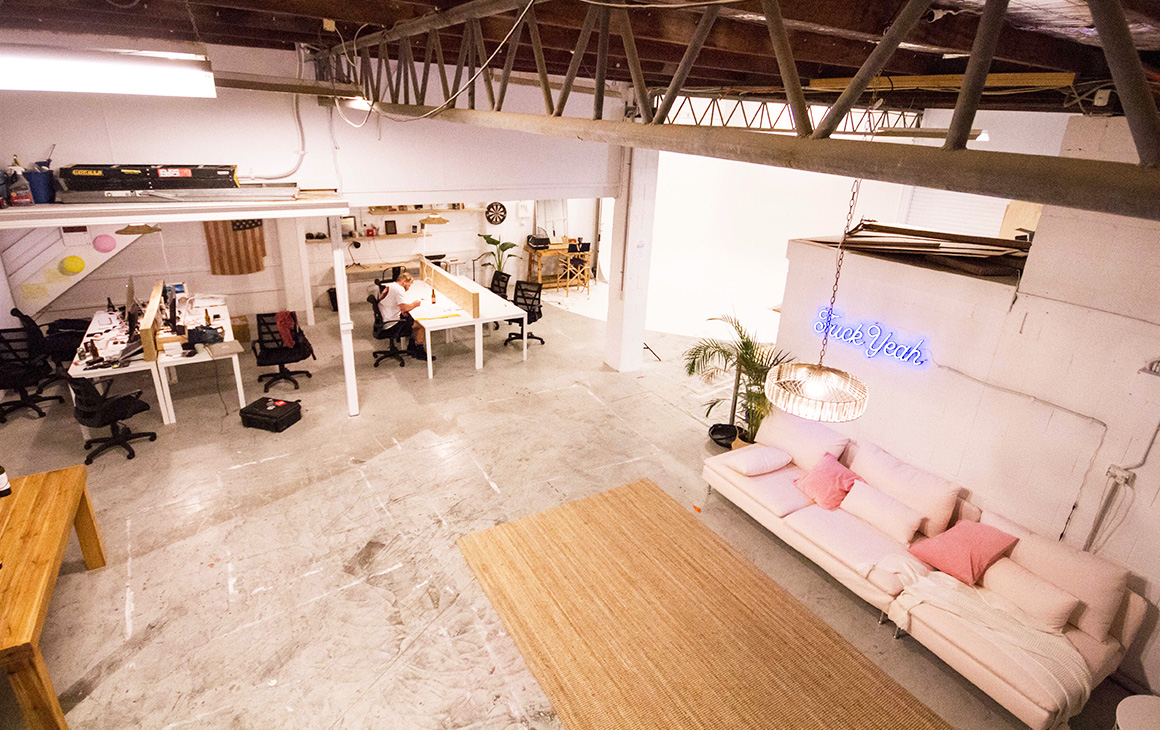 Flockd
Burleigh Heads
If you haven't heard of Flockd, you will soon because they're popping up all over the country. And now we're lucky enough to have one of their epic coworking spaces here on the Gold Coast. Located in Burleigh Heads just a short stroll from James Street and the beach, they're full of creative, innovative and idealistic professionals. Flockd offer loads of flexibility to cater for everyone's business needs with hot desks for $40 a day to permanent digs available like the Drifter pass for $35 a day and full time resident pass for $32. They even offer a free day pass, so you can test out the facilities. The space is full of light with a mixture of open plan desks and meeting spaces. There's also chilled and sparkling water on tap, an in-house bar and happy hour daily.
Cohort
Southport
Aimed at people who are working within the Health and Knowledge industry, Cohort is a Gold Coast co-work space with a twist. Offering three memberships, one for full-timers or casual and part-time for those who work between home and an office space, this modern hub is all about finding your community, and brings to the table opportunities to secure a mentor or connect with industry partners. If you're in the start-up stage or know someone who is, and are looking for somewhere to bring it all to life, you can apply for a desk here.
Gold Coast Creative House
Burleigh Heads
If permanency is where it is at for your business needs, then Gold Coast Creative House is for you. Already home to a bunch of stellar creatives, when a desk is snatched up here usually it's not given back too quickly. Across six creative studios and two crisp levels, choose to collaborate or keep to yourself. And interestingly, four of the spots have been made from converted shipping containers. Slip through the custom steel sliding door and be immersed in one of the largest photography and film studios in Australia at Gold Coast Studio. Suited to creatives who are serious about making waves with their businesses, Gold Coast Creative House exclusively hosts permanent desks for stability and predictability in the workplace.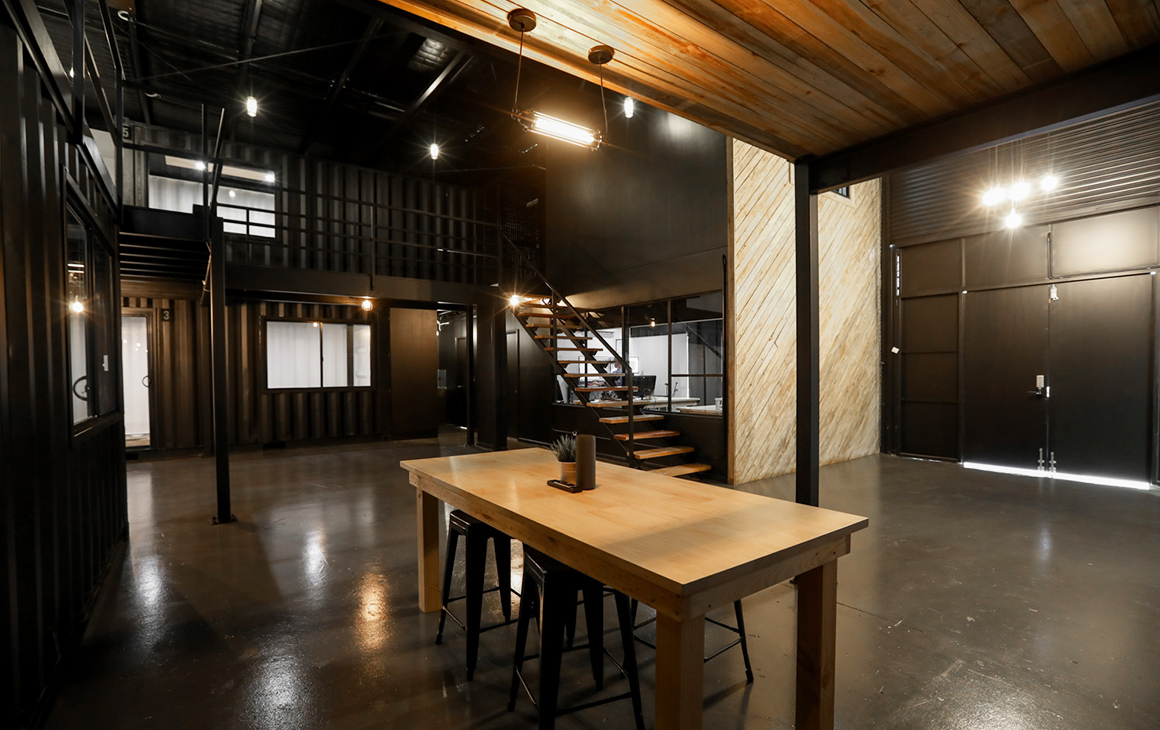 WOTSO
Varsity Lakes
Wifi as fast as the speed of light? Oh WOTSO, you have our hearts! A combination of soft seating spaces, phone booths and desks, Varsity Lakes' favourite coworking space provides for an engaging yet practical place to knuckle down in. Creative furniture like meeting room tables made from data racks recycled from old servers adds to WOTSO's quirky design. The driving force behind WOTSO is their 11 sites across Australia (and one international location). This gives you perks like hot desking in other locations when you become a WOTSO member and they live with the belief that building the space you need is far more important that permanency. 24/7 access is given in exchange for monthly membership and you'll also have access to meeting rooms, printing facilities and social events with fellow office space sharers. Looking for a little more privacy? Take up one of the furnished offices.
Looking for somewhere awesome to throw your next event? Check out these rad private spaces for hire.
Image credit: Gold Coast Creative House, The Communal House, Hotel Miami + Hayley Williamson