In all the days we've penned words for Metropolist, the most hotly contested opinion is, without question, where to find the best fish and chips on the Gold Coast.
Everyone has a fave or foe, and you lot don't hold back when you let us know. No siree!
With that in mind, we're very aware we're putting our reputation on the line when making a bold claim that we've found a hot new contender for the tastiest fish and chips on the Gold Coast crown. Didn't hear us the first time? Yep, Higher Ground, a tucked away gem on the river in Tweed, has got to be the coolest little fish and chippery to descend on our sunny shores.
And because the definition of summer reads "fish and chips" in our dictionary, it's our public service to tell you that you need this joint in your life, stat!
With a prime posi fronting Terranora Inlet, a protected branch off the Tweed River, and nestled among the fishing trawlers, this little building with the sweeping roof has long had a connection to the ocean. But, it's recently undergone a fresh, wee-bit-trendy makeover with a new team at the helm who have big plans for the location and a passion to share the seafood story of the Northern Rivers region.
You might already recognise some of the faces here. Owners Darren Smith and Jonny Micallef were founding members of ex-Kirra institution Bread + Butter; together with partner Dan Kraft, they've set to work building a destination that utilises whatever premium local seafood is at their fingertips at that moment.
Higher Grounds' ocean-bound suppliers are up against the weather conditions and seasons, with their haul otherwise affectionately known as "fisherman's luck of the day", hence their menu offerings must stay nimble. They're also working hard to ensure the freshness of the produce is not lost in the cooking process; absolutely nothing is frozen and even the Tasmanian salmon is flown in daily.
There's cheap and cheerful fish and chips and then there's fancy fish and chips; the latter which you'll find at Higher Ground.
All in the name of research, we made a couple of trips south to really give the compact menu a workout. On our first visit we devoured the Fillet "Oh" Fish burger, loaded with the most generous fillet of fresh panko-crusted snapper, with a creamy slaw atop a pillowy brioche bun, and bolstered with a side of crunchy house-cut curly fries. Yass!
Next trip we returned with reinforcements and extra growling stomachs to satisfy. We were quick to line up a pair of the massive Cabo prawn tacos, served on handmade corn tortillas with cabbage slaw, coriander salsa, and a spicy Cajun sour cream—sold out on our previous visit.
We devoured and loved the drool-worthy local calamari, cut in bite-size pieces (rather than the typical rings), coated in a macadamia and mustard seed crust, and balanced nicely with a delish sweet dijionaise dipping sauce. The star of the show, the daily fish (and chips) can be served grilled, battered, or Japanese bread crumbed; ours was a flaky fillet of snapper the size of your palm.
There were sides of house-cut fries and pots of house-made tartare sauce and a zingy pickled jalapeno aioli. Not forgetting the organic pineapple fritter, caramelised in palm sugar and spiced cinnamon, which we squeezed into the gaps of our bulging stomachs, just.
Everything is served takeaway-style; your tasty food parcel is delivered like an edible present, rustically wrapped in newspaper and twine. Without even trying, they've created the near impossible—Insta-worthy fish and chips!
Other dishes we have our eyes on for next time start with whole local king prawns coated in a rice noodle tempura, and end with a serving of hand-rolled prawn and Asian green gyoza with a zesty dipping sauce of citrus soy on the side.
Being Higher Ground rookies, we'll admit we failed to take advantage of ordering lighter sides like brown rice in dash stock, fresh daily salads, and tempura vegetables, plus melt-in-your-mouth sashimi. Given the growing demand for healthy alternatives, these conscious additions to the menu are another standout. Yep, these guys have pretty much thought of it all.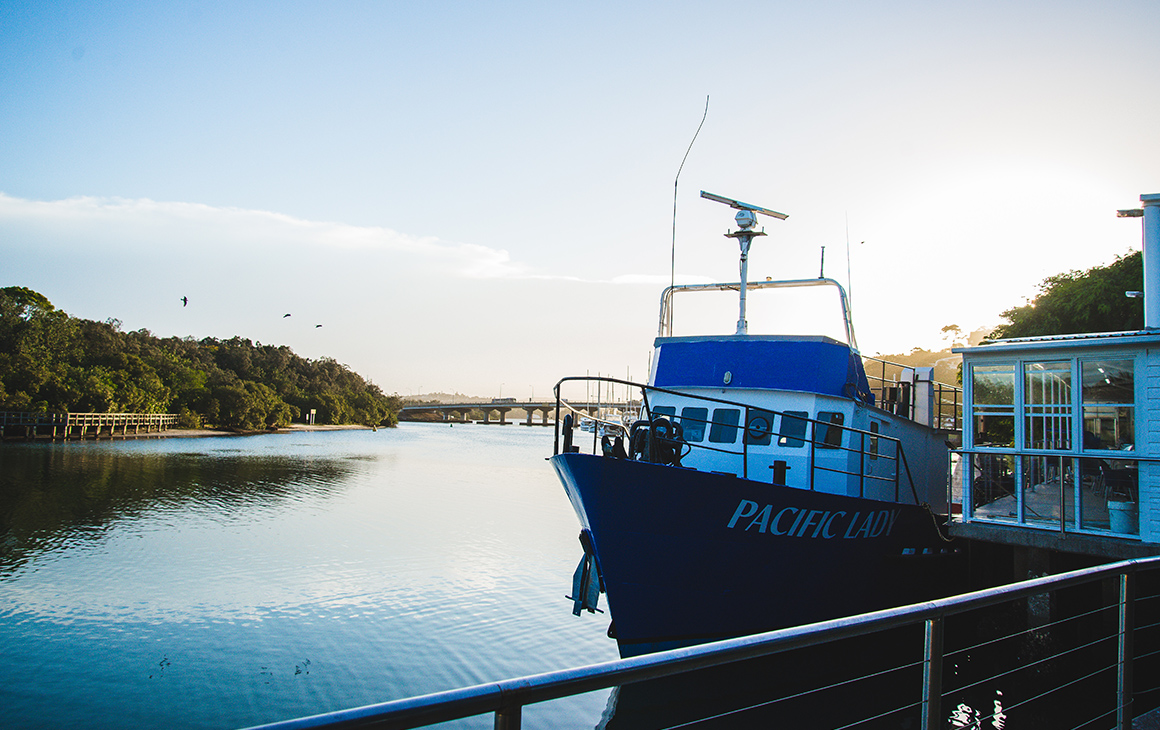 Despite the gourmet menu offerings and classical piano soundtrack, the setting is decidedly old school and understated. Having opened just before Christmas, not surprisingly Higher Ground is already a fave with young families and their kids, be it the two or four-legged variety. On a balmy afternoon, bring a rug or take your pick of picnic benches scattered around the grassy park and shaded by pretty figs and Poinciana trees. With all seating currently outdoors, we're not sure of the boys' plans on those days the dark clouds roll in. Good thing it hardly ever rains!
Before we go, let's get one thing clear, this is not a slap-dash venue. Seafood is uber, UBER fresh and of the highest quality. Plus, it's all prepared by some damn talented local chefs, so you can expect to pay a little extra than what's otherwise charged at an average neighbourhood takeout shop. But it's hell worth it to try some of the best fish and chips on the Gold Coast.
With works underway all around the landmark building, we've been told the takeaway side of Higher Ground is just the beginning for this humble abode on the banks of the Tweed River. While they don't wanna give too much away just yet, they've teased about plans for an outdoor BBQ on weekends, new additions like sushi and sashimi bowls, a fresh-off-the-boat wholesale seafood shop, a riverfront function facility, plus degustation and live entertainment events. And when we queried about the significance of the stately Pacific Lady fishing trawler moored alongside the dock out front, we were met with a wink and a smile. All 'round it sounds like there's some cool plans in place and we can't wait to watch as the space evolves.
Oh yeah, and for the time being they are BYO too (woot!), so come prepared with a bottle of vino or beer, and with an appetite to devour some of the best fish and chips on the Gold Coast. Just don't forget to tell the guys we sent you!
Where: 118 Wharf Street, Tweed Heads
When: Open noon to 8pm (NSW time)
Photo Credit: Brooke Darling for Metropolist