There's no shortage of leading ladies killing it in the Gold Coast's hospitality scene. And while we can't get enough of them all year 'round, in celebration of our 'Future Is Female' month here at Urban List, we're cheersing to a bunch of stellar foodie gurus.
From stories of resilience to how they've built their empires, we've rounded up some of the women behind the Gold Coast's fiercest female-run restaurants and cafes.
Jess Hayes
St Helens
Hailing from Seattle in the US, Jess Hayes has worked as a chef for almost two decades. Before opening her own restaurant and bar in Kirra, Saint Helens, she led a team of chefs at the prestigious Mitchelton Winery in Victoria.
Often finding herself as one of few females in the kitchen, Hayes knows first-hand how important it is to break the glass ceiling. "Women have always been the predominant force behind the feeding of our world. Only when it moves from home cooking to "professional" status does this change," Hayes explains.
"The main hurdle I've faced being a chef is fairly common amongst women in any profession. When we are opinionated, outspoken or direct, some can interpret this as bitchy, moody or mean. The ability to disregard this, being confident in yourself and your product, and keeping your passion alive is essential."
Ursula Watts
Bam Bam Bakehouse, Cubby Bakehouse and Custard Canteen
Picture this: Flaky pastries, oozing custard-filled treats and making that dream your career. Well, that's exactly what multi-business owner Ursula Watts did, with sidekick and husband, Ben. With Bam Bam fans ranging from locals to movie stars (we're looking at you, Margot Robbie and Matt Preston) Ursula says their career highlights have shifted over the last six years.

It's been an enormous year for the team, after opening their forth shop in Tallebudgera, Custard Canteen. This comes after selling Paddock Bakery back in 2017 and opening their mouth-watering bakehouse in Chinderah, Cubby Bakehouse.
"There's so much happening in food on the Gold Coast and Northern Rivers. We're stoked to be a part of it and want to keep pushing the boundaries of our customers' expectations and experiences."
Carlee Bufalino
TASCA
What began as a hop around the Melbourne hospitality scene (think bars, cafes and restaurants) led to Carlee Bufalino opening a quaint neighbourhood wine bar in North Fitzroy some years ago.
Looking up to boss-turned-mentor Adam Sime, Carlee learned his "effortless, old-school, casual yet super sharp" style before returning home to the Gold Coast. After collecting "most of the skills required to execute a vision" Carlee jumped at the opportunity to open Tasca with builder and business partner, Dayne Foggo.
Tasca's fast become a bustling hub for locals on the southern Gold Coast. Designed to make nights out more special, Tasca is the watering hole you'll never want to leave.
"I'm amazed how the Gold Coast's hospitality industry has grown exceptional little venues that do things so well, through to the distillers, brewers and growers," Carlee says. "There is so much to do and we can definitely hold our own against the southern states."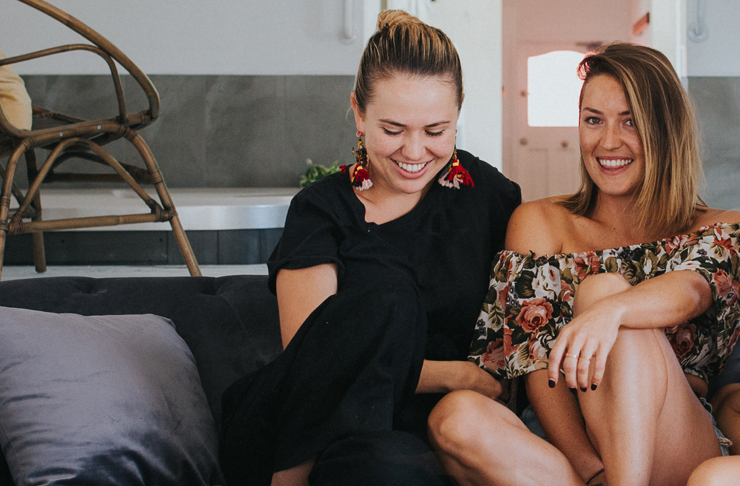 Charlie And Natalie Evans
GREENHOUSE CANTEEN & BAR
Pioneering the Gold Coast's vegan dining scene, sisters Charlie and Natalie felt like a hassle when requesting plant-based foods with friends.
"It felt as if nothing like Greenhouse existed when we decided to open," says Natalie. "There was vegan food, but not necessarily in a setting where that created a 'night out' atmosphere."
Since opening the restaurant and bar, the pair have paved their own path, creating a vegan dining experience that truly enchants guests, while remaining true to their beliefs.
"Alignment is always number one," Charlie says. "We're always checking and thinking… Does this feel right to us? Are there any kinks we need to iron out?"
Shelly Greaves
Jimmy Wah's
As a born and raised Gold Coaster from Palm Beach, Shelly says that she's "one of those people who shouldn't have succeeded in hospitality". Having never worked in a restaurant, carried plates or taken orders before opening her first place, Shelly has proven the usual small business statistics entirely wrong.
In a previous life, Shelly was an Executive Assistant lusting after owning her own business. Starting out by studying a short business course and madly researching the hospitality industry, Shelly's heart was set on buying Senorita's on Sunshine. Initially deemed outside of the budget, after an unexpected chain of events, Shelly found herself buying the space just six months later.
After opening Verve and achieving her goals (being awarded an AGFG chef's hat each year, Good Food Guide's chef's hat and best dining restaurant at Restaurant and Caterer's awards) Shelly decided it was time for a change of direction.
Through contacts, Shelly discovered the site for Jimmy Wah's and opened in partnership with Jake Cooley. After a few trips to Melbourne and Ipswich to taste around the thriving Vietnamese communities and hiring Elizabeth Fairweather from Elk and Espana as their manager, the three got to work.
"I'm so grateful to be a part of this supportive industry. We all look out for each other and recommend each other's restaurants, which I'm not sure many other industries do. We lend things and borrow things when we run out or a supplier can't deliver," she says.
Shannon Stewart
The North Room
Power couple Tim and Shannon Stewart took Mermaid Beach by storm back in 2017 when they swung open The North Room's doors. With the vision to open a wine bar featuring small plates and a tasting menu of delicious eats, The North Room was quickly established as a dining restaurant by the locals. This meant shuffling a few chairs and opening hours to host a cozy 22 seats, where tables aren't flipped—there's just one seating every night.
Today, the Mermaid foodie hideaway serves quality wine and food with a fun, playful and ever-changing menu.
"The Gold Coast food scene is such a pivotal part of the Coast's identity," Shannon says. "And there are as many strong women as men leading these establishments. I stand proud next to some of the strongest and most forward-thinking in the industry."
Holly And Ame Prosser
Heven-Yah Gelato
Starting out as a humble gelato cart, our favourite hole in the wall gelateria moved into the Mermaid Beach neighbourhood in 2017 and never looked back. Fuelled by exceptional produce and tradition, Heven-Yah Gelato is the creation of foodie sisters, Holly and Ame Prosser.
When your dad has studied at Italy's Gelato University and your new roadtrip friend in Portugal happens to be a master of the frozen treats, you're bound to create magic.
Since opening on the Gold Coast, Holly and Ame arttribute their growth to sharing stories and successes with other local hospitality businesses.
"Relationships in the Gold Coast hospitality scene have allowed us to evolve our product through the knowledge and love of people we have in the industry," Holly and Ame say.
Donna Archdeacon
Cafe DBAH and Baskk
Growing up on the Gold Coast meant that Donna Archdeacon was looking after 240 catering staff at Seaworld when she was just 19 years old. Her career went on to span fashion, tourism and business.
After some time spent exploring fast-paced Sydney, Donna returned to her beachy roots and married Twin Towns' Executive Chef, Steve. Together with their three young kids, the team revamped the old pie shop (now Cafe D'Bar) back in 2007.
It marked the beginning of an idea to open a place where locals could "lolly around, relaxing over long lunches". A foodie precinct that felt professional yet laid-back.
And Baskk came along just a few years later, complete with custom furniture, mouthwatering grazing plates and cocktail clinks galore.
Leah Smith
Substance Espresso
Ask any northern Gold Coaster where the best coffee in Runaway Bay is and they'll all sing the same praises: Substance. It's completely thanks to Leah. Well, Leah and her other half, Jareth.
FYI: Leah and Jareth are also the masterminds behind Daark Espresso.
Leah says that at Substance they like to keep it really simple and do things well.
"We always aim to be the best local cafe and build memorable relationships," she says.
Over the past six years, Leah says the people they've met along the way have made all the difference.
"I'm pretty sure I can speak for us all when I say it's more about working together and supporting each other, than looking at each other as competition," she says. "I'm inspired by so many local women in hospo, like Thao of Can Tho and Eddy and Wolff, Zoe from Papercup, Rebecca from Jafa, Shannon from The North Room and Jess from Double Barrel."
Looking for more places to dine on the Gold Coast? This hidden hinterland restaurant is the highest ranked eatery in the region..
Image credits: Hayley Williamson and Brooke Darling for Urban List