With the Easter long weekend so close we can almost taste it, a bunch of our favourite eateries have created special treats to celebrate. From cocktails to drool-worthy baked goods, we've done the hard yards and found five eats you absolutely have to try.
Hot Croiss Croissant From Bambam Bakehouse
Mermaid Beach
Every Easter the talented crew at the Mermaid Beach eatery whip up some serious magic in their pastry kitchen and we're oh so grateful. Their Hot Croiss Croissant is the stuff of sweet dreams. Bam Bam have taken their classic and perfectly flaky croissant and stuffed it full of a special hot cross custard, finishing it off with moreish cream cheese frosting on top. We highly recommend you pre-order a six pack of these.
Jack's Coffee Roasters
Main Beach
Newly opened and uber-cute, Jack's Coffee Roasters at Marina Mirage is serving up a special Easter treat that is perfect for those looking for a sweet caffeine hit. Your morning coffee run just got a whole lot better thanks to their Eggspressos. Simple and delicious, grab their house blend piccolo coffee served in an Easter egg. It doesn't hurt that it also looks adorable.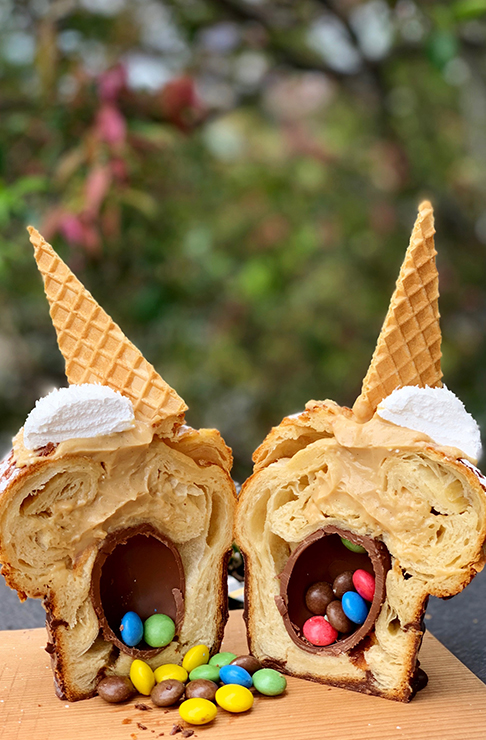 All Of The Treats From Paddock Bakery
Miami
Of course, Paddock deliver not one but three truly epic Easter treats. First up, making its highly anticipated return, the Dippy Eggs. Putting a spin on their brekky staple, this sweet version involves two hollow Easter eggs filled with white chocolate cheesecake and a salted caramel 'yolk'. Paddock's doughnut fries act as soldiers and for toppings there's pretzel cookie crumb, malt chocolate crumble, fresh strawberries and marshmallows. They've also created the Gold Egg Doughnut—a semi-sourdough, covered in hard chocolate, filled with white chocolate custard crème, with a salted caramel egg on top, sprinkled with choc malt crumble. Make sure you leave room for their new Easter Surprise—a semi-sourdough cruffin filled with hazelnut crème, wafer bunny ears, marshmallow and a smarty-filled centre dipped in chocolate. They're available for a very limited time so get in quick.
The Everything Easter Cocktail And The Bunny Shake From Cowch
Broadbeach
The Gold Coast is providing you with hot cross buns and chocolate galore, but what is Easter without a Crème Egg or, even better, a vodka Crème Egg. Say hello to Cowch's Everything Easter Cocktail made with vanilla vodka, chocolate liqueur and hot cross bun ice cream. It comes served in a dark chocolate rimmed glass, topped with whipped cream, cinnamon and of course a Cadbury Crème Egg. But the sugar coma doesn't end there. They've also got the Bunny Shake and it's as delicious as you'd imagine. A Cadbury Easter Bunny is filled with Cowch's Hot Cross Bun Shake, topped with a generous dollop of whipped cream and 100s & 1000s.
Hot Cross Baggies From Cubby Bakehouse
Chinderah
While we'd usually say don't mess with a classic, if it's coming from the gang at Cubby Bakehouse then we fully support it. They're taking their signature baguette and injecting a little Easter goodness into it. Think a freshly-made white baggie, mixed full of sugar, spice, cranberries, raisins, currents and citrus peel with a mixture of almonds and walnuts. All you've got to do is smother it with lashings of butter and you're good to go. Even better, they're nearly double the size of a regular hot cross bun so there's more good stuff for you to devour.
Easter Tarte From The Pastry Emporium
Bundall
We could spend hours marvelling over every piece of edible art in The Pastry Emporium's cabinet of treats but this month, we're making a beeline for their special Easter Tarte. Starting with a crumbly, melt-in-your-mouth chocolate tarte shell, it's then filled with choc-coffee ganache and milk chocolate Chantilly cream before being finished with a generous serving of mini chocolate eggs. Bring on the sugar rush.
Worked your way through the Gold Coast's best Easter treats? You'll probably be needing a long nature walks to work off all those calories.
Image Credit: Paddock Bakery; Hayley Williamson for Urban List