Are you the all-about-town foodie that's been there and done it all?
On a first name basis with the waitstaff at all your regular dinner haunts, and can order from the menu with your eyes closed? Well, friends, sounds like it's time to mix it up, get adventurous, and perhaps even travel a few kilometres away from the coast for one night (shock horror!).
By now, you should have all visited this place by day, but how many have made it the evenings' destination of choice?
If you've not yet experienced The Kitchens after dark, prepare for your dinner bucket list to explode. Here's how to make this new food-lovers' hub a part of your life in five easy steps.
Cocktails And Desserts With The Besties
You guys went wild when we broke news of the Gold Coast's first dedicated espresso martini bar, and rightly so. It's a freakin' espresso martini bar for frig sake! So, if you haven't acted on your caffeine-fuelled urges yet, now is the time. Sure you can sneak a cheeky martini to boost you through your shopping mission, but we think an after-dark visit to Crafted Coffee Co. is the best introduction. Frock up, settle in and prepare to work your way through the menu starting with a Dark and Stormy espresso martini (with Kraken Rum and Kaluha), followed by the XOX (with Café Patron and vanilla vodka). Oh, and perhaps forget about sleeping tonight.
If you're not into espresso martinis (who even are you?), not to worry. Gold Coast's vegetarian and vegan foodie scene has literally exploded and The Kitchens is home to one of the best. Elixiba's enchanted forest-like décor twinkles under the dimmed evening light, and so will your insides when you and your besties hit it up for custom-distilled cocktails and raw desserts. Choose your poison with herbal cocktails that promote energising, mood enhancing, and loved-up effects, and will have you waking up peachy fresh and without the hangover (maybe).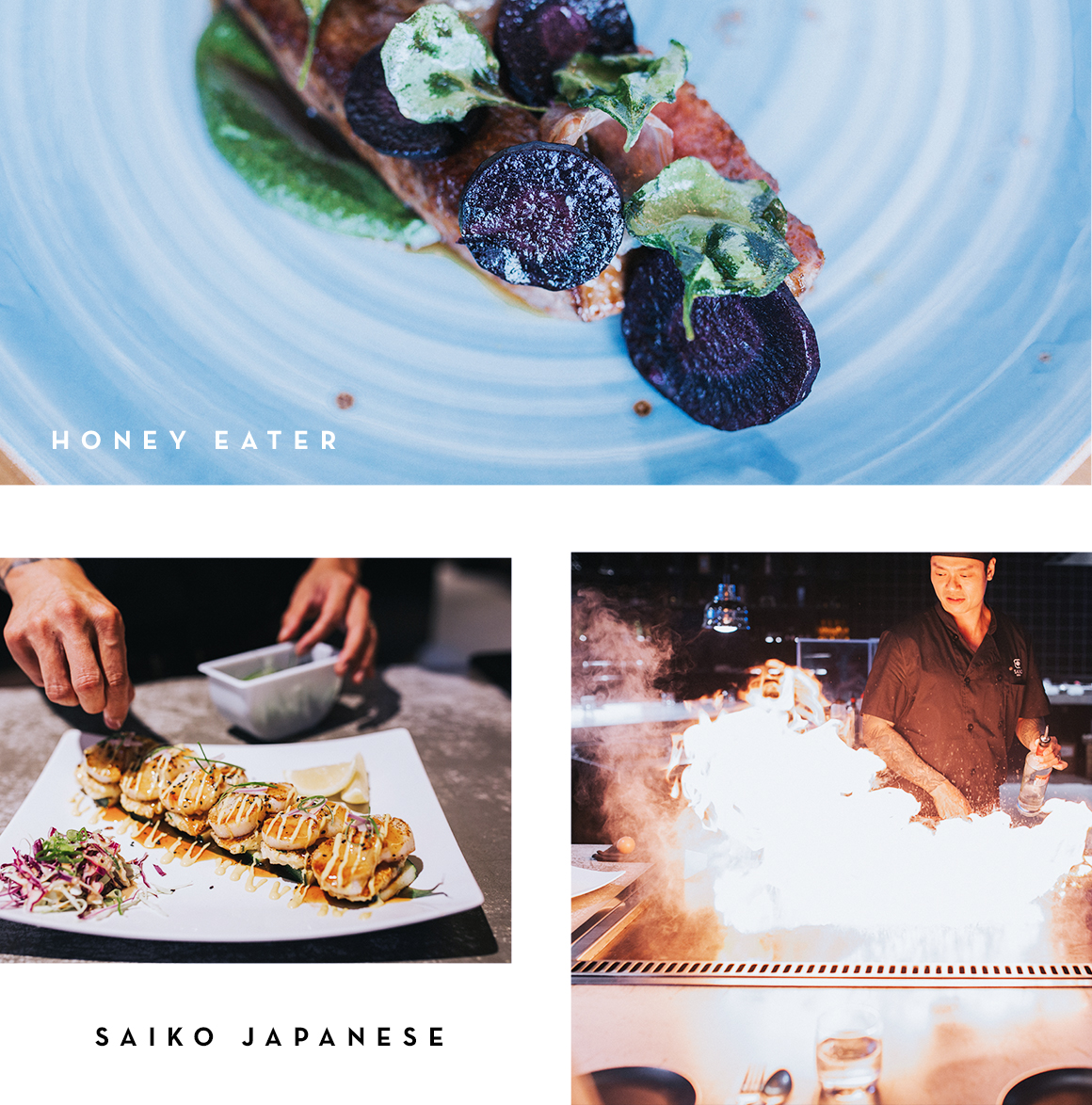 Late Night Date Night
When it comes to a great date night, you really can't go past dinner and drinks. Yes, it's a tried and true combo and one of our fave new date night spots is Saiko Teppanyaki. While not exactly the most intimate of settings (you'll be sharing the rendezvous with chef Stanley and fellow diners at the communal teppanyaki bar) at least you can pretend to be enthralled in the theatrics of shooting flames and knife tossing across the dining room if you find yourself in an awkward conversation silence.
If fanciful seafood eats is the way to your lovers' heart, we know just the place. Fish Lab is another surprising after-dark find at The Kitchens, with locally sourced and intricately-prepared (read: seriously Insta-worthy) plates of sashimi, addictive calamari, scallops, and mussels, or go all out with the miso-marinated, wild-caught fish. Either way, you should definitely start with a plate of plump oysters, 'cause you know what they say about oysters…
Honeyeater Kitchen's innovative menu could be mistaken for being plucked straight from a fancy hotel with the likes of the coconut braised beef short rib with banana blossom salad or the tuna ceviche with pomegranate, to share. We're drooling over the duck breast with rhubarb, kohlrabi, and mandarin, plus the impressive seven-course degustation dinner ($100pp) with wine pairings (+$30pp).
Be A Baller On A Budget
Just because your wallet is tight AF, doesn't mean you need to be a miserable mooch on the couch with Netflix while binge eating packet noodles of mie goreng. There's an option for every budget at The Kitchens, so you can throw on your fave threads, rustle up your other purse-pinching friends and still head out after dark for some socialising and a bite to eat. With a cult-like following in Melbourne, take advantage of the fact we've got the country's ONLY Jimmy Grants outside of VIC, with a hearty serving of the Mr Papadopoulos lamb souva and feta garlic oil fries.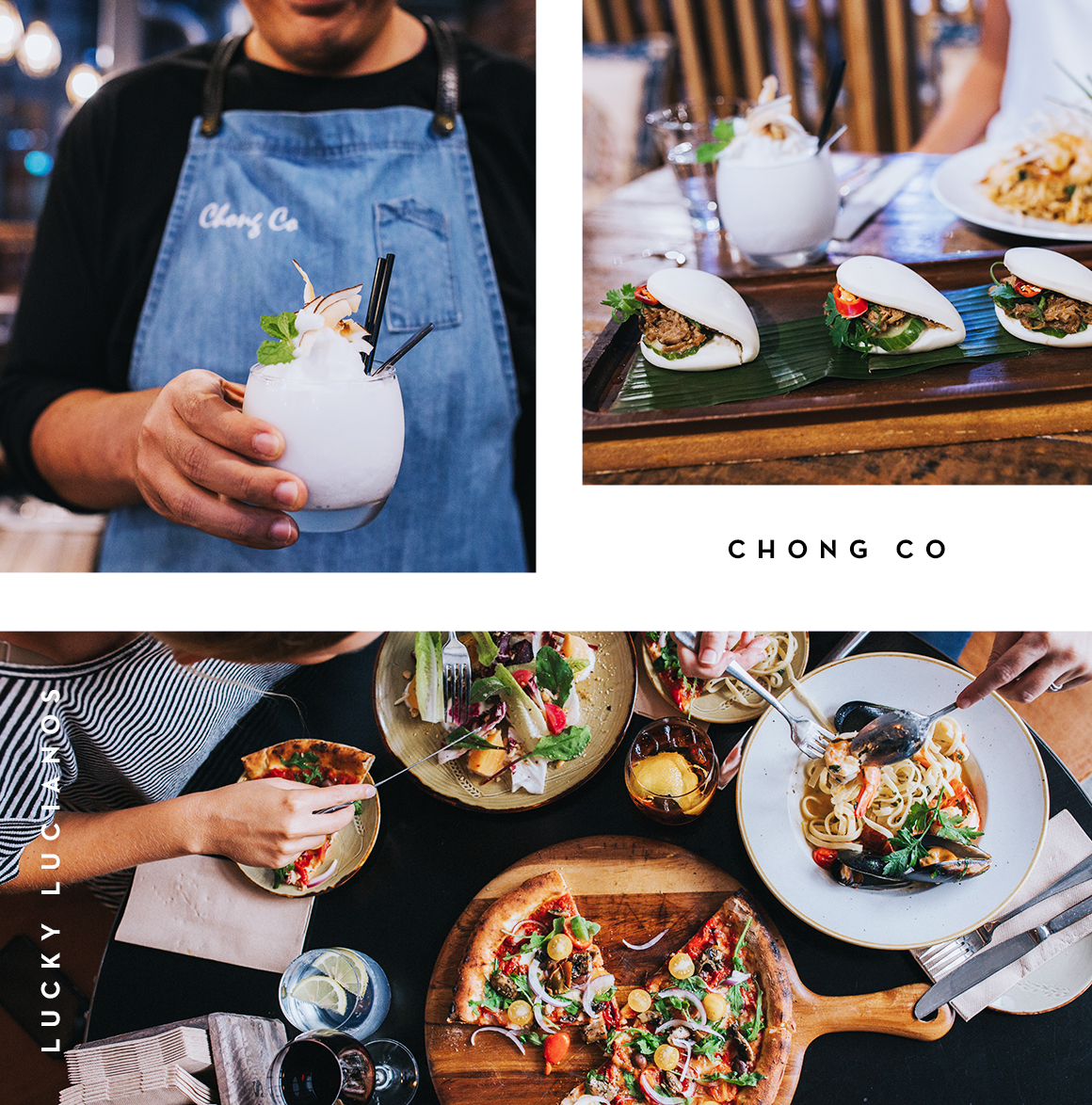 Group Dates And Celebratory Shindigs
When the The Kitchens launched recently, they seriously impressed with not only fast and easy eats, but with full-blown restaurants inside! It's one thing to swing in for a wood-fired pizza slice when your credit card needs a break from all that shopping, but it's another to make plans to return and create a night of it. If you've been tasked with organising the next squad meeting or birthday celebration with a crew who has been there and done it all, we reckon you'll surprise them with an evening at Lucky Lucianos. With grand vaulted ceilings, moody lighting, leather booths, an all-Italian crew, and a slick European-style fit out, your mates will be high-fiving you all the way to dessert. But not before devouring metre-long pizzas topped three different ways, heaping antipasti planks, and a round of Negronis.
If bright and homely is more your style, Coming Home Co. might be just what your next group outing ordered. Open 'til 9pm Tuesday through Saturday, this inviting setting will see you getting cosy as you toast to the bride/baby/grad/birthday/divorce. After dark, Coming Home Co.'s family share-style offerings will get your mouth watering. Think: sticky plum pork belly, honey and coriander lamb cutlets, mushroom mac and cheese bites, and the za'atar chicken flat bread.
If spicy Asian eats dingle your bells, Chong Co is open seven nights and will win over group dates with their Thai "feed me" set banquets ($35 or $40pp). Download on the week that was over tasty servings of tapioca dumplings, chicken satay, beef massaman curry, prawn panang, chicken with cashew nut, and oh so much more. Are you drooling yet?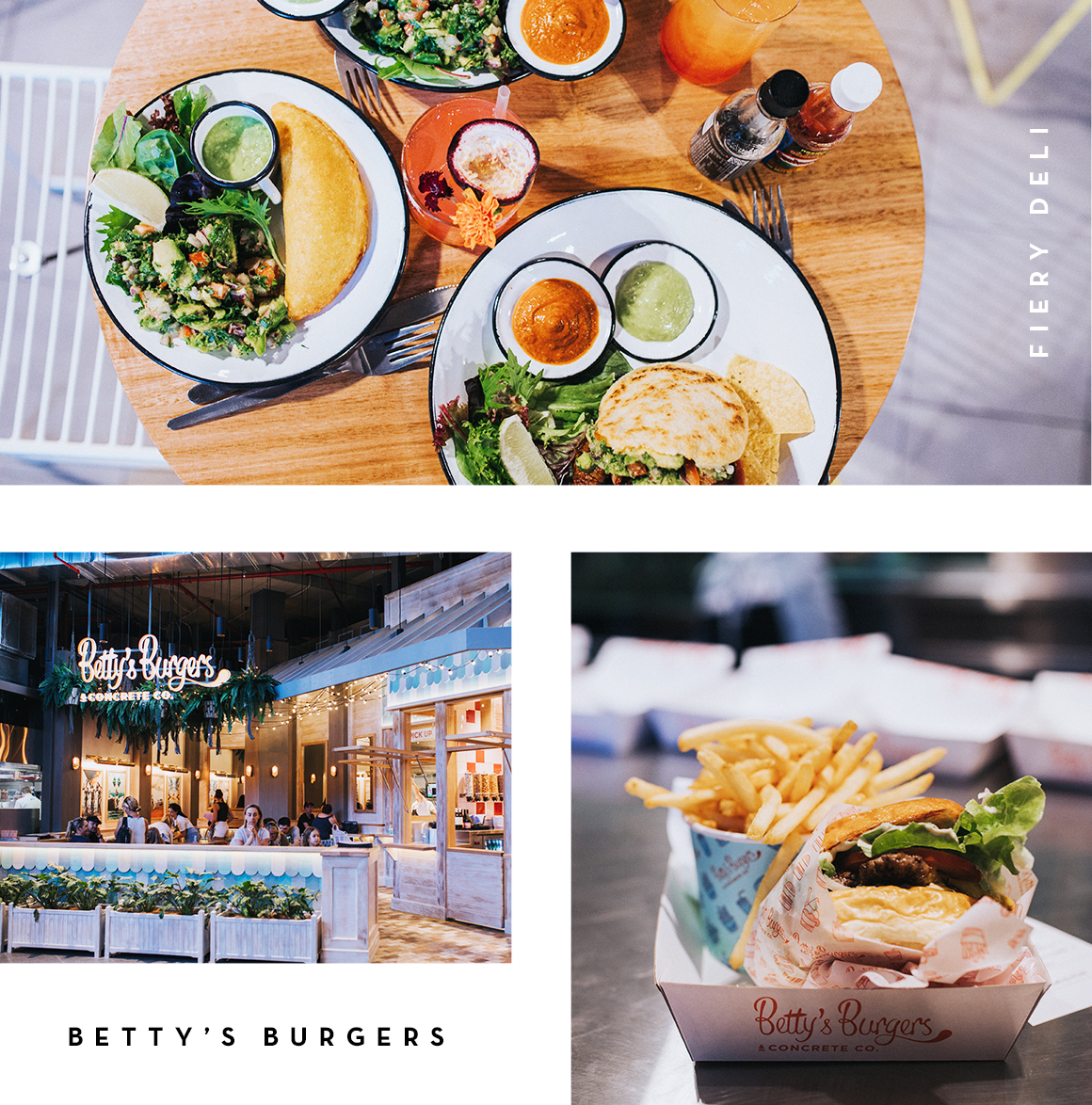 Pre-Movie Munchies
Despite our penchant for bulk-watching TV series and naughty illegal downloads, nothing beats that feeling when the lights dim, to watch the latest blockbuster with surround sound on the big screen. If you're anything like us, you definitely don't go to the cinemas enough anymore, so you might as well make an evening out of it. With late-night dining aplenty at The Kitchens, head to Event Cinemas and you'll be spoilt for pre or post-show options. If you're craving something exotic, but have had your fill of Mexican, head straight upstairs to family-run Fiery Deli. For a hearty feed of their signature arepas "taco burger", we tried and loved their prized Venezulean arepa with slow-braised pulled pork, avo lime salsa, and caramelised plantains; plus a side of handmade pulled chicken empandas. Mmmm. Or, if you're leaving room for popcorn at the flicks, snack on their moreish platter of plantain chips with a generous serving of chunky avo and lime salsa.
Everyone's fave burger shack, Betty's Burgers is also open until late seven days (11pm on weekends!), with the softest milk buns you'll ever wrap your hands around. The crowds come lunchtime are the first indicator these guys have nailed the whole burger thing, which means an evening movie date with Betty's is a no brainer. Our pick? The simple southern fried crispy chicken is da bomb. PSA: Cheap Tuesdays at the movies is still a thing, so save coin on your ticket and spend the rest on a Betty's lemon raspberry cheesecake Concrete dessert (or popcorn, or both, we won't judge).
Sold yet? Friday and Saturday between 6pm and 9pm, and from 2:30pm Sunday, The Kitchens come to life with live performances by up-and-coming local artists in conjunction with Bleached Arts. See you there!
Where: The Kitchens, Robina Town Centre, Robina
When: Open seven days 'til late
Editor's Note: This tasty article is proudly sponsored by The Kitchens and endorsed by Metropolist. Thank you for supporting the sponsors who make Metropolist possible! Click here for more information on our editorial policy.
Photo Credit: Hayley Williamson for Metropolist