Welcome to Threads. Five outfits and one ultimate source of city style.
When I heard about Maclay Heriot—a photographer from Austinmer who spends most of his days touring the world and shooting festivals, musicians and big-time rockstars—I immediately thought of Almost Famous. Backstage passes, debauchery, glittering guitars, noise and a sort of romantic, nomadic week-to-week drenched in whisky and long bus rides.
The reality for Heriot is, well, in his own words—more akin to Spinal Tap—but made up of most of these things it seems, just the same. He spends most of his time on tour with Alaskan rockers Portugal. The Man, as a fly on the wall documenting dreamy nights and backstage moments in a style that's distinctly his own.
When he is in Sydney, the photographer calls Bondi home and relishes in shooting the faces of his friends and family. He loves Converse high tops and owns a lot of band shirts and vintage jackets, collected from tours and shows and cities we wish we'd seen.
At home for just a few days over summer, we hung out to do some laundry, grab a beer and find out how he ended up here, as well as what he wears on tour and a few of his favourite cameras.
When did the photography thing start for you? Do you remember the first photo you ever took?
I started by playing with my dad's old SRL when I was a kid and I liked the sound the shutter made. I don't remember taking my first photo, though I do have a copy of it. It's a family portrait at the beach, my dad set me up with the camera. I was around four or five judging by the age of my sister.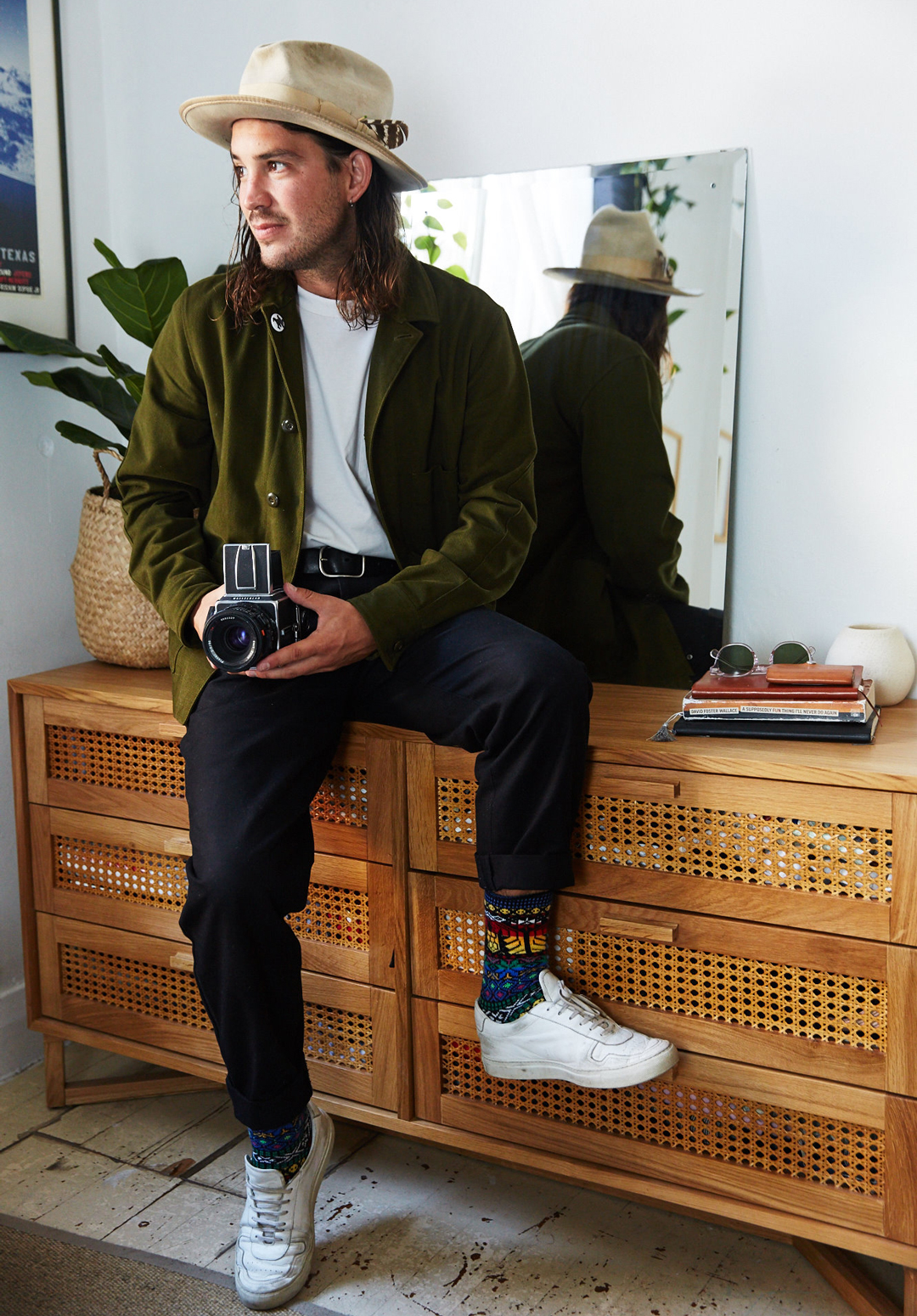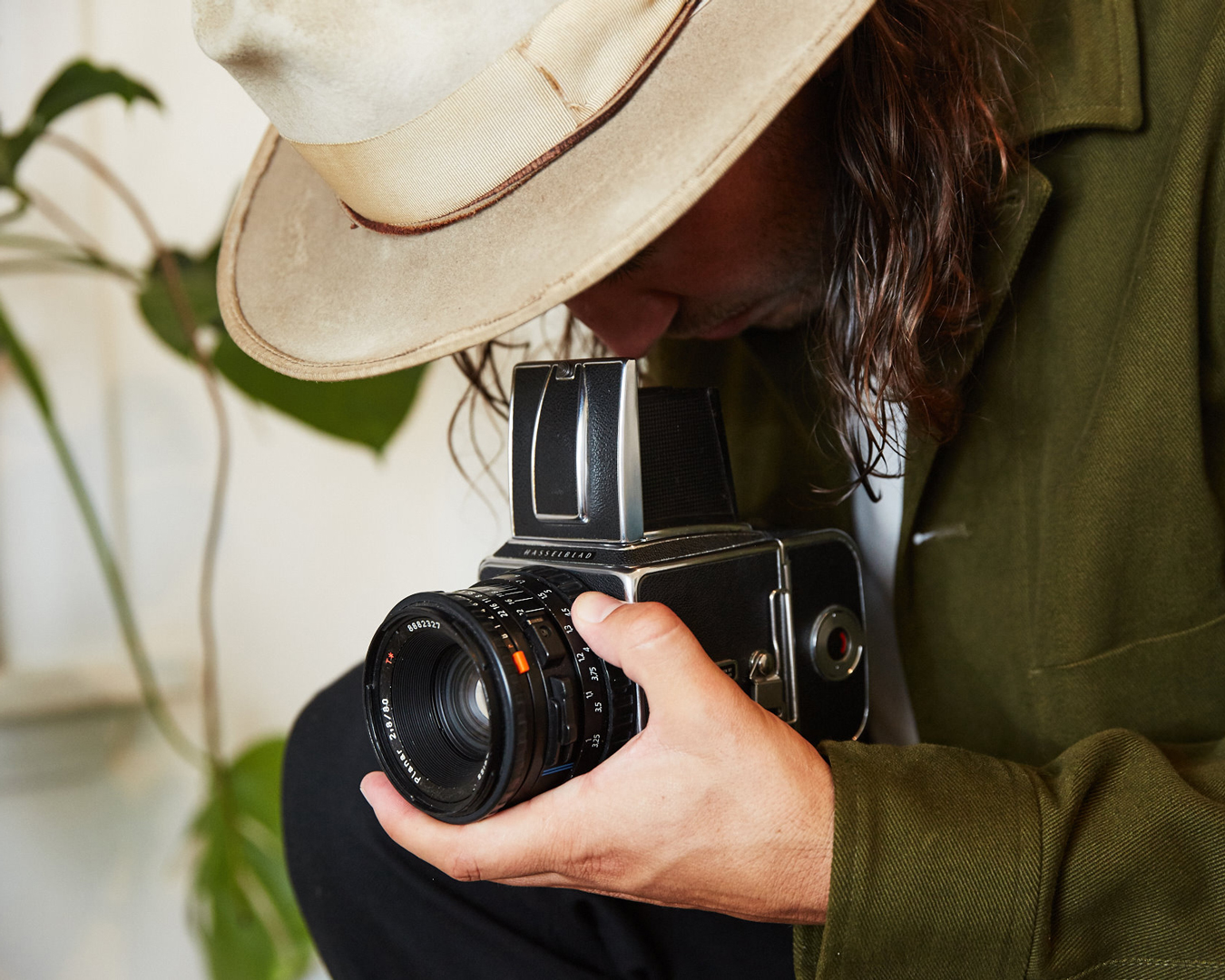 Acne pants and jacket, North Face Purple Label tee, Common Projects sneakers. Hasselblad 500CM camera.
Your Instagram feed feels like snapshots from the film Almost Famous. How did you start shooting rockstars?
It may feel or look like Almost Famous but it's definitely more like Spinal Tap. I guess in the beginning you shoot what's around you and what grabs your attention. Growing up music was always around. The radio in the kitchen getting ready for school, dad's cassettes and vinyl and my uncle Rockin Russ had a residency gig the first Sunday of every month at Headlands Hotel which would be followed by happy hour at our family home and would end with mum dancing on the table.
I played in bands at school and was always taking photos, it was what was in front of me and felt familiar. As I got older, I stopped picking up the guitar as much and more the camera. I moved to Sydney from Austinmer and just dived in. It was the relationships and friendships I built then that steered me towards music, but the seed was planted long before that.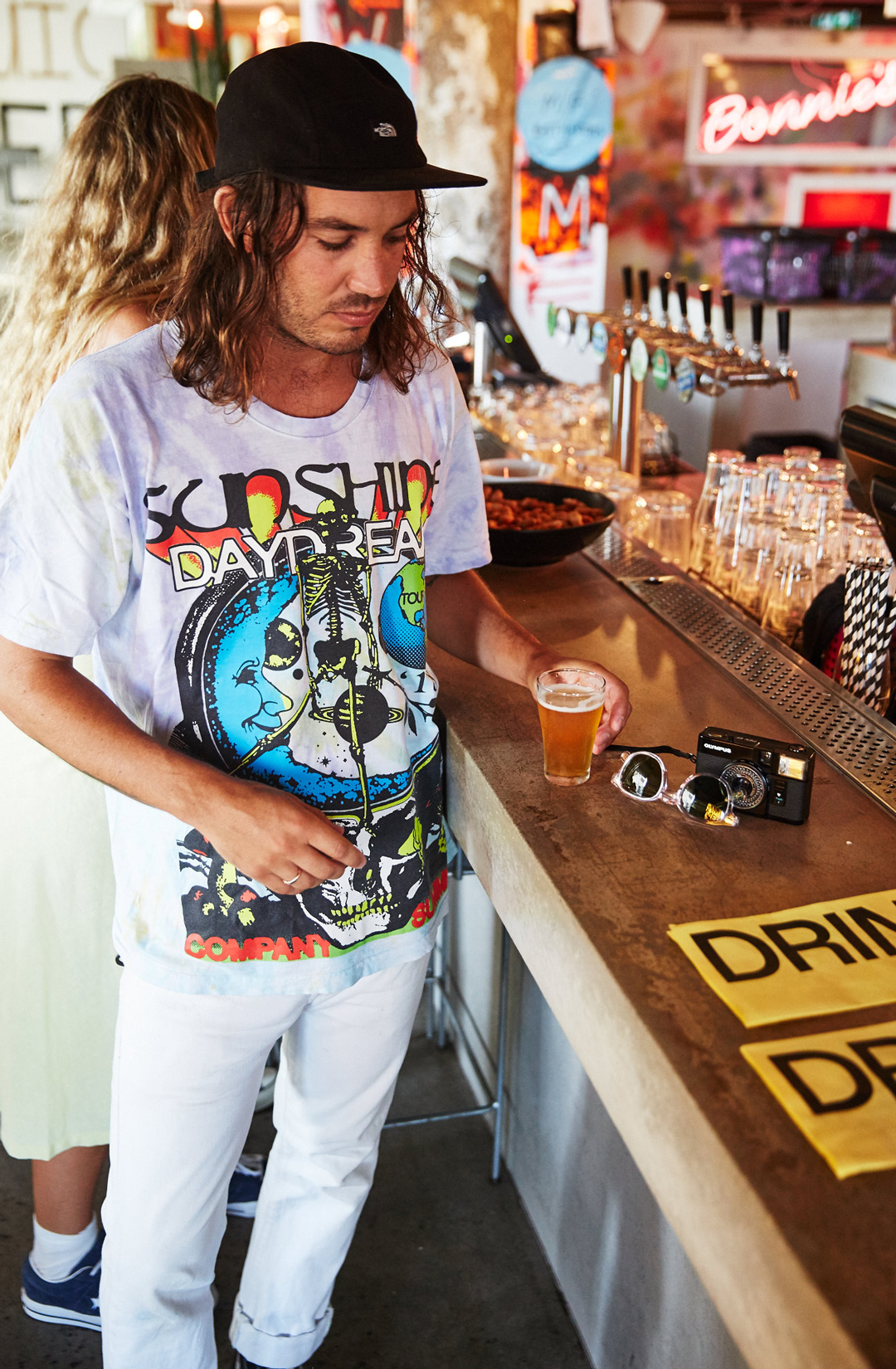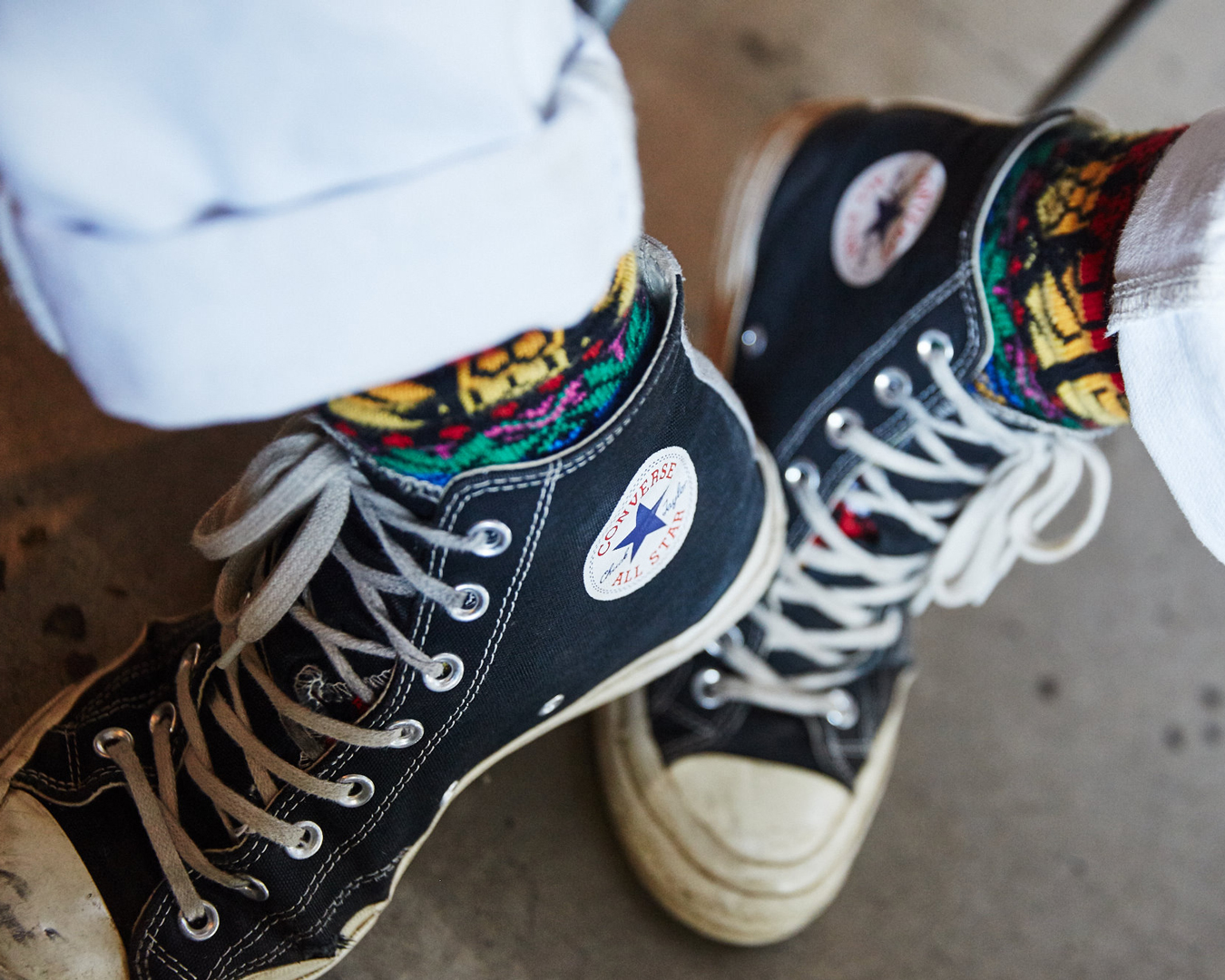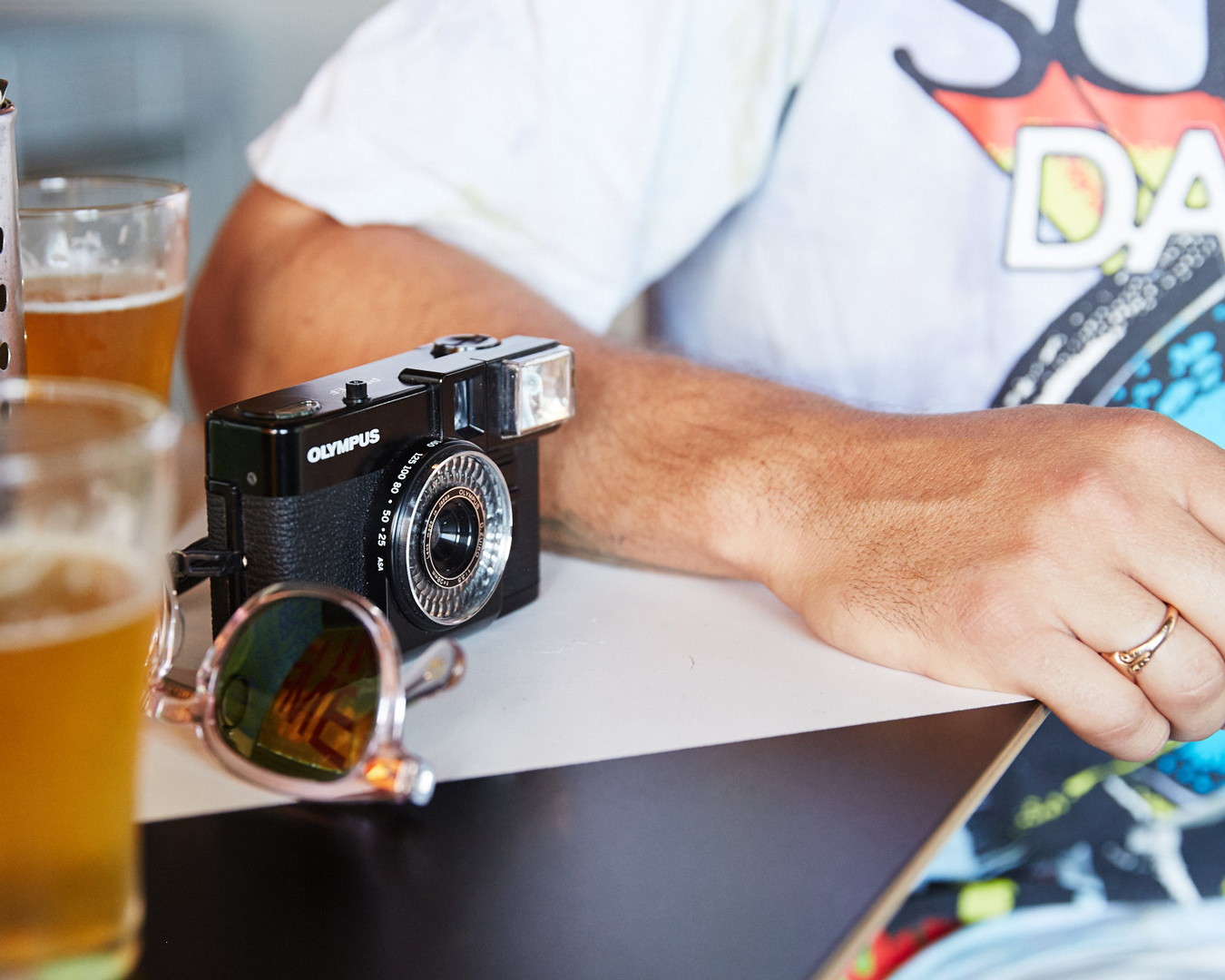 Vintage Levi's 501's, Online Ceramics tee, Converse x Comme des Garcons sneakers. Olympus half frame point and shoot camera; because you get twice as many shots.
Can you tell us how your friendship with Portugal. The Man kicked off? I read it all started at a party at Frankie's?
There were a few wild times at Frankie's, yes. But it was after I flew myself to the US and gave Zach [Carothers] and John [Baldwin Gourley] a call, they were recording at the time with Mike D in Malibu. I was invited around and took a bunch of photos just hanging out and they somehow convinced me I should jump on the tour bus for a few months across the states.
90 rolls of film and about 400 shots of Jameson later we had solidified the friendship which now five years later is more like a lordship.
When you're not taking photos at festivals and rock shows, what do you like to shoot?
I'm a sucker for people, I really enjoy shooting my friends and family. They're the photos that in twenty years' time I'm going to be glad I grabbed.
I can also get pretty shutter happy on clouds, graffiti and flowers. I enjoy waiting and watching light change and shadows move, noticing how light is different wherever you are in the world. The light in the south of France is soft compared to Australia or a sunset in LA is warmer than one in London, I try to shoot this but never do justice to the real-life experience.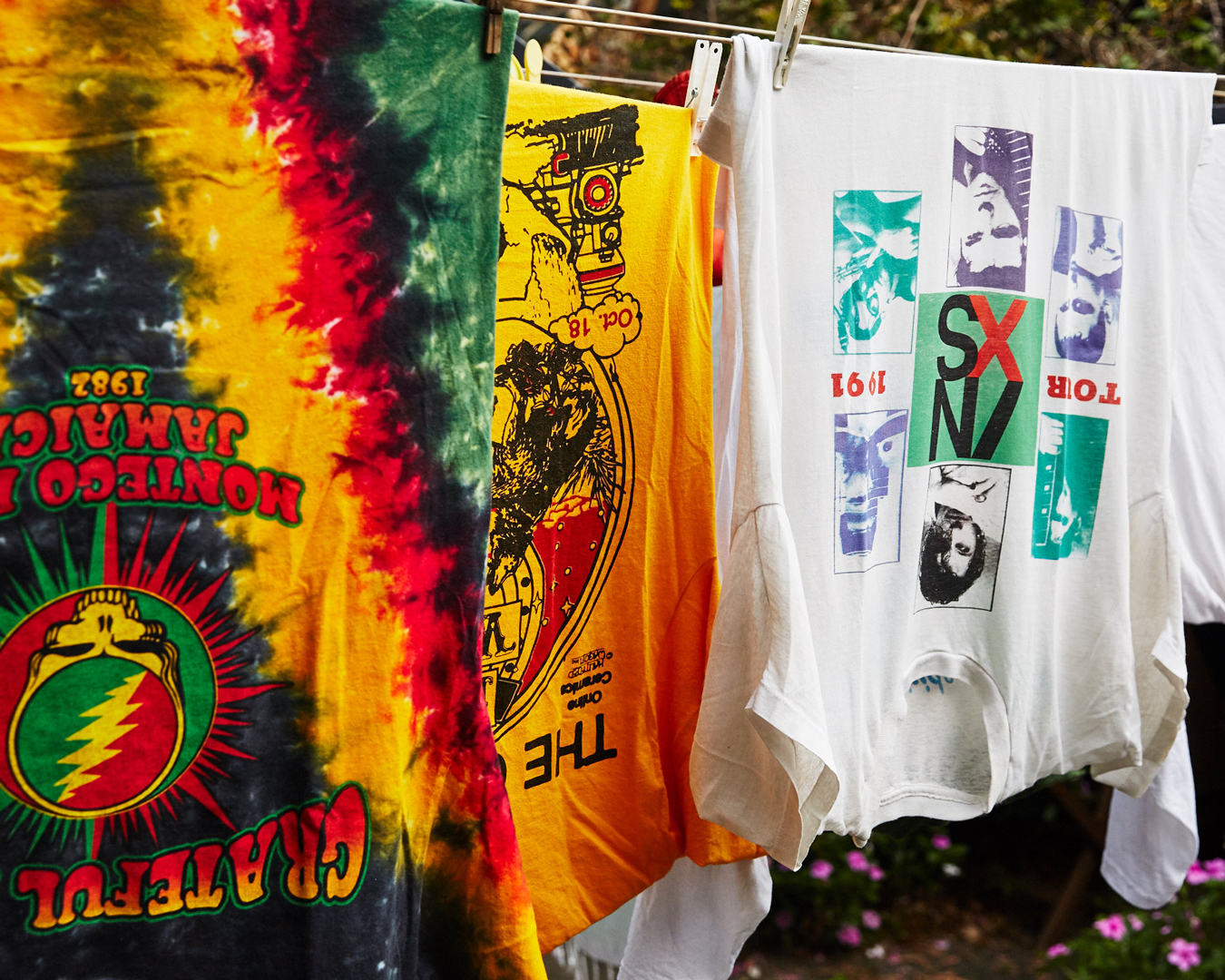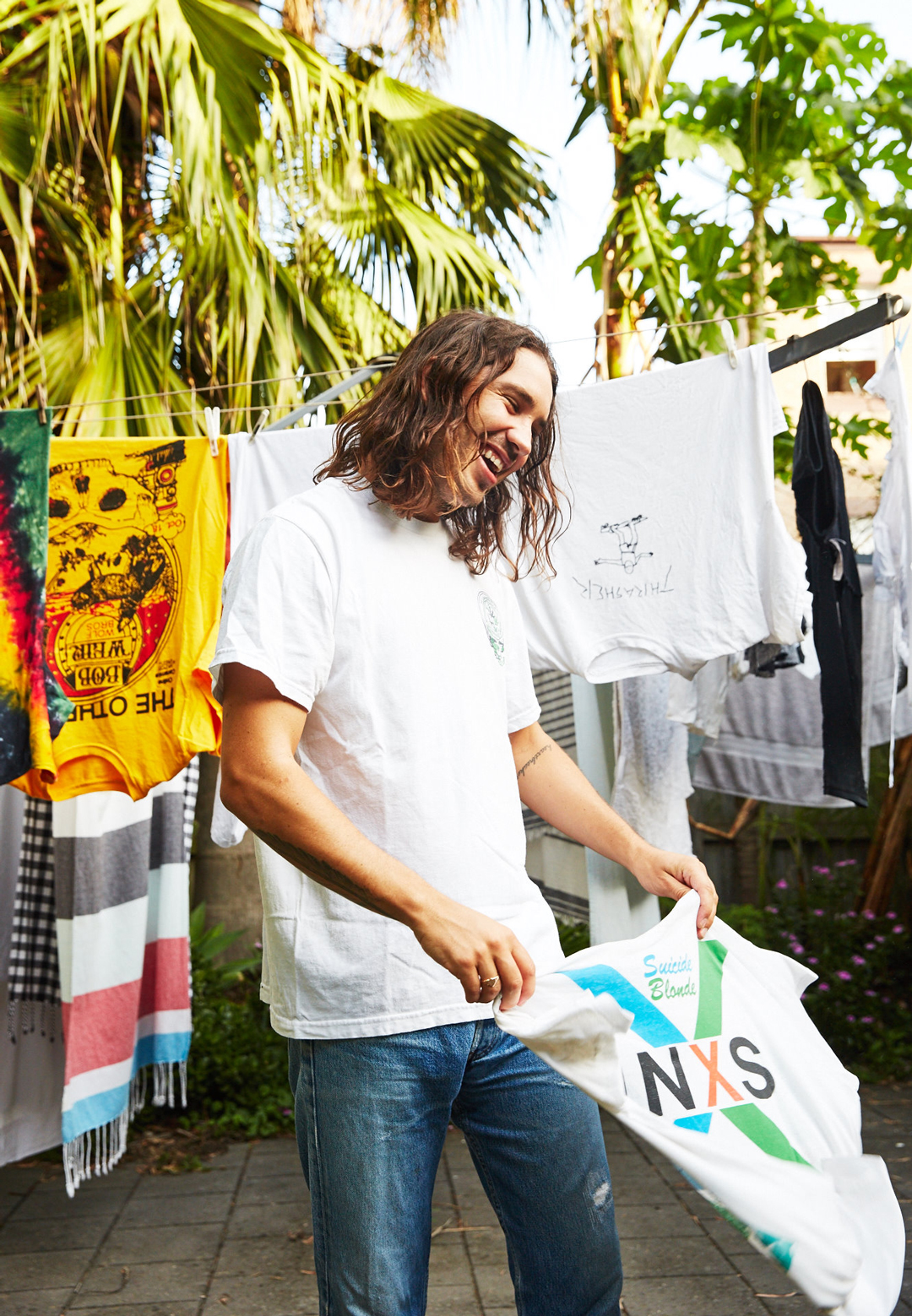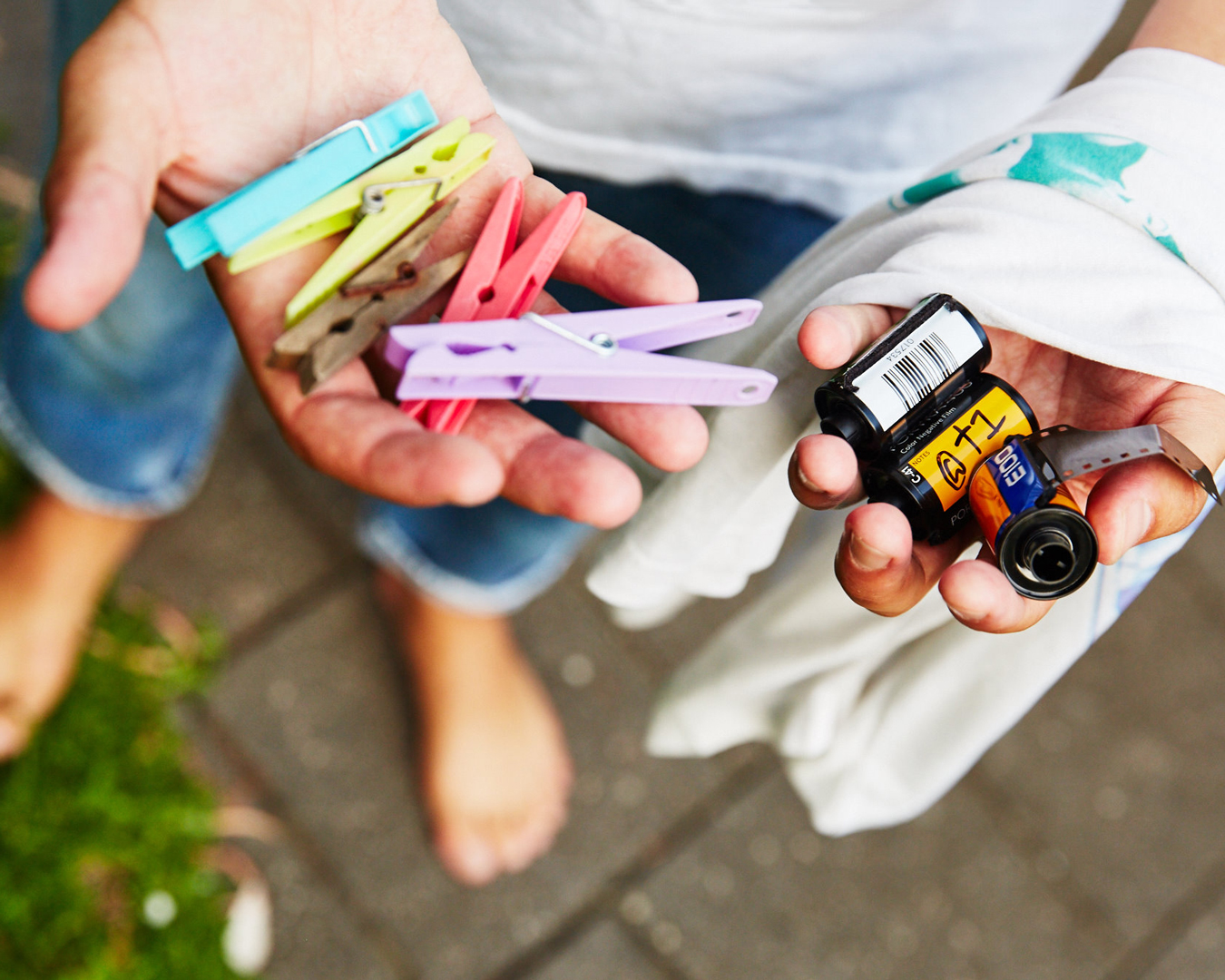 Vintage tee, vintage Levi's 501's from Route 66.
How would you describe your photography style? Do you have a favourite camera?
I think I naturally fell in to being more of a documentarian, a fly on the wall. I like being fully a part of the moment but feeling like I wasn't even there. I shoot mostly on my Leica M6TTL. They are beautiful cameras, discrete, quiet and compact and it definitely helps with blending in. I have snuck it into many gigs as most security fob it off as a toy camera.
And your personal style, in three words?
Sloppy smart casual.
Where do you like to shop? Maybe a specific city, a shop somewhere or online?
My life has been quite transient in the last few years and working with limited luggage space I tend to pick things up along the way to replace something I have worn out. I do like treating myself on specific items though like a nice pair of pants or shoes.
My biggest weakness is jackets, I have so many denim jackets. I was in Japan on tour with Portugal. The Man in September and it's probably the most I have shopped in years, cameras and clothes. I went a bit wild it was my happy place.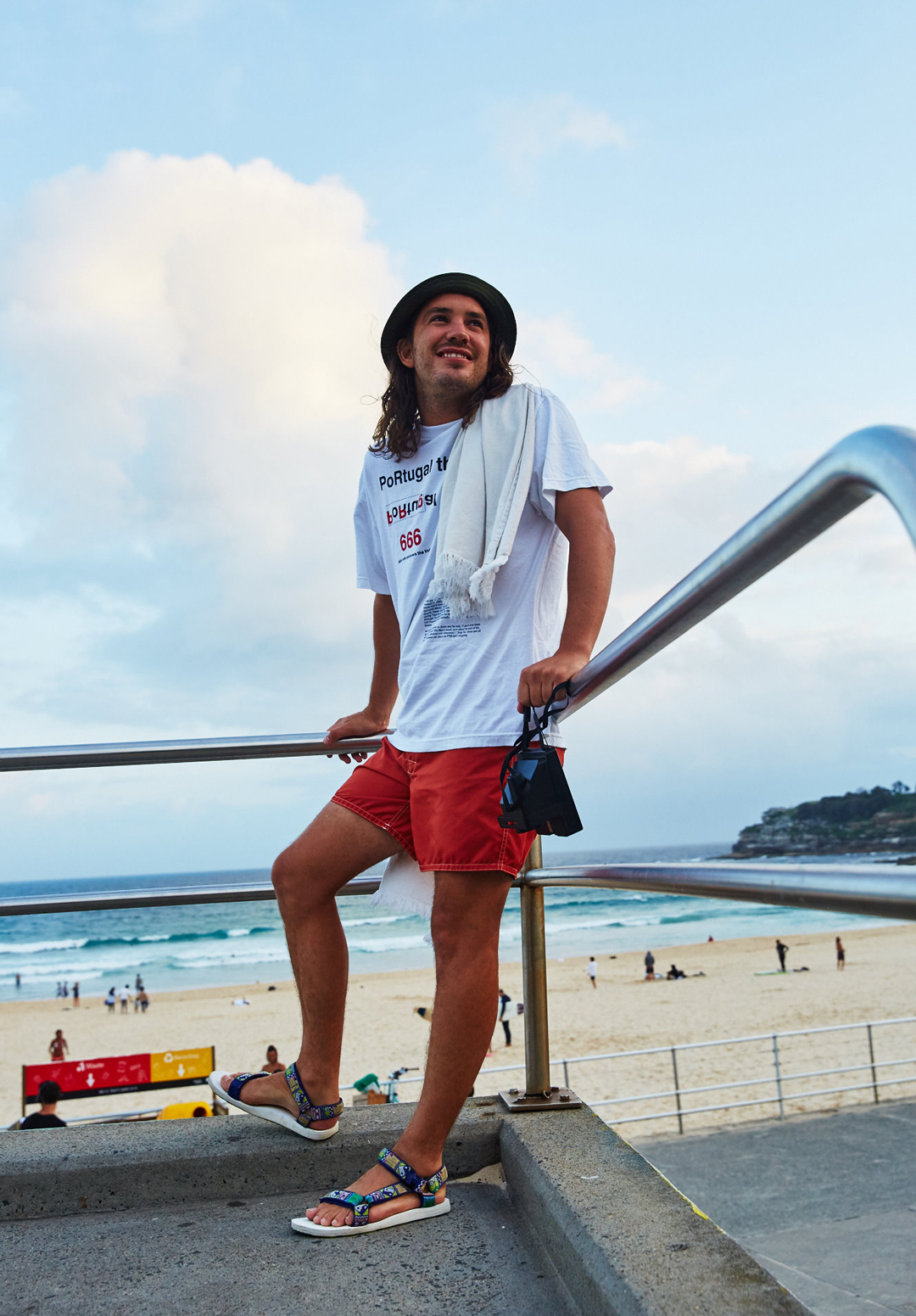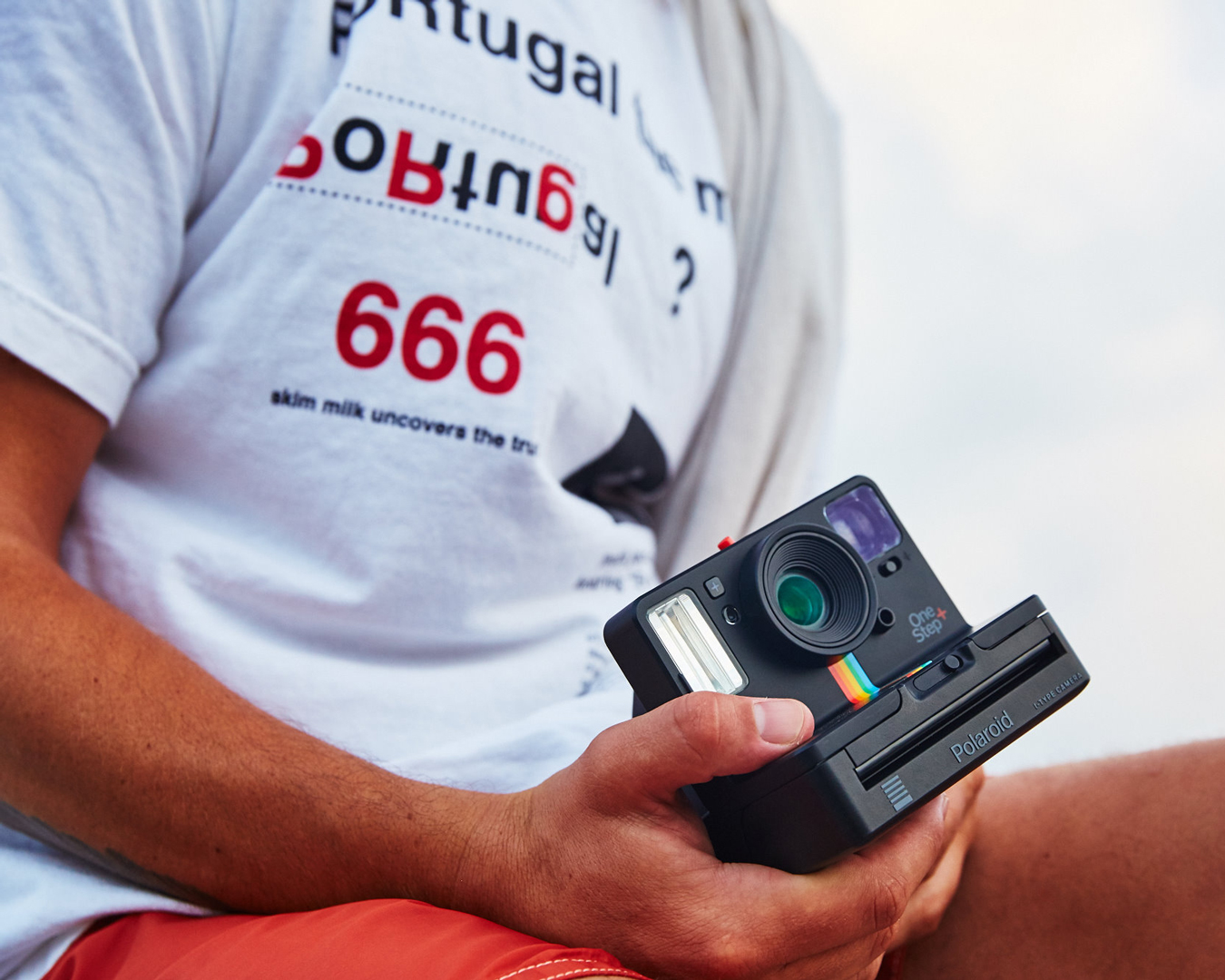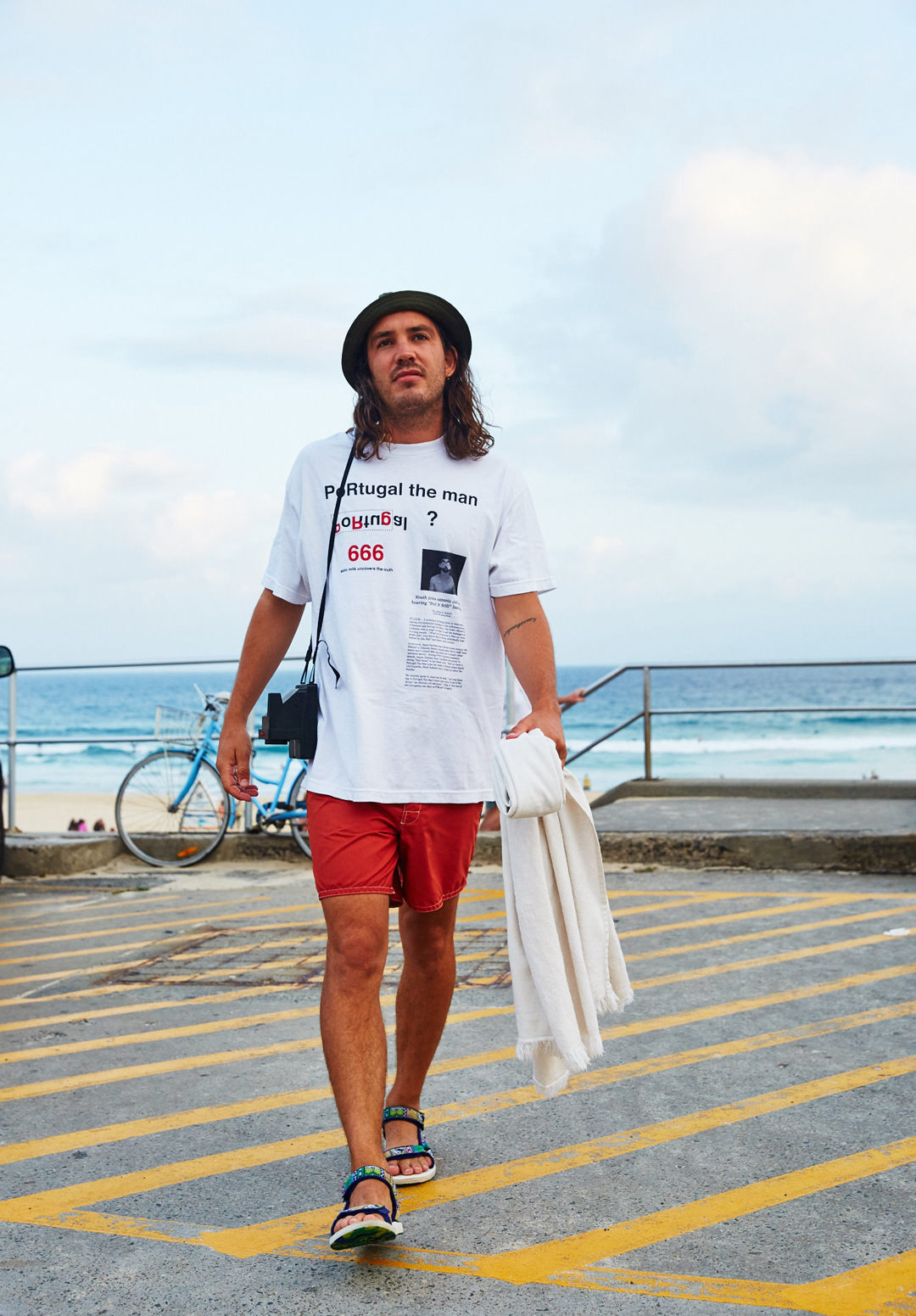 Birdwell boardshorts, custom Portugal. The Man tee by Skim Milk and Teva's. A Polaroid for some fun.
You're on the road quite a bit. Which city in the world do you think has the best sense of style?
I don't think there would be a city that's better than another, everywhere is different. I enjoy the confidence in what the kids in Japan were showing up to concerts in, I also got to spend a week in Russia, the youth street style there was awesome.
What happens on tour, stays on tour—true or false? Can you share any crazy stories with us?
Yes haha. We had a wild night in Monterey at the famous jazz festival and we got to have a drink with Quincy Jones, also hanging with Lars Ulrich and Bob Weir at Outside Lands was kind of surreal.
Who are you following on Instagram now? Any photographers we should be following?
I actually made a resolution this year to remove a lot of the clutter on my Instagram feed. I've been slowly unfollowing accounts that are noise or static to me.
Being creative I want to fill my feed with things that inspire me, so more photographers, painters, artists and friends. These are some inspirers I enjoy: Andrew Quilty, Dana Trippe, Twin Astronauts, Patti Smith, Gray Sorrenti, Max Doyle, Daniel Arsham, Cleon Peterson, Henry Diltz and Molly Steele.
Any up and coming bands tearing it up OS that we need to know about?
A few bands on my radar lately have been SHAME, HELP, Sunflower Bean, BRONCHO.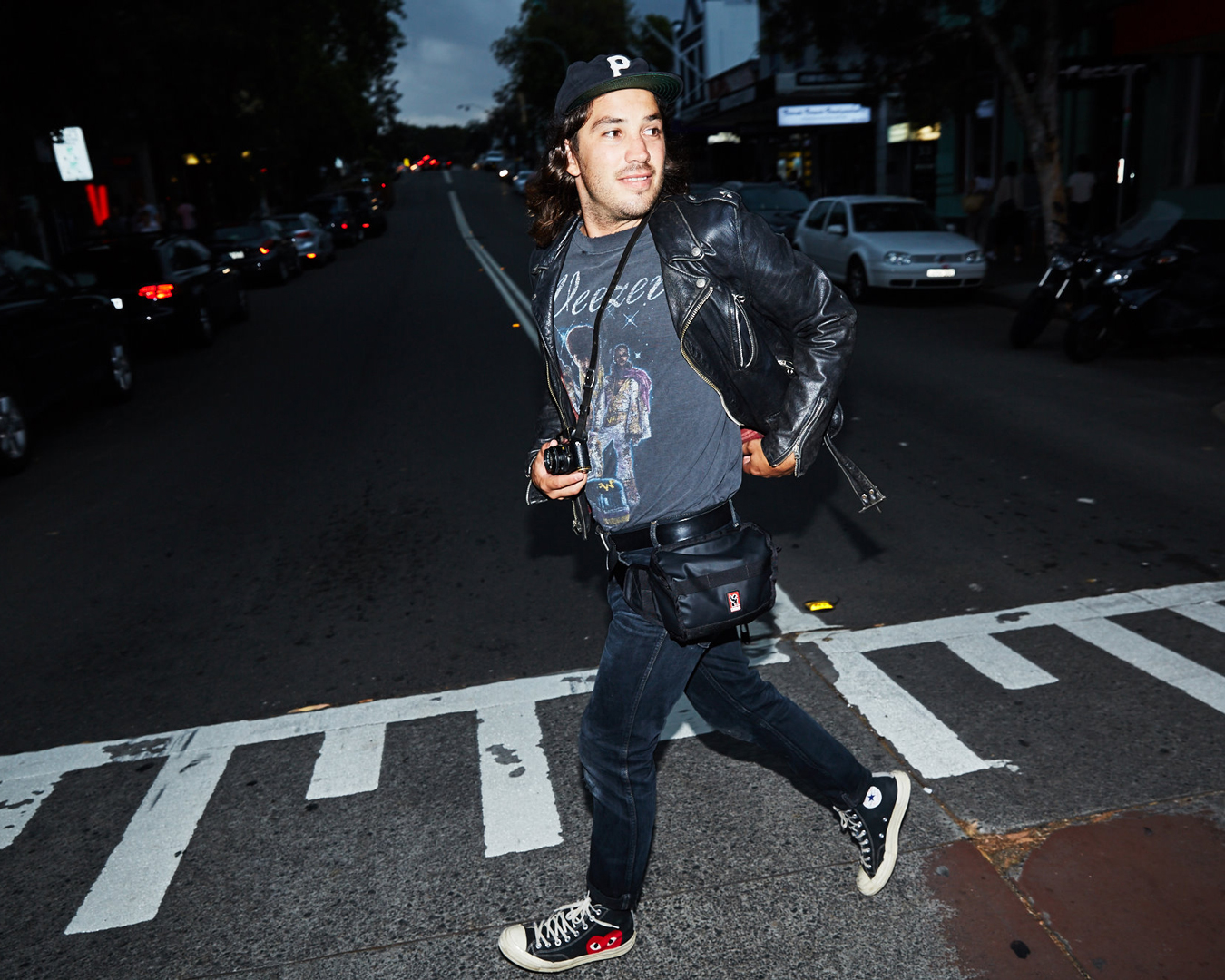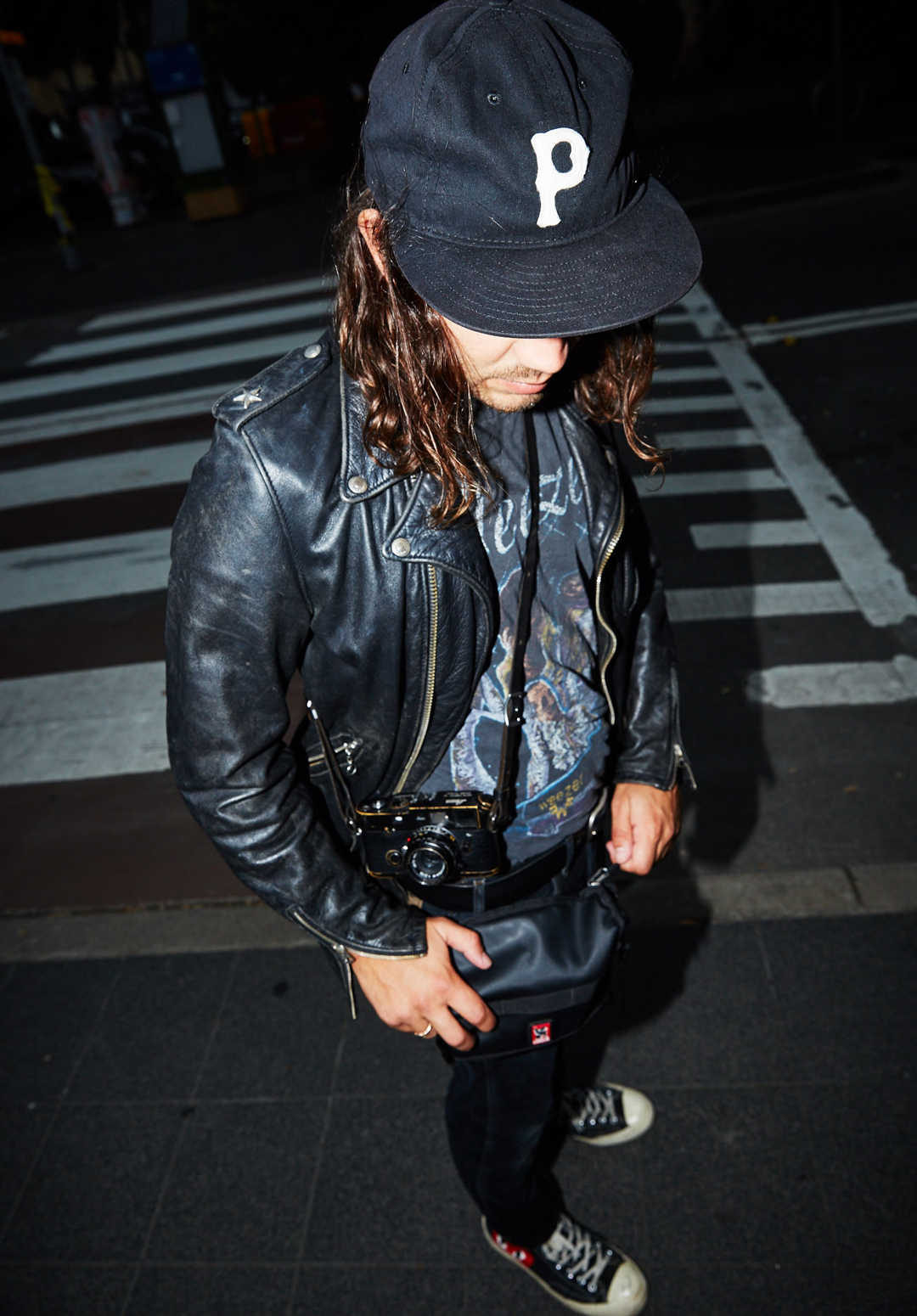 Vintage leather jacket, vintage tee, Chrome bum bag, Converse x Comme des Garcons sneakers. Leica M6TTL camera.
Last question—when you're at home, what are your favourite Sydney places: for a drink, coffee, to see live music, to hang out?
After spending six months on the road there is no other feeling like opening the door to my apartment in Bondi, dumping my bags and jumping in the ocean. I start the morning with a long black from COFFEE Bondi Beach and grab a nice loaf of bread from Iggy's in Bronte. I enjoy a pony during happy hour at Bondi Beach Public Bar or if I'm heading out it's usually The Lansdowne, The Unicorn or Frankies.
With so much food at my front door, I'm usually too lazy to venture out of the East but I do enjoy a nice meal out with my partner. Lately, we have been enjoying Ode which is newish little place on Bondi Road that has an amazing selection of wines, also Fonda kills the Mexican game if I'm missing my LA fix. The best pizza hands down is from Da Orazio Pizza + Porchetta.
Step into the wardrobes and worlds of sneaker influencers, artists and creatives, right here.
Image credit: James Adams.