There are simply way too many awesome cafes in Melbourne, with any list of the best always in flux at any given time, but as they move up and down the leader board, some dishes just stick out time and time again, ensuring we're queuing up every weekend for just a little bit more.
Here are our top ten picks of Melbourne's best breakfasts, and we'd love to hear your faves too.
Parked on Carlisle Street's thriving strip centred around Balaclava Station, when we've got a big day ahead of us and need fuel to keep us going, we can't go past New Zealand outpost Batch Espresso's chunky potato hash with corned beef, poached egg and sweet little cornichons. You won't be able to eat 'til dinnertime after this beast.
Batch Espresso | 320 Carlisle Street in Balaclava
If you really crave a sweet brekkie, like a big stack of pancakes, but can't quite bring yourself to throw all caution to the wind, why not sneak the sugar in stealthily? Dukes Coffee Roasters on Windsor's Chapel Street do some of Melbourne's best breakfasts, including a seemingly healthy avo and toast with poached eggs and humus, with the crafty addition of candied bacon a delicious and wicked twist.
Dukes Coffee Roasters | 169 Chapel Street in Windsor
There's something about fish for breakfast that makes us feel super-fresh and good to go. Richmond's Top Paddock, a vast but strangely still cosy industrial space on Church Street, does a scrumptious white anchovies on toast with Jamon Serrano, padron peppers and Manchego cheese, which perfectly balances the sweet with the salty.
Top Paddock | 658 Church Street in Richmond
One of Melbourne's all-time favourite breakfast dishes whatever side of the great Yarra divide you live on is St Ali's legendary My Mexican Cousin. Thank heavens they dish it up in both their South Melbourne and Carlton North camps. Serving up the best corn fritters out there, with baby spinach, salty haloumi, tangy tomato relish and either poached or fried eggs, they're the first to acknowledge it's their most famous dish.
St Ali | 12-18 Yarra Place in South Melbourne
St Ali North | 815 Nicholson Street in Carlton North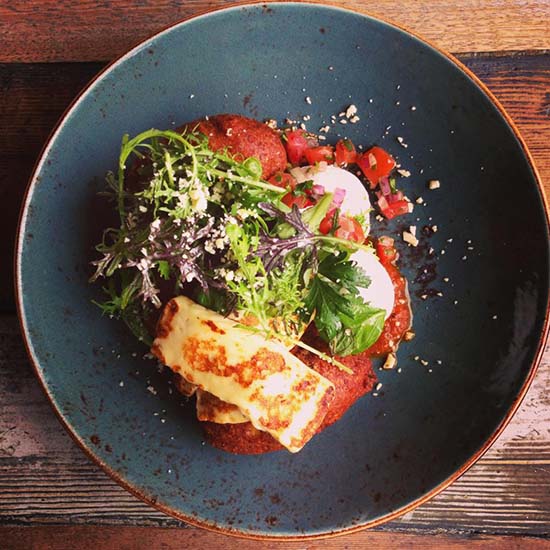 Image credit: St Ali Facebook

Granola is another sure-fire bet for keeping the hunger bug at bay until a civilised lunchtime without multiple mid-morning snacks, but it can be a little dull. Not so at Cherry & Twigs, in a little laneway just off Flinders Lane (so Melbourne) in the CBD. This super-cute spot serves up an incredible feed dubbed the breakfast pudding, blending granola with avocado (yep, you read that right), Melbourne City Rooftop Honey and fresh fruity goodness.
Cherry & Twigs | Shop 1B, 555 Flinders Lane in Melbourne
If breakfast sometimes seems like a major pig genocide in progress, why not dodge the bacon sides with the awesomely light and crispy corn and zucchini fritters at Lolo and Wren in West Brunswick? They come loaded with peperonata, Meredith Dairy goats cheese, avo and Chilean salsa. We want former Richmond Hill Larder chef Franco Caruso's secret recipe.
Lolo and Wren | 484 Albion Street in Brunswick West
While we're on a vego kick, Collingwood stalwart South of Johnston does a magnificent plate of field mushrooms served up with juicy cubes of beetroot and silky fetta on a hearty bed of sourdough that will fire up the engines for sure. The big exposed-brick space has an open fire to make sure you'll feel extra toasty as the chilly morns slowly creep back in, too.

South of Johnston | 46 Oxford Street in Collingwood
Tucked in behind 412 Brunswick Street, Hammer & Tong is a stylishly simple and bright space that plates up sterling feeds all day long, but we're big fans of the heart-starting breakfast ramen, with bacon and egg swimming in bacon dashi with oyster mushrooms and spring onions.
Hammer & Tong 412 | Rear 412 Brunswick Street in Fitzroy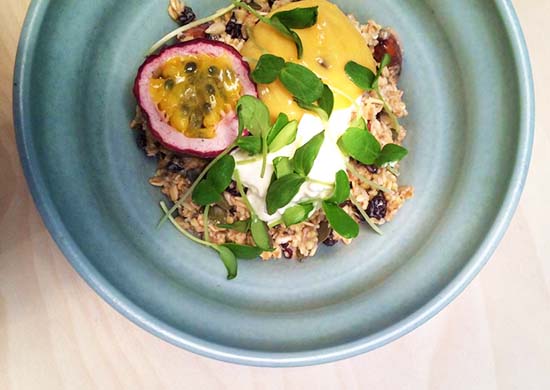 Image credit: Little Tommy Tucker Facebook
Run by the sons of A1 Bakery's Chafic Choueiri, Coburg's Zaatar on Sydney Road offers one of the biggest and best breakfasts for the smallest budget, with their Big Breakfast coming in at a meagre $12.50. Doling out moreish slices of soujok with baked eggs, labneh, mint, olives, tomato and cucumber with a heap of Lebanese flat bread – it's a steal.
Zaatar | 365 Sydney Road in Coburg

And finally, if you're in the mood for something a little decadent, Duchess of Spotswood's Duchess of Pork serves up a slab of crispy pig's jowls with truffle sauce and fried eggs heaped on sourdough. Yummo.
Duchess of Spotswood | 87 Hudsons Road in Spotswood

And, because we know Urban Listers are batty about the first meal of the day, here's a few more of Melbourne's best breakfasts, because we just can't stick to ten…
Shakshouka eggs poached in tomato sauce, piled high with smoked salmon, fennel and fired caper salad and dill creme fraiche – Bowery to Williamsburg, CBD
Golden 'folded' scrambles with fresh herbs and holy goats cheese – at Porgie + Mr Jones, Hawthorn
Yousli Activated Almond Bircher with sunflower seeds, organic currants and raw cinnamon, served with fresh passion fruit, natural yoghurt and lemon balm – Little Tommy Tucker, Bentleigh
Spanish eggs cooked in house-made salsa with onions, olives, chorizo and parmesan and big wedges of sourgdough – Seddon Deadly Sins, Seddon
On Trend Acai bowl of fresh fruit, edible flowers and granola – at Little Big Sugar Salt, Abbotsford
Avocado on toast served with Yarra Valley Persian feta, cherry tomatoes, black sesame, extra virgin olive oil and shaved radish – at Three Bags Full, Abbotsford





Main image credit: Half Baked Harvest