Emma Itzstein may not be Victorian born-and-bred, but we've already decided to claim her.
The Perth-born, Geelong-based artist has only been painting full time for a year, but she's already making ripples in the Melbourne art scene. And trust us, the waves will come.
Flying into VIC with a bunch of awards under her belt (mostly for her unique state prints), Emma has switched her medium to painting. Her earthy and pastel native Australian florals, set on a dripped-paint background, are incredibly distinctive.
And we're not the only ones who think so. Emma's landed herself a debut exhibition at Brunswick Street Gallery. It's called YIN, and it'll run from 22 August – 4 September. We advise picking up a canvas before these babies appreciate 100000%.
We sat down with Emma in her studio and chatted all things art, Instagram and inspo.
On getting started with art:
I grew up with my Grandpa painting, and my Grandma was a dressmaker. We were always mucking around with creative things when we were little.
I did art at school and I loved it, so when I got into law school (in Perth) I knew I had to always keep up art as a creative outlet to not go crazy.
A year ago, I decided I wanted to give it a crack and do it full time. Nothing else was making me as happy. I'm still fairly new to having my own art practice, so it's a balancing act between giving myself space to find and develop my style, as well as marketing myself and putting myself out there.
On finding inspo:
Definitely the idea of perspective. I'm inspired by trying to look at things in different ways and trying to make sense of different things.
I'm obsessed with nature in particular, obsessed with the ocean. I love the little, simple pleasures of life.
On starting a new piece:
I start with the background. I go for the colours that I gravitate towards and build my palette by whatever I'm feeling on the day.
When I feel like the background is done, I have to step away and give the piece space, unravel what's in my head. Then I start with the florals. I think it's always worth thinking about a piece more and trying to approach it a different way.
On florals:
Flowers are kind of the universal symbol of stopping and being present in the moment. You know, 'Stop and smell the roses'. So they're a nice symbol for being mindful and admiring the everyday beauty around us.
Also, they're aesthetically pleasing.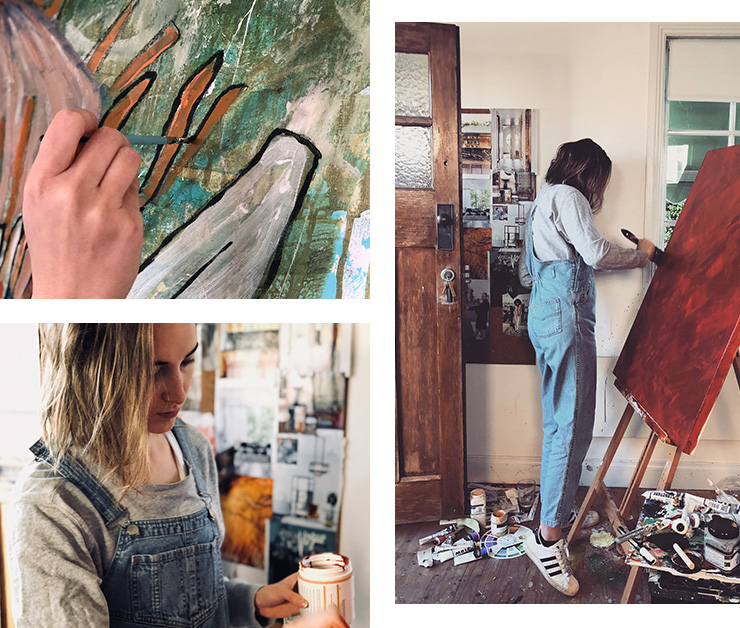 On Instagram:
Instagram is a new and vital tool for artists, definitely Particularly around marketing yourself. Before, you had to rely purely on gallery representation, but now you've got the tools to represent yourself. It's great.
It can be tricky though: you have to try and find the right balance between how aggressively you promote yourself, and how often or not you post.
On a typical day:
For me, no two days are the same. I could be in the studio painting, packing print orders, doing a photo shoot with a local creative or updating my website. I'm still in the early days, in terms of having a proper art practice, so every day I'm learning new things.
On moving from Perth to Geelong:
Moving away from home put me in a position where I couldn't not address my anxiety anymore.
My printmaking in Perth was not an introspective practice. It was more observational, focussing on things not directly related to me.
Coming to Geelong was like a circuit breaker. It was a way to try something new. I went to art as a way of making sense. I was able to express myself in an emotional and fluid way.
On Geelong's hidden gems:
There's so many! Where do I start? Anywhere along Little Malop St, really. There are some great bars and cafes and wine stores. Goose Store will be my first retailer, so watch that space. I also like Neighbour Café , Geelong West Social Club, Neck of the Woods and the new Recess.
On galleries everyone should check out:
There are a few great ones down here, as well as in Melbourne. Personally, I like Boom Gallery, the Geelong Gallery (especially the contemporary art section) and Sophie Gannon Gallery in Melbourne.
On YIN:
YIN is basically an exploration of abstract botanical act. But it's also a symbol of my experience with generalised anxiety. It's a static representation of introspection and expression.
You can check out Emma's new work at Brunswick Street Gallery from 22 August – 4 September. Follow her on Insta here.
Image credit: Supplied