With white exposed brick, high ceilings and a beautifully lit interior—all the hallmarks of a prime establishment in and among the bustle of Windsor's after-work commercial nightlife—Good Nights is serving up some of the best authentic Vietnamese eats in Melbourne.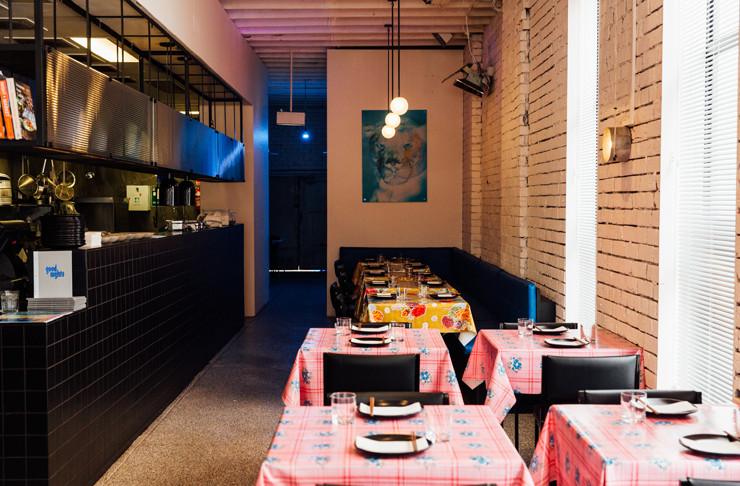 In case you can't connect the dots, Good Nights is the sister restaurant to GOODdays in Brunswick, which has become somewhat of a local hot spot. Now, the team are bringing their talents to rock Windsor with their prime culinary expertise, amazing wine list and outstanding good vibes.
No stone has been unturned for this drinks list—it is seriously alcohols heaven on earth. Business partner and restaurant manager Tom Hall has worked his magic with some of the biggest and most prominent names in the alcohol industry to provide guests with some of the world's best drops at an affordable price; which means you can enjoy a couple of glasses without breaking the bank.
But Good Nights doesn't stop there—the cocktail menu is a refreshing balance of diverse colours, flavours and combinations that you'd never think you would see but adds to the entire dining experience.
The 'Purple Drank' highlights the menu with its play on the rap-famous lean (obviously without the codeine) and its full-on flavour. Noting violet liqueur, Germana Cachaça and citrus, it well and truly hits the spot. On a more healthy note, the red bell daiquiri with Flor de Cana rum, cold pressed capsicum, lime and coriander will again send your tastebuds into oblivion and sounds kinda healthy, right?
Starring on the menu is some small batch Tequila that'll rock your socks off, single malt scotch of the gods, as well as some appetising orange wines that will add perfectly to any meal. The hardest part of dinner will be narrowing your choice of drinks.
Once you've locked in your drink choice, get ready for the food. Designed to share, the Good Nights menu is laced with decadent share plates that will leave you and your counterparts blissfully full but desperately wanting shove more of this goodness in your face.
A standout for those carnivores out there would have to be the special Beef Pho served with slice ox tongue, roast bone marrow and slow braised oxtail—it's absolutely irresistible. The way the meat has been cured, fillet and cooked unlocks these immense flavours that are unbelievably exciting and deliciously appetising.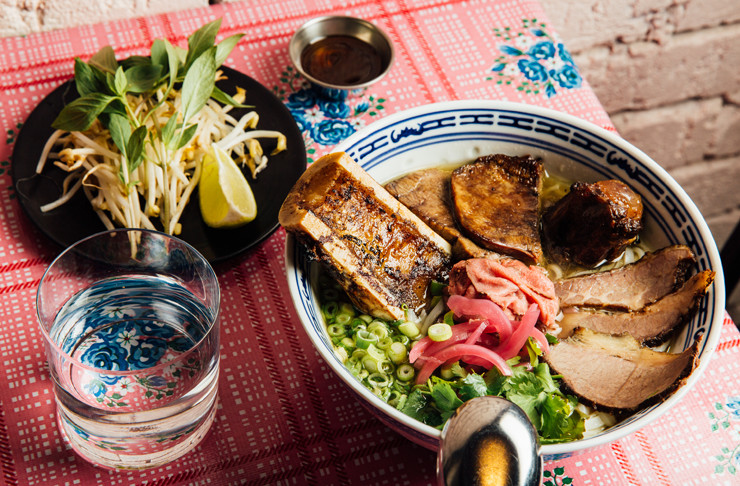 Second on the list: Roo Luc Lac aka 'Shaking Roo'. Don't worry, the meat actually isn't still shaking—it's a traditional Vietnamese dish with a special Good Nights twist, using kangaroo fillet instead of the commonly used steak. The diverse flavours of the dish swarm your mouth and leave you wanting much more than what's on the plate—a definite must on your visit.
If you're a vego, don't worry, there's plenty on the menu to keep you satisfied. To point you in the direction of no regrets, the enoki and tofu rice paper rolls are the definite way to go. And just when you think things can't get any better, they do. All proteins at Good Nights are ethically sourced, free range and most are certified organic, so you know that only the highest quality ingredients are going into every meal.
If you're looking to feed a crowd, Good Nights also does epic family-style meals that are sure to satisfy. You can even make your own rice paper rolls or tackle an entire BBQ chicken—the options really are endless.
Only a stone's throw from Windsor station, Good Nights couldn't be in a more accessible spot. So if you want to leave to keys at home and enjoy an amazingly authentic Vietnamese dinner accompanied with some delicious house-made cocktails, then Good Nights is the place to be.
The Details
What: Good Nights
Where: 12 Chapel Street Windsor
To keep on top of all the latest openings across Melbourne, head to our Food & Drink section.
Image credit: Annika Kafcaloudis